Florida State Football: Winners and Losers from the Week 4 Game vs South Florida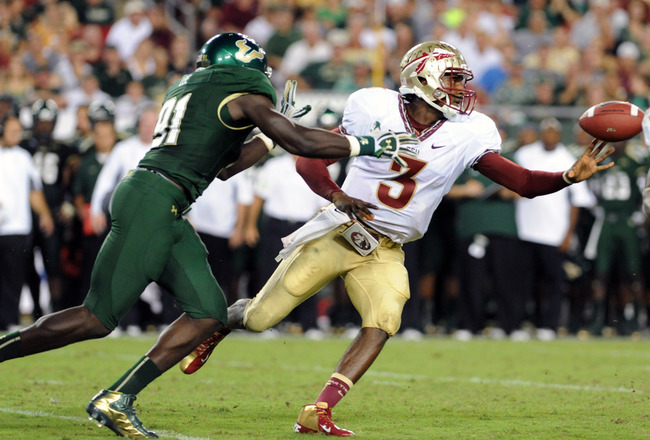 E.J. Manuel performed well enough to get Saturday's win.
Al Messerschmidt/Getty Images
Florida State didn't blow out the competition, but got the win.
Quarterback E.J. Manuel did not have the best statistical day, but showed leadership (especially when passing in the first quarter).
The Seminoles got their first road victory and can hopefully repeat the feat at N.C. State.
The defense recovered from last week's gashing from Clemson, though the special teams could use some polishing.
Winner: E.J. Manuel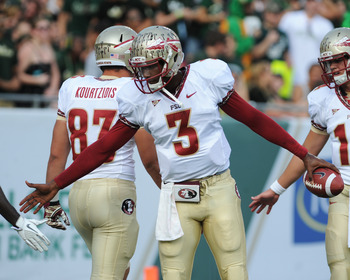 E.J. Manuel continues to excel.
Al Messerschmidt/Getty Images
Manuel went 12-of-15 passing in the first half and avoided costly turnovers.
In short, he did not cost the Seminoles the game. His ability to convert some critical third downs kept Florida State from shooting themselves in the foot.
E.J. Manuel still deserves to be in the Heisman conversation for his performance against Clemson and not blowing the Seminoles' first road game of the season.
Loser: Dustin Hopkins
Dustin Hopkins continues to unimpress in pressure situations.
Elsa/Getty Images
Dustin Hopkins will go to the NFL—there is no question about it.
He nailed all the extra points and got two field goals, but a wide right (gulp) field goal attempt could have cost Florida State the momentum and the game.
Now Hopkins redeemed himself with those two field goals in the second quarter, but the kicking game is suspect. I'm not going to present evidence on my typical "Hopkins in the Pressure Cooker Equals Failure" case, because it should be obvious by now.
If Florida State will lose a game in the regular season, it will come from Hopkins missing a last-minute field goal.
Winner: Kenny Shaw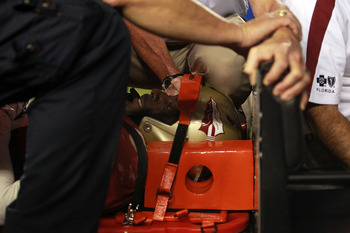 Kenny Shaw--like Chris Thompson--has had a turnaround year.
Ronald Martinez/Getty Images
Receiver Kenny Shaw has come a long way. To football fans who don't follow the Seminoles, he is most known for the brutal hit he took in last year's Oklahoma game.
He only made one catch but it went for 47 yards, the longest reception from either team the entire game. For a Florida State offense that was mostly anemic in Tampa, Shaw's highlight is praiseworthy.
Loser: B.J. Daniels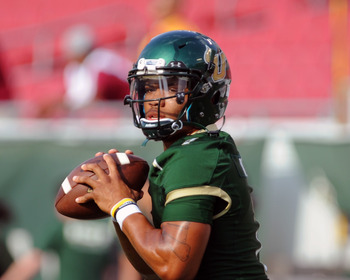 B.J. Daniels was capable, but lost the game for USF.
Al Messerschmidt/Getty Images
B.J. Daniels, a Tallahassee native, didn't excel against Florida State's secondary, going for only 17-of-33 (51.5% completion percentage) with an interception.
Perhaps the most puzzling play from Daniels came late in the fourth quarter. Trailing FSU 30-17 on a fourth down, USF's quarterback threw the ball out of bounds and essentially surrendered the game.
Don't get me wrong. B.J. is a champ for getting back on the field after a solid hit by the Seminole defense, but Bulls head coach Skip Holtz was definitely not impressed.
Winner: Rashad Greene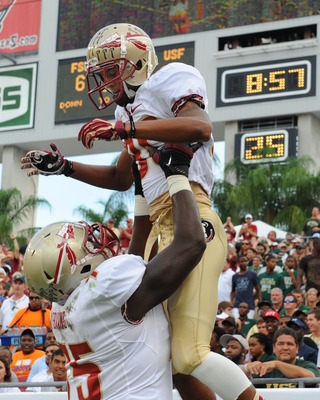 Rashad Greene made FSU history in the first quarter.
Al Messerschmidt/Getty Images
It's not often when a receiver gets legitimately compared to Peter Warrick.
Well, Rashad Greene has the statistics to prove it. In the first quarter, Greene became the first receiver since Warrick to score a rushing touchdown, passing touchdown, and returned a touchdown in one season.
Another great comparison to the FSU dynasty of old. The only question is: How long until the past becomes the future?
Keep Reading

Florida State Football: Like this team?