What Would It Take for the Atlanta Hawks to Win the Championship?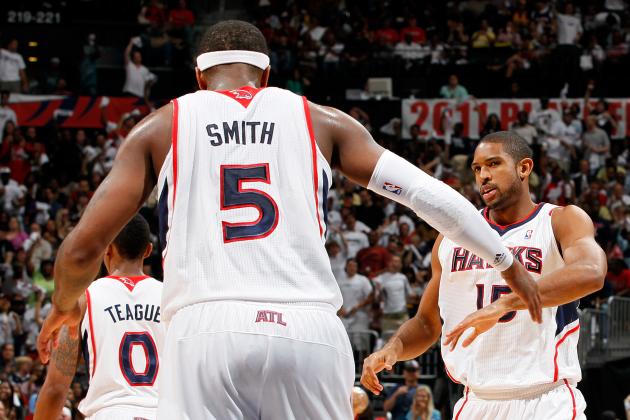 Kevin C. Cox/Getty Images

In my opinion, every team in the NBA—even the Charlotte Bobcats—would have some shot at a title if everything clicked. By "everything clicking," I mean the best possible scenario in every way. Maybe it would require every player to reach their full potential, but usually not quite that much. I also mean that the team could win without making any trades, no major injuries occur, and the coaching is at least logical.
The Atlanta Hawks are already a decent team, but very little of their team has a lot of upside still to be tapped. For them, it would take about as much magic as anybody, especially considering that they have multiple players consistently out of position, and they have logjams at certain positions.
What exactly would be required? You're about to find out.
Begin Slideshow

»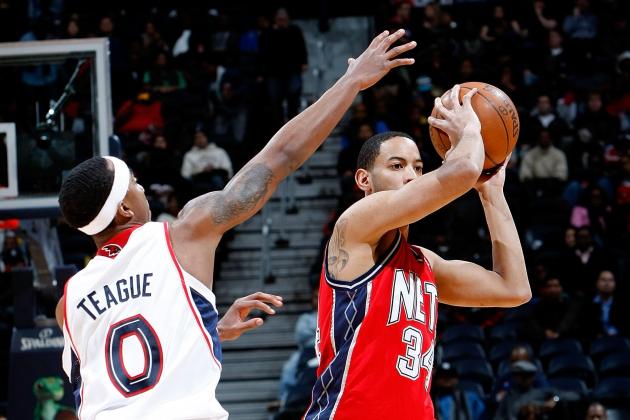 Kevin C. Cox/Getty Images

This is just a mess. Three scoring point guards? Spot-up only shooting guards?
Really, Atlanta?
Normally I wouldn't just make a whole section labeled "backcourt," but that's all I can do here.

There's honestly only so much they can do with this setup, severely limiting the odds of a title coming down to Da' ATL.
It all starts with Devin Harris. Some say Harris has lost a step, but he's only 29. The only reason he wasn't "The Blur" anymore last year was because he came out of the lockout out of shape. Despite going from a borderline All-Star to a disappointment, his per-36 stats were still pretty good. He just couldn't manage more than 27.6 minutes per game.
So let's say Devin Harris gets back into shape and out of this funk. Atlanta needs him to pass first and shoot second. Atlanta would need him to play as well as he did in his All-Star season, even if it's not for 36 or more MPG.
Say he expands on his rather successful second half of last season and averages something like 17 and seven in 32 MPG with solid efficiency. That would allow Jeff Teague to start at shooting guard. However unideal this would be, lineups with two point guards aren't impossible to employ successfully.
This tandem would have an advantage as Harris is a good distributor when he wants to be, and Teague is a good scorer who can play off ball and defend most shooting guards to a certain extent. Teague would have to be willing to do all this and learn to play a style similar to Jason Terry. If his shooting becomes more consistent, he could at least function as an undersized 2.
Speaking of which, Lou Williams would have to play a very similar role as he did last year with the Sixers. Last season, he showed flashes of both brilliance and laziness on defense. The effort will have to be there all year.
Starting at small forward ideally, but unfortunately, would be Kyle Korver. Both Harris and Teague handle the ball quite a bit and quite well. Korver would need to do nothing but knock down threes better than anybody else in the league, and at least try to play defense.
For him, that's far from a tall order, or at least the shooting part is. This year he shot almost 44 percent from the field, and for the most part, he was having an off year. So they'd need him to hover around 46 to 48 percent, something he's done before.
John Jenkins would not play a major role on this team, but they'd need him to be as consistent as you can find for a rookie. If he came in for two short stretches a game and knocked down shots and displayed a motor on both ends of the court that we've never seen from him, he'd be doing his job.
Anthony Morrow would have to learn to play more small forward than he's accustomed to, and he'd also need to have a bounce-back year from behind the arc. A shooter of his caliber has no excuse for shooting less than 40 percent from three, and especially not 37 percent.
Finally, DeShawn Stevenson would have to be the guy he was on the championship Dallas squad, who would play an unset number of minutes at either wing position and, if nothing else, play excellent defense and scrap it up as much as possible.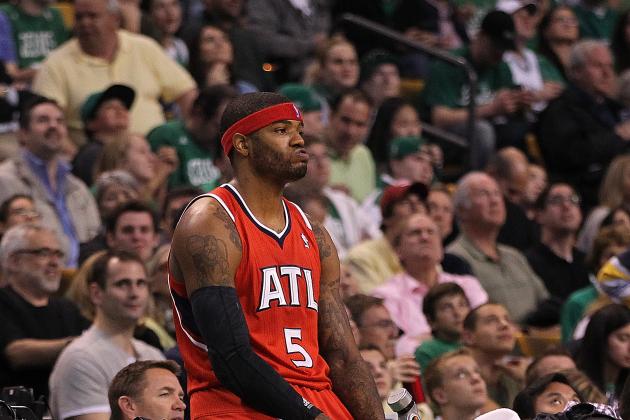 Jim Rogash/Getty Images

First of all, with a strong start to the season, J-Smoove would need to commit to sticking around in A-Town.
Josh Smith is now the best player on the Hawks, and in my opinion, the best power forward in the NBA behind Kevin Love. I'd even be happy to debate this if anybody deems it necessary.
This season, Josh Smith averaged 9.6 rebounds per game. He could definitely bring it to a solid 10 RPG. Defensively, he's one of the best in the game, but for a while now, we've been waiting for him to make the leap from a perennial All-Defensive candidate to a legitimate threat for Defensive Player of the Year.
If his steals can stay around 1.5 per game and his individual defense stays golden, he'll be fine. His blocks, however, have dipped down to 1.7 per game. A 2.5 per game average would be a great mark for him, and he's flirted with it before.
Offensively, he needs to step up his basketball IQ. His jump shooting is inconsistent at best, yet he jacks up 18-footers to three pointers as if he was a guard.
He needs to remember where his advantages are: Pretty much anywhere else on offense. If you put a bigger guy on him, and that is usually what happens, he can get out in transition or take them off the dribble. If you put anybody near his size on him, he'll feast on them in the post or under the boards.
If he realizes how much he's sabotaging himself and his team by throwing up shots out of his range several times per game, he'll be in business. There is no doubt in my mind that he could average 20 pints per game, staying very close to—if not above—the 50 percent mark from the field. It would also help if he could make two-thirds of his free throws.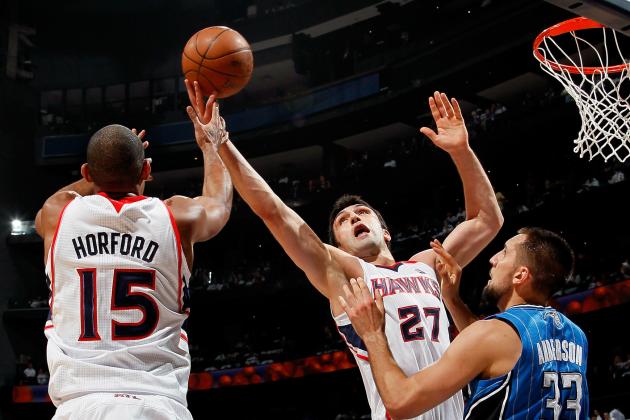 Kevin C. Cox/Getty Images

Every single big man on the Hawks, besides the useless Johan Petro, is either clearly undersized or named "Zaza" (I don't have a preference). This is where the real damage needs to be done for the Hawks.
Along with Josh Smith close to becoming an MVP candidate, they'd need Ivan Johnson to reach his full potential. While he's only in his second season, "Ivan the Terrible" is 28 years old. Last year he averaged roughly 13 PPG, 8 RPG, and 2 SPG in his per-36 stats while shooting over 50 percent from the field.
I saw enough of him to say that he could average more like 16 PPG and RPG with his two steals and some of the best hustle you'll see on a basketball court. Basically, if he can improve into one of the best bench bigs in the league, the Hawks will be well off.
There is no reason to believe that contributions from Virginia rookie Mike Scott are impossible either.
Scott is one of the best inside scorers in his draft class and is about as NBA-ready as any second rounder you'll ever find. Like Johnson, he's a gritty 6'8" rebounder and defender, although not quite as good at either as Johnson. But he's a better scorer, or at least would be if the Hawks ever needed to run him a play. Scott was one of the NCAA's better back-to-the-basket and pick-and-roll threats, and he should be there in case the Hawks ever need to catch a team's defense by surprise.
Johan Petro, the team's only seven-footer, has it in him to be good enough to get by as a backup center. Zaza Pachulia, unfortunately, would be a very important player. Last season, Zaza averaged eight points and rebounds per game in 28 MPG, a double-double in starter's minutes. He is also a good passer and defender at his position.
He still has room to grow offensively, and the Hawks would love for him to be a threat so they could go huge with him, Al Horford, Smith and Korver all on the court at the same time.
The final key cog in the Hawks' lineup is All-Star center Al Horford. When healthy, Horford, who is really a power forward, is arguably the third best center in the league. He sat out almost all of last season with a torn pectoral muscle, but in 2010-11, he averaged 15 points, nine rebounds, and almost four assists per game, while shooting 56 percent from the field and being an above-average defensive player.
All this as a 6'10" power forward with a small, albeit strong, frame. Imagine what he could do getting 10 to 20 MPG at power forward.
Regardless, Horford has the skill, versatility, consistency, work ethic and body to average something like 18 points, 11 rebounds, and four assists per game with his same efficiency. He also has more room to grow on defense.
Call me crazy, but if he realized his full potential next season, Atlanta could be home to both post players in the Eastern Conference's starting All-Star squad.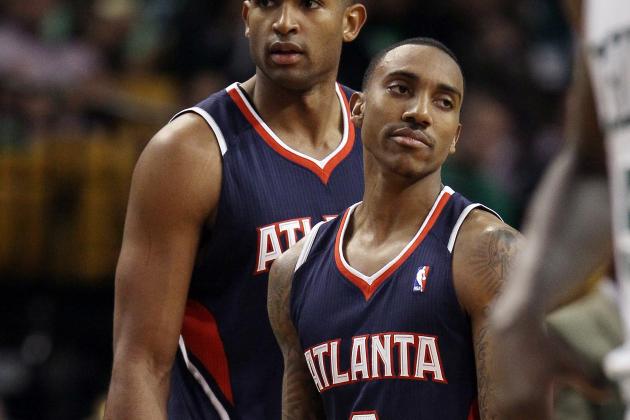 Elsa/Getty Images

If everything went perfectly for the Hawks, they'd have a deadly guard rotation, the greatest three-point shooting tandem of all time at small forward, arguably the best front court in the NBA and, not to mention, a solid bench. With some luck, enough is there for the team to make a run.
Head coach Larry Drew seems to be capable, as he led last season's oft-injured squad to a strong 40-26 record.
The Hawks fans will also need to see that this team is legitimate, as teams rarely make championship runs with the eight-worst fan attendance in the NBA.
It wouldn't be easy, but with a real big three in Harris, Smith and Horford, a deep and athletic rotation throughout the whole lineup and some timely three-point shooting, a 2013 Finals victory for the Hawks isn't impossible.