Boise State Football: Grading All 22 Starters from New Mexico Game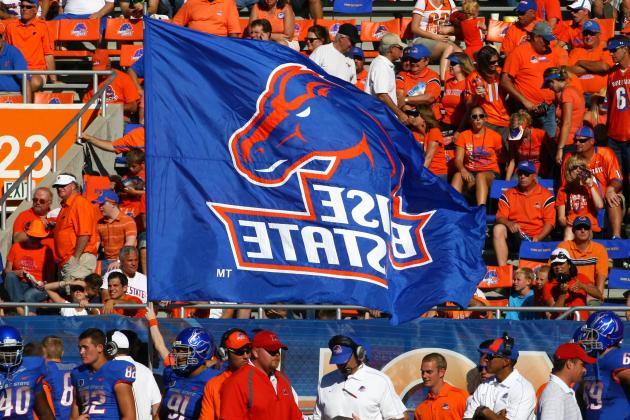 Brian Losness-US PRESSWIRE

It was a tale of two halves. In the first half, the Bronco defense was bending, but not breaking, against New Mexico's triple-option offense. Not so in the second half. The Lobos found gaps, and Boise State defenders were opting to cover potential pitch targets, allowing the ball-carrier to cut inside for substantial gains. In some cases, the ball-carrier was able to slip into the end zone relatively untouched
New Mexico exposed weaknesses in the Boise State defense and defied oddsmakers who had Boise State a prohibitive favorite. It could even be said that Boise State was lucky to escape with a 32-29 win. The less-than-convincing win, though, did knock Boise State out of the Top 25 AP football poll, although the Broncos did slide into the USA Today Top 25.
In Saturday's game, Boise State went with a platoon system at some positions, swapping out the defensive line as a unit at times. Redshirt freshman running back Jay Ajayi spelled starter, and sixth-year senior D.J. Harper, throughout most of the second quarter and injuries, forced Boise State to do some swapping around on the offensive line.
With all that in mind, let's grade the starters from Saturday's game against New Mexico
Begin Slideshow

»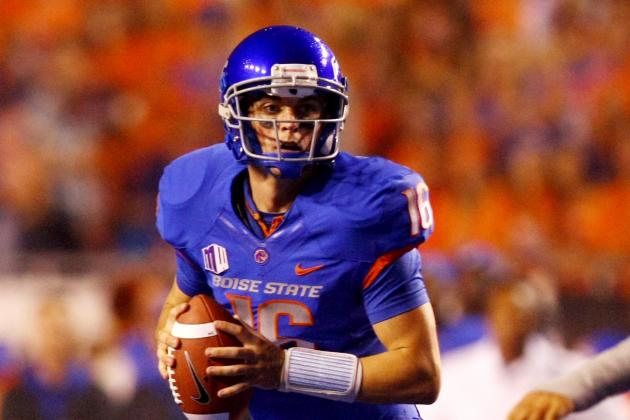 Brian Losness-US PRESSWIRE

Redshirt junior Joe Southwick went wire-to-wire again and showed solid leadership in controlling the Bronco offense late in the game when Boise State needed to eat clock.
Southwick went 24-of-30 for 311 yards and three touchdowns. His feet allowed him to scramble out of danger on a couple of occasions, and on one play, he scrambled right and threw a 50-yard strike down the field.
There was no sliding short of markers either. Southwick was diving for extra yards on the few times he ran past the line of scrimmage.
Where Southwick struggled was in throwing into the end zone. He was 1-of-5 in passes into the end zone—overthrowing receivers badly. He even missed on a 4th-and-1 situation from the Lobos' 4, overthrowing fullback Dan Paul in the end zone late in the fourth quarter.
Only one of his three touchdown passes (to sophomore Matt Miller in the second quarter) broke the plane of the end zone. His other passes were run in by the receivers, either breaking tackles or eluding would-be tacklers.
Also, give Southwick credit for a touchdown-saving tackle (New Mexico would later score) and trying to strip New Mexico's Joe Stoner after a 47-yard return of a Bronco fumble.
There were some minuses but also some solid pluses for Southwick in this game.
Grade for Joe Southwick: B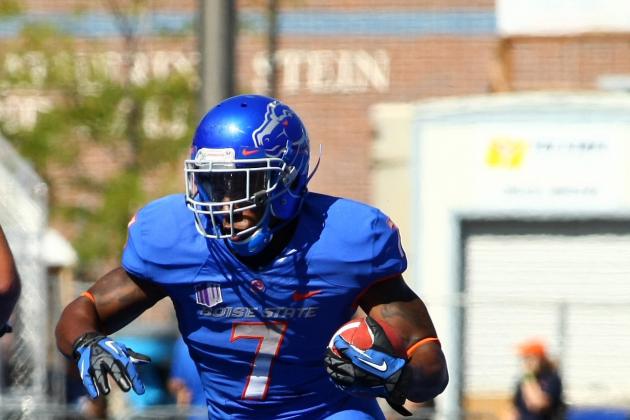 Brian Losness-US PRESSWIRE

Starters: Running back—D.J. Harper, fullback—Dan Paul.
D.J. Harper was the starter, giving way to redshirt freshman Jay Ajayi in the second quarter, but was the surehand guy at the end of the game when Boise State needed to hold on to the football. Harper wound up just short of a 100-yard rushing game, carrying the football 19 times for 98 yards.
New Mexico did a good job bottling up Harper early, but the combination of quarterback Joe Southwick's passing and redshirt freshman Ajayi's hard-charging runs loosened up New Mexico a bit. Harper also had two catches for 27 yards.
Grade for D.J. Harper: B+
Ajayi, who has had some problems off the field, showed a talent for breaking through tackles and picking up a lot of ground in a hurry. Ajayi didn't get a carry in the second half, but in the first half, he toted the ball six times for 118 yards and one touchdown. Ajayi's rushing performance was notable.
Grade for Jay Ajayi: B+
Dan Paul, a redshirt senior, was the starting fullback, and though he shook loose on a receiving pattern and was the intended target, quarterback Joe Southwick overthrew him badly on a fourth-down play. Paul had no carries and no receptions for the game.
In the second quarter, with Ajayi carrying the ball, Paul threw a great block to help spring Ajayi through the initial point of attack en route to a 71-yard jaunt for the ball-carrier.
Grade for Dan Paul: B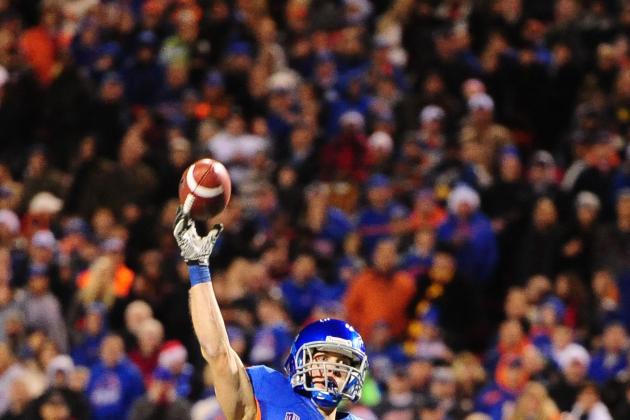 Mark J. Rebilas-US PRESSWIRE

Starters: X receiver—Matt Miller, Z receiver—Mitch Burroughs, H receiver—Kirby Moore, tight end—Gabe Linehan.
Bronco quarterback Joe Southwick used eight different receivers during the game, and only two passes went to the tight end—which was the redshirt freshman, Holden Huff.
Of the starting receivers, Miller (a redshirt sophomore) was the top target again, with nine catches for 68 yards and a touchdown. He also threw a two-point conversion pass on an extra-point attempt. Both Moore (redshirt junior) and Burroughs (redshirt senior) caught two passes each for 47 and 26 yards, respectively.
There were drops of balls that should have been caught. In all, eight receivers were involved in the passing game.
Grade for Matt Miller: A
Grade for Kirby Moore: B
Grade for Mitch Burroughs: B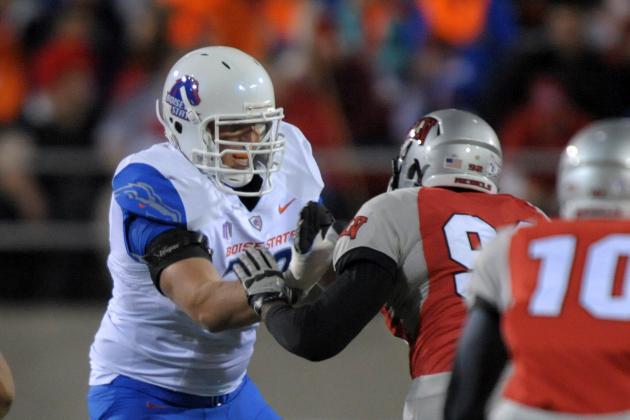 Kirby Lee-US PRESSWIRE

Starters: Left tackle—Charles Leno, Jr., left guard—Spencer Gerke, center—Matt Paradis, right guard—Michael Ames, right tackle—Brenel Myers, tight end—Gabe Linehan.
The Bronco offensive front allowed 27 yards in tackles for loss and one sack to quarterback Joe Southwick. Other than the sack, there were no recorded QB hurries by New Mexico.
It was a combination of Southwick's scrambling and solid pass blocking that gave the Bronco passer time to throw downfield. Some of the holes opened up for the running game were big enough to drive a semi truck through.
Overall Grade: B
Redshirt junior Spencer Gerke had a solid game. Multiple times, he was noted, pulling lead block on runs to the opposite side or pushing out defensive ends to open holes for off-tackle runs.
When injuries to Michael Ames, and then his backup, Jake Broyles, necessitated the early return from injury of Joe Kellogg, Gerke jumped to the right side of the line and was effective there.
Grade for Spencer Gerke: A
Matt Paradis did another solid job at center. His blocking was solid, and his snaps were spot on. He picked up the blitz on a crucial third down in the fourth quarter to keep the Bronco offense moving.
Grade for Matt Paradis: B
Redshirt junior Charles Leno Jr. also had a solid game. One of the tackles for loss came from penetration on the left side of the line. New Mexico overstacked and poured through, and while it came against Leno and Gerke, it was not solely on those two lineman.
Grade for Charles Leno Jr.: B
Michael Ames, a redshirt senior, was playing strong until he rolled up on in the third quarter. In the second quarter, it was a tremendous block by Ames that opened a hole for running back D.J. Harper.
Grade for Michael Ames: B-
Brenel Myers, a redshirt senior, had one of the more unusual false starts in the third quarter when he tried to hold his position and then just fell over backward without being touched.
Grade for Brenel Myers: B-
Brian Losness-US PRESSWIRE

Starters: End—Demarcus Lawrence, tackle—Ricky Tjong-A-Tjoe, nose—Mike Atkinson, SE—Sam Ukwuachu
In 2011, Air Force brought the triple-option offense to Boise and piled up 264 yards against an offense that, on the average, allowed only 110 yards rushing per game. It is fair to say the Broncos struggle against that type of offense. In the first half, Boise State held the Lobos to 126 yards rushing.
But, games are two halves and piled up 204 yards of rushing in the second half while starting to put points on the board. The problem was not so much in the trenches but rather in sealing the ball-carrier from turning upfield. Bronco linebackers and the defensive secondary were playing the pitch and not the ball.
Of course, that is a double-edged sword.
Mike Atkinson, a redshirt senior, had a good game. Atkinson finished with five total tackles but forced two fumbles. He was flagged for offside in the second quarter, but the penalty didn't hurt the defense.
Grade for Mike Atkinson: A
Ricky Tjong-A-Tjoe, a redshirt junior, was credited for one tackle, one pass breakup and one fumble recovery.
Grade for Ricky Tjong-A-Tjoe: B
Redshirt sophomore Demarcus Lawrence has been ripping up offenses lately, and he was playing against an offensive line that averaged over 300 lbs per player. Lawrence (6'3" and 242 lbs) was credited with one tackle for loss and one forced fumble. Lawrence was also solid in pursuit of ball-carriers downfield.
Grade for Demarcus Lawrence: B
Sam Ukwuachu, a redshirt freshman, had three tackles and two fumble recoveries. He was a hawk for the ball. He also chased down a ball-carrier and caught him along the sidelines; he was solid in the pursuit.
Grade for Sam Ukwuachu: B+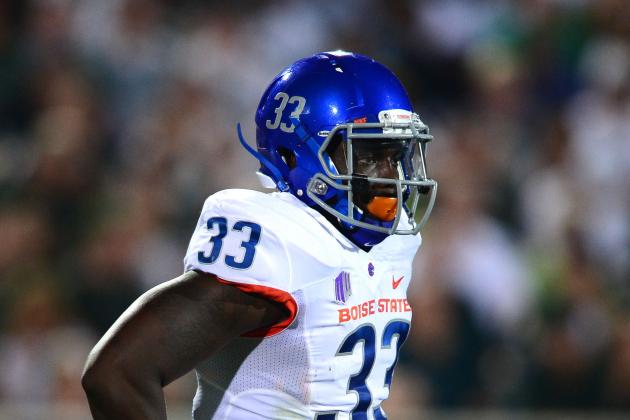 Andrew Weber-US PRESSWIRE

Starters: Tommy Smith, J.C. Percy
J.C. Percy led the Broncos in tackles against the Lobos with 13. He penetrated into the offensive backfield on several occasions and forced the issue.
Grade for J.C. Percy: B+
Tommy Smith came up huge for the Broncos with the game on the line in the fourth quarter. With New Mexico driving down the field to try for either the tying field goal or the go-ahead touchdown, Smith busted through on third down and tackled the New Mexico ball-carrier for no gain.
He followed that up by knocking down the fourth-down pass attempt to give the ball back to the Bronco offense. He finished the game with five tackles, four of those were solo.
Grade for Tommy Smith: A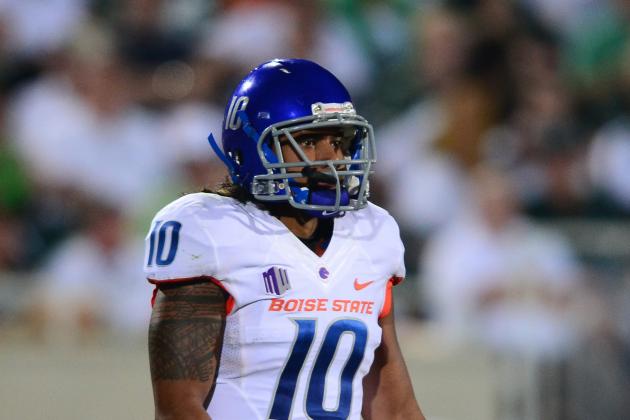 Andrew Weber-US PRESSWIRE

Starters: Safety—Jeremy Ioane, safety—Lee Hightower, nickel—Dextrell Simmons, corner—Jamar Taylor, corner—Jerrell Gavins
New Mexico was not a passing team. It runs a two-quarterback set with B.R. Holbrook and Cole Gautsche under center. Of the two QBs, Holbrook is the only one who passes the ball.
He finished the game 7-of-12 for 44 yards. When Gautsche was in the game, it was a better-than-even bet that New Mexico was going to be running the ball. That put the onus on the Bronco secondary to come up and either take away the pitch or swarm to the ball.
Jeremy Ioane, a redshirt sophomore, was the third-leading tackler on the team and delivered a huge hit on New Mexico's Holbrook in the second quarter.
There were a couple of times when New Mexico ran to his side of the field, and he took the pitch, allowing Gautsche to cut inside for substantial gains. Ioane, a redshirt sophomore, finished with six tackles on the game, with five of those solo.
Grade for Jeremy Ioane: B
On two noticeable occasions, Lee Hightower led with his helmet and was lucky not to get flagged for it. He also failed to wrap up runners on several occasions, trying to use his shoulder pads to bang them down. Hightower had five tackles on the game, four of those solo, but could have come away with more if he had wrapped up ball carriers with his arms.
Grade for Lee Hightower: C+
Dextrell Simmons, a redshirt senior, had seven solo tackles and nine tackles on the game. He was the second-leading tackler for the Broncos and was really active in the first quarter. Overall, he had a solid game.
Grade for Dextrell Simmons: B
Jerrell Gavins, a red-shirt senior, only finished with two tackles for the game, and he committed a personal foul that moved the ball and helped New Mexico decide to go for a two-point conversion in the fourth quarter to get New Mexico to within three of the Bronco lead.
Gavins was also giving receivers too much cushion on pass routes, though it didn't hurt the Broncos too much.
Grade for Jerrell Gavins: C+
Redshirt senior Jamar Taylor broke up a pass in the end zone in the second quarter. It was a stellar play to take away a solid first-half scoring opportunity for New Mexico. Taylor finished with three total tackles on the game.
Grade for Jamar Taylor: B