Ohio State Football: Winners and Losers from the Week 5 Game vs. Michigan State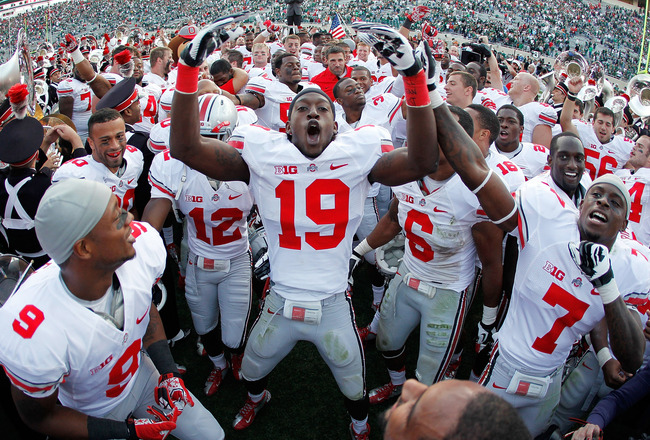 Gregory Shamus/Getty Images
Saturday's Big Ten opener was just about what you expect from a Big Ten game: physical play, good defense and power football.
Ohio State did all of that in beating Michigan State, 17-16, at East Lansing, getting a little bit of revenge after last year's 10-7 beatdown at home.
Urban Meyer got his first Big Ten win, and Braxton Miller finally has a signature road win despite having three turnovers.
Here is a look back at the winners and losers from Saturday's win by the Ohio State Buckeyes.
Winner: Luke Fickell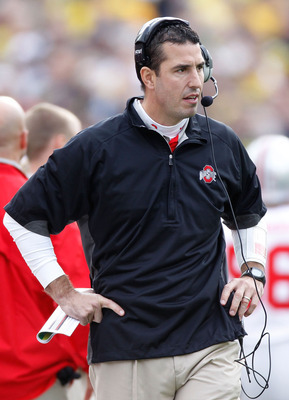 Gregory Shamus/Getty Images
Ohio State's defense was very shaky throughout the first four weeks of the season, and some felt Luke Fickell was on the hot seat.
He redeemed himself somewhat for helping craft a scheme to shut down star RB Le'Veon Bell, as he ran for just 45 yards on 17 carries.
Even better, the Buckeyes did not allow Michigan State to gain a single first down on the ground all game.
They dared Michigan State to make some plays through the air, which they did for the most part. But part of the win came from OSU's ability to make the Spartans one-dimensional.
Loser: Tackling

MSU's Keith Mumphery breaks about seven Ohio State tackles on this touchdown Saturday.

Remember those tackling problems Ohio State has had in the last two games?
Those came to a head in the worst way on Saturday as Michigan State's Keith Mumphery broke about seven tackles in turning a short dump off into the Spartans' only touchdown of the game.
Missing one tackle is understandable at times, but seven? In one play?
That's just simply not acceptable.
Winner: Urban Meyer
Gregory Shamus/Getty Images
Urban Meyer's Big Ten debut saw his team block a punt, and his starting quarterback throw the game-winning touchdown despite turning it over three times.
It definitely wasn't pretty, but Meyer made sure his guys were ready to play and got them to play solid football for 60 minutes.
His best coaching job was when he gathered his offense around him late in the fourth and inspired them to finish the game off with a forceful clock-killing drive.
Odds are that if Meyer was not the head coach, Ohio State may not have won this football game.
Loser: Jake Stoneburner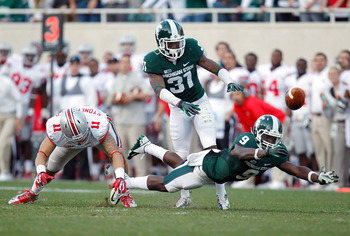 Gregory Shamus/Getty Images
For all of the talk about how Stoneburner might have been a major factor in the Ohio State offense, he has been a disappointment lately.
Saturday's win was the second straight game where the senior failed to make a catch.
He moved over to wide receiver before the start of the season and appears to have been passed up by Philly Brown and Devin Smith as far as favorite targets for Braxton Miller.
Winner: Braxton Miller in the Clutch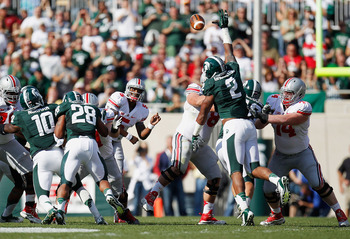 Gregory Shamus/Getty Images
Braxton Miller may have made three turnovers in the win despite throwing for 179 and running for 136, but it was what he did when his team needed to make a play that mattered most.
When Michigan State grabbed the lead, Miller took it right back as he hit Devin Smith for a 63-yard touchdown on arguably the best pass of his career.
And late in the game, despite sustaining what looked like a painful knee injury, he helped engineer the last drive to kill the clock and keep the ball with a one-point lead.
Miller has made plenty of clutch plays, but this is certainly his first signature road win of his young career.
Loser: Miller's Heisman Hopes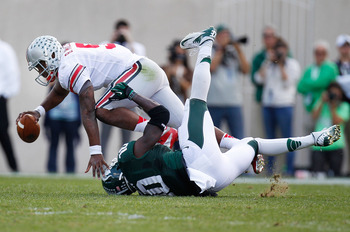 Gregory Shamus/Getty Images
The funny thing about Miller's Heisman stock sinking has little to do with his performance even though he had three turnovers, a rarity for him these days.
It's hard to keep up when your competition—West Virginia's Geno Smith—has a mind-blowing performance that puts him at the top of the list.
Miller did prove, though, that he is far and away the best player on the Ohio State offense and needs to be the guy to keep the offense moving.
Winners: Devin Smith and Corey Brown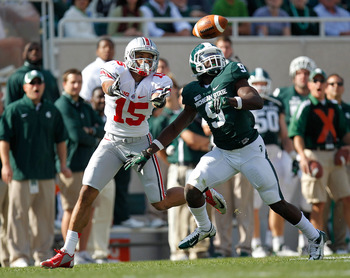 Gregory Shamus/Getty Images
What Ohio State fans are learning quickly is that they have a good pair of receivers to build with in Corey Brown and Devin Smith.
Brown—12 catches for 84 yards—had the Buckeyes' first double-digit reception game in six years, even though most of his catches were on bubble screens.
Smith, of course, had the game-winning touchdown from 63 yards out as he is growing into a big-play receiver.
The two are putting up great numbers and providing Braxton Miller with reliable go-to threats.
Losers: Receivers Not Named Devin Smith and Corey Brown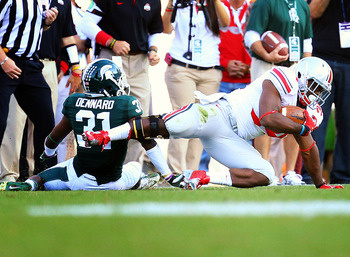 Mike Carter-US PRESSWIRE
Ohio State may have two or three good wide receivers on the offense, but that's pretty much it at the moment.
Smith and Brown have combined for 51 of the Buckeyes' 81 receptions as a team and 668 of the team's 970 receiving yards.
Evan Spencer looked early on like he could be a decent No. 3 or No. 4 option, but he has only caught two passes since the opener against Miami when he hauled in three throws.
If either Smith or Brown miss time for any reason, the OSU passing game could be in major trouble.
Winner: Carlos Hyde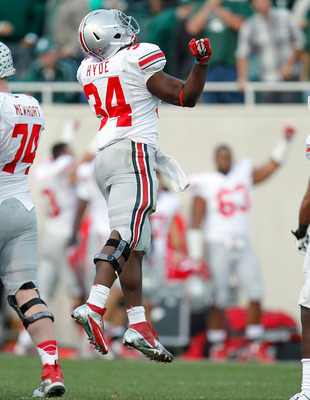 Gregory Shamus/Getty Images
Carlos Hyde returned to the lineup after missing two weeks and struggled early on.
But as time went on and Jordan Hall had to leave the game with another injury, Hyde stepped up, rushing for 18 of his 49 yards on the final drive of the game to help seal the deal.
Hyde is the type of power back who's best when the defense gets worn down late in games. Then he can get chunks of yards.
He should be better after a week's worth of live reps and will be more important if Hall can't go against Nebraska on Saturday.
Losers?: Ohio State's Video Coordinators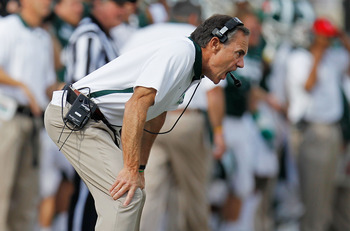 Gregory Shamus/Getty Images
After the win, Michigan State's coaches claimed that Ohio State doctored its game film to eliminate any footage of offensive shifts or motions.
They had threatened to bring it before the Big Ten, but the issue was squashed very quickly.
Unfortunately, now whoever is cutting Ohio State's film before it goes out to their future opponents will be under an unusually close lens.
Follow me on Twitter @bielik_tim for the latest college football news and updates.
Keep Reading

Ohio State Football: Like this team?