Ahmad Bradshaw: 3 Reasons NY Giants RB Should Be Scared of Andre Brown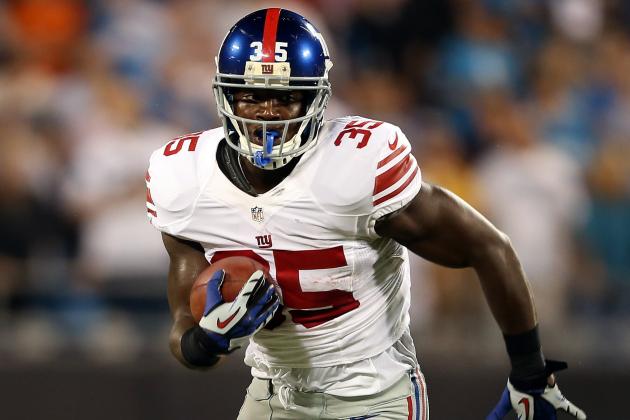 Streeter Lecka/Getty Images

New York Giants running back Ahmad Bradshaw was back for Week 4 of the NFL season after missing one week due to a neck injury.
However, competing for his original starting position is not going to be easy.
Andre Brown filled in for Bradshaw and made his first start in Week 3 against the Carolina Panthers.
He impressed everyone.
Now Bradshaw is back, he doesn't have his position all to himself. He will be splitting playing time with Brown.
The injury to Bradshaw, while tragic, has provided Brown with the opportunity to take his position and give him the exposure to prove that he is a capable player.
The question is, in the future, will Brown replace Bradshaw completely?
Begin Slideshow

»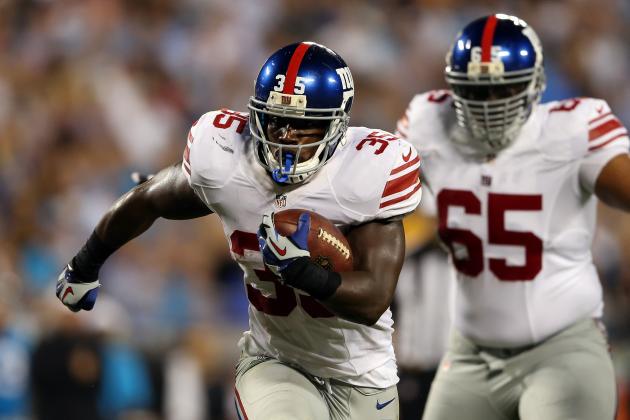 Streeter Lecka/Getty Images

Brown has been looking for an opportunity to be able to prove his place in the NFL.
He was first drafted by the Giants in 2009, but ruptured his Achilles tendon in his rookie year, which put his first season to a halt. Since then, he's been shifted around and traded; then the Giants picked him back up this year.
Even after that injury, he has continued to play and demonstrate why he is a key player for the Giants. Once Bradshaw got injured, Brown took the opportunity and definitely showed everyone what he is capable of.
Bradshaw should fear Brown's drive. He has much more to prove.
Ralph Vacchiano of the New York Daily News reported that Giants head coach Tom Coughlin said Brown has earned an increased role in the offense. Coughlin did not provide details on specifics about playing time between the two.
At halftime of Sunday night's game against the Philadelphia Eagles, Bradshaw had double the amount of yards that Brown had.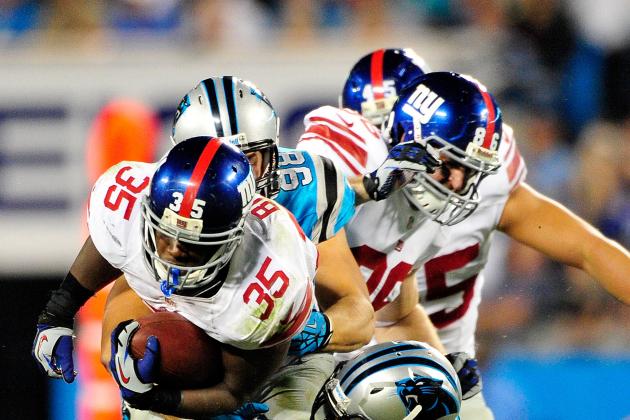 Grant Halverson/Getty Images

Against the Carolina Panthers in Week 3, Brown ran for 113 yards, which was a career high for him. He also scored two touchdowns, helping the Giants secure the win.
In that game, fans, coaches and players realized Brown's ability. He looked confident and fast. He also did a great job of protecting Manning. With the young runner's agility, speed and blocking skills, Bradshaw will be constantly looking over his shoulder.
Bradshaw should be completely intimidated by Brown. If the 26-year-old makes any mistakes, he knows Brown will go right in and replace him.
Bradshaw has been with the Giants for six seasons, but his skills are declining. Last year, the former seventh-round pick only had 659 rushing yards and 267 receiving yards.
That makes it look like it is time for someone new to step in.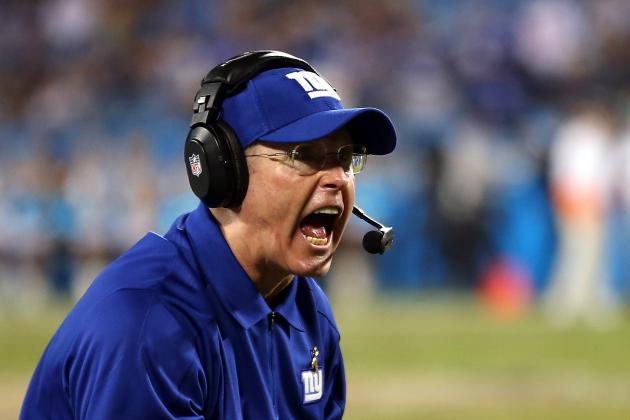 Streeter Lecka/Getty Images

After his recent performances, Brown is not going to go back to the bench. Even if he doesn't start every game, he will be a key player in the Giants offense.
He will give head coach Tom Coughlin an additional weapon on the sidelines that he can put in at any time.
With that being said, Bradshaw has to wonder what that will mean for his playing time and future with the Giants. Bradshaw may remain the starting running back, but he will split his time in the spotlight.
Sunday night's game against the Eagles was not an accurate display of either players' skills. Bradshaw only had 39 yards and Brown trailed behind him with 14. The Giants play the Cleveland Browns next Sunday, and hopefully they will have a better offensive plan in order to let both players perform well.