Buffalo Bills Get Manhandled by New England Patriots 52-28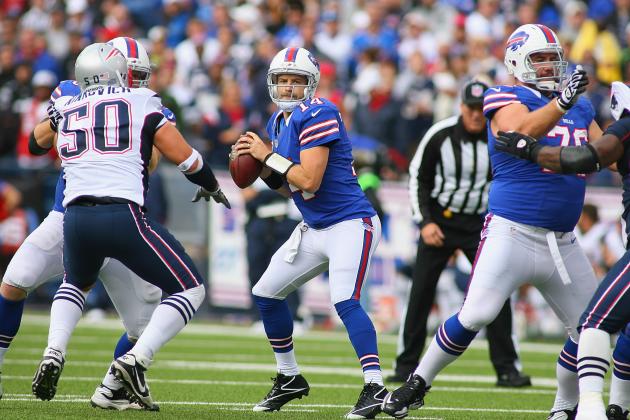 Rick Stewart/Getty Images

The Buffalo Bills had a chance to make a statement Sunday that they were ready to contend in the AFC East, but they fell flat, losing 52-28 to the New England Patriots in front of a sold-out crowd at Ralph Wilson Stadium.
The Bills went into halftime with a 14-7 lead, but the second half was all New England as the Patriots scored touchdowns on six consecutive drives.
Entering the game, the Bills were thought to have the superior defensive line and running game. But neither of those facts of their game delivered against the Pats.
The Bills now have to regroup as they travel to play the San Francisco 49ers next Sunday on the West Coast.
Here's a breakdown of Buffalo's play in Sunday's loss.
Begin Slideshow

»
Rick Stewart/Getty Images
Wes Welker had a huge game against the Bills again.
For only the second time in NFL history, a team had two rushers and two receivers exceed 100 yards in the same game. That was the Patriots on Sunday.
The four players in question were RB Brandon Bolden (137 yards on 16 carries), RB Stevan Ridley (106 yards on 22 carries), WR Wes Welker (nine catches for 129 yards) and TE Rob Gronkowski (five catches for 104 yards).
The Patriots were able to generate 580 yards of total offense. They had 33 first downs, 23 in the second half.
Whatever favorable rankings the Bills; defense had (No. 17 overall, No. 19 pass defense, No. 15 rush defense and No. 23 scoring defense) will take a huge tumble after this debacle.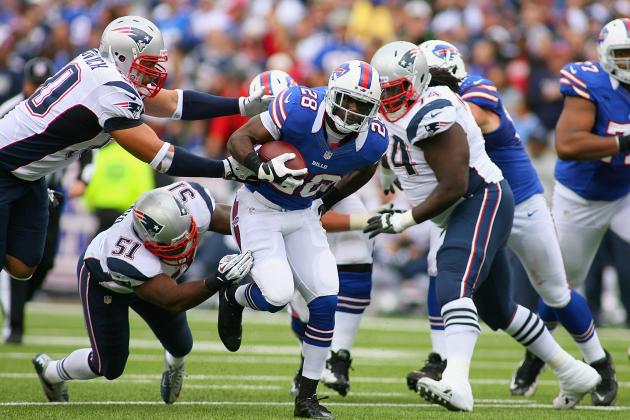 Rick Stewart/Getty Images

There is a strange phenomenon at work in the Bills-Patriots series. It began in Week 3 of the 2011 season when New England came to Buffalo and now three games long.
That game, the Patriots took a 21-0 lead, only to watch the Bills storm back and win 34-31. Then in Week 17, the Bills traveled to New England and took an early 21-0 lead, only to see New England score 49 unanswered points to win 49-21.
Sunday, it happened again. Buffalo went up 21-7, only to see New England storm back and win going away 52-28.
Sure, it is a weird coincidence, but it is also a statement about how quickly and irrevocably momentum can shift in these games.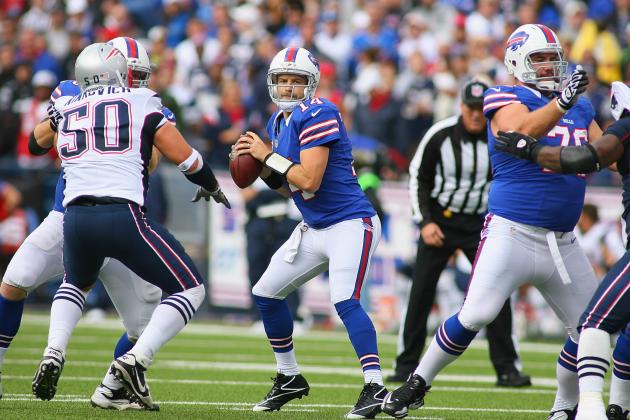 Rick Stewart/Getty Images
Ryan Fitzpatrick faced more pressure than Tom Brady did
The Bills spent a ton of money to acquire free-agent defensive ends Mario Williams and Mark Anderson. They were supposed to be able to put pressure on Tom Brady and give the Bills a better chance to defeat New England.
So how did the first performance go? Not very well. The Bills were only able to sack Brady once and were credited with only three quarterback hits. The Patriots, meanwhile, had three sacks of Ryan Fitzpatrick and four quarterback hits.
Williams and Anderson were unable to get to Brady, and Williams seemed to lack the strength or endurance to finish off his rush. You will often see Kyle Williams, Marcel Dareus and Chris Kelsay hustling down the field to try to make a play, but I sure don't see that high energy effort from Williams.
It is disappointing to see that Super Mario's performance hasn't measured up to the money the Bills are paying him.
Another aspect of the Patriots; physical domination was the run game. They rushed 40 times for 247 yards, averaging 6.2 yards per rush. The Patriots were able to reel off large chunks of yardage against the Bills' front seven for the vast majority of the second half.
Meanwhile, the Bills' offensive line suffered injuries to Cordy Glenn and Kraig Urbik. But the Bills had trouble running the ball before those injuries. They were only able to gain 98 yards on 27 rushes, with some of that coming in garbage time.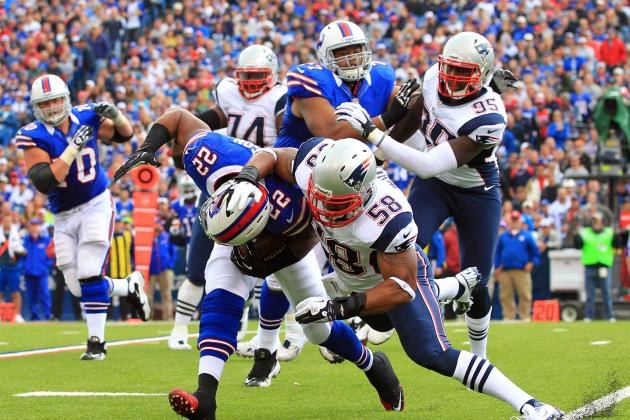 Kevin Hoffman-US PRESSWIRE

The Bills simply didn't take care of the football. C.J. Spiller lost a fumble at the Patriots' 1-yard line. Fred Jackson lost a fumble and Ryan Fitzpatrick threw four interceptions.
Killing six drives with turnovers is no way to beat the Patriots when they have their offense humming the way it was Sunday.
When the Bills had the lead in the first half, Spiller had a chance to put them up by two touchdowns with a run late in the first half, but he fumbled just shy of the goal line, and Patriots nose tackle Vince Wilfork came away with the ball.
This game is reminiscent of the Jets game in Week 1, when Fitzpatrick threw a number of interceptions as well. Something about playing AFC East defenses brings out the worst in the Bills' QB.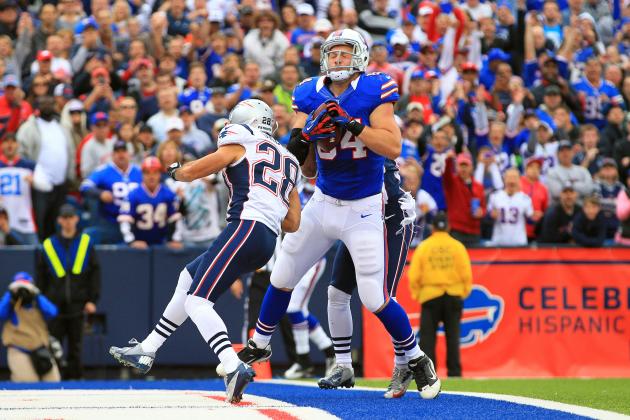 Kevin Hoffman-US PRESSWIRE

Scott Chandler made four receptions for 62 yards and two touchdowns. He also took a cheap shot from a Patriots linebacker on an interception return, when the Patriots player threw an elbow that caught Chandler inside the facemask.
Chandler continues to play well at tight end. In the first half, he looked like the best tight end in the game. Rob Gronkowski took the honors in the second half.
Donald Jones also looked good Sunday, leading the Bills with 90 receiving yards on only two catches. Jones averaged 45 yards per catch and scored on a 68-yard reception, when he used his speed to pull away from the New England secondary.
Brad Smith also had a nice touchdown catch, and T.J. Graham and Dorin Dickerson made some nice contributions as well. The most disappointing receiver was Stevie Johnson, who dropped some passes and didn't fight to prevent an interception. And even when the game was still up for grabs, his inappropriate body language clearly communicated his disgust with certain plays.
Johnson has talked about becoming a leader. But the leadership he showed Sunday wasn't the positive kind.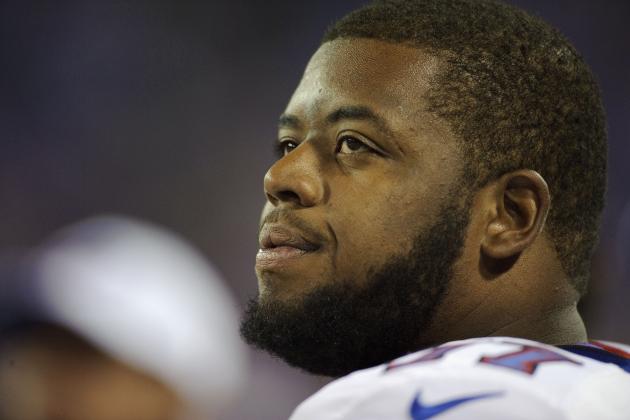 Hannah Foslien/Getty Images

We don't yet know the extent of the injuries to Cordy Glenn and Kraig Urbik, but if either is gone for any length of time, it will cost the Bills.
The Bills face tough San Francisco 49ers and Arizona Cardinals defenses in the next two weeks, and will need a full complement of offensive linemen to have a fighting chance in those games.
If the Bills have to go to backup starters on the line, that will put a strain on the team's depth, not to mention putting Ryan Fitzpatrick in a more vulnerable position and make it more difficult for the running game to succeed.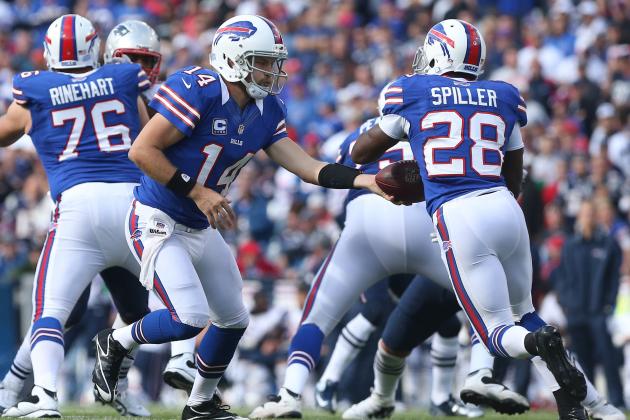 Tom Szczerbowski/Getty Images

It was commendable for Fred Jackson and C.J. Spiller to play through pain Sunday. Both players tried to provide some inspiration to their teammates by suiting up. But as valiant as the effort was, the end results were just not that great.
Jackson normally is able to make a few moves to make the defender miss, but that really didn't happen very often Sunday. Jackson had more than a few rushes in which he was being held up by somebody grabbing on to his foot, but Jackson couldn't shake the defender or break the tackle.
We can only suspect that he was limited by his injured knee. Jackson did make a solid catch on a wheel route down the sideline. That was one of the day's highlights. Jackson's fumble came on a hard hit, but he did turn his back to the defender on the play, which allowed the Patriots to knock the ball out of his hands.
Spiller had a couple moments, but his game wasn't up to par Sunday, either. While you want to applaud both backs, you just hope they haven't set themselves back by coming back too soon.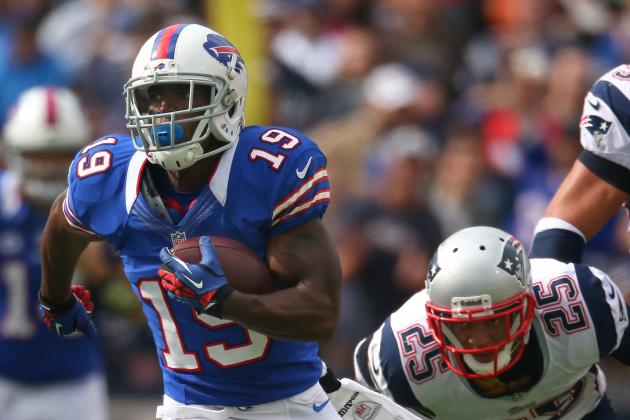 Tom Szczerbowski/Getty Images

While the Bills looked good in beating teams like Kansas City and Cleveland, they have fallen far short in losing to better quality teams such as the Jets and Patriots. The Jets were shut out by San Francisco 34-0 on Sunday, so you can only imagine the challenge awaiting the Bills next week when they arrive in San Francisco to play the 49ers.
We don't want to overlook the positive plays that were made in the first half by Jairus Byrd, Stephon Gilmore and Bryan Scott. But the back seven had lots of trouble stopping the run and blew some coverage assignments in the second half.
It will be interesting to see if Buffalo can regroup from this loss. It will also be interesting to see how Mario Williams responds. The Bills need him to be a difference-maker.
There are still 12 games to go, so this team has time to turn things around.
But will it? That is the question.