UFC on Fuel TV 5 Results: Post-Fight Stock Report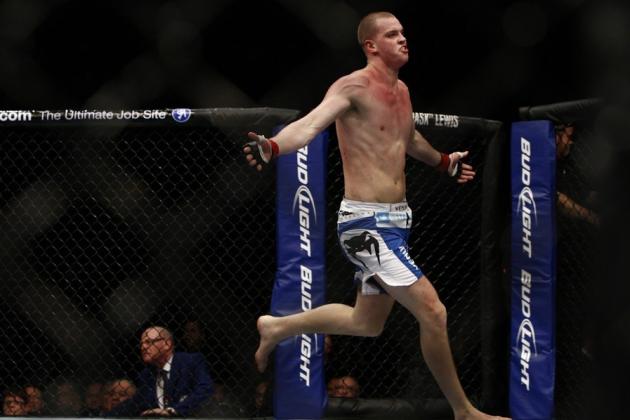 Photo Credit: Esther Lin/MMA Fighting
The heavyweight division gained a new contender on Saturday.
Stefan Struve has been overlooked throughout his UFC career due to early knockout losses to Junior dos Santos and Roy Nelson, but now that he's riding a four-fight win streak following a huge win over Stipe Miocic at UFC on Fuel 5, it's time to realize that Struve is the real deal.
Also on the rise is former welterweight title contender Dan Hardy, who used a fired-up hometown Nottingham crowd to get past a game Amir Sadollah in the co-main event.
After hitting rock bottom just over a year ago, Hardy's stock has finally started to recover from the massive hit it took during his four-fight losing streak.
With UFC on Fuel 5 in the books, here's a quick look at some top fighters from the card and their post-fight stock reports.
Begin Slideshow

»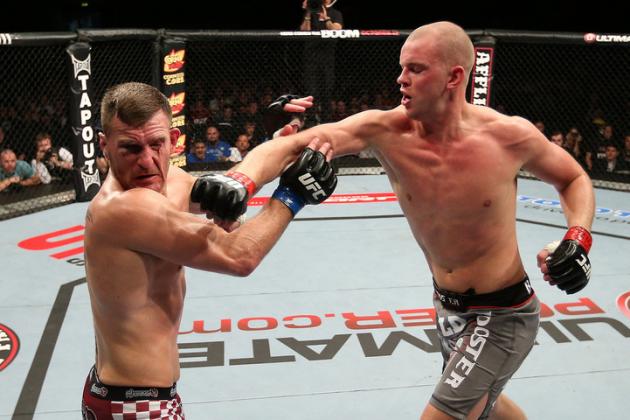 Photo by Josh Hedges/Zuffa LLC/Zuffa LLC via Getty Images
Stefan Struve is young, he's big, and he keeps on improving.
Struve showed off his impressive striking against Miocic, and due to his 84½-inch reach, his striking defense has improved significantly, especially when he controls the range.
Throw in an excellent submission game and "Skyscraper" is slowly becoming a legitimate threat to break through to the top of the division if he is able to keep himself out of trouble on the feet.
Struve is still working on his game and there is a lot of room for improvement, but after a tough win over a top prospect like Miocic, Struve isn't flying under the radar anymore.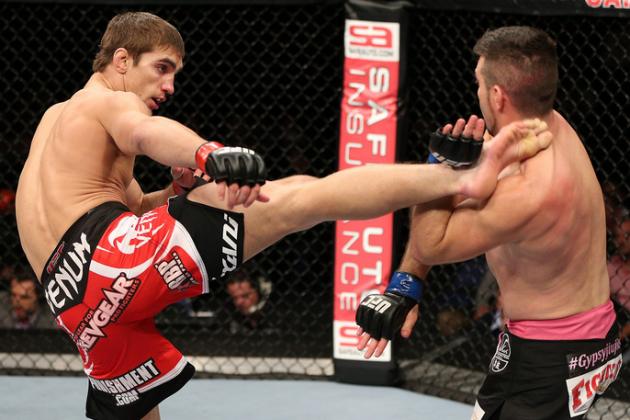 Photo by Josh Hedges/Zuffa LLC/Zuffa LLC via Getty Images
It wasn't the most impressive performance, but you can't deny that John Hathaway gets the job done almost every time he steps into the Octagon.
With big wins over Diego Sanchez and Rick Story already on his resume, Hathway has proven he can beat tough competition, and after a nice win over fellow Brit John Maguire, it may be time to see "The Hitman" take the step up in competition again.
One way or another, we'll finally see if Hathaway is among the elite at welterweight, and if he pulls off a big win, it could help create another star in the UK.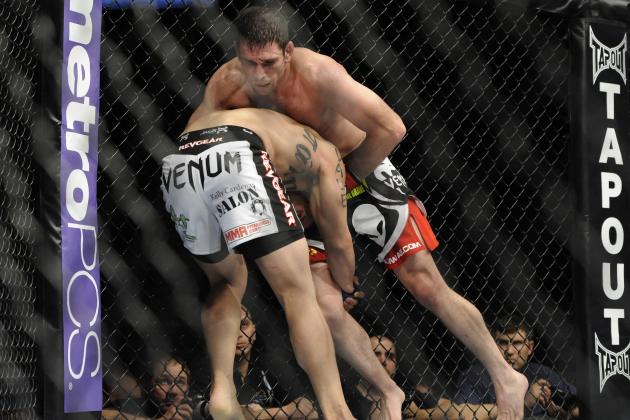 Rafael Suanes-US PRESSWIRE

Amir Sadollah knew that fighting Dan Hardy in front of a riled-up Nottingham crowd was going to be a tough task, but the former Ultimate Fighter winner hung in there despite his obvious disadvantage.
A close first round that a couple of the judges gave to Sadollah was the highlight of the bout for Amir, but after that it was all Hardy, as the Brit used his wrestling to secure the final two rounds.
This is a tough loss for Sadollah, but history has shown us that Amir is a fighter that bounces back well, and he'll put on another game effort no matter who his next opponent is.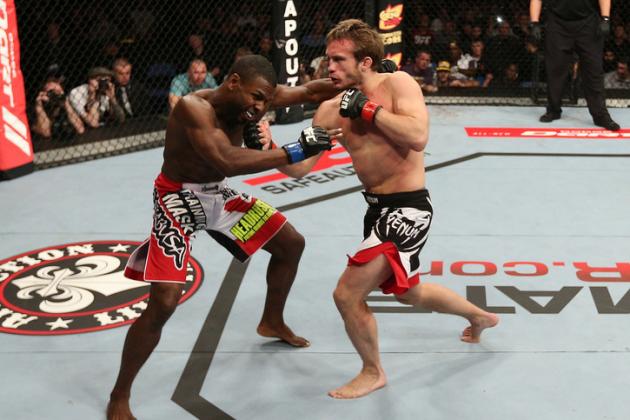 Photo by Josh Hedges/Zuffa LLC/Zuffa LLC via Getty Images
With one huge uppercut, Brad Pickett threw his name back into title contention at 135 pounds.
Most fans were expecting that Pickett was going to have a battle on his hands when he fought Yves Jabouin, but "One Punch" lived up to his nickname early and ended the fight in the first round.
This is a huge stoppage win in front of his fellow Englishmen, which makes Pickett's performance even more impressive, and it will be interesting to see if he is able to capitalize on his success in his next bout.
Photo by Josh Hedges/Zuffa LLC/Zuffa LLC via Getty Images
This loss to Struve is going to set Stipe Miocic back a bit, but there's a reason people are so high on Miocic's potential, and he showed a bit of that off in his first career loss.
Miocic showed a ton of heart, battling through a number of hard punches thrown his way by Struve, and he was able to withstand so much punishment that Herb Dean stopped the fight while Miocic was still standing.
Obviously, this isn't how Miocic fans wanted this fight to go, but the Ohio native looked good for the majority of the fight, and he won't be pushed too far back down the ladder.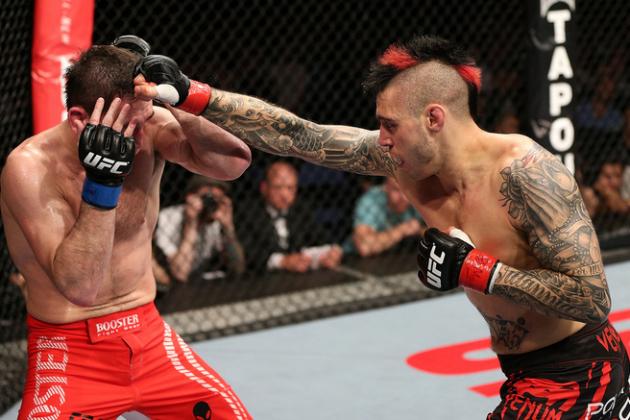 Photo by Josh Hedges/Zuffa LLC/Zuffa LLC via Getty Images
A big-time win for Dan Hardy would usually send his stock soaring, but "The Outlaw" showed he still has a bit of work to do against Amir Sadollah.
While Hardy's vastly improved wrestling skills were the story of the fight, they overshadowed the fact that Sadollah actually hit the Nottingham native with a few really solid shots.
Sadollah has never been known as the most powerful striker, and that was likely a good thing for Hardy, who may have been in trouble against a more powerful opponent.
Still, Hardy showed enough improvement on the mat to earn a rising grade here, and if he continues to improve, he could find himself back in the mix sooner rather than later.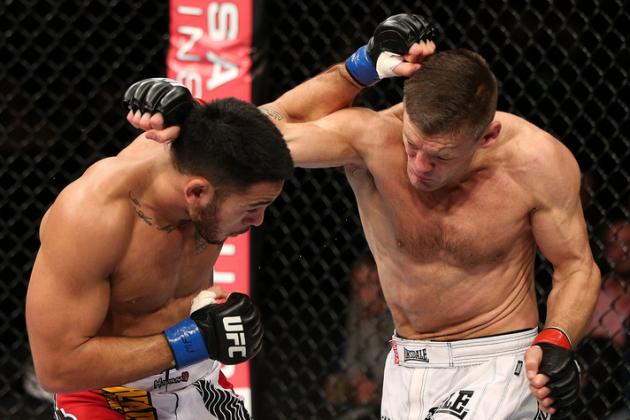 Photo by Josh Hedges/Zuffa LLC/Zuffa LLC via Getty Images
One of the most popular fighters in all of the UK, Tom Watson has to be disappointed in a tough loss in his UFC debut.
Watson was game to stand and trade on the feet with Brad Tavares, despite a severe reach disadvantage and losing a few exchanges early, but the second "Kong" started to get comfortable in the stand up, he would find himself on his back.
It was a great game plan for Tavares, and he followed it to perfection, leaving little doubt that he earned the decision win after 15 minutes.
Watson is still a fighter to watch at 185 pounds, and it will be interesting to see if Watson really is just a mid-level fighter or if Octagon jitters played a role in his UFC debut.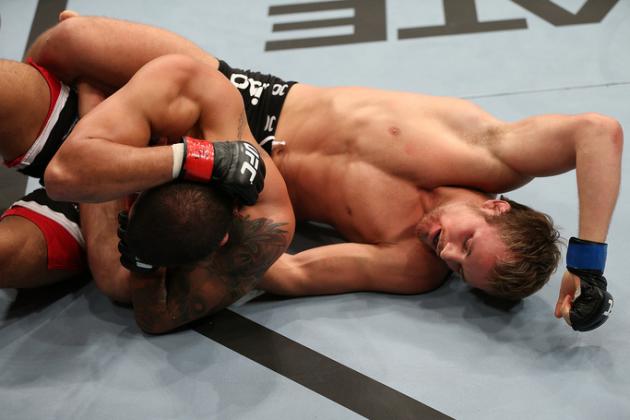 Photo by Josh Hedges/Zuffa LLC/Zuffa LLC via Getty Images
One of the top European prospects in all of MMA finally made his debut in England, and Gunnar Nelson showed the world why hardcore fans were so excited to see him inside the cage.
Nelson stayed on the feet just long enough to prove he has something that at least resembles a solid striking attack, and once he established his range on the feet, he quickly shot in and scored a beautiful double-leg takedown.
Once the fight hit the floor, it was just a matter of time, as Nelson took the back rather quickly and started working for a choke.
After a few close calls, Nelson finally secured the choke and earned himself a nice win over a tough veteran in DaMarques Johnson in his UFC debut.
Photo by Josh Hedges/Zuffa LLC/Zuffa LLC via Getty Images
When Paul Sass rushed out to the center of the cage and took Matt Wiman to the mat within the first minute of their bout, I immediately thought it was going to be a short night of work for the Brit.
As it turns out, I was right, but not in the way that I expected.
Matt Wiman showed off some serious grappling skills, avoiding the ruthless submission game of Sass long enough to lock in an armbar of his own just minutes into the first round.
A submission win over Sass is a huge feather in the cap of Wiman, and the loss is going to send Sass tumbling down the lightweight rankings.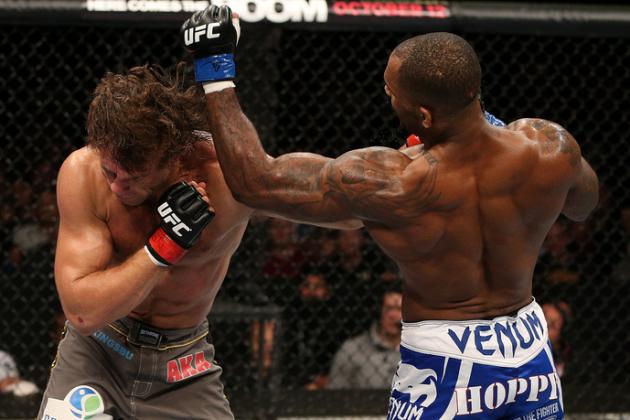 Photo by Josh Hedges/Zuffa LLC/Zuffa LLC via Getty Images
As impressive as Jimi Manuwa was in his UFC debut, I can't help but feel like Kyle Kingsbury got screwed a bit when he got thrown into the cage with the former BAMMA fighter.
After suffering a tough loss to a highly regarded, hard hitting prospect in Glover Teixeira at UFC 146, Kingsbury got thrown into a must-win situation against yet another highly regarded and hard hitting prospect.
Manuwa showed he can throw some serious leather, and his knees and kicks were equally good, but it will be interesting to see how he responds if he gets put on his back for an extended period of time.