World Football: 10 Best Goals of September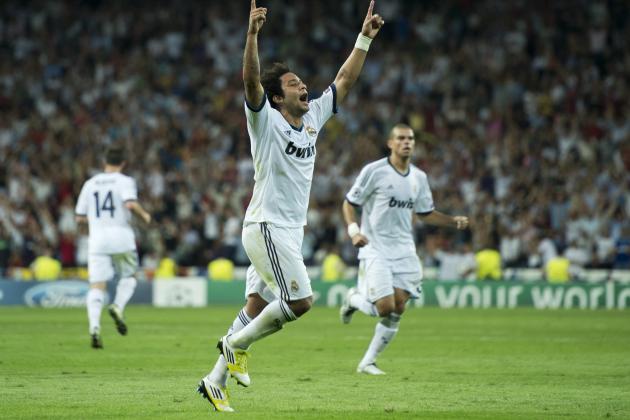 Jasper Juinen/Getty Images

The month of September was a magical one as far as football is concerned.
By this stage, the entire football world has been up and running for almost two months.
The Premier League, La Liga, Serie A and the Bundesliga are in full swing, World Cup qualification has finally started and the Champions League has made its welcome return.
What does that mean for us fans?
It means goals!
Goals, goals and more goals. More goals than you could shake a stick at.
Let's take a look at 10 of the best goals to grace our screens during the month of September.
Begin Slideshow

»
Alain Traore is a Burkina Faso international football player, plying his trade with FC Lorient in France.
So far this season, the 23-year-old striker has scored four goals in five games, and this stunning strike isn't even the best of them.
Definitely a name to remember.
Lorient's fans had to wait 20 minutes to see this wonder strike—we only had to jump onto the next slide!
Following up from his stunning first, Traore scored this truly phenomenal free kick.
In case you missed it on the first slide, this is a name you need to remember.
Simon Cox scored one of the most beautiful goals I have ever seen in September.
Two touches, finesse, skill, art and football all rolled into one.
The outpost that is the Russian Premier League is not a place most fans peruse. However, when goals like this are scored, the whole world should stand and applaud.
I'm actually giving it a standing ovation as I type, which is much harder than it sounds!
No Messi this month, but we do have a Barcelona entry thanks to Xavi.
The best midfielder on the planet doesn't score all that often, but when he does, it's usually a cracker.
This strike against Granada is no different.
Don't you just love fan vids that capture magical moments?
Real Madrid's 3-2 win over Manchester City was easily the best match from the first round of group games in this season's UEFA Champions League.
Marcelo's last minute shot was also, quite easily, the best goal. Enjoy.
Gareth Bale has made a career out of scoring this type of goal.
It doesn't become less of a goal because of that fact. In fact, it gets better.
This goal displays all his pace, strength, skill and power, and all in one 37-second video.
Kudos to Jermain Defoe, whose clever run ripped the United defence apart.
Rafael's brilliant goal at Anfield paved the way for Manchester United to get back into the game and win a match they never looked part of.
This fan vid is pure unbridled joy and emotion, and is there to be enjoyed by fans of all teams, with the understandable exception of Liverpool.
Jakob Kohler scored one of the best overhead kicks you'll ever see in September.
The moment is made even more special when you realise he is Frem's goalkeeper, and that his strike came deep in injury time against Skjold Birkerod.
If he can score goals like this, he may have a career as a striker ahead!
Making a very late entry, with thanks to Rohan Ahluwalia, is this sublime volley from Fabrizio Miccoli.
Once upon a time Miccoli was the next great hope of Italian football but time, injuries and a loss of form, perhaps, robbed us of one of the great talents of the last decade.
Now at 33, the slightly portly centre forward lets rip with a goal you will want to see, over and over again.
Watch Henderson's 35-meter wonder-goal for Ireland's Under-21's vs. the Italian Under-21's.
It's a strike that Arsenal and Ireland fans will be hoping Henderson repeats in the not-too-distant future. If he can keep this up, the 6'1" midfielder—currently on loan at Coventry in the Championship—has a great future in the game.
Channelling Paul Scholes, the man he is going to replace, Nick Powell scored this lovely goal from outside the box on his debut for Manchester United.
Was it the best of the month? No, but in time it could turn out to be the most important.
You are what you eat.
But don't eat oranges you've kicked around the kitchen—you'll get sick!