2012 Heisman Trophy: Stock Up, Stock Down for Candidates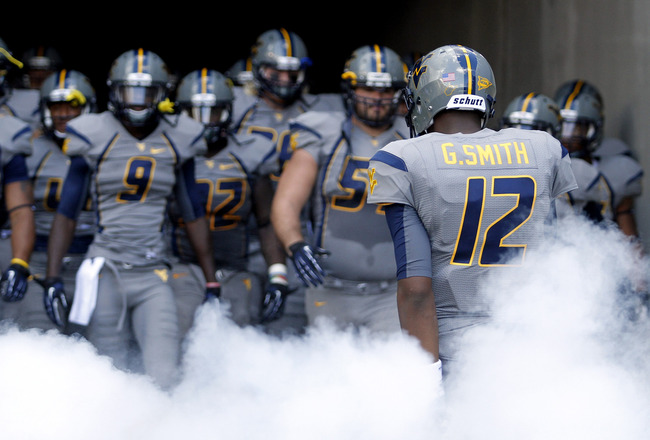 West Virginia quarterback Geno Smith
Justin K. Aller/Getty Images
The application process for the most prestigious award in collegiate sports takes place over the course of a season, excluding bowl games.
The applicants, however, are reviewed on a week-to-week basis. Every week is a big week for every player in a race that has seen players passed simply for having a bye week.
As much press as defensive players like Georgia's Jarvis Jones and Notre Dame's Manti Te'o can get, it takes as extraordinary season for a player on that side of the ball to take home the trophy.
In 1996, the only time a defensive player won the Heisman Trophy, former Michigan cornerback Charles Woodson did much more than just play defense. He caught 12 passes for 238 yards and two scores, ran for 41 yards and a touchdown, ran back a 78-yard punt against Ohio State and even completed a pass for 28 yards.
Not to mention, he dominated on defense, recording 42 tackles, a sack, nine pass breakups and eight interceptions.
Last season, Tyrann Mathieu made it to New York because of his special teams abilities coupled with his defensive playmaking.
The Heisman Trophy is about the glitz and glimmer. Players have to put up numbers, and their teams have to win.
Only a few types of players are really in consideration: quarterbacks, running backs and the rare wide receiver.
With that established, let's take a look at how 2012's Heisman candidates affected their stocks in Week 5.
1. Geno Smith, Quarterback, West Virginia: Stock Way Up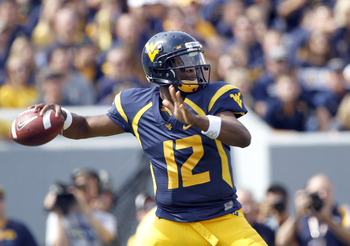 Justin K. Aller/Getty Images
In the three games prior to West Virginia's Big 12 debut, quarterback Geno Smith had done everything a team could ask of its signal-caller, already positioning himself at the front of the Heisman Trophy race.
He completed 81.4 percent of his passes.
He covered 1,072 yards with 12 touchdowns and no interceptions in three Mountaineer wins.
What he did against Baylor this Saturday may leave all other Heisman candidates looking at the No. 12 on the back of his West Virginia jersey.
He threw for 656 yards and eight touchdowns. Looking at his stat line is ridiculous given that he had more touchdowns (eight) than incompletions (six).
He has good targets in the passing game, including standout receiver Tavon Austin. Smith's receivers have the ability to pick up a ton of yards after the catch. This ability to take short passes to the house can only help Smith win with the stat-driven voters.
Stat line—Pass: 1,728 YDS, 20 TD, 0 INT Rush: 67 YDS, 1 TD
2. De'Anthony Thomas, RB/WR/KR/PR, Oregon: Stock Slightly Down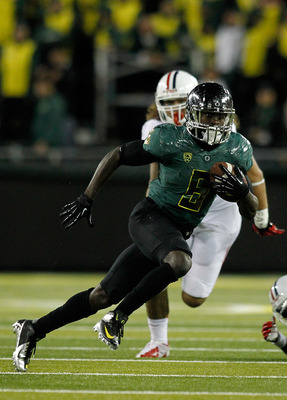 Jonathan Ferrey/Getty Images
De'Anthony Thomas plays even better than his statistics. Heisman voters have to take into account all of the ways Thomas improves the Ducks' chances of winning.
Just putting him on the field changes the way the defense has to play the Ducks offense.
On Saturday night against Washington State, Thomas had 124 total yards and a touchdown. The performance puts Thomas' stock slightly down, as most expect the sophomore to score a touchdown every time he touches the ball.
Really, the thing that is hurting Thomas' candidacy most is his lack of touches. If he had a touch count that paralleled his skill level, his statistics would be through the roof already.
He'll go over 2,000 yards from scrimmage again, and he will hover above the 20-touchdown mark. These type of statistics will definitely lead to Thomas making a trip to New York, but if Oregon really wants him to take the trophy home, it needs to get him the football.
Kenjon Barner could be a sleeper to get into the mix for the trophy (605 rushing yards, nine touchdowns), and it is really his presence that hurts Thomas' Heisman chances.
Stat line—Rush: 302 YDS, 5 TD Rec: 193 YDS, 3 TD
3. EJ Manuel, Quarterback, Florida State: Stock Even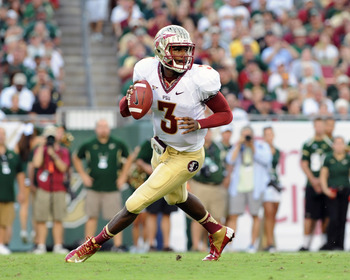 Al Messerschmidt/Getty Images
Florida State looked to be on upset alert early against South Florida. A loss would have been a devastating blow to EJ Manuel's Heisman hopes.
Fortunately for the senior quarterback, the Seminoles got it together and left USF's field with a 30-17 victory. Manuel didn't have the greatest statistical day, but he also didn't have a bad one: 242 yards and a touchdown.
The game brings his season totals up to 1,147 passing yards with nine scores and one interception. He's also added 188 rushing yards and a touchdown.
The schedule definitely favors Manuel, as Florida State doesn't have to play a currently ranked opponent until the last week of the season against Florida.
Stat line—Pass: 1,147 YDS, 9 TD, 1 INT Rush: 188 YDS, 1 TD
4. Braxton Miller, Quarterback, Ohio State: Stock Slightly Up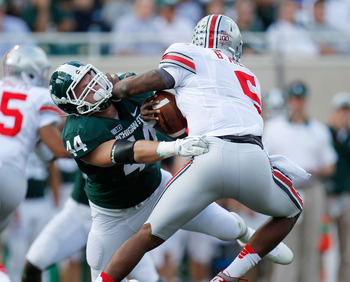 Gregory Shamus/Getty Images
The sophomore's Heisman stock has to have risen slightly after grinding Ohio State to a 17-16 victory over Michigan State.
Braxton Miller has Urban Meyer's Buckeyes at 5-0 and atop the Big Ten standings.
He has been moving the football with his feet and his arm. His 1,510 total yards and 15 total touchdowns are evidence of that.
His stock is slightly up simply because of the win. He has the talent to thrive in Meyer's offensive system.
He should put up big numbers, but the Buckeyes postseason ban will do him in, even if he does get close to the top.
Stat line—Pass: 933 YDS, 8 TDS, 3 INT Rush: 577 YDS, 7 TDS
5. AJ McCarron, Quarterback, Alabama: Stock Up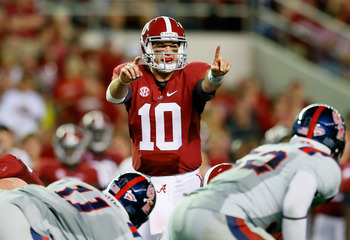 Kevin C. Cox/Getty Images
AJ McCarron has a bunch of things going for him this season.
He's on the No. 1 team in the country.
He has the highest chance of making the BCS Championship game.
There is not a workhorse running back to overshadow him.
He has the No. 1 defense in the country.
Is there absolutely no way that we could just award the Heisman to the entire Alabama defense? Eleven co-Heismans?
Yeah, I guess not.
All of these factors, combined with McCarron's good stat line, make him a legitimate threat to capture the Heisman.
Stat line: 999 YDS, 12 TD, 0 INT
6. Collin Klein, Quarterback, Kansas State: Stock Even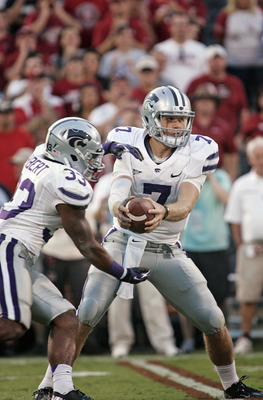 Brett Deering/Getty Images
Collin Klein led his Wildcats to a huge victory over Oklahoma last weekend. This established him and Kansas State as legitimate contenders for both the Heisman and the Big 12 championship.
Klein has been a huge part of the team's 4-0 record. He has thrown for 758 yards, five touchdowns and two interceptions, while rushing for 289 yards and five touchdowns.
The team's remaining schedule is anything but easy, though. They have games remaining against West Virginia, TCU, Baylor and Texas, though the WVU and Baylor defenses might help his candidacy.
Stat line—Pass: 758 YDS, 5 TD, 2 INT Rush: 289 YDS, 5 TD
7. Matt Barkley, Quarterback, USC: Stock Down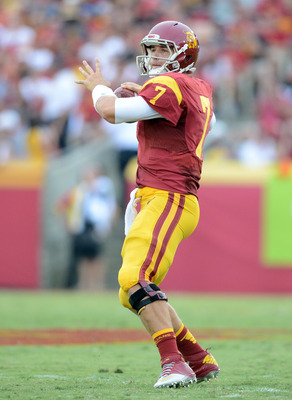 Harry How/Getty Images
If you're comparing his stock against where it started, Matt Barkley's stock is way down. This was his Heisman trophy to lose. This was USC's national championship to lose.
That was, until the Trojans lined up against the Stanford Cardinal two weekends ago.
After starting the season with 10 touchdowns against one interception in two USC wins, Barkley has thrown four interceptions and only two touchdowns in his last two games.
USC has gone 1-1.
With a bye in Week 5, his stock has dropped more, if only because players who have passed him played so well.
Stat line—Pass: 1,005 YDS, 12 TD, 5 INT
8. Aaron Murray, Quarterback, Georgia: Stock Up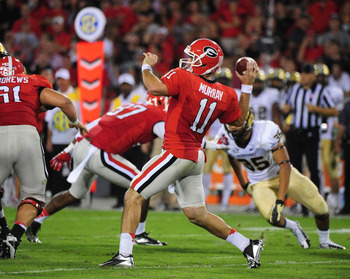 Scott Cunningham/Getty Images
It hasn't been pretty or particularly amazing, but Aaron Murray has played extremely well for the unbeaten Bulldogs.
The quarterback isn't brought up very often in this discussion, but if the Bulldogs continue to win and find themselves in contention for a BCS title, Murray will find himself in the thick of the race.
A high-scoring victory against Tennessee is just another step down the path.
Stat line—Pass: 1,370 YDS, 12 TD, 3 INT
9. Tavon Austin, Wide Receiver, West Virginia: Stock Up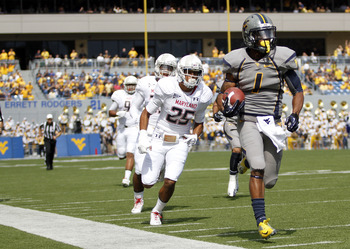 Justin K. Aller/Getty Images
Tavon Austin is a speedy receiver that makes the most of every reception. He also challenges a lot of defenses vertically.
His stock definitely gets a boost with a 14-catch, 215-yard, two-touchdown performance on Saturday against Baylor, though his chances definitely remain slim.
The unfortunate thing for Austin is the great play of his quarterback. If Geno Smith continues his stellar play, there is absolutely no way Austin can climb past him. If a quarterback has a great season, his wide receiver is not going to pass him to win the Heisman.
Wide receivers rarely win the Heisman, anyway.
Stat line: Rec: 48 REC, 560 YDS, 7 TD Rush: 84 YDS
10. Marqise Lee, WR/KR, USC: Stock Even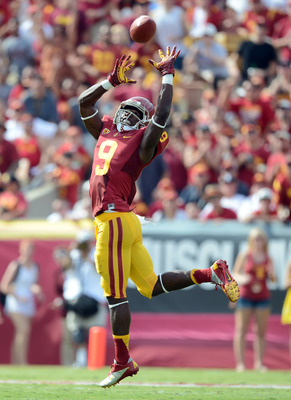 Harry How/Getty Images
If there is one positive in Matt Barkley's poor play, it is that it strengthens Marqise Lee's Heisman chances. Lee only had the slightest of hopes to begin with and gets the benefit of USC's shady quarterback play.
Lee's situation is the exact opposite of Tavon Austin's situation.
Lee is the kind of player that can score from multiple positions, which gives him more chances to pick up yards and create memorable highlight-reel plays.
Both can only help.
Stat line—Rec: 40 REC, 457 YDS, 6 TD Return: 251 YDS, 1 TD Rush: 1 CAR, 31 YDS
Keep Reading