LSU Football: Winners and Losers from the Week 5 Game vs. Towson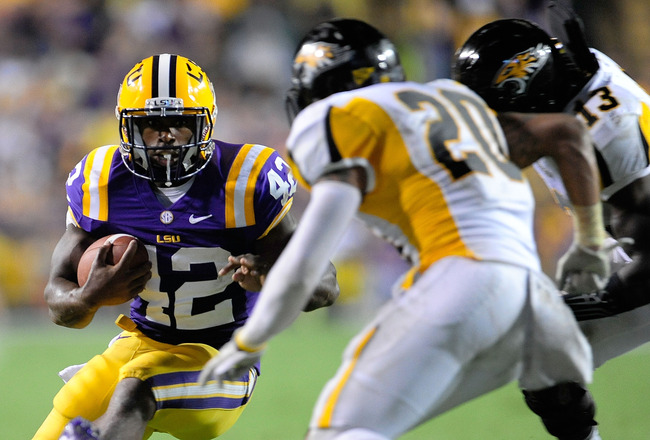 Stacy Revere/Getty Images
Following LSU's 38-22 win against Towson Saturday, this team has to get better before facing Florida this upcoming weekend.
Simply put, this was a sloppy performance by this LSU team.
The Tigers played lackadaisical for most of the game but were still able to do enough to win by 16 points. Still, a 16-point win against Towson is far from being impressive.
Here are LSU's real winners and losers from the game.
Loser: Zach Mettenberger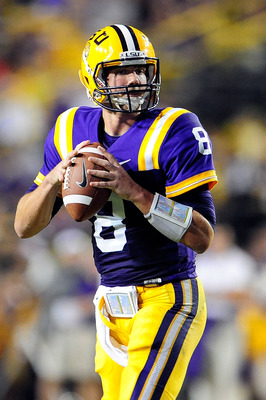 Stacy Revere/Getty Images
Surely, after Zach Mettenberger struggled against Auburn, he would pick it up against Towson, right?
Wrong. Mettenberger was inconsistent once again, as he failed to deliver the ball accurately and show any awareness in the pocket at all.
Mettenberger finished the game completing 15 of 26 passes with 238 passing yards and two touchdowns. Those aren't terrible numbers, but need I remind you that the team he was playing was Towson?
Mettenberger didn't fix his fumbling problems either, as he lost another ball on a sack.
Look, Mettenberger and this passing offense are a work in progress, but they're going to have to get the ball rolling before they play against a great Florida defense. Should Mettenberger play like this against Florida, LSU will not escape defeat.
Winner: Barkevious Mingo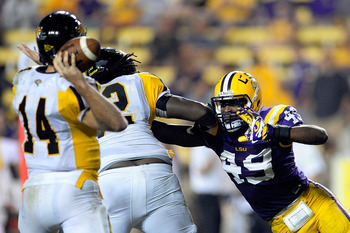 Stacy Revere/Getty Images
At least somebody had a night worth bragging about.
Barkevious Mingo recorded his first sack of the season against Towson, and that means he now has 11.5 sacks in his career.
Honestly, it's surprising that it took Mingo this long to record his first sack of the season, but nonetheless, it's nice to see him get on the board.
Because the Tigers gave up 188 rushing yards to Towson, the defense wasn't overly impressive, but the pressure on the quarterback was solid for the most part.
Loser: Offensive Line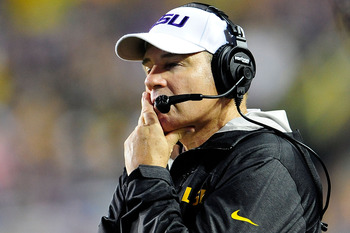 Stacy Revere/Getty Images
Alex Hurst must start at left tackle.
It's like night and day with this offense when LSU pulls Josh Dworaczyk and puts Hurst in his place.
It's no secret that a lot of the blame for LSU's offense should be placed on Mettenberger, but the offensive line deserves just as much, if not more.
This unit has to do a better job of protecting him, and when Hurst is protecting Mettenberger's blindside, the offense was moving the ball down the field.
Hurst must start against Florida, even if that means starting the freshman Vadal Alexander in The Swamp.
Winner: Russell Shepard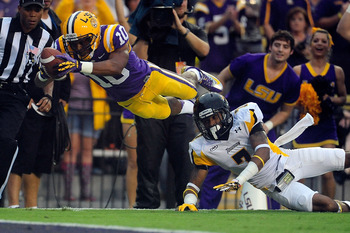 Stacy Revere/Getty Images
How about the hops on Russell Shepard?
The Tigers' first touchdown of the game came when Shepard burst through the middle for 78 yards and did a Reggie Bush-like leap from the five-yard line into the end zone. It was sweet.
In all seriousness, you have to feel great for a guy like Shepard, whose struggles within LSU's offense have been well-documented. Good for him.
But at the same time, why did LSU go away from him?
Since LSU was struggling so much offensively, how come they abandoned Shepard for the remainder of the half and, really, for most of the game?
Loser: Running Backs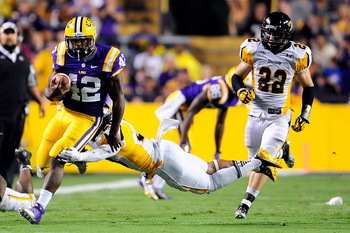 Stacy Revere/Getty Images
It was a bad night to be a running back for LSU.
Not only did two running backs have fumbles, but J.C. Copeland was injured in the second half with a knee sprain.
If the injury turns out to be severe, it could very well cost the Tigers the season because his blocking is a vital piece to this offense's success.
As for the fumbles, Kenny Hilliard's fumble marked the first fumble by an LSU running back in 225 carries.
Michael Ford would have a fumble in the game, as well.
Keep Reading

LSU Football: Like this team?