UFC on Fuel TV 5 Results: 5 Memorable Moments from Struve vs. Miocic Fight Card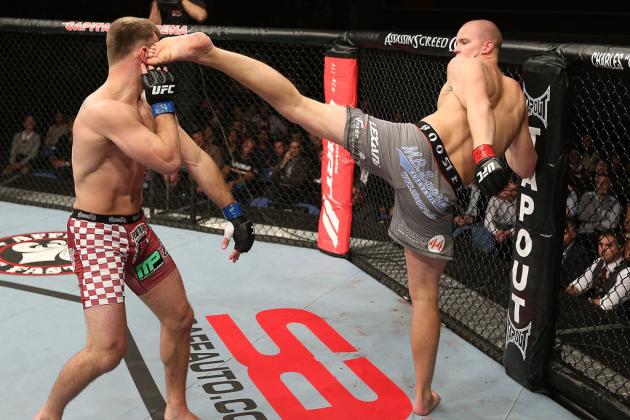 (Photo by Josh Hedges/Zuffa LLC/Zuffa LLC via Getty Images
UFC on Fuel TV 5 delivered some explosive knockouts, slick submissions and all-around displays of mixed martial arts prowess. The card truly contained a little bit of everything an MMA enthusiast wants to see, proving once again that names alone do not make stellar matchups.
While there was certainly a nice sample for me to delve into to concoct my Petri dish of memorable moments, some simply stuck out more than others. Start the slideshow to see the five most memorable moments from UFC on Fuel TV 5.
Honorable Mentions:
Dan Hardy's introduction
Robbie Peralta blasts Jason Young
Duane Ludwig blows out his knee
Begin Slideshow

»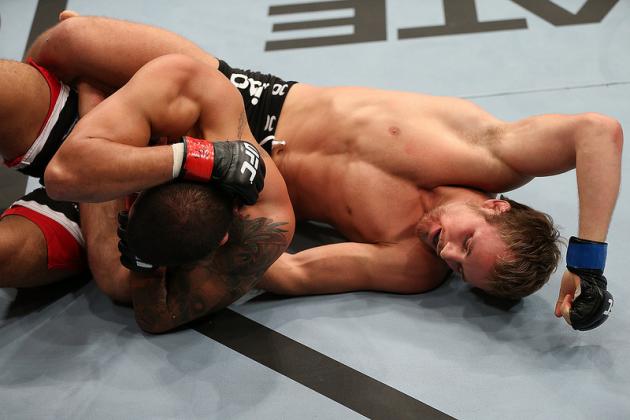 Photo by Josh Hedges/Zuffa LLC/Zuffa LLC via Getty Images
We have been waiting for Gunnar Nelson to step foot inside the Octagon for oh-so long, and the Icelandic grappling prodigy did not disappoint.
Sure, his standup looked a little weird with his hands held low and his boppy-hoppy style in full display, but once the fight hit the mat, there was no question that the tales we had heard about his skills were for real.
Nelson had no trouble taking DaMarques Johnson's back and submitting him in the first round with a rear-naked choke, and this writer is very much looking forward to seeing his next trip into the Octagon.
He will definitely have to snug up his standup and prove that he can defeat somebody better than the out-of-shape, overweight Johnson, but for now, the future looks bright for Mr. Nelson.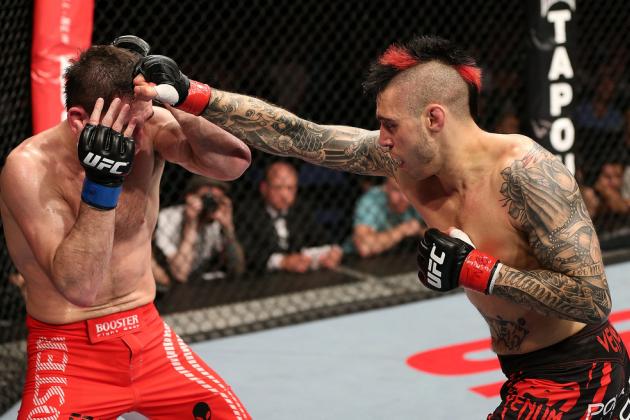 Photo by Josh Hedges/Zuffa LLC/Zuffa LLC via Getty Images
If it were not for that perfectly groomed Mohawk, we might not have recognized Dan Hardy in his bout against Amir Sadollah.
In the opening round, the two welterweights stood and traded, with neither man really finding his groove and settling in early.
In the second round, however, Dan Hardy turned in some Ben Askren/Brock Lesnar/Macho Man Randy Savage-caliber wrestling, as he shot a deep double on Sadollah and slammed him through the canvas, garnering a roar of approval from the crowd that could tear the hair off a Sasquatch's chest.
All right, his wrestling was not nearly that impressive, but I found it pretty cool to see Hardy working on other areas of his game. He was 3-for-7 on takedown attempts in the fight, and his top control won him a well-deserved unanimous decision.
Do not expect Hardy to dominate the top welterweights with his wrestling, but kudos to him for working on another wrinkle in his game. It would be easy for him to continue to be the brawler of old, but it seems he has wised up and committed to becoming a more well-rounded fighter.
Well done, Sir Hardy.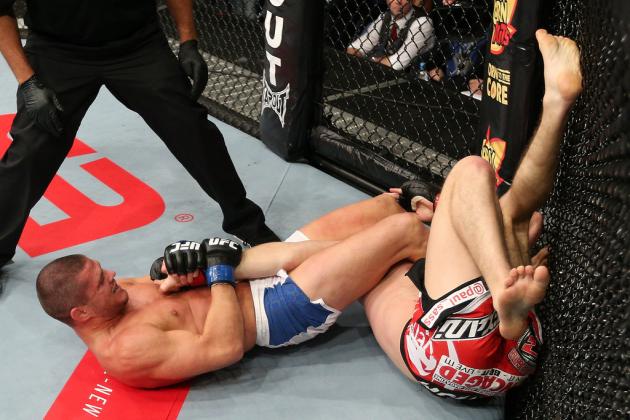 Photo by Josh Hedges/Zuffa LLC/Zuffa LLC via Getty Images
It is a bad time to be a rising prospect in the UFC. With the talent level of each division spread evenly from top to bottom, there are literally no easy fights and no guaranteed passes to stardom (where are you, Mostapha?!).
Anybody who follows the sport diligently knew that Matt Wiman was a legitimate lightweight, but most of us still sided with the English grappling superstar Paul Sass in this matchup.
After scoring a quick takedown, Sass looked to work his top game, but Wiman was consistently a step ahead from his back.
After nearly catching Sass with his own move, the triangle choke, Wiman transitioned nicely to a deep armbar which forced the tapout in the very first round.
Put plainly, Matt Wiman whopped Paul's ass...sorry, I mean Paul Sass.
Damn spacing.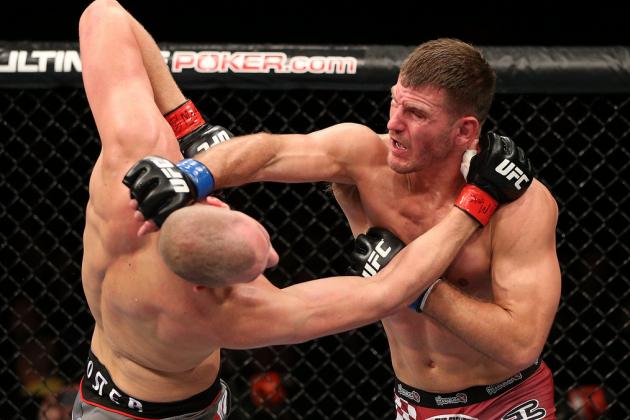 Photo by Josh Hedges/Zuffa LLC/Zuffa LLC via Getty Images
Saturday's UFC on Fuel TV 5 main event was a fantastic matchup between two heavyweights who were content to stand and bang until brain fluid starting oozing out of somebody's ears, and that is always a great game plan in my book.
In Round 1, both Struve and Miocic had moments of success, with Miocic working the body of his taller opponent and Struve being all Struve-y and not utilizing his ridiculous reach. Why he is content to get punched way more than he has to beats the hell out of me, but it definitely results in fireworks for the fans.
From the beginning of Round 2, though, "The Skyscraper" looked to be a step quicker than Miocic, and the fight was written after a hard right hand turned Miocic's legs into rotten bananas.
Unable to catch his balance and seemingly walking on pudding, Miocic was repeatedly blasted by uppercut after uppercut from Struve, and Herb Dean called off the action before further damage could be done.
The win showed that Miocic has a great chin (he was never really unconscious; see Paul Daley vs. Martin Kampmann for a similar stoppage), but it also showed that he is not ready for the big leagues.
Struve is better than a gatekeeper in my eyes, but a top-tier heavyweight still beats him eight out of 10 times, and Miocic could not solve the puzzle before being stopped.
For Struve, the win shows that he has some serious power, and if he can just get to using his reach properly, he can be a legitimate top 10 heavyweight in the world.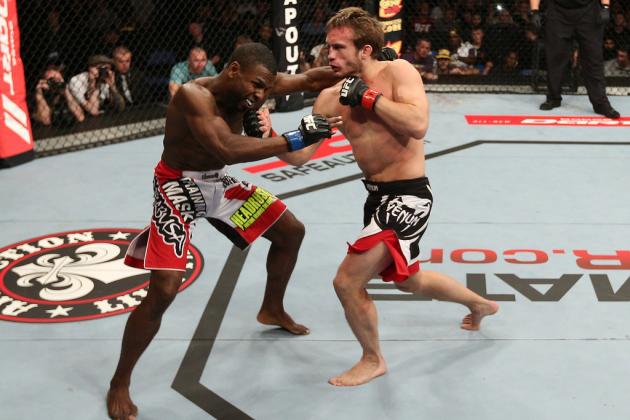 Photo by Josh Hedges/Zuffa LLC/Zuffa LLC via Getty Images
Whenever Yves Jabouin's brain solidifies from its current scrambled-eggs state, I would like to direct him to the above picture so he knows what exactly went wrong in his fight against Brad Pickett.
In what was undoubtedly the most explosive finish of the night, British bantamweight Brad Pickett unleashed an uppercut from the Junior dos Santos and Jeremy Stephens playbook that left his opponent limp and unconscious.
While Jabouin was probably the more technically sound striker in this matchup, it only takes one punch, and that's exactly what we saw.
"One Punch" Pickett scored what is arguably his most impressive win to date and put himself in line for a high-profile outing in his next Octagon appearance.