Penn State Football: 10 Things We Learned in Their Game Against Illinois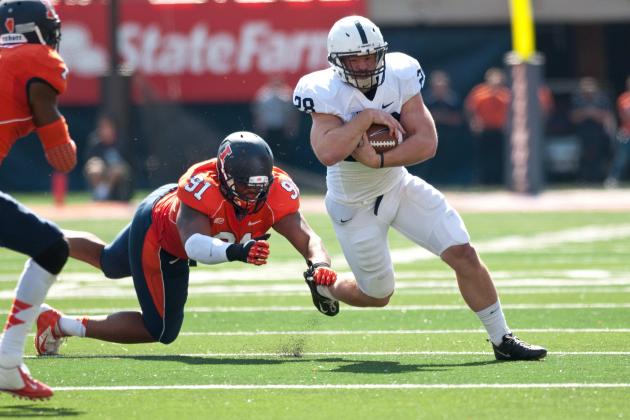 Bradley Leeb-US PRESSWIRE

Bill O'Brien showed today what Penn State fans have been hoping for all season: a sign that the program has moved on.
As the Nittany Lions traveled to Champaign to take on Illinois, there were multiple questions for O'Brien's team.
Would they be able to hang with Big Ten teams? Would Tim Beckman's recruitment of Penn State players during the Sandusky scandal affect O'Brien or his team in any way?
These questions were answered today in a big way.
Penn State dominated the Illini physically on both sides of the ball. Nathan Scheelhaase couldn't get the Illinois offense moving, while the Lions' offensive line cleared holes for Zach Zwinak and company.
O'Brien also showed his class. Everyone knows that Beckman broke an unwritten rule by sending eight assistant coaches to Happy Valley in an attempt to lure players to Illinois.
But O'Brien didn't let any of that affect him. He didn't run up the score, and he shook Beckman's hand at the end of the game (quickest handshake I've ever seen).
So what can Penn State fans pull out of a 35-7 win over Illinois?
You're about to find out.
Begin Slideshow

»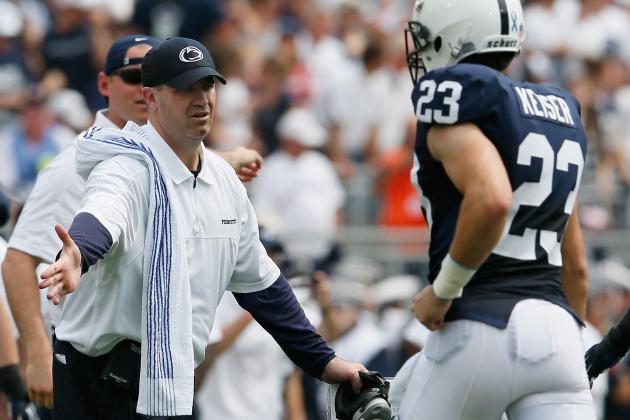 Rob Carr/Getty Images

Any questions that people had about Penn State's decision to hire Bill O'Brien as the successor of the late Joe Paterno were answered today.
O'Brien out-coached and out-classed an Illinois team that was fresh off an embarrassing loss to Louisiana Tech.
O'Brien's offense was smooth, mixing a heavy dose of hard-nosed running with play-action passes. Defensively, Penn State was able to contain and wrap up dual-threat quarterback Nathan Scheelhaase.
The Illini were undisciplined and came out sloppy with penalties and a muffed punt return. Not to mention that defensive back Earnest Thomas was ejected from the game for a ferocious helmet-to-helmet hit that he put on Penn State tight end Matt Lehman.
Not to harp on coach Tim Beckman's offseason antics, but that kind of thing isn't classy.
O'Brien took an awkward situation in stride by shaking Beckman's hand at the end of the game. He also took control of the media early by telling reporters that there was no added motivation for Beckman's actions.
It has become clear now more than ever: O'Brien was the right choice for the job.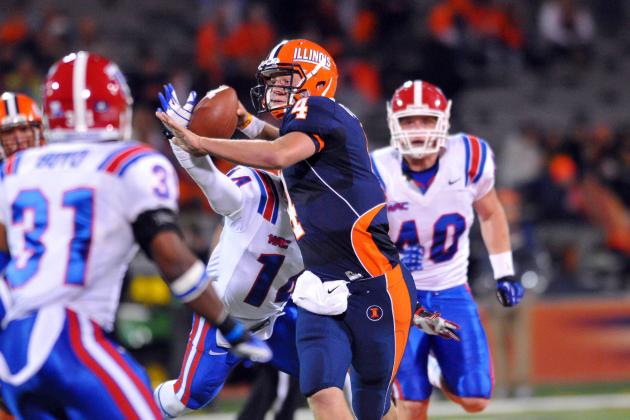 Bradley Leeb-US PRESSWIRE

Illinois is not as good as some people thought they might be this year.
Last weekend the Illini lost to Louisiana Tech by a score of 52-24, not exactly a nail-biter.
You could argue that last weekend their leader Nathan Scheelhaase was out, and that their defense had a bad game.
But their loss to Penn State showed that Illinois simply isn't where most people thought they were.
The Illini weren't expected to win the Big Ten, but with Scheelhaase running a wide-open offense, there were positive expectations.
After sitting out against Louisiana Tech, Scheelhaase was back this week against the Lions.
Obviously Scheelhaase's return made little difference for the Illini; he rushed for only seven yards and threw two interceptions.
Illinois isn't exactly where it wants to be right now. Their defense is struggling and the Illini need Scheelhaase to get back to playing 100 percent soon.
Rob Carr/Getty Images

We all knew that Michael Mauti was the undisputed leader of the Penn State defense this year.
We even knew that he is the team's leading tackler and that he has a good shot at being drafted next spring.
But even I was surprised at what Mauti did against Illinois. He was an animal on the field, pulling in two picks and numerous tackles.
Mauti seemed to take to heart Beckman's recruitment of Penn State players after the Sandusky scandal. He played like a man determined to let nothing stop the Lions from winning.
The fifth-year senior's mix of aggressiveness and a high football IQ was more evident today than any other game so far this year.
If Mauti can continue this high level of play, Penn State's defense will be much better than expected in Big Ten play.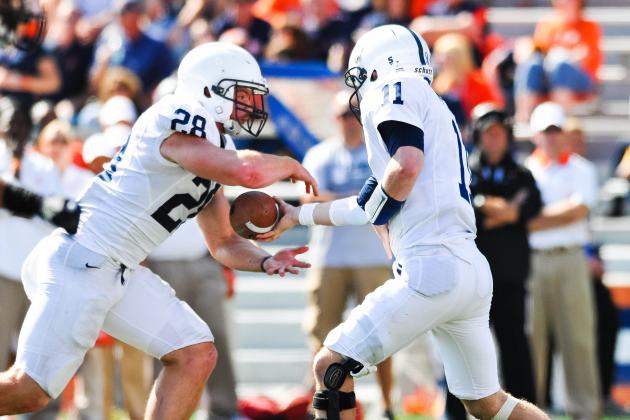 Bradley Leeb-US PRESSWIRE

Today Zach Zwinak was taking most of the carries, and last week it was Michael Zordich.
Who will it be next week? Who knows.
What we do know now, though, is that Penn State can run the ball.
Over the past three games, the Lions have developed a "run it down your throat" mentality, and it has worked.
The offensive line was giving the 232-pound Zwinak solid holes to rumble through.
But seriously, who will run the ball next week?
Bill Belton is back, Derek Day is back, and Curtis Dukes should be ready to go.
Penn State's offense finds themselves in a somewhat surprising spot right now, having a surplus of backs that can all produce.
We know that all of Penn State's backs can produce, but who will O'Brien turn to?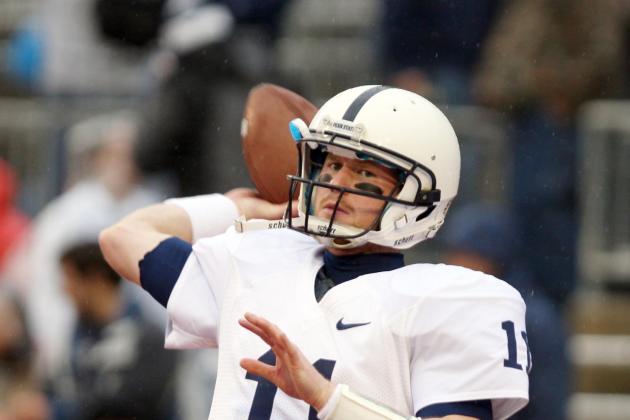 Mary Langenfeld-US PRESSWIRE

Since McGloin won the starting quarterback job this summer, we've all been hearing how much he has developed in O'Brien's system.
Today McGloin showed us where he is in this development.
McGloin threw for a reasonable 211 yards and one touchdown, while also adding two rushing touchdowns on quarterback sneaks.
What's more impressive, though, is how McGloin took care of the ball and made the right decisions.
McGloin had no interceptions today and had none of the "what were you thinking" throws that have become synonymous with his play.
Before the snap is also where McGloin showed his abilities. Numerous times McGloin was able to audible and redirect runs, giving Zwinak and Belton more space to run.
We all know that McGloin isn't going to wow you with his arm. But where I was surprised was above the shoulders.
McGloin has shown that he knows how to run O'Brien's offense very well.
Even on a day when he didn't have any big plays, McGloin still made a visible impact on the game.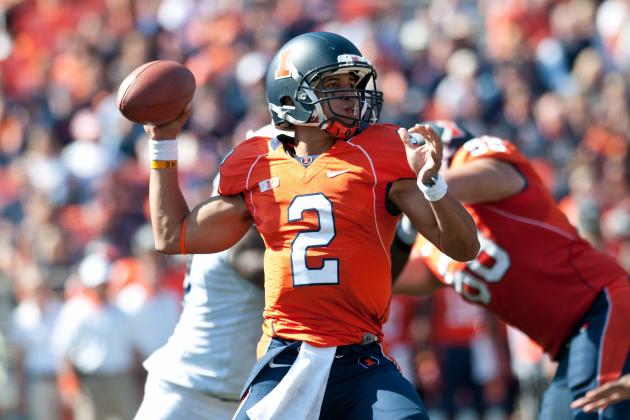 Bradley Leeb-US PRESSWIRE

Over the past few weeks, dual-threat quarterback Nathan Scheelhaase has been hobbled with an ankle problem.
He was forced to watch last weekend when Riley O'Toole led the Illini offense in a losing effort against Louisiana Tech.
Scheelhaase was ready for Illinois' Big Ten opener, but not at 100 percent.
Last season, Scheelhaase was the leading rusher for the Illini, with over 600 yards on the ground. Against Penn State, he ran for seven yards.
The junior was able to throw for 270 yards, but he had two interceptions, and to be honest, he just isn't a prototypical pocket-passer.
Part of being a dual-threat quarterback is being able to run successfully.
In their loss against Penn State, Scheelhaase was not able to run successfully and clearly not at 100 percent.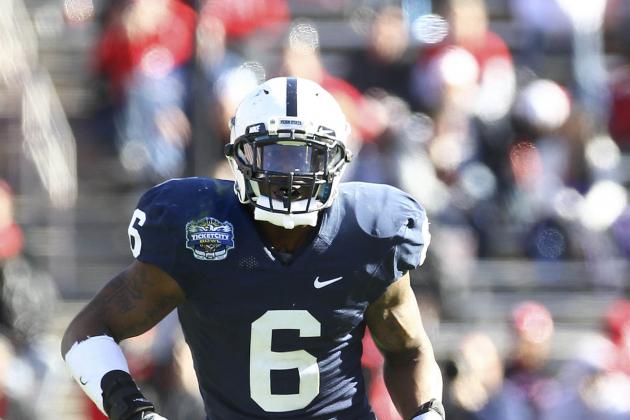 Kevin Jairaj-US PRESSWIRE

No matter what happened this past offseason at Penn State, one thing has stayed the same: Penn State is still "Linebacker U."
Going into the season, Gerald Hodges was highlighted as a potential high-round draft pick and the best athlete on the Nittany Lions' defense.
Hodges might still be their best athlete, but Mike Hull and Michael Mauti showed against Illinois that they aren't far behind Hodges at all.
In fact, as a previous slide suggests, Mauti is the key to Penn State's defense.
Penn State's linebackers were able to hold Illinois to 74 yards on the ground.
Had it not been for a 50-plus yard play by Donovonn Young, the Illini might not have gone over 40 yards rushing for the day; that's how good these Penn State 'backers played today.
Although the Lions have a new defensive coordinator in Ted Roof, their title of "Linebacker U" has never left.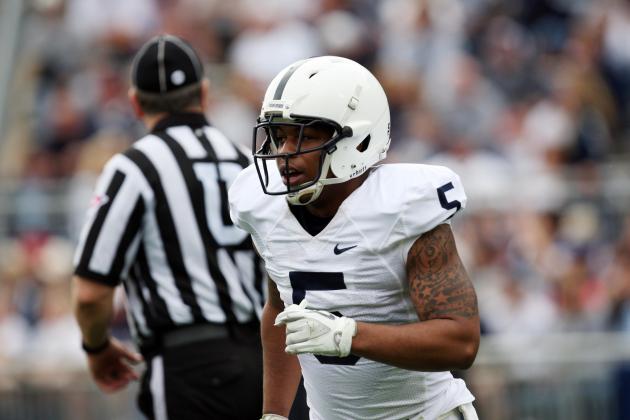 Rob Christy-US PRESSWIRE

Let me just clarify that I realize Penn State football didn't actually go anywhere. What did disappear was the Nittany Lions' on-the-field identity.
In the first few games of the season, it was evident that O'Brien was still a little unsure of how he wanted his offense to work.
One game Penn State would have a steady amount of passing, and the next would be a heavy dose of running.
Against Illinois, O'Brien's offense found a solid mix of both.
The old-school style of downhill running that helped build Penn State into the program it is now was highlighted today by Zach Zwinak rolling downfield and grinding down the Illinois defense.
Once the Illini thought they could stop Penn State's backs, Matt McGloin would fake a handoff and throw the ball down field.
What we saw today was a well-called offense that was well executed.
Moreover though, we saw the reemergence of the Penn State power run game.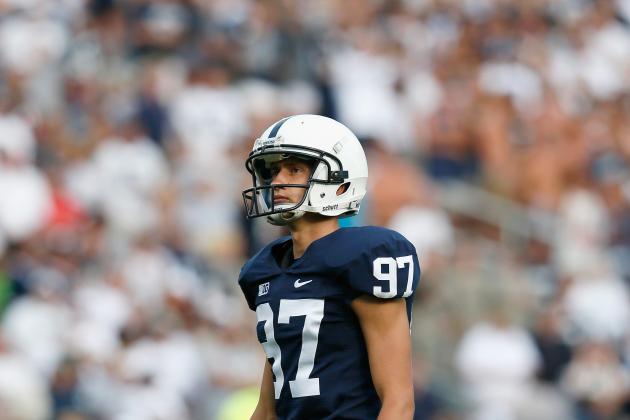 Rob Carr/Getty Images

Special teams always has had a game-changing effect for football teams.
An electric kick returner or a strong legged punter can literally change the course of a game.
Unfortunately for Penn State, Sam Ficken has affected more games than one this year.
Although you have to feel bad for the kid who can't seem to kick anything more than extra points, Ficken's kicking woes have lost Penn State one game already.
Along with a missed kick against Virginia, O'Brien is forced to go on fourth down much more often than normal due to the fact that he has an unreliable kicker.
It's obvious that had Penn State beaten Virginia, they would be 4-1, but against Illinois the Nittany Lions played like a one-loss team.
The Lions were sharp, disciplined and able to be more physical than the Illini.
If it weren't for an unreliable kicking game, Penn State would have a solid record, and their strong performance against Illinois would back it up.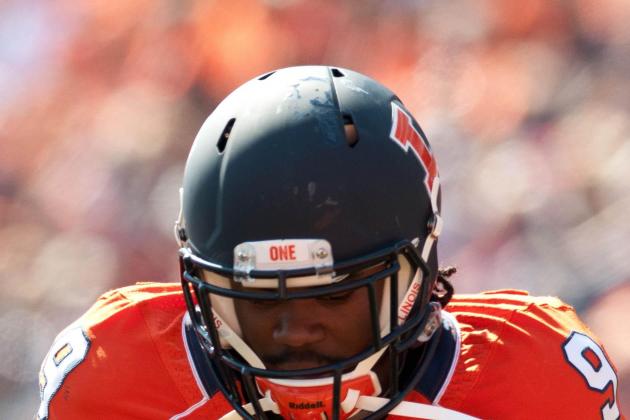 Bradley Leeb-US PRESSWIRE

As the final whistle blew on Illinois' game against Penn State, it was obvious that the Illini didn't play very well at all.
But they sure looked good doing it.
Illinois rolled out new digs that were highlighted by an all dark blue helmet with an orange "I" on each side.
Along with the helmets, orange jerseys were worn by players instead of the customary navy blue for home games.
We learned a lot of things about both teams today.
We saw Penn State's power run game emerge, along with a strong effort by both Matt McGloin and Bill O'Brien.
We learned that Nathan Scheelhaase isn't as healthy as he needs to be to run the Illinois spread offense, and that the Illini made too many mental mistakes in their game against Penn State.
We also learned, though, that no matter what the score was, Illinois looked sharp every play of the game.