Florida Football: Winners and Losers from the Gators' First Month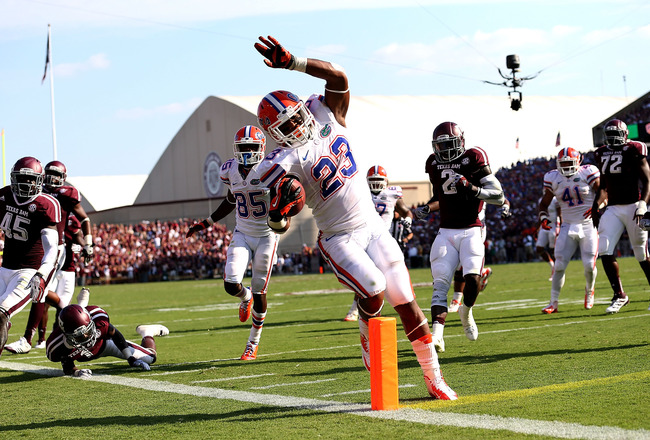 Ronald Martinez/Getty Images
It wasn't the typical September schedule for the Gators.
Rather than starting the season off with two non-conference games and beginning the SEC slate against Tennessee, the Gators played just one non-conference game before going on the road to play Texas A&M and Tennessee.
Despite coming off the worst season since 1979, not naming a starting quarterback until Week 2 and coming into the season with question marks on both sides of the ball, Florida has started its season 4-0.
When you're winning, it's easy to overlook a team's deficiencies. Yes, Florida played some good football in September, but it wasn't all good.
Let's take a look at the top winners and losers from the Gators' first month.
Winner: The Linebackers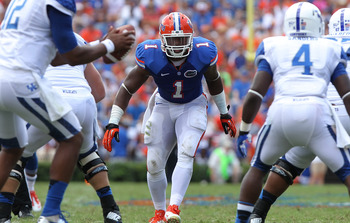 Kim Klement-US PRESSWIRE
The linebackers were dealt a seemingly devastating blow when Jelani Jenkins went down with a thumb injury early against Texas A&M. Along with Jon Bostic, Jenkins was thought to be the backbone of the defense.
Jenkins was responsible for getting the play calls from the sideline and relaying them to the rest of the defense and was the best cover linebacker.
It would have been easy for the unit to underperform and point to missing one of their leaders as the reason why. Instead the unit has been one of the strengths of the defense. Antonio Morrison stepped into the role as a starter and the freshman has filled in without missing a step while Michael Taylor also picked up his play in a backup role.
Bostic has picked up his play and is second on the team in tackles and leads the team in tackles for a loss.
Jenkins could make a return against LSU, which would be welcomed by everyone, but even if he is not cleared to play with a cast over his surgically repaired thumb, expect the linebackers to continue playing at a high level.
Loser: Andre Debose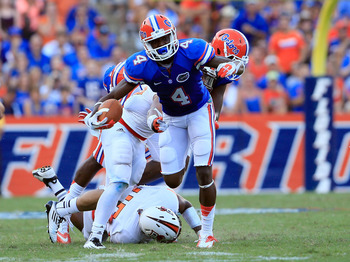 Sam Greenwood/Getty Images
In preparing the list of players for this slideshow, I completely forgot about Andre Debose.
That's how far the receiver has fallen this season.
Debose has yet to record a single reception this season and was benched for the first half against Kentucky.
When asked about Debose, Will Muschamp stated that in order to play for him, you need to practice well. Debose has found himself in Muschamp's doghouse, and the only way out is to for him to show the coach he can get the job done on the practice field.
The Gators could really use Debose's playmaking ability with the tough slate of games coming in October. Hopefully he can show the coaching staff what they need to see in order to get him on the field.
Winner: Jordan Reed
Kim Klement-US PRESSWIRE
Florida was desperately searching for offensive playmakers this past offseason.
The Gators found one in Jordan Reed.
Reed is leading the team in receptions and is currently second on the team in receiving yards. Most importantly, Reed gives Jeff Driskel a big, reliable target to look for in the passing game.
Reed's biggest improvement this season is staying on his feet through the catch. In the past Reed would leave his feet for any ball thrown his way. This prevented him from getting yards after the catch and caused him to drop catchable balls. This season Reed is doing a much better job of staying on his feet, not trying to turn a routine catch into a top-10 play and getting some yards after the carry.
Winner: The Coaching Staff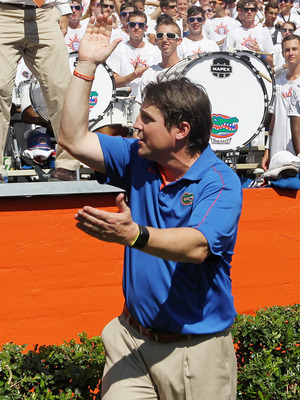 Kim Klement-US PRESSWIRE
Florida has had so much coaching turnover in the past three seasons that I wouldn't be surprised if the coaching staff had to wear name tags until they all became familiar with each other.
Florida is on its third offensive coordinator in as many years, has a new wide receivers coach, new strength and conditioning coordinator and new offensive line coach.
On top of all that, Will Muschamp had just endured the Gators worst season since 1979 in his first season as a head coach.
The Gators entered 2012 with a ton of questions marks and a lot to prove. They have done that this first month.
Muschamp got his signature win and his first win against a ranked opponent when Florida beat Tennessee. The offensive line, while not completely where it needs to be, has responded to new line coach, Tim Davis, and the new strength and conditioning program.
The coaching staff preached about getting off to a fast start this season, and the team has accomplished that goal. Florida is ranked in the Top 10 for the first time in two seasons.
Will the coaching staff be on the right side of this list when November rolls around? It's too early to tell but as a whole the staff has gotten this team ready to play and their ability to make in-game adjustments has been one of the biggest reasons Florida heads into October undefeated.
Loser: Xavier Nixon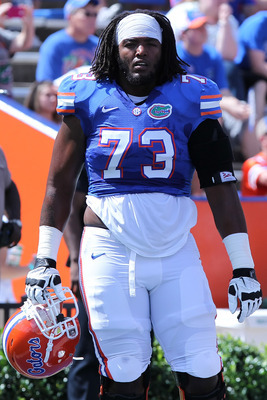 Kim Klement-US PRESSWIRE
Xavier Nixon burst onto the scene as a freshman when he played in 10 games, including five starts. Nixon earned All-Freshman SEC honors and his future seemed bright.
Over the next two seasons, Nixon struggled keeping his weight up, and his performance struggled as well.
Under Jeff Dillman's new strength and conditioning program, Nixon got his weight back up to over 300 lbs and earned the staring job at left tackle. After a good offseason, it looked like Nixon was going to return to the form he had showed as a freshman.
Unfortunately that wasn't the case. Nixon has been penalized for false starts, took his helmet off to argue a call and and has struggled in protection.
Nixon was replaced by D.J. Humphries for the second half of the Kentucky game, and it appears there will be a competition this week between the senior and freshman to see who will start on Saturday.
Winner: Mike Gillislee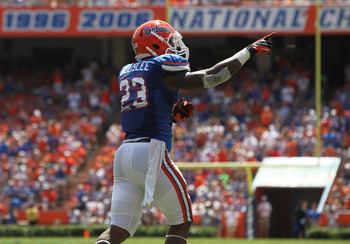 Kim Klement-US PRESSWIRE
Florida fans have been calling for it, the player has been waiting for it and now that Mike Gillislee is the starting running back, he is taking advantage of his opportunity.
Gillislee is currently fifth in the SEC in rushing yards but second in rush yards per game. He has been the motor that keeps Florida's offense moving and taking a lot of pressure off Jeff Driskel.
While he might fall short of his 1,500-yard, 24-touchdown projection (Gillislee would need to average 137.25 yards and score more than two touchdowns a game to reach his goals), he still gives the Gators a power running game and will continue leading the offense the rest of the season.
Loser: Jacoby Brissett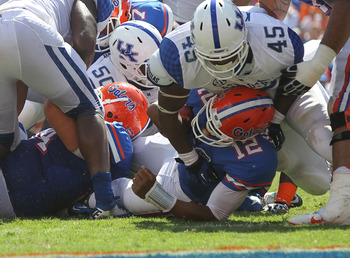 Kim Klement-US PRESSWIRE
Going into the season, Jacoby Brissett seemed to be the fan favorite in the quarterback race. Brissett played more last season and seemed like a better fit for Brent Pease's offense.
Brissett lost out on the quarterback battle during the first game and has yet to attempt a pass since.
While he may not have gotten a lot of playing time against Bowling Green, Brissett had the entire offseason to create space in the quarterback battle and he failed to do that.
It's hard to envision a player with as much talent and potential as Brissett hanging around to be a backup quarterback, and I expect him to seek a transfer after this season.
That's a pretty long fall from going into opening day with a chance at becoming the starting quarterback.
Winner: Jeff Driskel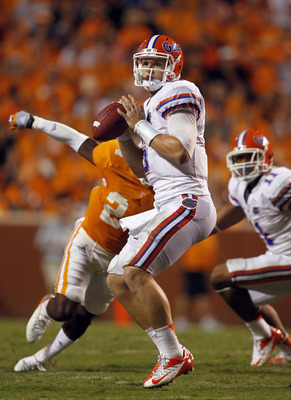 John Sommers II/Getty Images
There isin't a player on the roster who has been more surprising or improved more during the season than Jeff Driskel.
Driskel has gone from a game manager to a player you can be confident in during crunch time in just the first month of the season.
Against Bowling Green and A&M, Driskel looked hesitant and unsure of his abilities. He struggled to go through his progressions and was hesitant in the pocket when he should have been making plays with his feet.
Tennessee was a coming-out game for Driskel. The sophomore threw for 219 yards and two touchdowns while adding 81 more yards with his legs. He was poised in the pocket and in the face of pressure but showed that he can be a devastating runner when he needs to be.
Driskel's mobility may have won him the job but he is not just a running quarterback. On the year, Driskel is completing just under 70 percent of his pass attempts. Driskel isn't too far off Florida's season record for completion percentage. In 1972, Wayne Peace completed 70.2 percent of his pass attempts, At 69.6 percent through four games that record is a realistic goal for the sophomore.
Driskel will face three of the toughest defenses he has ever faced in his life in October, but if September is any indication of the kind of player he is, he will continue to get better and pass this test too.
Keep Reading

Florida Gators Football: Like this team?