Georgia Football: 10 Things We Learned from the Bulldogs' Win vs. the Vols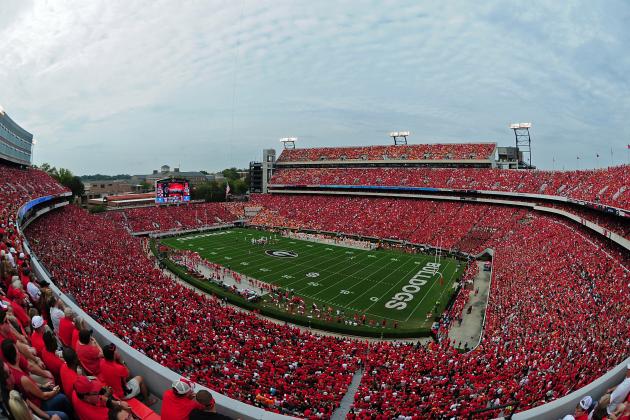 Scott Cunningham/Getty Images

It was one of the wildest games in recent history. Georgia gets by Tennessee 51-44.
The Bulldogs had control of the game in the beginning, but thanks to three turnovers, the Vols were able to fight their way back and hung with the Bulldogs the rest of the game.
Just like any game, there were some good things to take away, but there are also some things the Bulldogs have to work on in order to be the team they want to be.
Here are 10 things we learned from the Bulldogs' win vs. Tennessee.
Begin Slideshow

»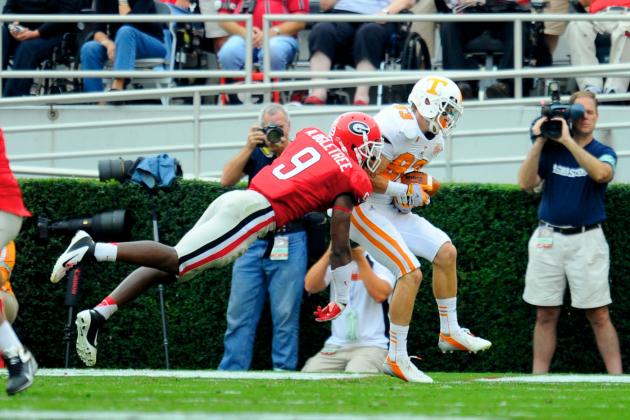 Dale Zanine-US PRESSWIRE

The Bulldogs defense is not better than what it was last year, but it was not as bad as the score showed.
Because of turnovers, it was put in some tough situations which led to the Vols scoring 44 points.
However, it has to get better at stopping the run. Rajion Neal rushed for 104 yards while Cordarrelle Patterson had 55 rushing yards.
The defense did make some big plays at the end of the game, which is all that really matters. But, it has to tighten up on the run, especially next week because of having to deal with Marcus Lattimore.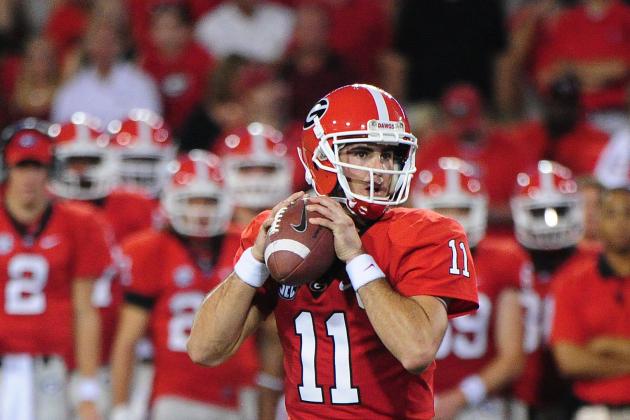 Scott Cunningham/Getty Images

That's a bold thing to say, but when this offense is clicking, it's near impossible to stop Aaron Murray and company.
The Bulldogs have scored over 40 points in each of their five games, something they have never done. The reason for the success on offense is they are running ball with authority as well as making big plays through the air.
There won't be too many times this season where you will see the Bulldogs put up only 20 points because this offense is that good.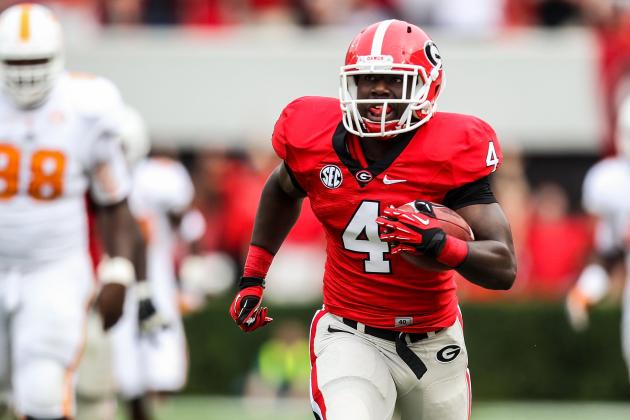 Daniel Shirey-US PRESSWIRE

Keith Marshall got off to a not-so-fast start when the season began, but he is starting to find his groove as the season rolls on.
Marshall rushed for 167 yards on 10 carries and three touchdowns. He has the breakaway speed but is starting to learn how to see the entire field, which is scary, considering he is only a true freshman.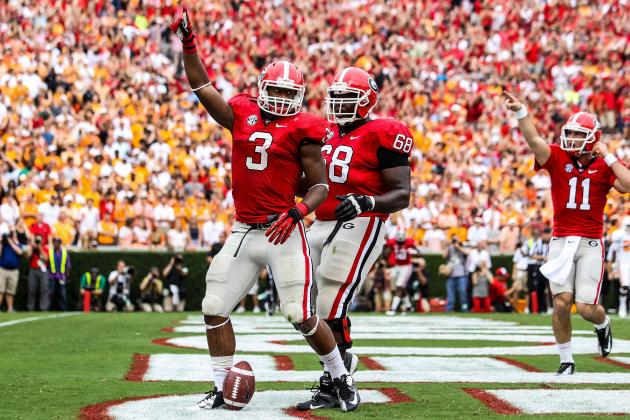 Daniel Shirey-US PRESSWIRE

While Marshall was running out his mind, Todd Gurley had another Todd Gurley kind of day.
The other true freshman running back rushed for 130 yards on 24 carries and two touchdowns.
Like Marshall, Gurley has breakaway speed, but he is not going to let one man bring him down.
It will be fun to watch these two backs play together for the next two years.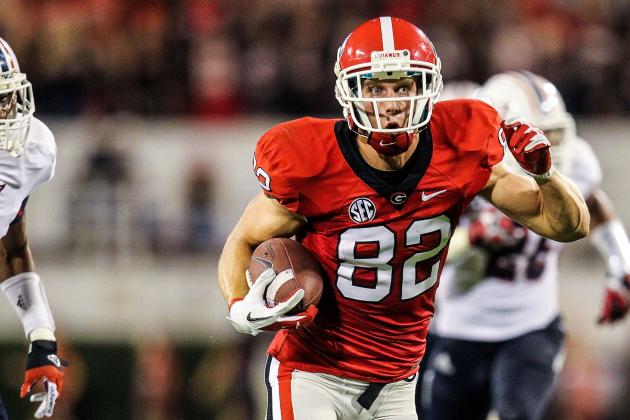 Daniel Shirey-US PRESSWIRE

Michael Bennett is not a possession receiver. He has the ability to go deep or run after the catch.
Proof of that was in the third quarter when Bennett caught a slant pass from Aaron Murray which he ran 32 yards on for the score.
Murray is not going to have one go-to guy because he likes to spread the ball around, but I know he loves throwing the ball to Bennett because he's a playmaker.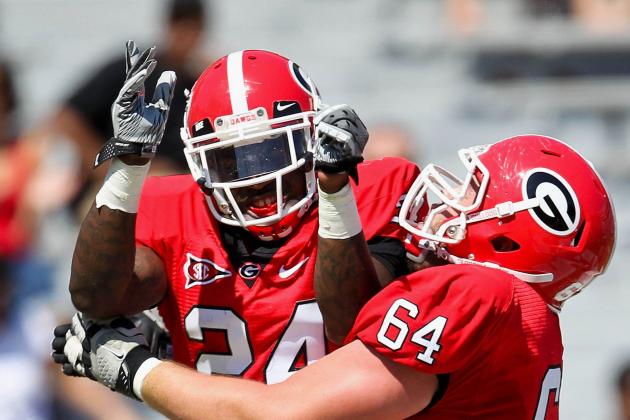 Daniel Shirey-US PRESSWIRE

When a team has nearly 600 yards of total offense, the offensive line has to get some of the credit.
The entire O-line did their part opening holes for Marshall and Gurley, and they kept Murray's jersey clean the entire game.
Dallas Lee and Chris Burnette are becoming a good guard combo, and John Theus is getting better each game.
They will have to continue to improve in order for the Bulldogs to keep winning.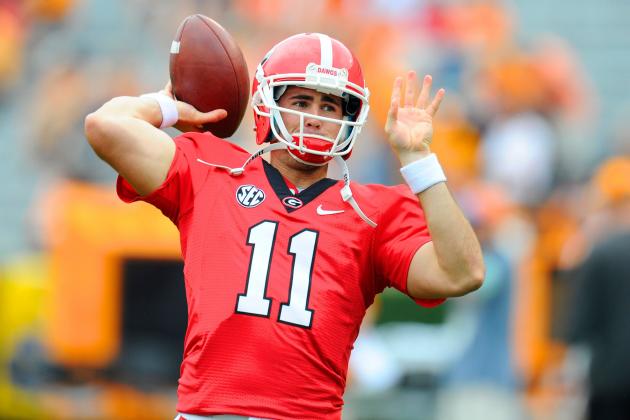 Dale Zanine-US PRESSWIRE

Murray has been criticized by not playing well in big games. And while this is not a big game from a national standpoint, it was a big game because this game was looked at as a trap before facing South Carolina.
Murray finished the night 19-of-25 with 278 yards, two touchdowns and one pick. Both touchdown passes came in the third quarter which led the Bulldogs to take the lead and never look back.
He has more to prove as a quarterback, but he has gotten better and will continue to get better.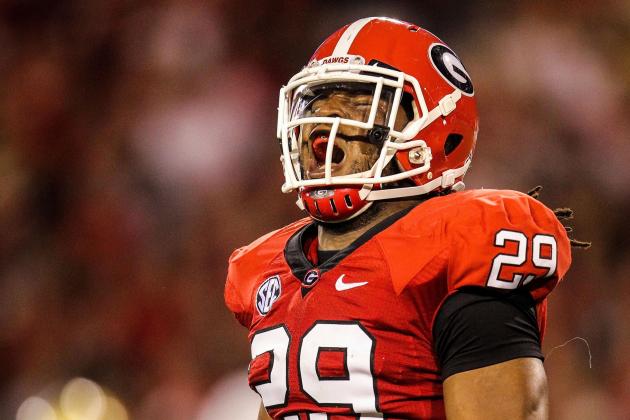 Daniel Shirey-US PRESSWIRE

This is not to say Jarvis Jones wasn't the best player on the field, but he did not have the impact plays like he had in the last four games.
He did have eight tackles and 0.5 tackles for loss, but he did not have the big tackle, sack or interception Bulldogs fans are used to seeing.
Don't worry. I'm sure Jones realizes he did not have the game he would have liked and will probably go off against the Gamecocks.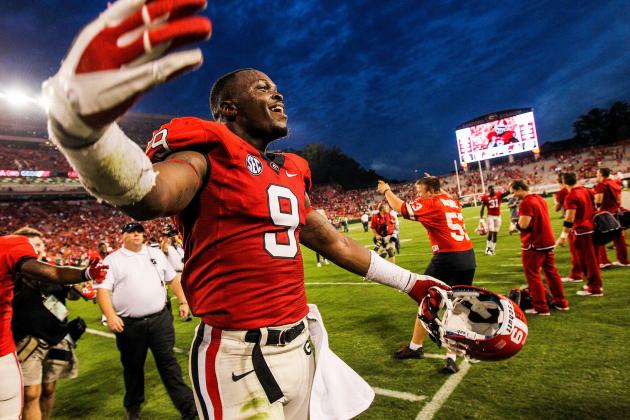 Daniel Shirey-US PRESSWIRE

After missing the first four games, Alec Ogletree played like he was a man on a mission.
The junior linebacker led all defenders with 14 tackles and three pass breakups.
As good as Jones is, Ogletree is just as important to this defense because he can cover as well as he can tackle. Expect him to play better against South Carolina.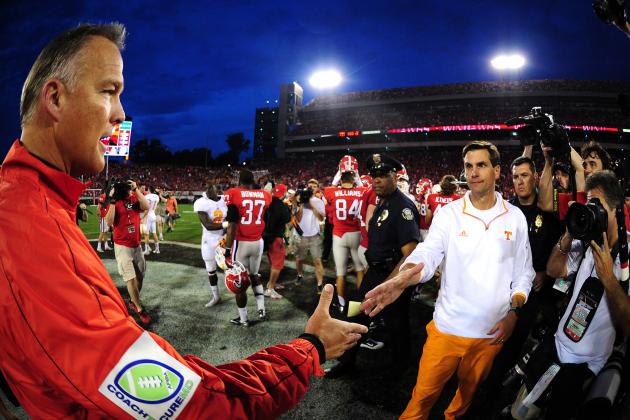 Scott Cunningham/Getty Images

In a game where the Bulldogs were up as much as 17, lost that lead in a matter of four minutes and still came away with a win, something has to be said about that.
In recent years, the Bulldogs would have lost a game like this, especially against Tennessee. But they were resilient and kept on fighting.
In order to be a elite team, you have to battle your way though tough situations. Georgia did that today and will be a better team because of it.