Florida State Football: 10 Lessons We Learned from the Seminoles' Win over USF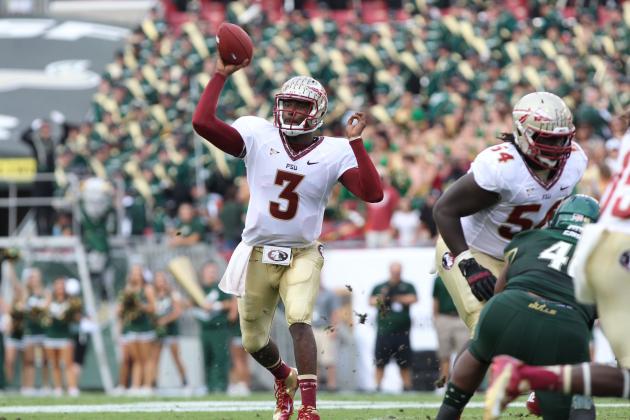 Kim Klement-US PRESSWIRE
EJ Manuel looked like a true Heisman contender in Florida State's 30-17 win over South Florida
After a successful four-game home stint to start the season, Florida State ventured out on the road for the first time this season and handled its business with a 30-17 win over South Florida.
The Seminoles certainly didn't play their best game of the season. However, the effort was good enough to get the victory.
Here's a look at 10 lessons we learned from Florida State's win over the Bulls.
Begin Slideshow

»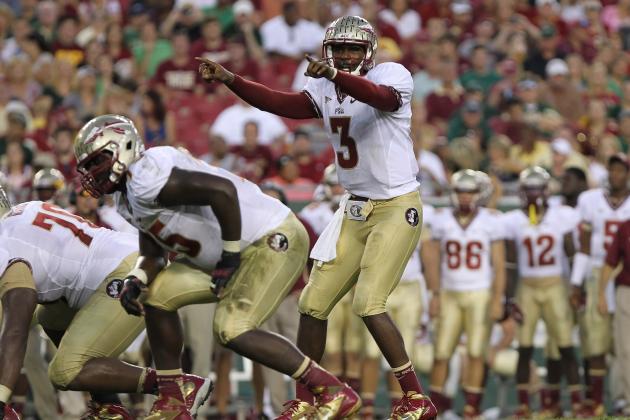 Kim Klement-US PRESSWIRE
EJ Manuel
QB EJ Manuel followed up a sensational showing against Clemson last week with another strong showing against South Florida in Week 5.
Manuel completed 19 of his 26 passes for 242 yards and one touchdown, and he made some absolutely clutch throws on a few key third downs.
West Virginia's Geno Smith may be the Heisman front-runner at this point in the season, but Manuel once again proved that he definitely belongs in the conversation.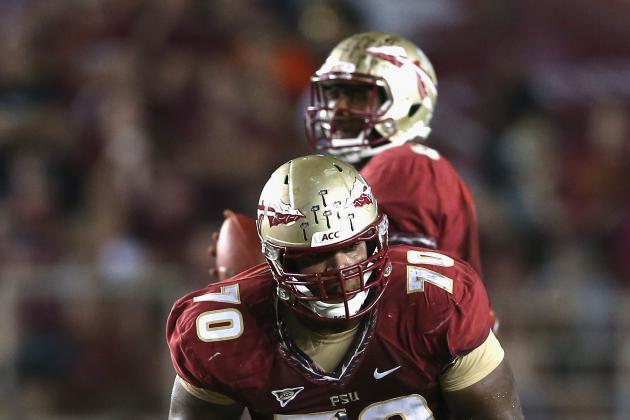 Streeter Lecka/Getty Images
Josue Matias
Florida State's offensive line had a few costly penalties that proved to be drive-killers in last week's win over Clemson.
Those same mistakes were evident against South Florida.
The line was charged with two key holding penalties that pushed the offense back and put the team in long third down situations. As if that wasn't enough, the front five also gave up a few sacks.
Right now, the offensive line has to be considered the team's biggest weakness.
If the line doesn't improve in the coming weeks and cut down on the costly mistakes, the struggling unit could ultimately prevent the Seminoles from making a run at the BCS Championship this season.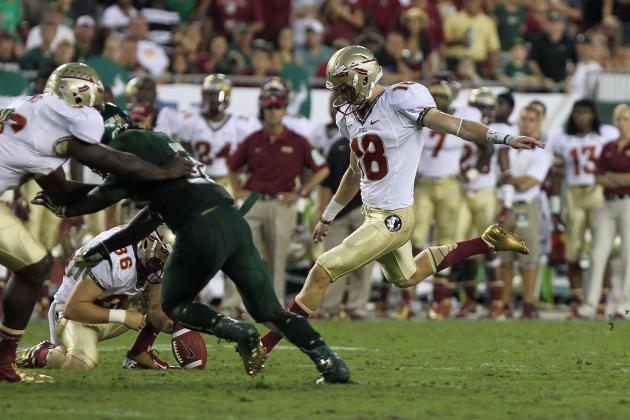 Kim Klement-US PRESSWIRE
Dustin Hopkins
Dustin Hopkins entered the season as one of the most highly regarded kickers in the country and one of the favorites to win the Lou Groza Award.
Over the last two games, however, Hopkins has not lived up to his billing.
The senior kicker missed two field goals against Clemson last week and another attempt early in the game against South Florida.
Hopkins still nailed his other three tries, but his recent misses are definitely a bit concerning.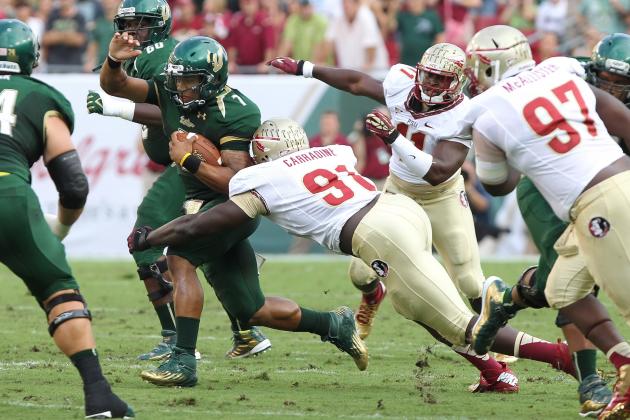 Kim Klement-US PRESSWIRE
B.J. Daniels
South Florida's B.J. Daniels is one of the most athletic quarterbacks in the country, and his mobility caused some real problems for Florida State's defense.
Daniels ran for 72 yards and two touchdowns against the Seminoles.
Luckily, there aren't many opponents on Florida State's remaining schedule that feature dual-threat quarterbacks. However, Virginia Tech's Logan Thomas will likely watch the film of what Daniels did to the defense and take note of how to attack the front seven when the two teams meet on Nov. 8.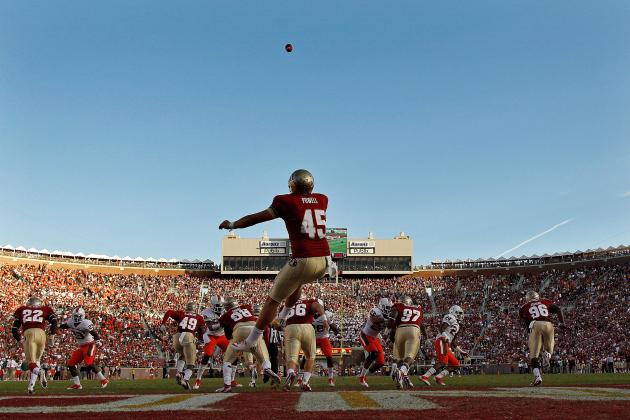 Mike Ehrmann/Getty Images

Florida State special teams coordinator Eddie Gran might want to take a look at a possible flaw in the team's punt formation.
The Seminoles had a gaping hole on the right side of the line that South Florida exploited when the Bulls came flying in to block Cason Beatty's punt in the third quarter.
Mistakes like that can be devastating against better teams.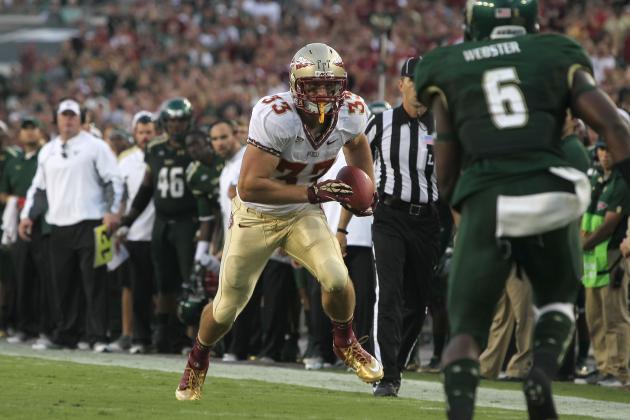 Kim Klement-US PRESSWIRE
Kevin Haplea
Florida State already knew it had a dangerous red-zone weapon in tight end Nick O'Leary. But the Seminoles found out against South Florida that his counterpart, Kevin Haplea, can also make key plays in the red zone.
Haplea, who transferred from Penn State in the offseason, scored the first touchdown of his Florida State career against the Bulls when he hauled in a play-action pass from E.J. Manuel.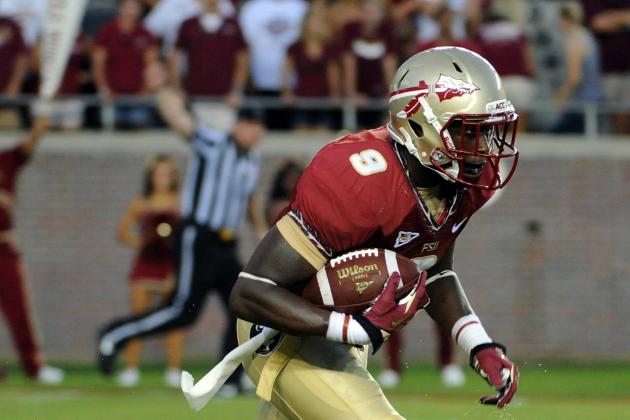 Melina Vastola-US PRESSWIRE
Karlos Williams
Safety Karlos Williams returned three kickoffs against South Florida, and he certainly made the most of each opportunity.
Williams averaged 32 yards on the returns, and he made a huge, explosive play with a 60-yard return early in the game.
Florida State has plenty of speedy athletes who are capable of creating big plays in the return game, but it looks like the Seminoles should stick with Williams and see what he has to offer.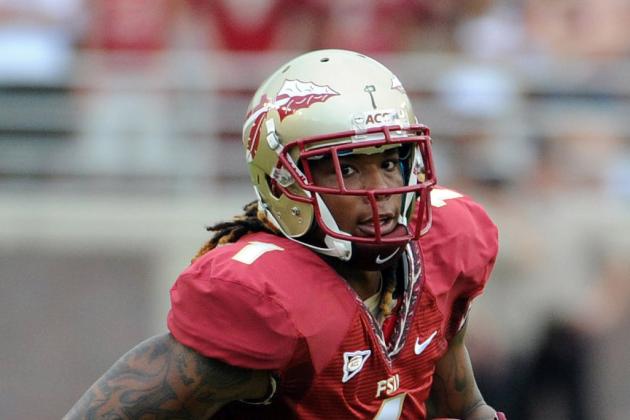 Melina Vastola-US PRESSWIRE
Kelvin Benjamin
Florida State's explosive wide receivers aren't just great at catching the ball. They can also make key plays out of the backfield.
The Seminoles used wide receiver Kelvin Benjamin on a shovel pass against Clemson last week, and it resulted in a huge gain.
Against South Florida, they used both Benjamin and Rashad Greene on end-around runs, and both plays were successful. Greene's sweep in the red zone resulted in a 10-yard touchdown run.
You have to figure the coaching staff will continue to find ways to get the ball in the hands of receivers like Benjamin and Greene.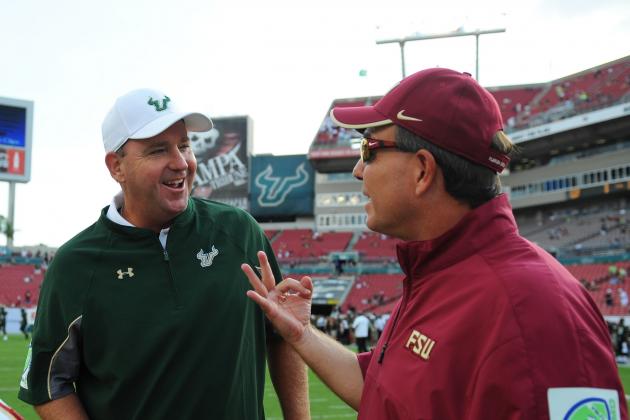 Al Messerschmidt/Getty Images
Skip Holtz and Jimbo Fisher
Going into the game against South Florida, Florida State was just 6-4 in true road games during Jimbo Fisher's tenure. This time around, the Seminoles proved that they could indeed handle the pressure of playing on the road.
Sure, the Bulls may not be a Top 25 caliber team. Nevertheless, this win will still give the team a much-needed confidence boost going forward.
With tough road games against N.C. State, Miami and Virginia Tech on the horizon, it was important for the Seminoles to get this type of road win under their belt early in the season.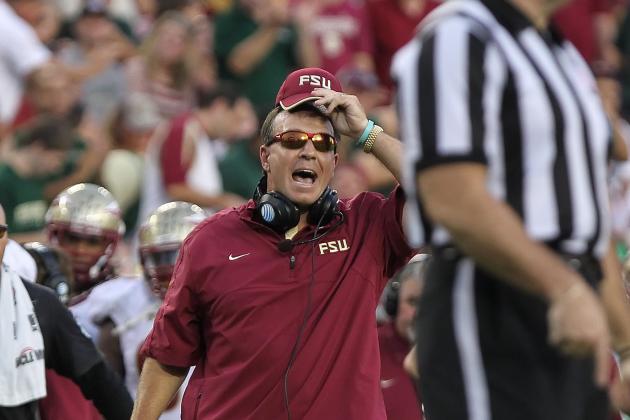 Kim Klement-US PRESSWIRE
Jimbo Fisher
Following the 30-17 win over South Florida, Florida State is now 5-0 going into the real juicy part of its conference schedule.
Still, there is a bit of mystery surrounding this team.
Sure, on paper the Seminoles look great. However, they've only beaten one team of note so far, and that was Clemson.
Florida State still has a lot to prove in the coming weeks. But as of right now, this team definitely looks like a potential national title contender.