Iowa Football: 10 Things We Learned from the Hawkeyes' Win vs. Minnesota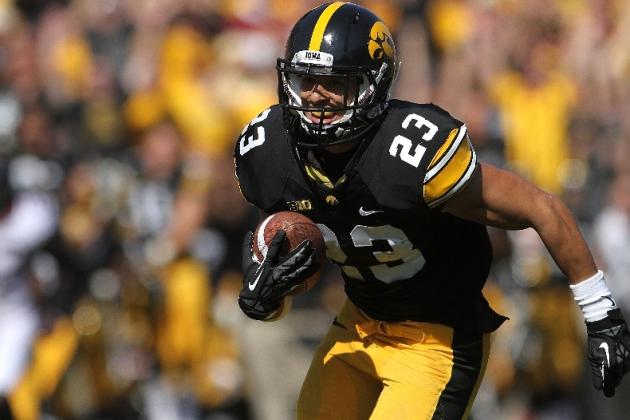 Via Bryon Houlgrave of the Des Moines Register
For the first time since 2010, Floyd of Rosedale is back in Iowa City. Even more importantly, the Iowa Hawkeyes stopped the bleeding in what has been an ugly season thus far.
The Hawks won the game on the shoulders of a strong rushing game and a staunch defense.
There were a lot of positives that came out of the game, but issues still remain.
As Iowa heads into its bye week, Hawkeye fans can take a number of things from the 31-13 drubbing of the Gophers.
Begin Slideshow

»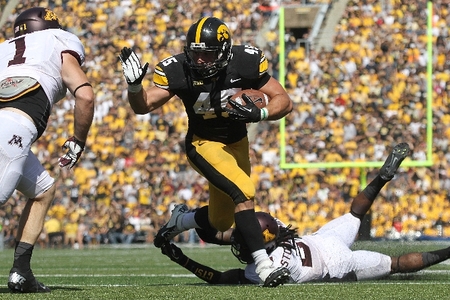 Via Bryon Houlgrave of the Des Moines Register
Following Mark Weisman's 113-yard, three-touchdown performance against Northern Iowa, I posited, "Nobody is going to mistake Weisman for Barry Sanders, but in the big picture, he could be a solid change-of-pace option and a dangerous weapon in short-yardage situations."
Color me happily wrong, as Weisman has run for over 100 yards in his last three performances.
He's still not Barry Sanders, but with 177 yards on 8.4 yards per carry (YPC) along with a touchdown against Minnesota, he's considerably more than the "change-of-pace option" that I predicted.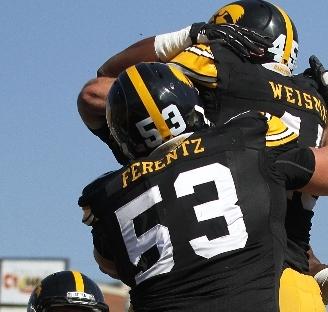 Via Bryon Houlgrave of the Des Moines Register
Speaking of impressive, the Iowa offensive line was lights-out against the Minnesota front, and that was without starter Austin Blythe, who missed the game with a lower leg injury.
It paved the way for 7.3 YPC and didn't allow a sack for the fourth straight game. This was against a Gopher defense that came into the contest second in the Big Ten with 11 sacks.
Particularly impressive were left tackle Brandon Scherff and left guard Matt Tobin.
All but one of Weisman's biggest runs of the day came over the left side, as Scherff and Tobin pushed their men all over the field. On those runs—the longest of which went for 44 yards—nobody touched Weisman until he was 10 yards past the line of scrimmage.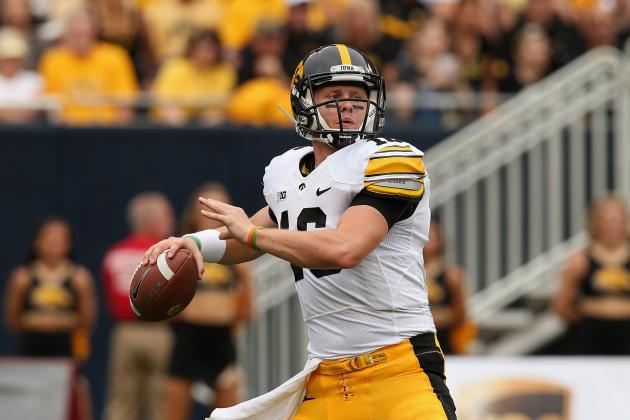 Jonathan Daniel/Getty Images

Unfortunately, despite a dominant running game and ample protection, the passing game continues to sputter.
It was particularly weak in the second half, in which quarterback James Vandenberg completed five of 11 passes for 27 yards.
As Marc Morehouse of the Cedar Rapids Gazette tweeted:
Weisman has five carries in the second half. Iowa passing game can't connect against a D that's selling out to stop the run.

— marcmorehouse (@marcmorehouse) September 29, 2012
Vandenberg was inaccurate, indecisive and just generally uncomfortable.
However, all of the blame cannot be heaped at the quarterback's feet.
Iowa's receivers failed to read the defense or adjust to the blitz, often leaving JVB hanging out to dry.
One would hope five games into the season that the communication issues would be worked out.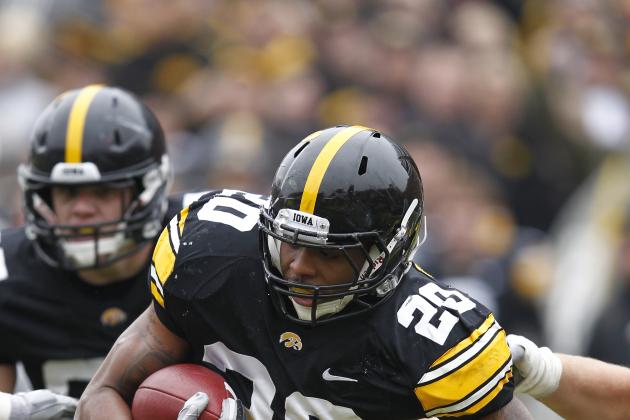 Joe Robbins/Getty Images

Iowa's linebackers were all over the field against the Gophers.
They have played well thus far this year, but all three had yet to play a complete game.
That changed against Minnesota, and the results, both for the entire unit and for the individuals, were palpable.
Christian Kirksey had a huge interception that iced the victory, both James Morris and Anthony Hitchens registered sacks and a boatload of tackles and Morris in particular was all over the field.
Let's hope they can keep it up.
This is a make-or-break year for the Hawkeye linebackers, especially Morris. He has been solid, but this year he has to take the next step and become great in the mold of past Hawkeye middle linebackers Pat Angerer and Abdul Hodge.
If the Gopher game is any indication, Morris has taken that step, and his partners in crime aren't far behind.
You read that right.
Iowa used a bit of trickeration.
The Hawks used the old flea-flicker to perfection, and it resulted in a 47-yard touchdown to junior receiver Jordan Cotton.
It's hard to believe notoriously conservative head coach Kirk Ferentz gave the green light for that play, but the evidence is there.
As Hawkeyegamefilm tweeted right after the play:
Fairly sure that was the best play call of the year so far. Going to guess Davis lobbied for that one. Nice to see him going for the throat

— Hawkeye Gamefilm (@hawkeyegamefilm) September 29, 2012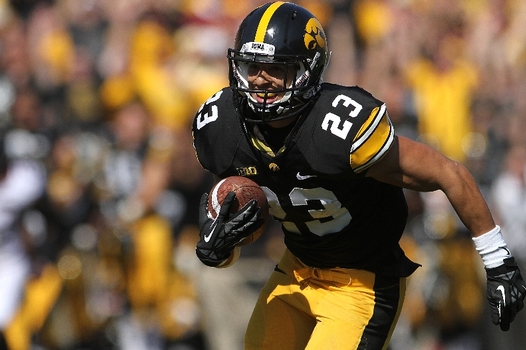 Via Bryon Houlgrave of the Des Moines Register
As for the beneficiary of that play, Jordan Cotton seems to have solidified himself as the Hawks' third receiver.
He finished the game with two receptions for 44 yards and one huge touchdown.
It is great to see Cotton, a Hawkeye legacy, see success on the football field, as he has struggled for the past three seasons to put it together.
The smile on his face in the attached picture says it all.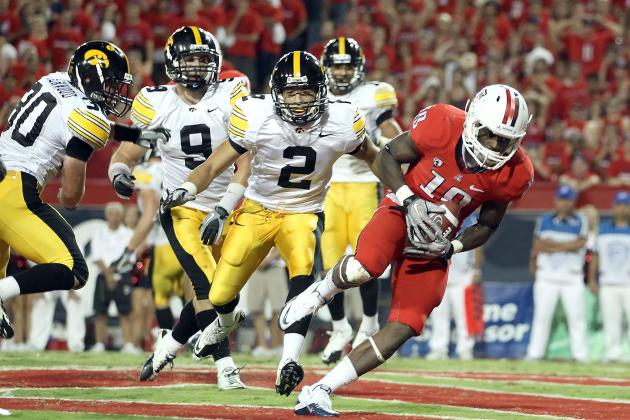 Christian Petersen/Getty Images

Greg Castillo subbed for an injured B.J. Lowery, and he had a great interception in the third quarter.
However, right before his pick, he took a terrible pass interference penalty that almost put the Gophers back into it.
Even worse, as Morehouse tweeted:
Pretty sure that's Castillo's third PI this season.

— marcmorehouse (@marcmorehouse) September 29, 2012
That's far too many pass interferences for a minimally used nickelback.
Castillo is a great Hawkeye, a great special teams player and by all accounts a leader on and off the field, but he is just not a cover cornerback.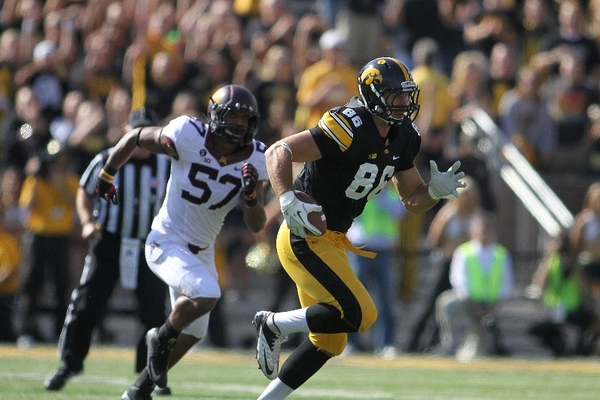 Via Bryon Houlgrave of the Des Moines Register
Fiedorowicz had a huge 45-yard catch on play-action to open the game, and then he seemed to disappear.
He had one more five-yard catch on the day, and that was it.
Does Vandenberg not trust him? Does Ferentz not trust him? Will he ever live up to the hype?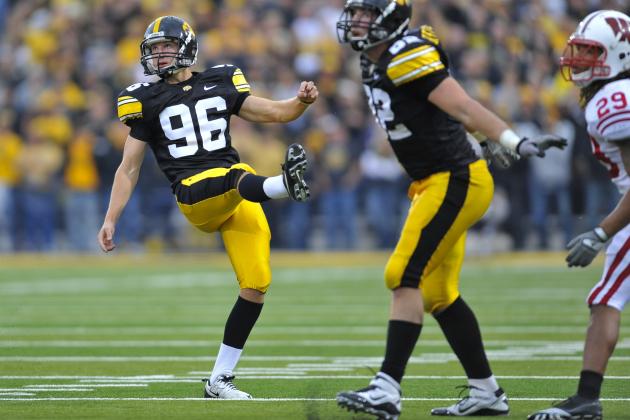 David Purdy/Getty Images

Meyer is quietly putting up a strong season, having hit 10 of 11 field goals with a long of 50 yards.
He is also riding a streak of well over two years without missing an extra point.
Nate Kaeding, watch out—your records may be in jeopardy.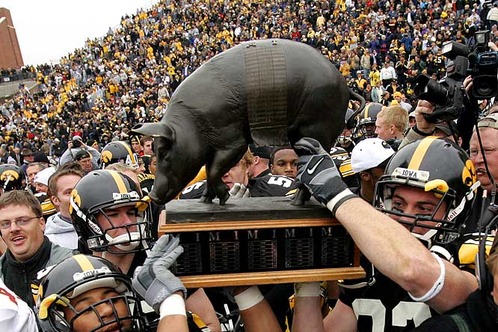 Via Sports Illustrated
Floyd of Rosedale is coming back to Iowa City.
Does any more need to be said?