Chelsea vs. Arsenal: 5 Reasons Why the Win over the Gunners Was Crucial
Richard Heathcote/Getty Images
Chelsea continued their fine start to the domestic campaign with another three points, this time against Arsenal at the Emirates Stadium.
The victory sees the Blues retain their place atop the Premier League table with five wins and a draw from their first six games. The 2-1 scoreline also means that they now possess the most miserly defensive record in the English top flight, having wrestled that honour from their North London opponents.
Though admittedly any win is a valuable result, this particular success was of greater significance than many before for the Blues.
This article outlines and discusses five reasons why the win over Arsenal is so crucial to Chelsea's season.
Revenge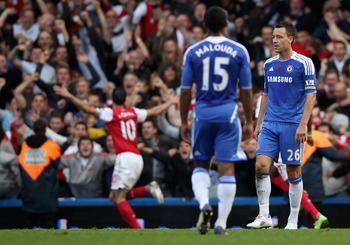 Clive Rose/Getty Images
For starters, this fixture is a London derby.
Though the two sides are not the closest of city neighbours, they are arguably the two biggest London teams in the Premier League as the only two sides outside of Manchester to have won the League title within the last 17 years.
So there were obvious bragging rights up for grabs here.
But the victory was made all the more important considering the events of last term. Arsenal ran out 5-3 winners at Stamford Bridge last season in a sensational affair, whilst a 0-0 draw in the return leg at the Emirates Stadium meant it was the first season the Blues had failed to pick up a win against the Gunners since 2007.
It also marked the first time the Gunners had finished above Chelsea in the league since Arsenal's record-breaking 2003-04 "untouchables" campaign.
It might have been a step too far to suggest that last season was something of a passing of the torch, but the Blues certainly had a score to settle.
And settle it they did.
In becoming the first visiting side to secure three victories at the Emirates, Chelsea exacted their revenge and regained much of the credibility that was lost during last season's 5-3 mauling.
First Big Win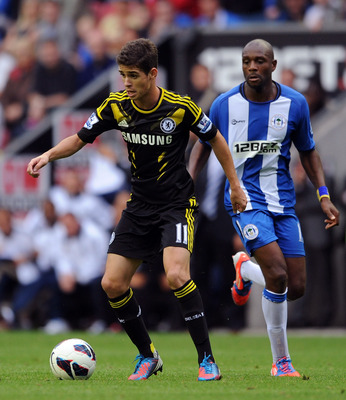 Chris Brunskill/Getty Images
Of Chelsea's five previous opponents this season, one was a newly promoted side and three had failed to finish higher than 14th in the previous campaign.
And though the contest with Newcastle presented a tricky encounter, the Blues were yet to face one of the traditional "big four" clubs before the short trip across the capital to the Emirates.
Thus one could argue that the Arsenal game was the biggest test that Chelsea have come up against so far this season.
While beating the likes of Reading and Wigan Athletic is important in the long run, with all due respect, these are the games that Roberto Di Matteo's men are expected to win. Therefore it is difficult to effectively judge the strength of Chelsea's title credentials this year based on these results alone.
Beating a team of Arsenal's quality, particularly considering that the Gunners were experiencing a fine run of form of their own, enables Chelsea's title challenge to be taken much more seriously.
By picking up three points at the Emirates Stadium, Chelsea have confirmed that this year they are very much in with a shot at the Premier League title, and will no doubt fare much better than last season's disappointing sixth-place finish.
Upcoming Fixtures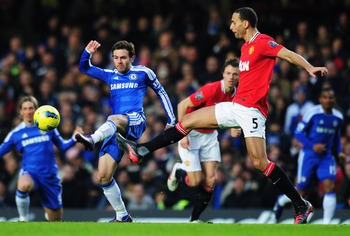 Shaun Botterill/Getty Images
It was all the more crucial that Chelsea came away with a positive result against Arsenal, as their upcoming fixtures don't offer the easiest of tasks.
In the next five league games, Chelsea will face Liverpool, Tottenham Hotspur and Manchester United—three difficult encounters to say the least.
Though the Blues are more than capable of securing nine points from these three particular games, it will be a tough ask against such a high calibre of opposition.
This tough schedule will now be somewhat more manageable, though, thanks to the confidence gained from the Arsenal victory as well as the strong start that Chelsea have made this season.
Had the Blues not secured 16 points from a possible 18 already, then unsatisfactory results in the Liverpool, Spurs and United games could have put the Stamford Bridge club in a perilous position in the Premier League table.
Nonetheless, with momentum on their side, Chelsea may well go on to achieve further victories in these challenging upcoming fixtures.
John Terry's Ban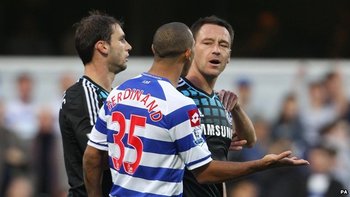 Photo courtesy of BBC.co.uk
As if the next few games for Chelsea weren't going to be hard enough already, they may have to battle through them without their inspirational leader and defensive stalwart John Terry.
The former England skipper has been handed a four-match ban by the Football Association in light of an investigation into the alleged racial abuse directed at Anton Ferdinand of QPR last season.
The ban will not be enforced until Terry has either responded to the sentence or the 14-day appeal period has expired.
Thus, unless Terry successfully appeals for a reduced ban, he is guaranteed to miss the Tottenham and Manchester United clashes, and possibly the Liverpool game as well.
Di Matteo has rotated his central defensive pairings effectively this season, but Terry's ban will deny the Italian the option to do so.
The result may see the Blues' watertight defence becomes somewhat exposed and less sturdy, meaning it was of even greater importance that Chelsea made the most of their captain's presence by securing another three points while they still had the option to select him.
Fernando Torres Scored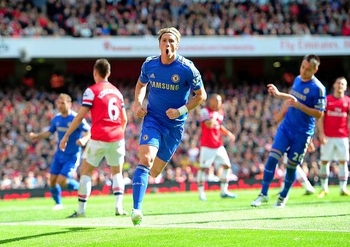 Photo courtesy of Hackneygazette.co.uk
In all honesty, Chelsea's goals against the Gunners were rather soft and somewhat out of the blue (no pun intended), particularly Juan Mata's winning free kick.
But the sheer fact that Fernando Torres grabbed what was the opening goal will be a real lift to the Spaniard as he continues in his quest to rediscover his form of old.
His all-round performance had its peaks and troughs; he was as mobile as ever and a menace to the Arsenal back line, but on occasions an untimely stumble or a sloppy touch would let the striker down, rendering him less effectual.
But on a positive note, it was an instinctive and very clever finish from Torres, demonstrating that he still possesses the class that made him one of the greatest strikers in the world during his prolific stint at Liverpool.
It was his third goal in six league games this season, and he will now surely be hoping to push on and have a successful campaign, having shown glimpses of his old self in recent weeks.
I, for one, remain fairly sure that Fernando Torres will soon be firing on all cylinders once again.
Conclusion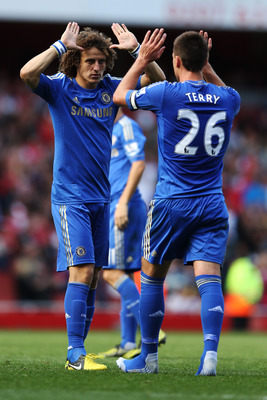 Richard Heathcote/Getty Images
As stated earlier, any victory in the Premier League is an important one.
But these five reasons make this particular defeat of Arsenal an even more noteworthy and valuable achievement for the Blues in their bid to win their first league title since 2010.
It will be no easy task, but if they can continue to amass points at their current rate, then they will certainly be in the higher echelons of the table come May 2013.
The Blues go marching on, and the confidence and momentum they have already gained will give them high hopes of achieving further success over the coming weeks.
Comment below with your thoughts on the Arsenal game, and whether or not you think this was an important victory as far as Chelsea's title aspirations are concerned.
Keep Reading

Chelsea: Like this team?