New York Mets: 6 Reasons Not to Trade Johan Santana This Offseason
Mike Stobe/Getty Images

New York Mets starting pitcher Johan Santana is currently on the team's books at $25 million next season, but it would be worth their while to retain the two-time Cy Young award winner.
It's been speculated that general manger Sandy Alderson will try to dangle the southpaw in potential trades this winter, largely due to the bloated pricetag attached to Santana.
Despite the team's financial struggles—payroll has been cut by $60 million in just three years—it will be key for the Mets to hang onto Johan in 2013 for multiple reasons. Let's break down why.
Begin Slideshow

»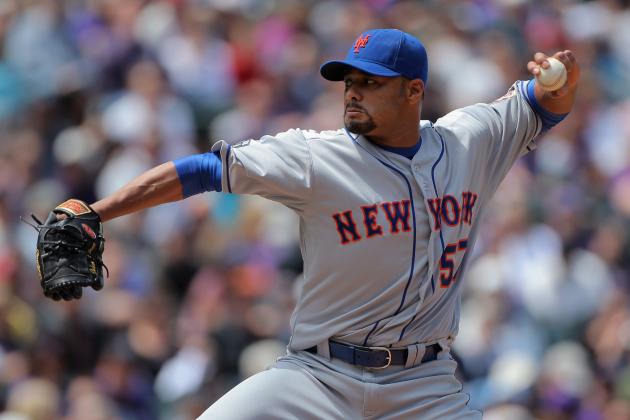 Doug Pensinger/Getty Images
Santana managed to put up very good numbers through the first three months of 2012.
With his injury and subsequent struggles, it's easy to forget that Johan Santana was key to the Mets' early-season success in 2012.
The rotation carried the club, and Santana led the way. Through his first 14 starts—just before he suffered an ankle injury on July 6 against Chicago—he had an ERA of 2.76. He allowed just 74 hits in 98 innings, with 98 punchouts. Batters had a clip of just .207 against Santana during that time.
Highlights included an 11-strikeout performance in six-and-two-thirds against Miami on April 24, a complete game shutout of San Diego on May 26, eight shutout innings in LA on June 30, and of course the Mets' first no-hitter against St. Louis on June 1. Johan Santana looked like the Johan Santana of old.
Injury and fatigue caught up to the lefty, but his dominance early on leads you to believe he still has a lot left in the tank. Bringing Santana back for 2013 would be expensive, but it would be unlike the Jason Bay situation, which is expensive and a burden on the team. Johan would still be able to contribute at the front of the rotation to help pitch the Mets to a playoff appearance next season.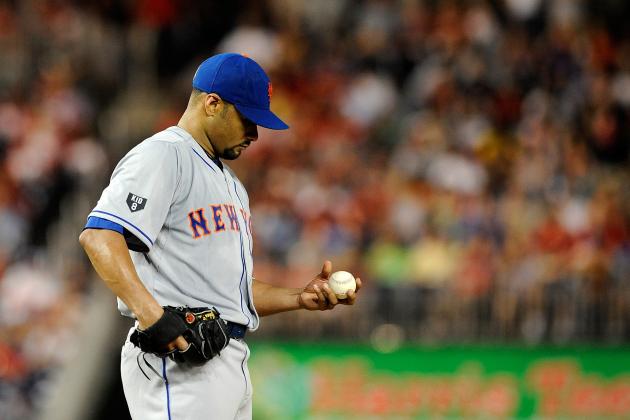 Patrick McDermott/Getty Images
Despite an encouraging 2012 overall, Santana is coming off the worst pitching stretch of his entire career.
Despite the success he enjoyed in the season's early portion, our most recent memories of Johan Santana aren't exactly thrilling.
After injuring his ankle on July 6 against the Cubs at Citi Field on a play covering first base, Santana just wasn't the same. His last five starts of the season—including the game he suffered the ankle injury in—were possibly the worst stretch of starts by any Met ever.
In those 19 innings, he allowed 33 earned runs, equating to an ERA over 15. Batters teed off against Santana, batting .448 against him, with an OPS of 1.242. Watching Johan pitch during that stretch was painful. He failed to pitch past the fifth inning in any five of those starts.
League-wide, general managers see this as a sign of Santana's demise. Trading him now, fresh off one of the worst stretches by any pitcher ever, wouldn't be wise for Sandy Alderson, especially considering the fact that Santana has a $25 million salary next season.
If trading Santana is in the team's plans, letting him pitch his way to higher value in 2013 would be the best way to go about it.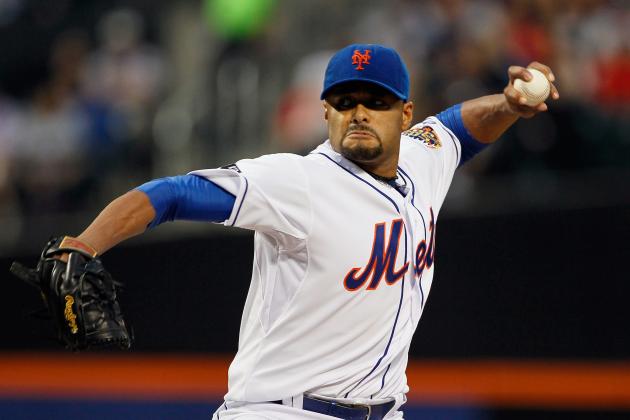 Mike Stobe/Getty Images
Santana has always been known to be a player who does anything it takes to win.
When it was revealed that Johan Santana had a tear in his left anterior capsule in late 2010, his future as a major league pitcher was very much up in the air.
After seeing many pitchers fail to fully recover from the infamous shoulder surgery, Santana was determined to make it back stronger. He battled through a grueling 2011 in which he sacrificed a full season due to the injury.
Santana was ready for Opening Day 2012. He contributed five shutout innings that day and, for a while, appeared to be the same reliable Santana.
This recovery was all a testament to his warrior mentality. Santana has always risen to the occasion when the situation calls for it. He had a notable high-leverage performance in a Mets uniform in his last start of the 2008 season. A loss to the Marlins would have ended the team's playoff hopes, but Santana dominated on three days rest, pitching a complete game shutout.
Santana has display a win-at-all-costs mindset over the course of his career. Although his tenure in New York hasn't been filled with opportunities to shine, he's made the most of it. He's a player the Mets would miss if a trade goes down.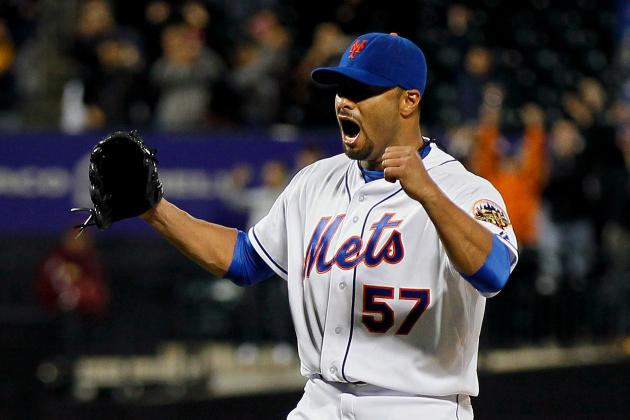 Mike Stobe/Getty Images
Santana pitched a no-hitter for the Mets on June 1, 2012 against St. Louis at Citi Field.
On June 1, 2012, Johan Santana forever engraved his name into New York Mets history by no-hitting the Cardinals at Citi Field. It took the franchise 50 seasons and 8,020 games for the feat to occur, but Santana rose to the occasion last June.
Santana gave the Mets and their fans a night to remember forever, and the least that Fred Wilpon can do is offer the pitcher an opportunity to end his career as a Met.
This of course could be moot if Santana wishes to be traded to a contender next season, and keep in mind that he does have a full no-trade clause worked into his contract.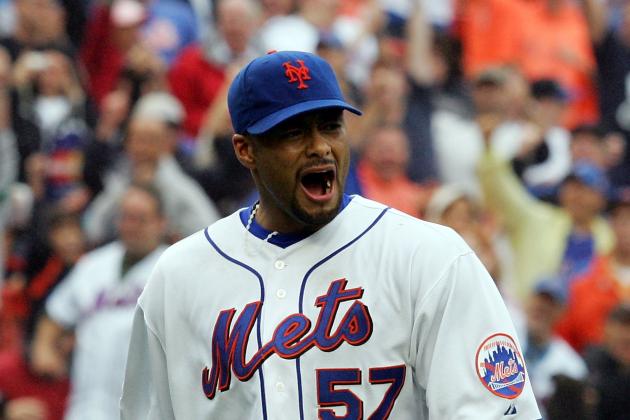 Jim McIsaac/Getty Images
Santana walking off the mound during a shutout of the Marlins to keep the Mets playoff hopes alive on September 27, 2008
When the New York Mets traded for Johan Santana in February 2008, the sky was the limit for the Metropolitans. They were coming off the worst collapse in baseball history to date, but the team was headed in the right direction following two contending seasons. They addressed a major need by acquiring Santana and had high hopes for 2008 and beyond.
The 2008 season had its struggles, but the Mets found themselves in first place late in the season, contending for their second playoff berth in three years. It ultimately wasn't meant to be for the Mets, but not thanks to Santana.
Johan stepped up his already-stellar pitching during the stretch run of that year. In the month of September, he added four wins to his record. The Mets won five out of his six starts largely due to his 1.86 ERA in the season's final month.
September 2008 was the team's most recent month of playing baseball with playoff implications. No other member of the pitching staff (besides Jon Niese who started the first three games of his career that season) is still around four years later.
Santana, Dan Murphy and David Wright remain the only connections to that 2008 team and are the only ones on the current roster who've experienced meaningful baseball games in New York. Johan is one of the guys who knows how important it is to win under the microscope.
In losing him they'd also be losing their last trace of success on the pitching staff and declaring the end of an era that promised so much success.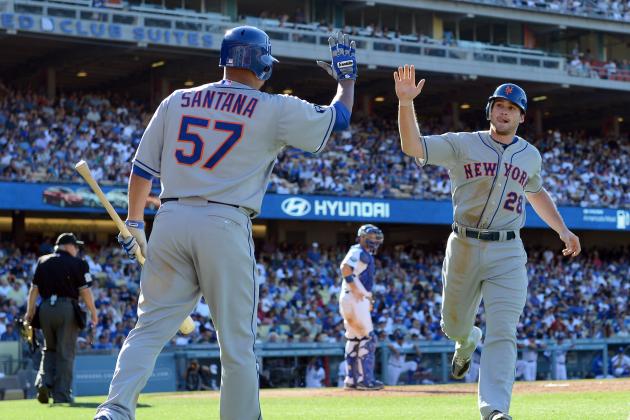 Harry How/Getty Images
With plenty of years experience under his belt, the veteran Santana will be able to keep the younger players in line.
By April 2013, Johan Santana will be 34 years old and entering his 14th year in the major leagues.
The way the roster is constructed right now, R.A. Dickey is set to be the team's only player older than Santana in 2013. This leaves a leadership role open to Santana, who played playoff baseball in Minnesota.
The 2013 Mets will likely be a young team looking for a direction to go in. This year's clubhouse had exceptional chemistry, and with the same nucleus likely returning for next year's go-around, they'll be a young club overall.
With young guns like Matt Harvey, Zack Wheeler, Jenrry Mejia and Jeurys Familia joining the pitching staff a year from now, Santana will be able to guide them along the way as they try to set a foundation of major league success.
Johan Santana will come at an expensive cost in 2013, but keep in mind that he'll also provide invaluable tutelage for the team's young core. Tthe inexperienced staff will be able to model themselves after Santana, who's just the man for the job.
Follow John Dorn on Twitter at @JSDorn6 for Mets-fan-on-Mets-fan venting sessions.