NFL Picks Week 4: How Drew Brees Can Revive New Orleans Saints Season
Use your ← → (arrow) keys to browse more stories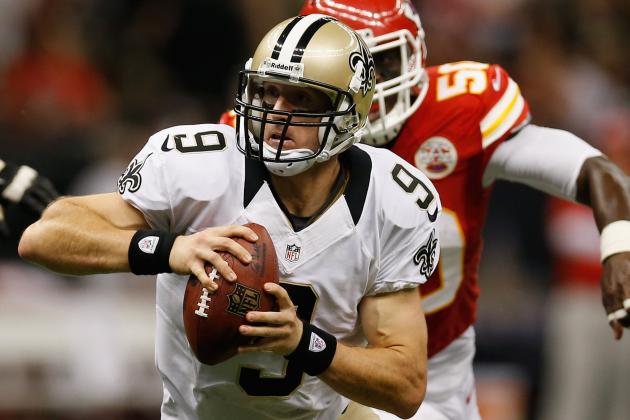 Chris Graythen/Getty Images
The Saints offseason was bad, and their first three games haven't been any better.
This summer, the New Orleans Saints took the term "rough offseason" to a whole new level.
And through the first three games of the 2012 season, the Saints have struggled mightily. Their offense has remained effective, led by quarterback Drew Brees and a slew of talented pass catchers, but the defense has been atrocious thus far.
This week, the 0-3 Saints will travel to Green Bay to face the 1-2 Packers, coming off an emotional and controversial loss to the Seattle Seahawks on Monday Night Football.
The Packers, much like the Saints, have been an early season surprise. Much to the surprise of football fans, the Green Bay defense has been the strength of the squad through 12 quarters.
It's hard to label a Week 4 matchup as a "must-win," but both the Packers and the Saints are starving for a victory this weekend. Aaron Rodgers and the Packers will try to get back to .500, while Brees and the Saints hope to avoid a nightmarish 0-4 start.
How can Brees get the Saints season back on track this weekend? Let's take a closer look.
1) Target Jimmy Graham vs. Packers LBs
Although they've played better so far this season, the Packers defense has been awful against opposing tight ends in recent years. The 49ers and Vernon Davis had some success against Green Bay in Week 1, while the Chicago Bears constantly targeted tight end Kellen Davis against Packers linebacker D.J. Smith in Week 2.
Now, Cutler completed as many passes to Tramon Williams that night as he did to Brandon Marshall. So, needless to say, the results didn't go as planned.
But, nonetheless, the 5'10" Smith is a liability in coverage. Smith and A.J. Hawk are the Packers' starting inside linebackers in their base 3-4 scheme, but Hawk's snap count will likely decrease against the spread attack of New Orleans.
If the Packers use a LB on Graham, it's game over.
When the Saints faced the 49ers in last year's playoffs—as shown in the video—Graham's athletic ability simply proved to be too much to handle. With under two minutes remaining in the game, Brees noticed Graham was matched up one on one with 49ers linebacker Patrick Willis.
Graham is sent on a seam route up the middle of the field, and the 49ers actually defend it fairly well, before Graham's athleticism takes over and he makes a spectacular catch-and-run for a touchdown.
Willis is perhaps the best linebacker in football, but Graham's 6'7" frame was simply too much for the 6'1" Willis to handle. And if Willis had trouble covering Graham, Smith will surely need lots of help on Sunday.
The Packers will most likely rely on Charles Woodson against Graham, but even the savvy vet will struggle against Graham's freakish athleticism. As well as the Green Bay secondary has been playing through three games, the Packers simply have no match for the Saints TE.
And you can be sure that Brees will put Graham in positions to exploit the Packers secondary and linebackers.
2) Increase the workload for Darren Sproles
Sproles killed the Packers' defense in last year's season opener, and a similar scenario could unfold on Sunday.
The 5'6" lightning bug ran all over Lambeau Field last season. He returned a kick 57 yards deep into Packers territory and also took a punt back 72 yards for a touchdown. Sproles carried the ball only twice for seven yards in week one last season, but he did most of his damage as a receiver.
In that Week 1 matchup last year, The Saints clearly targeted the Packers linebackers in the passing game. In 2012, Packers linebacker A.J. Hawk has had perhaps the best start to a season of his seven-year career, but if he's on the field against New Orleans, Brees and the offense will put a bullseye on No. 50.
Another thing that hurts the Packers against an ultra-quick back like Sproles is the fact that Green Bay was one of the worst tackling teams in the NFL last season.
And Sproles is perhaps the slipperiest back in the league. If he gets to the second level, it's incredibly hard to get him on the ground.
If the Packers want to prevent Sproles from having a field day, they must wrap him up.
Last year's playoff game between the Saints and 49ers provides another example of how New Orleans could hurt Green Bay this Sunday.
Late in the fourth quarter, Brees recognizes the blitz and quickly dumps the ball off to Sproles. The linebackers are lined up elsewhere, and once safety Dashon Goldson misses the tackle, it's off to the races for Sproles.
And 44 yards later, Sproles is in the end zone, and the Saints take the lead. Just like that.
3) Target the inexperienced members in the Packers secondary
Last season, the Packers allowed more passing yards than any team in NFL history.
After safety Nick Collins was lost for the season with a neck injury and Tramon Williams battled a shoulder injury for the entire year, the Packers secondary was a sieve.
But this year, Williams appears back to his 2010 Pro Bowl form. He's been targeted only 13 times through 12 quarters of play, and he didn't allow a single reception to Bears receiver Brandon Marshall when the two players went head to head in Week 2.
And on the other side of Williams, cornerback Sam Shields has possibly been even better.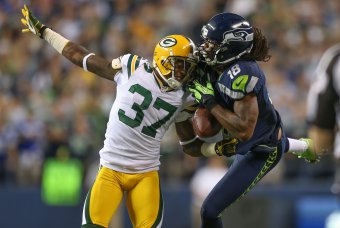 Otto Greule Jr/Getty Images
According to Pro Football Focus, Shields has only allowed two receptions for 25 yards this season. And, yes, that includes one 24-yard touchdown (or not) to Seahawks wide receiver Golden Tate on Monday Night Football last week.
Shields, a superior athlete, will likely see a lot of time on Saints speedster Devery Henderson. This is a matchup to keep an eye on, but Shields should keep Henderson relatively quiet, if he's able to continue his current high level of play.
Charles Woodson has moved to safety in Green Bay's base 3-4 defense, but he moves to the slot in the Packers' nickel alignment. When Woodson lines up as the third cornerback, rookie safety Jerron McMillian takes his spot next to Morgan Burnett at safety.
The Packers' defensive coaching staff has given McMillian increased opportunities the past couple weeks, and he's been terrific by all accounts. But then again, the Bears and the Seahawks don't pose the same aerial threat as the New Orleans Saints.
With Williams likely matched up on receiver Marques Colston, and Shields on Henderson, the most appealing target among Saints' wide receivers will probably be Lance Moore.
Brees is one of the most accurate quarterbacks in the league, and he'll surely target Moore if and when he has rookie cornerback Casey Hayward lined up across from him. Both of the Packers rookie defensive backs, Hayward and McMillian, have made the most of their playing time, thus far, but this Sunday will surely be their biggest test to date.
And although veteran cornerback Jarrett Bush's snaps have decreased dramatically due to Hayward's productivity, he remains a likely target when he's on the field. In which case, Brees's thought process will likely go something like this: "Oh, hey. There's No. 24. And there's where I'm going with the football."
Preview of Sunday's matchup
Both offenses present matchup problems for the opposing defense. Rodgers and the Packers hope to get their offense back on track against the shaky New Orleans defense, while Brees and the Saints hope to outlast Green Bay in a shootout.
On paper, this looks like it will be a huge day for tight end Jimmy Graham. But then again, Week 2 looked like a great matchup for Bears wide receiver Brandon Marshall, and the Packers held him to just two catches on the night.
Many people are predicting a convincing win for the Packers, but I think both teams will score too many points for this to be a blowout. With the game being played at Lambeau, I give the Packers a slight edge in this one.
Green Bay 34, New Orleans 27.
And the Saints go marching to 0-4. Gulp.