How Stanford's Loss to Washington Shakes Up the BCS Bowl Picture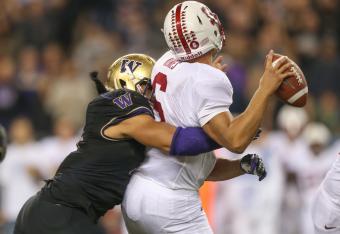 Otto Greule Jr/Getty Images
After No. 8 Stanford lost 17-13 to Washington on Thursday, a lot of Pac-12 executives probably went to bed with one thought in their collective heads: How badly will this loss affect the Pac-12?
It may be a $6 million loss.
Last year, every BCS conference received approximately $22.3 million for sending its champion to a BCS bowl. That's a lot of cash.
If a BCS conference had a second team selected for a BCS bowl, around $6.1 million was added to that conference's coffers.
Obviously, getting a second team selected to a BCS bowl is a huge bonus but the Big Ten and the SEC have had a monopoly on that perk for a while.
The Pac-12 sent two teams to BCS bowls for the 2000 and 2002 seasons before going on an eight-year sabbatical. Stanford and Oregon have each appeared in two BCS bowls for the last two seasons, which is remarkable since the league was considered slightly down after USC was sanctioned with a two-year postseason ban.
The Pac-12 raked in the cash despite not having USC in the mix.
With USC now bowl-eligible, it was assumed that either USC or Oregon would play in the Rose Bowl and the other playing in either a BCS bowl or the BCS Championship.
That was the plan.
And now, that plan is looking very iffy.
Stanford's loss to Washington will have a ripple effect. Strength of schedule (SOS) is very important; a critical loss downgrades a team's SOS in both the pollsters' minds and the computer polls. Last year Oklahoma State had the same regular season record as Alabama but Alabama leap-frogged Oklahoma State in the polls in the final week of the regular season.
Why?
Oklahoma State lost to unranked Iowa State while Alabama lost to No. 1 LSU.
So why would Stanford's loss to Washington hurt the Pac-12?
Stanford was ranked No. 8 in the AP Top 25 after the Cardinal beat No. 2 USC the previous week. Washington (3-1) lost 41-3 at LSU in the second week of the season so it has remained unranked. How do you keep Stanford high in the polls when it lost to a team that got hammered by an SEC team?
Stanford's loss could indicate a league with more competitive teams and thus, the conference is beating each other up. The SEC has made that argument before and it has worked, largely because the league looks tough. But the Pac-12's second highest-ranked team just lost to a team that got blown out by an SEC team so the Pac-12 can't make that same argument as the SEC.
Strength of schedule (SOS) is a factor in the BCS rankings. The computers have various formulas for ranking teams and one of those tangibles is SOS. USC's SOS will drop since the Trojans lost to Stanford and Washington beat Stanford. The more teams your opponents beat, the better your SOS is.
Another factor that may hurt the Pac-12's chances of getting a second BCS bowl berth is that Notre Dame is currently 4-0.
Notre Dame's AQ status is contingent upon it finishing the regular season ranked No. 8 or higher. The Fighting Irish's mediocre records over the past five years have opened up a spot for a second BCS conference team to play in a BCS bowl and the Pac-12 has taken advantage of that.
In the two seasons that Notre Dame did go BCS bowling (2005, 2006), the Pac-12 only had one team selected to a BCS bowl.
What if Stanford won out during the rest of the season to go 12-1? The Pac-12 champion (Stanford) would go to the Rose Bowl but what about everybody else?
If Stanford runs the table the rest of the season, then Oregon will have had at least one loss since it plays Stanford.
If USC loses to Oregon, that's a minimum two-loss season for the Trojans and a probable pass by the BCS. If USC beats Oregon, that's a minimum two-loss season for the Ducks and a probable pass from the BCS as well.
Who else would be left in the Pac-12 for the BCS to consider?
Sure there is UCLA, but the Bruins have already lost to Oregon State. Utah has two losses. Arizona only has one loss but it was a 49-0 shutout by Oregon.
Arizona State? The Sun Devils lost to a middle-tiered SEC team in Missouri. Cal already has three losses. Oregon State is undefeated but the Beavers play the Ducks and the Cardinal so it's highly unlikely that they will have only one loss.
The bottom line is that the Rose Bowl is looking more and more like the only BCS bowl option for the Pac-12. Things could change if both Alabama and LSU drop a game they shouldn't have dropped and USC wins out, but after watching both teams play, I hate to bet against Nick Saban and on USC. Oregon could still win out and play for the BCS Championship. But their SOS takes a hit since they play both Stanford and Washington.
Stanford's loss to Washington has put the Pac-12 is in a very tenuous position. With so much promise after the first two weeks of the season, Pac-12 Commissioner Larry Scott has to be concerned.
USC has lost. Stanford has lost.
And Notre Dame is undefeated.
This article is
What is the duplicate article?
Why is this article offensive?
Where is this article plagiarized from?
Why is this article poorly edited?

Stanford Football: Like this team?