6 Adjustments Chicago Bulls Must Make for 2012-13 with Derrick Rose Injured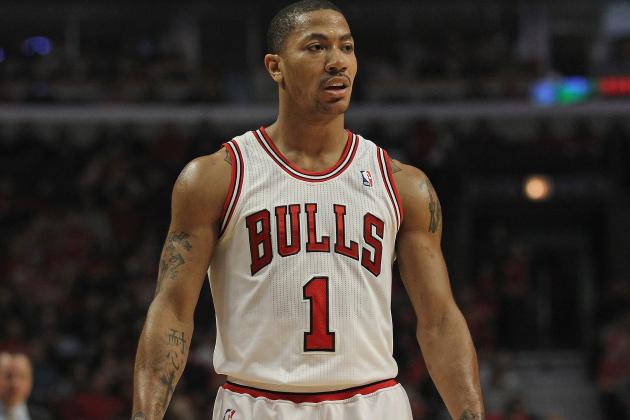 Jonathan Daniel/Getty Images

The Chicago Bulls will have to play a significant portion of their 2012-13 season without superstar Derrick Rose. There will be adjustments they have to make in response to his absence, and how well they implement those will largely determine how successful they are.
Rose's importance, both to the Bulls and to the city of Chicago, cannot be diminished. Replacing him is an impossibility, which is why the adjustments made during his departure should be well thought out and careful.
While these accommodations will be primarily to help the Bulls win without Rose, they will also be important in making the all-around team better when Rose returns by developing his supporting cast into better players.
There are role players who need to get bigger minutes, secondary stars who must shoulder more responsibility and even a few players who should probably be shipped out if at all possible. It will be tough for the team to make all of these adjustments, but if they do, they will be a much better team for it.
Begin Slideshow

»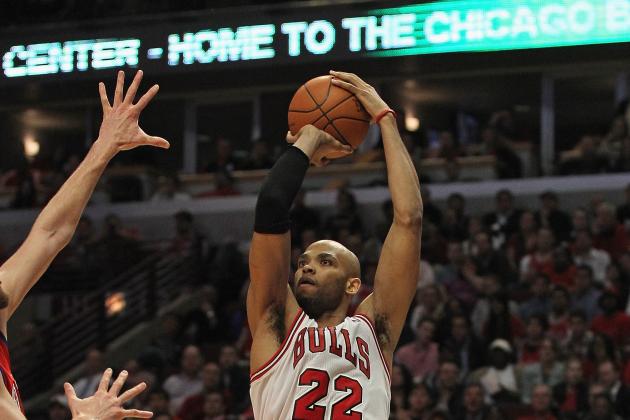 Jonathan Daniel/Getty Images

When you watch the Chicago Bulls play a game as is, it takes about one minute to realize just how centered the entire team is around Derrick Rose. He is the primary ball-handler, the best scorer and the man in charge of leading the team. Too much is asked of him when he is healthy.
Now that the Bulls know he will be out for awhile, it is a great time to teach the rest of the team to not be so dependent on him. Ball movement and balance on offense must be made priorities, not only so the Bulls can score without their leading man, but also so that they will be better able to support him when he returns.
Doing this will lift the burden off Rose's shoulders, which will help him stay healthy and be able to play more down the line. It will also make it tougher for teams like the Miami Heat to beat Chicago, as they will no longer be able to shut down the entire team by shutting down just one player.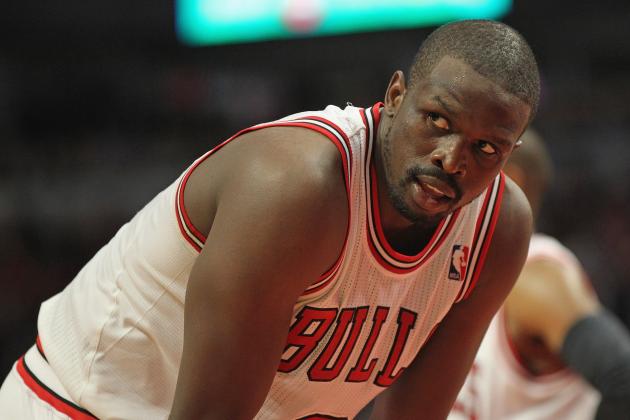 Jonathan Daniel/Getty Images

It is time for Luol Deng to take a much larger leadership role for this team. He has clearly established himself as the No. 2 star on this squad, and he will be the No. 1 star while Derrick Rose is out with his knee injury.
Deng has all the on-the-court abilities necessary to do the job. His defense is among the best in the league on the perimeter and is a big reason why Chicago has become the defensive powerhouse it is. His offense is also much better than advertised, and he fits in well with the idea of balanced offense, as he is most lethal playing off-the-ball.
A man who has persevered through much in his life, Deng has gone from lowly beginnings to become one of the best basketball players on the face of the planet. He has what it takes to lead this team, and it is time we start expecting that of him. For more on Luol Deng, read another article of mine on why he is ready to lead this team while Rose is out.
Gregory Shamus/Getty Images

When Derrick Rose is healthy, he handles the ball almost exclusively. While that can be good for consistency, it can be very bad for that player and for the team when that player has to miss time.
The Bulls have already addressed this problem in signing Kirk Hinrich and drafting Marquis Teague. Hinrich will make a great substitute for Rose while he is out, and Teague is probably Rose's future backup. Each will be important in the continued development of the team.
However, the Bulls also need to make this adjustment for even after Rose comes back. He needs to play off the ball sometimes. That will be an adjustment for him as well, but it will keep him healthier in the long run, and it will diversify their offense even more.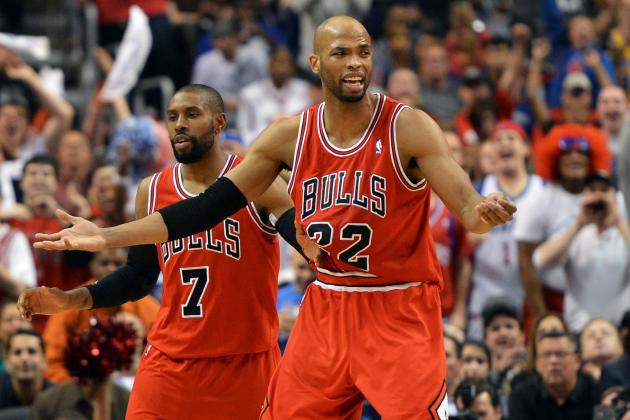 Drew Hallowell/Getty Images

Taj Gibson has been a solid bench player for the Chicago Bulls for awhile now, and he is a player that is well-respected among the fanbase. His potential has been discussed for awhile now, but it is getting to the point where the Bulls either need to use him or get rid of him. Getting rid of him would be dumb.
Gibson is already 27 years old after just three years in the league. If the Bulls are ever going to make him a bigger part of their future plans, they need to do so immediately.
Gibson will be a restricted free agent after the 2012-13 season, and he will likely get some big money thrown his way. It is likely he would want to stay in Chicago, but that may change if the Bulls do not show him that they are willing to use him more.
Right now, he is only playing about 22 minutes per game. With that kind of playing time, Gibson will never develop into the type of player he needs to be. With Rose out, the Bulls will need all the help they can get and playing Gibson more makes up for some of the athleticism you lose in Rose's absence. It also makes you a better team in the long run.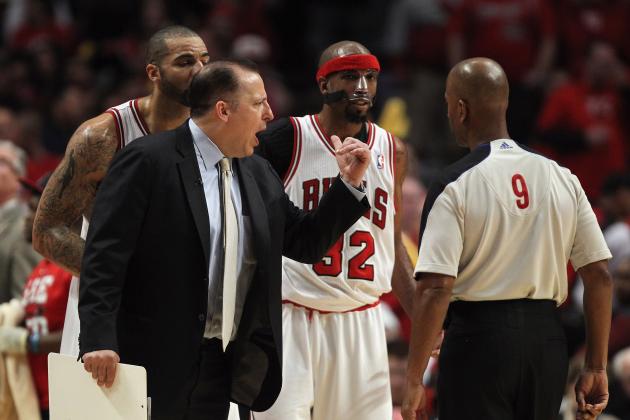 Jonathan Daniel/Getty Images

Carlos Boozer has been disappointing since signing a huge free-agent deal during the 2010 offseason. While he has not been terrible by any stretch, he has been a liability for the Chicago Bulls defensively and athletically.
Richard Hamilton is another former star who has not shined all that brightly in a Bulls uniform. He has only been there for one year, but one has to wonder if he really makes the team that much better even at his best.
Trading an aging asset is something the Bulls need to consider in order to build the team around more young talent. With Rose out, the Bulls need all of the athleticism and defense they can get to make up for his subtracted offense. Boozer and Hamilton are both pretty expendable at this point.
While neither are really hot trade commodities, getting young players and draft picks in return would be worth it. Taj Gibson and Marco Belinelli will both be free agents in 2013, and I would not blame either for leaving if they knew they would have to sit behind a couple of has-beens.
Trading Hamilton and Boozer gives Gibson and Belinelli some much-needed time to grow just in time for when Rose gets back to make a run at a title.
Let's be honest. Gibson and Belinelli can give you just as much production (probably more) as Hamilton and Boozer can right now, and they have bigger upside. Such a move would weaken the bench for awhile, but hopefully the trade assets you get in dealing Hamilton and Boozer could fill up those holes.
This would help the team grow without Rose and make it younger and more athletic for him when he got back.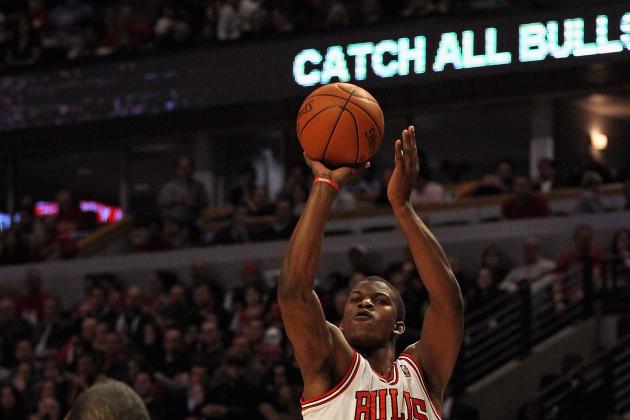 Jonathan Daniel/Getty Images

Jimmy Butler has the potential to be a big part of the future of the Chicago Bulls, and the team should use Rose's time out as an opportunity to get him more minutes. At age 23 and with just one year in the league, Butler is one of the youngest players on this team. He has the qualities that this team wants in a future young wing.
Butler is long for a guard at 6'7", and he has the potential to become a very good defensive wing like Luol Deng. His offense still has some work, but anyone can tell you that having a young player who can defend is much more important for this Bulls team. Butler needs time on the floor to develop, and using him as a guard while Rose is out could help him out.
The Bulls will have to make these adjustments if they want their team to be good while Rose is out and even better after he comes back. By implementing these strategies and changes, they will make their team better without and around Rose. They will also make it much easier for him to win and stay healthy in the future.