Alabama Football: Ranking Crimson Tide's Most Important Remaining SEC Games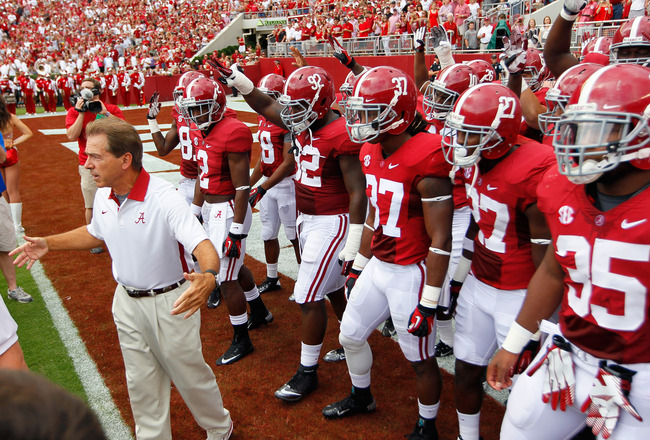 Kevin C. Cox/Getty Images
It is pretty easy, right now, to envision the Alabama Crimson Tide running through the SEC schedule and right into the BCS title game once again, without so much as a hiccup. The Tide is 4-0, ranked No. 1 in the country and has yet to be faced with a legitimate challenge.
As positive as the near future appears to be, there is still quite a bit of work left on the docket for Alabama, as only one conference game is in the rearview mirror and seven remain on the regular season slate.
September has been an impressive month for the Tide with impressive wins over Michigan and Arkansas, both away from the friendly confines of Bryant-Denny Stadium. Having said that, the Wolverine offense was limited without running back Fitzgerald Toussaint and Arkansas was sans quarterback Tyler Wilson.
So is the Tide really as good as it appears? The next two months will answer this question and is a countdown of the teams that will try to end the Crimson Tide's quest for a third national title in four seasons.
8. Ole Miss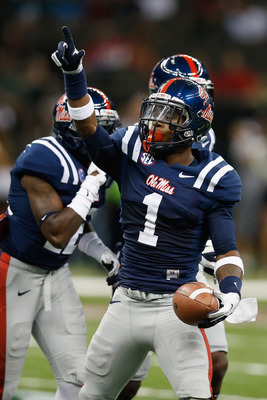 Chris Graythen/Getty Images
Looking at their three non-conference wins over Central Arkansas, UTEP and Tulane, it would appear that the Rebels may have some game this season. When you look at the 66-31 dismantling at the hands of Texas, however, reality comes back into the conversation.
Yes, the Rebels statistically have the best offense in the conference (yards-per-game) and are 11th nationally in rushing yards. They also give up the most yards in the conference and have little chance of stopping a well-balanced offensive attack.
Alabama is a huge favorite in this home game for a reason, and the reason is that Ole Miss simply cannot hang with the big boys of the SEC right bow. The paper tiger of the conference is about to be tossed into a raging inferno and the lovable Rebels will get smoked at the hands of Alabama.
Reason for concern: Extremely low
7. Missouri
Ed Zurga/Getty Images
Missouri was very excited about becoming one of the newest members of the SEC...in August.
With what was once called "old man football", the SEC flexed its old man muscle on the Tigers early this season as Georgia went to Columbia and wore Mizzou down while cruising to a 41-20 victory. Right when the Tigers had regained their muster, a trip to South Carolina ended with another embarrassing three touchdown, southern-style whoopin'.
A month ago, the Missouri offense looked a little intimidating, but potential has been substituted for ineptitude in the early going.
The Tigers are absolutely talented, but their depth and overall size are not up to SEC standards and they will pay for these deficiencies again when Alabama travels north.
Reason for concern: Low
6. Texas A&M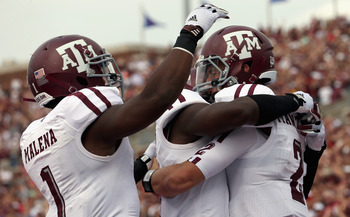 Ronald Martinez/Getty Images
Another newcomer to the SEC, the Texas A&M Aggies have only played one conference game so far. In their SEC opener against the resurgent Gators, the Aggies held their own and put up a pretty decent showing despite a 20-17 defeat.
Freshman dual-threat quarterback Johnny Manziel is lining himself up to be the conference Freshman of the Year with his impressive combination of running and passing attacks. Still, he averaged over nine yards-per-carry against non-conference lightweights but was held to just over three in the Florida game.
Manziel is going to be a serious threat in the SEC, eventually, but his numbers will be limited in conference play and the Aggie offense will be neutralized by the Tide. Upcoming games with Arkansas and Ole Miss will provide a clearer picture of what Texas A&M is capable of.
Reason for concern: Low
5. Auburn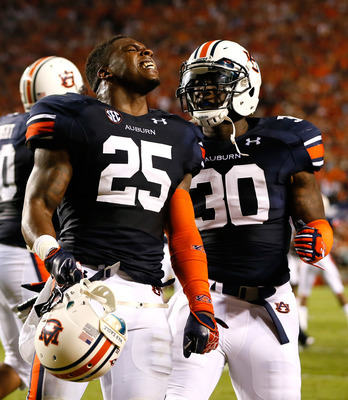 Kevin C. Cox/Getty Images
It feels a little taboo to write off the annual Iron Bowl as a sure win this early in the season, but Auburn appears to be in a world of hurt right now. A dismal 1-3 start with their only victory coming in overtime to Louisiana-Monroe has the Tigers reeling and a losing season is not out of the question.
Their defense is pretty formidable, but Kiehl Frazier is obviously not the answer for the 119th ranked passing offense in the country. Onterio McCalebb and Tre Mason are an impressive pair of running backs, but one-dimentional offenses have virtually no chance against the Alabama defense.
The Iron Bowl is one that has seen many upsets in its glorious history, but this will not be the year for the next one.
Reason for concern: Low
4. Tennessee
John Sommers II/Getty Images
Tennessee, much like Ole Miss, has forged some very impressive offensive numbers against weaker non-conference opponents. Their only true competition, though, handed them a thorough beating as the Florida Gators ran all over them in a 37-20 beat down.
Quarterback Tyler Bray is one of the best in the land and the Volunteers have plenty of good, but young, talent. Saturday, they will face their first of four consecutive ranked teams in a stretch that will make or break their season.
Unless the Volunteers can find a way to stop good running attacks, Alabama will run right through them and control the clock, taking away from them the opportunity for Bray to do the kind of damage he is capable of.
Reason for concern: Low
3. Mississippi State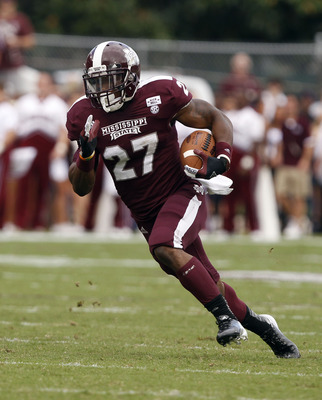 Butch Dill/Getty Images
Mississippi State is possibly the biggest unknown in the SEC. Off to a 4-0 start, the Bulldogs have cruised to a trio of wins against weaker foes and also handed Auburn its second reality check of the season with an eye-opening 28-10 win. Unless Tennessee can knock them off, State is likely to enter Bryant-Denny undefeated and ranked in the Top 15 nationally.
As is typical of Bulldog teams, State has an average passing game and a stable of capable ball carriers to go with its once again suffocating defense. The one thing we do not know about State at this point is if they are truly for real or not.
Alabama will not allow Mississippi State to score much at all, but how much the Tide will be able to do against their defense is what will determine the winner in this one.
Reason for concern: Fair
2. LSU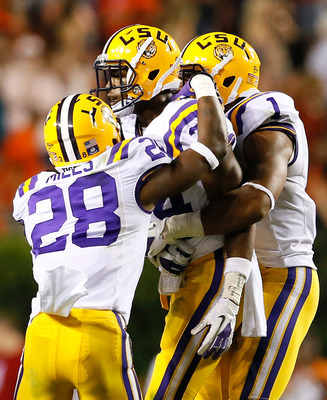 Kevin C. Cox/Getty Images
Last season, we were told that this version of the LSU Tigers would actually be better than the team that made it to the BCS title game. LSU appeared to be well on their way to the top once again until they ran in to an Auburn team that actually appeared interested in playing.
The defense is again one of the best in the nation and has both the size and speed that can match up well with Alabama. Offensively, though, quarterback Zach Mettenberger looked totally lost against Auburn. If he cant raise his level of play, LSU is in danger of losing a couple of games this season, Alabama being one of them.
Again, one-dimentional offenses are not going to fair well against offensive coordinator Kirby Smart and the Alabama defense. Still, LSU is loaded, and a night game in Baton Rouge is a trip no one looks forward to making.
Reason for concern: High
1. Georgia Bulldogs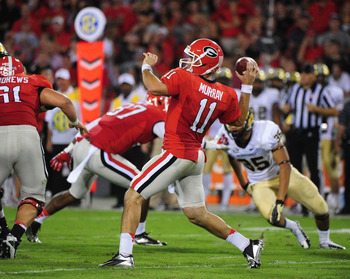 Scott Cunningham/Getty Images
No, Georgia is not on the Alabama schedule...yet. The Dawgs are, however, quite possibly the only team in the conference that has been as impressive as Alabama so far. Quarterback Aaron Murray and multiple running backs like freshman Todd Gurley have the Georgia offense rocking and the defense has been pretty darn near exceptional as well.
In the SEC East, South Carolina and Florida will attempt to challenge Georgia for the right to play in the conference championship game. At this point, though, the Dawgs appear to be the class of the division and the chances of them entering the Georgia Dome undefeated in December are very, very real.
Alabama is going to have to beat the Bulldogs if it wants to play for all the marbles again in January, and the Georgia offense may be the only one in the conference that can be effective via air and ground against a defense as good as Alabama has.
Reason for concern: Very high
Keep Reading

Alabama Crimson Tide Football: Like this team?