Michigan Football: Predictions for the Wolverines' October Games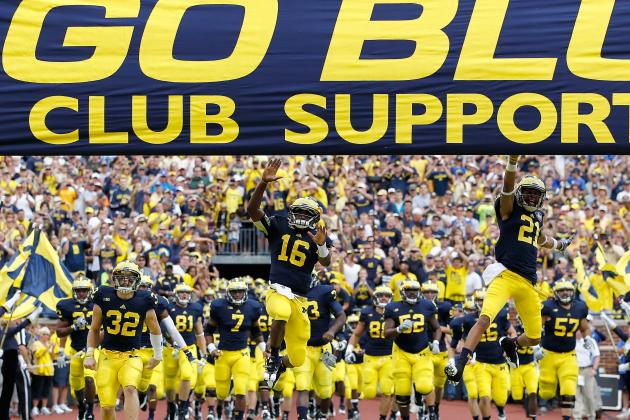 Gregory Shamus/Getty Images

Well, Michigan has played all of its football games for the month of September, and it didn't go as well as in past years.
The years 2009, 2010 and 2011 saw Michigan go undefeated in the season's first month, which is a far cry from this season. Granted, Alabama wasn't on the schedule in those years.
Naysayers are now claiming this is a four- or even five-loss team because of its September performance. That statement is ridiculous.
October will tell us a lot about this group, so here's a preview of what to expect out of the Wolverines during the middle month of the season.
Remember, opinions of teams vary each week, so don't be surprised if some of these predictions change down the road.
Begin Slideshow

»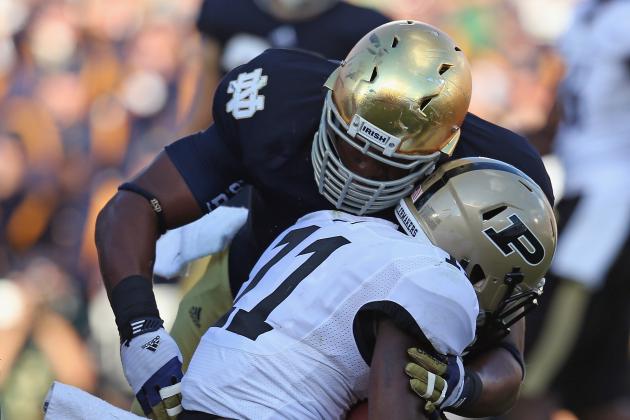 Jonathan Daniel/Getty Images

This is Michigan's first game following the bye week. Is it a game that fans need to be concerned about? Absolutely.
But is it a game Michigan should still win? Yes, and there's no question about it.
Sure, Purdue has looked very good so far and has put up dominating statistics in some categories, but whom have they played?
You really can't put any stock into their performances against Eastern Kentucky and Eastern Michigan. Their performance against Notre Dame was impressive, but after seeing the Irish against Michigan, they might not be as good as we had originally thought.
Purdue is a good team, but you certainly can't call them "great" by any means. Yes, they may be the favorite to win their division, but honestly, that's not saying a thing this year.
If this game was being played in Ann Arbor, I wouldn't be too concerned about it. Because it's at Purdue, though, you do have to be a little leery going in.
Definitely expect a Michigan victory. Some of the "experts" out there may start jumping back on the Michigan bandwagon if they do win.
Prediction: Win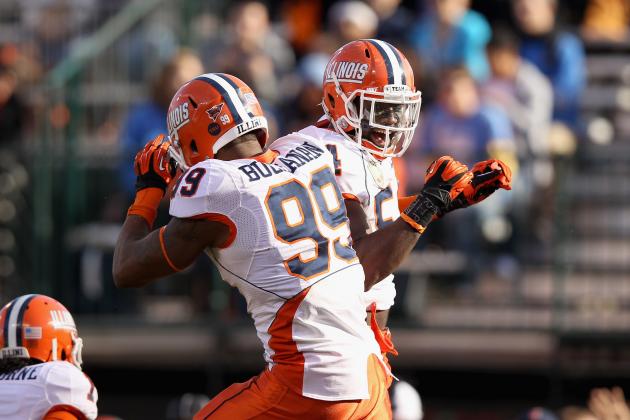 Ezra Shaw/Getty Images

I said it before the year and I'll say it again: Besides the UMass game, this is probably Michigan's second easiest game of the year, and it should be over by halftime.
I just don't see any way Illinois competes with Michigan in this one. The Illini have looked absolutely horrible this year, with embarrassing blowout losses to Arizona State and Louisiana Tech.
If they can't even compete with those teams, how are they going to compete with Michigan?
Their problem is once again offense, as the revolving door at quarterback continues. Nate Scheelhaase and Reilly O'Toole have both been given plenty of opportunities—heck, Miles Osei has even seen time.
In the past, the Illini have at least been able to run the ball. They're not even doing that this year. They rank third-to-last in the Big Ten in rushing yards per game, not even gaining 150 yards on the ground.
Donovonn Young and Josh Ferguson aren't the problem, though—it's the offensive line. In fact, Young and Ferguson complement each other nicely and could be very dangerous in the near future if the offensive line improves.
Still, Michigan should have no problem routing this Illini group. In fact, I wouldn't be surprised if Michigan hits their stride going forward after this one.
Prediction: Win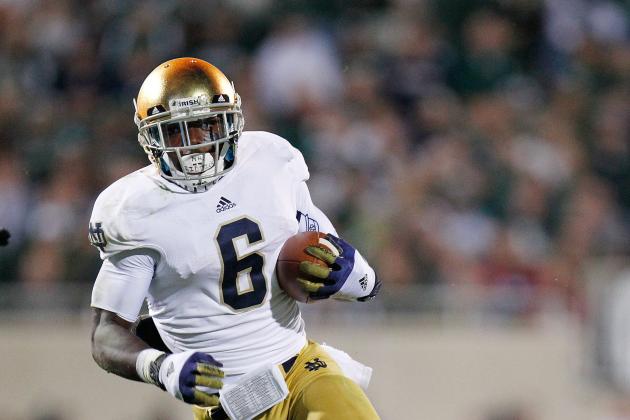 Gregory Shamus/Getty Images

I'm sticking with my preseason opinion about this game as well: Michigan is simply NOT going to lose this game. In fact, I'm not even that worried about it.
Is it a gimme game? No, of course not. Is it a toss-up, though? Not even close.
I'm even more confident after seeing the way MSU played against the likes of Notre Dame and Eastern Michigan.
This Wolverine defense looked like they hit their stride against Notre Dame, and will be extremely fun to watch going forward. With this game just under a month away, imagine how much this Michigan defense will improve by then.
How in the world is MSU going to score enough points on them to win? They are currently second-to-last in the Big Ten in points per game, ranking only ahead of lowly Iowa.
With the spirit and intensity Michigan will have going into this game, fans really shouldn't be too worried.
Prediction: Win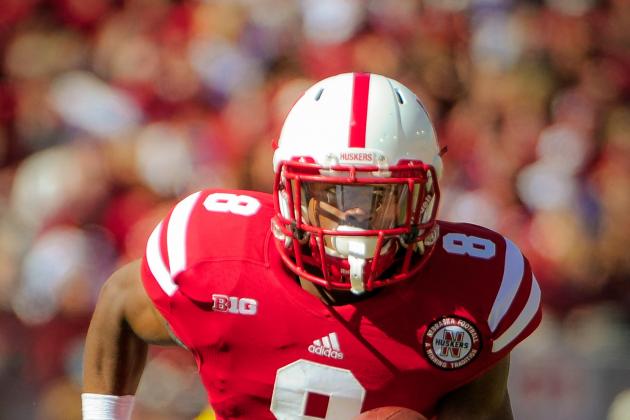 Eric Francis/Getty Images

Why some people weren't worried before the year about this game is beyond me. I rated it as Michigan's third toughest game on the schedule, and don't see any reason to think otherwise.
Other than the game at UCLA, Nebraska has probably looked like the best team in the Big Ten. That UCLA loss isn't looking quite as bad either, since the Bruins look like a quality opponent.
Nebraska didn't miss a beat when Rex Burkhead went down with injury. Their new found weapon, Ameer Abdullah, wasn't even much of a dropoff when Burkhead went out. Even true freshman big back Imani Cross has seen some quality minutes.
Nebraska is running the ball at an unbelievable rate. They lead the Big Ten with 317 rushing yards per game, and the closest team is only rushing for 229 yards per game!
They also lead the Big Ten in points per game, as they average 48.5. No other Big Ten team is even averaging 40.
The Huskers are throwing the ball pretty good also. They rank fifth in the Big Ten in pass yards per game, surprisingly high for them.
Taylor Martinez is completing 70 percent of his throws, averaging just under 10 yards per attempt, and has a 9-to-1 touchdown-to-interception ratio. All of those stats rank in the top three of the Big Ten.
I'm not sold on his throwing by any means, though.
The Legends Division implications surrounding this game will be absolutely huge.
Many thought the Michigan-Michigan State game could be a play-in game, but it actually might be this game instead.
Nebraska's October schedule is absolutely brutal, though, so we'll see where they are heading into a Nov. 3 meeting with MSU.
Still, this game concerns me immensely, just as it did before the season even started. It will be very cold, crazy atmosphere and Nebraska will be looking for revenge after last year's beatdown at the Big House. Honestly, this game is an absolute toss-up.
I made the prediction months ago that Michigan would only lose one conference game, splitting the Nebraska and OSU contests. I'm sticking by that statement.
Prediction: Loss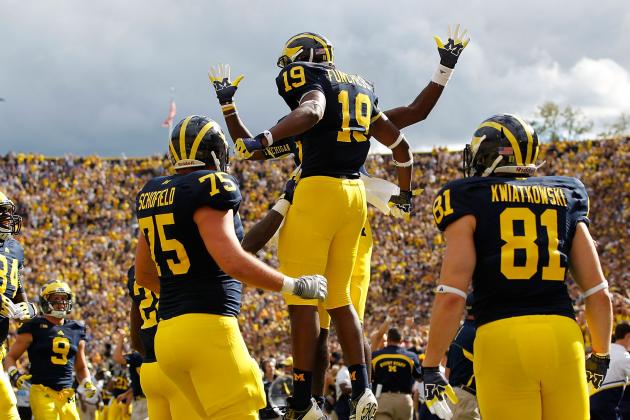 Gregory Shamus/Getty Images

Expectations should not be changed just because of this team's September performance. Let's not forget how this Michigan team looked in its first three games last year: Less than impressive against Western Michigan, horrible against Notre Dame and less than impressive once more against Eastern Michigan.
They then hit their stride against San Diego State and rolled the rest of the way. I expect a similar scenario this year.
We saw immense improvements against Notre Dame (mainly defensively) and having a bye week before taking the field again doesn't hurt a thing.
As Brady Hoke always says, the Big Ten championship is the ultimate goal, and anything else is a failure.
Even after disappointing performances against Alabama and Notre Dame, there is still no reason Michigan shouldn't win the Big Ten and go on to play in the Rose Bowl.