Oregon Football: 5 Keys to the Game vs. Washington State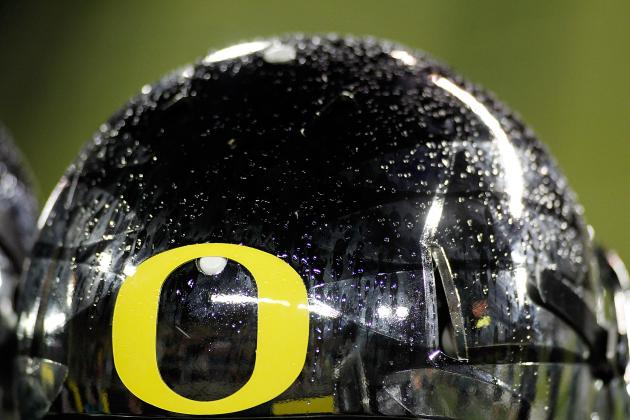 Jonathan Ferrey/Getty Images

The Oregon Ducks will be traveling to Seattle, Washington this weekend to take on the Washington State Cougars in what will be a strange home game for a Cougar squad that is used to playing their home games in Martin Stadium.
Though the Cougars do have a large fanbase in the Seattle area, many are anticipating there to be just as many Duck fans inside of CenturyLink as Washington State fans.
And while it may not be a true home game for the Cougars, the Ducks will still have to be careful when they face the high-flying attack of Mike Leach and Washington State.
Here are five keys to Oregon's game against Washington State.
Begin Slideshow

»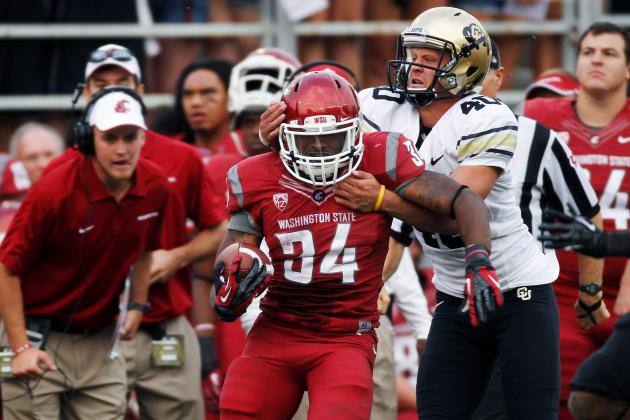 William Mancebo/Getty Images

While the Cougars did suffer a heartbreaking loss to the Colorado Buffaloes in their last contest, by no means are the Cougars a bad team.
If the Ducks head into this game thinking they already have this game in their back pocket, they will be headed towards a tough time against a dangerous Washington State team.
The Cougars essentially gave that game up to Colorado and are not one of college football's worst teams.
With an offense and defense that will be motivated to make a statement against Oregon, the Cougars should not be taken lightly.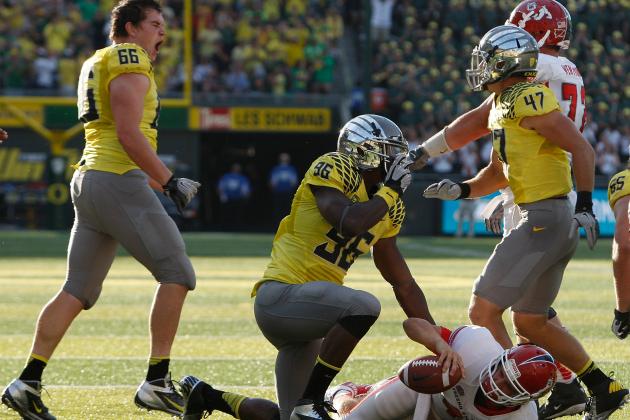 Kevin Casey/Getty Images

Washington State is going to attack the Ducks through the air; there is no question about it.
Mike Leach is all about passing the ball and the Ducks need to get pressure on whatever quarterback may be taking snaps, whether it be Connor Halliday or Jeff Tuel.
Putting pressure on these two quarterbacks during a pass-heavy attack should create havoc and place the quarterbacks' in positions they don't want to be in, thus resulting in hurried throws and more chances at interceptions.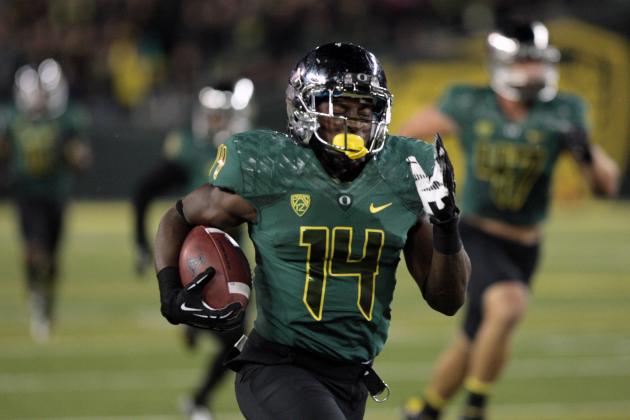 Scott Olmos-US PRESSWIRE

If Washington State is going to have a shot at winning this game, it will be because Oregon turns the ball over and gives the Cougars prime field position from where they can easily score with their air attack.
In recent weeks, Oregon has shown that it can be prone to giving up the football, something that needs to be shored up before the Ducks take on the Cougars at CenturyLink.
William Mancebo/Getty Images

One of Washington State's standout players is Marquess Wilson.
A dominant wide receiver by trade, Wilson has shown the ability to dominate his opponents, especially those whom he can use his physicality against.
With the Oregon corners being somewhat smaller than average, it will be very important for the Ducks to find a way to phase out the play of Marquess Wilson during the matchup.
If the Cougars start to establish a rhythm on offense with Wilson as a primary weapon, this game could get a lot more interesting than some would think.
Scott Olmos-US PRESSWIRE

The Ducks should have the mentality of go, go, go this game.
While some may knock Washington State, the Cougars are a dangerous team that could breakout at any point during the season.
Even if the Ducks are ahead by 20-23 points, they should still be in full throttle.
Now, in Pac-12 play, it is more important than ever to not underestimate your opponent and not hold back. Oregon needs to press the Cougars and show the nation why they are undoubtedly the No. 2 team in the nation.