LSU Football: 10 Issues the Tigers Must Resolve Before Alabama Showdown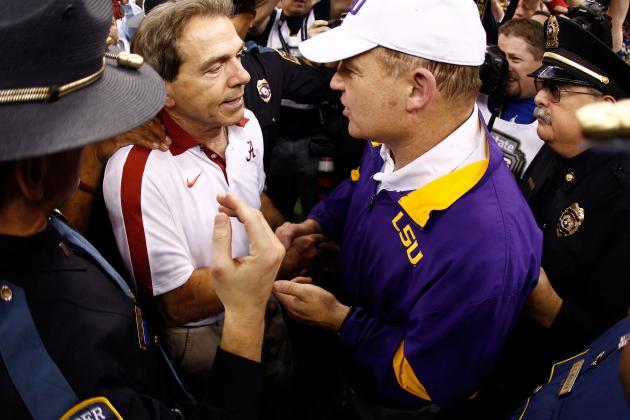 Chris Graythen/Getty Images

LSU and Alabama are both undefeated heading into Week 5 of the college football season.
The LSU Tigers are ranked No. 3 in the country, while SEC foe the Alabama Crimson Tide hold down the No. 1 ranking.
LSU has outscored its opponents by a combined score of 157-51, while the Crimson Tide have outscored the opposition by a mark of 168-21.
LSU has already notched two big wins over Washington and Auburn, while Alabama has taken down the likes of Michigan and Arkansas.
You get where this is going, right?
These are the two best teams in college football yet again this season. And when they square off on Saturday, Nov. 3 in Baton Rouge, it should be anything but a friendly football game.
That early November game will likely have huge BCS implications and should give everyone a clear view of who the favorite is to win the SEC crown, which most likely means punching a spot into the national championship game.
But, we ask, is LSU ready to take on Alabama?
Is Zach Mettenberger prepared for this dominant Alabama defense?
Let's go ahead and break down 10 issues the Tigers must resolve before that Alabama showdown.
Begin Slideshow

»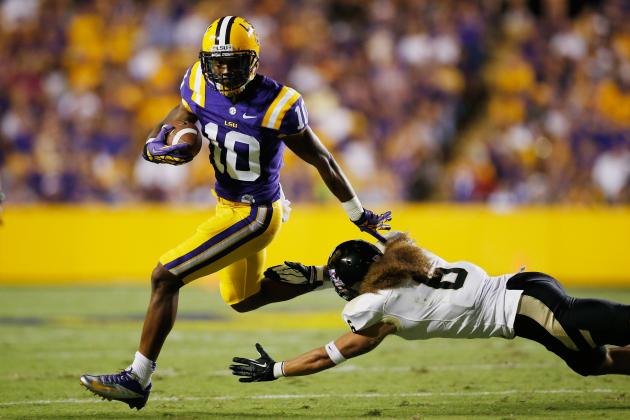 Chris Graythen/Getty Images

LSU has some explosive athletes at the wide receiver position, but the average college football fan wouldn't know that because they haven't been involved heavily in the offense up to this point.
Of course, the wide receivers haven't been needed much, considering LSU can rely on that steady running game to lead them to blowout victories.
But to get an idea of what I'm talking about, take a look at this—
Not one wide receiver on LSU's roster has even close to 20 catches this season. Jarvis Landry leads the team with 17 grabs for 160 yards and a touchdown. After that, Odell Beckham is next in line with 11 catches.
That's only two wide receivers on the team who have more than 10 catches, and not one of them have totaled over 200 receiving yards.
Russell Shepard, who is supposed to be the top receiver on this team, is arguably the biggest bust in college football right now. The former 5-star recruit has totaled four catches for 79 yards this season.
This unit needs to get going before this Alabama matchup gets here.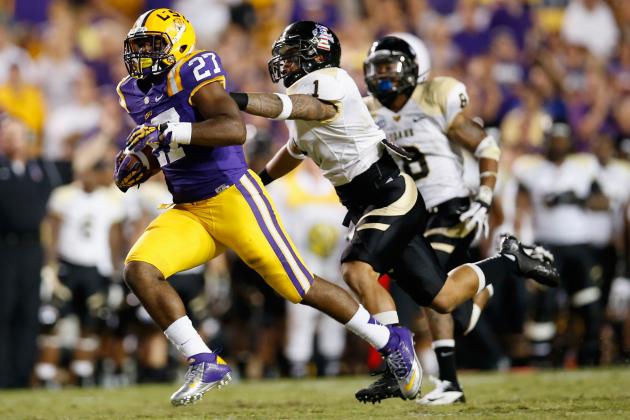 Chris Graythen/Getty Images

Nothing, and I mean nothing, is wrong with having five talented running backs in your backfield.
But it would be nice to know what each back's role is in this offense, and right now, that seems like it remains undefined.
It was reported that Alfred Blue won the starting job in camp, and he played like it in the first two games, rushing for a combined 224 yards.
Joining him in the backfield was Kenny Hilliard, who had been the most consistent of the Tigers' backs. He has carried the ball between 10 and 13 times each game and has totaled a team-high 346 yards and six touchdowns through four games.
But what happens after those two is where it gets confusing.
Spencer Ware, who was the team's starting back last season, didn't play in the first game, recorded eight carries for 38 yards in the second game, didn't play in the third game and then had a team-high 16 carries for 90 yards just this past weekend against Auburn.
Michael Ford, who led the Tigers in rushing last season, has also been all over the place. He had 10 carries against Washington, and then only received one carry the following week against Idaho. This past weekend against Auburn, Ford had just eight carries, but he averaged over five yards per carry, and he scored the lone touchdown for LSU in the game.
Then, let's not forget freshman Jeremy Hill, who didn't play in the first two games, then had a breakout game in Week 3 with 10 carries for 61 yards and two touchdowns. Then, he followed that up with another DNP against Auburn.
As I said, it's nice to have this many reliable backs. But at some point, there has to be some sort of system and roles defined in this backfield. Hopefully, that point comes by the time LSU meets Alabama on Nov. 3.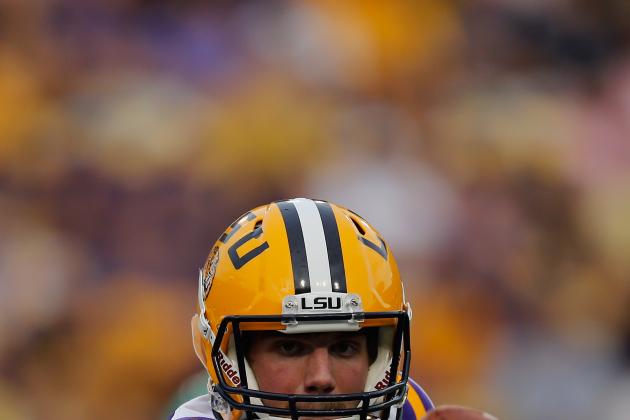 Chris Graythen/Getty Images

Through four games this season, LSU has turned the ball over five times.
Now, that is not an alarming rate, by any means.
But when two of those games are against the likes of Idaho and North Texas, that number does become a bit concerning.
It is also concerning that quarterback Zach Mettenberger has been responsible for all but one of those turnovers.
Alabama is a team that also features a dominant defense, but the Crimson Tide are known for capitalizing on other team's turnovers. Therefore, Mettenberger and LSU better clean it up and cut down on those turnovers before Nick Saban and Co. come in.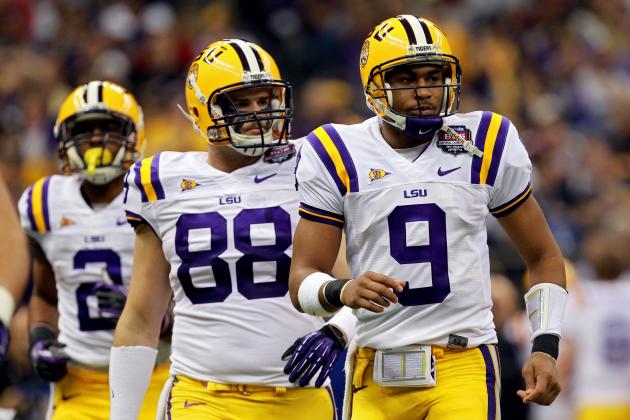 Ronald Martinez/Getty Images

The transition from Deangelo Peterson to Chase Clement was supposed to be a smooth one for this LSU football team, but it hasn't exactly worked out as planned.
Now, Clement hasn't been bad by any means, he just hasn't done much in this offense. He wasn't the receiving threat that Peterson was for this LSU offense.
Through four games this season, LSU's starting tight end, Clement, has hauled in just two passes for 10 yards. He didn't record a catch in Week 2 or 3 against Washington and Idaho.
Now, Clement is obviously used more for his blocking, but for LSU's offense, you would like to see this guy more involved in the passing game.
Alabama has exceptional corners, which means that finding Clement as another option could be a plus for Zach Mettenberger.
They always say that the tight end is a best friend for a young, developing quarterback.
Clement hasn't done much at all in the offensive department to prove that statement has any truth to it.
Chris Graythen/Getty Images

Russell Shepard either needs to start playing like a respectable college football receiver, or he needs to be benched for good.
This is a guy who was recruited as a 5-star prospect, considered to be the top athlete in the country when he arrived in Baton Rouge.
Well, Shepard has been anything but that.
After struggling to do much last season, many believed that this would be Shepard's breakout year with Rueben Randle off to the NFL now.
Through four games, Shepard has four catches for a measly 79 yards. That is downright pathetic for a guy who is supposed to be one of the top players in college football.
If Shepard doesn't get his act together by the time this Alabama game rolls around, a decision has to be made with what to do with this guy. The most logical result is likely benching him.
Stacy Revere/Getty Images

LSU had to simplify their offense over the past four years because Jordan Jefferson was not skilled enough to make the throws needed in some cases.
But now, with a pro-style quarterback under center in Mettenberger, you would like to see LSU add in some flair to this simple, predictable offense.
Mettenberger has a big arm, and while he is still lacking experience, he has the poise and skill set to make some big-time throws. We have seen signs of that through the first four games of the season this year.
So why not take some more shots?
Why not go four wide and air it out in a no-huddle offense?
They might need to do that if they have a chance against this dominant Alabama defensive front.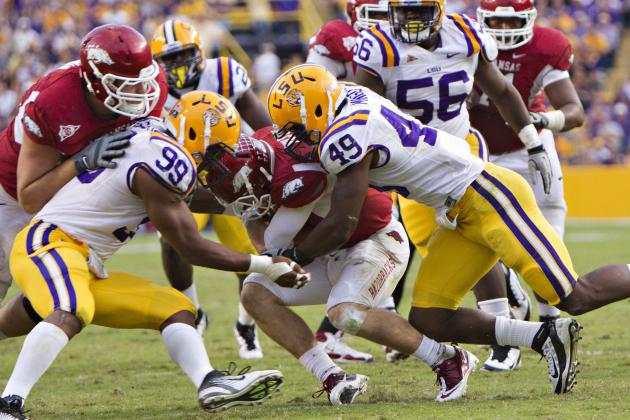 Wesley Hitt/Getty Images

Sam Montgomery made a statement this week about LSU's lack of production in the Auburn game this past weekend, and it had nothing to do with the game itself.
Montgomery said that the team was sluggish throughout the week of practice leading up to the game, and that play carried over to the field on Saturday.
He said that the team's focus wasn't all there, and that he would make sure it never happened again.
That's the type of leadership you like to see out of an All-American defensive end.
Hopefully, that sends a message to the team to practice as you play, which is needed if this team is going to beat Alabama on Nov. 3 in Baton Rouge.
Kevin C. Cox/Getty Images

LSU just had a rough outing against Auburn last weekend, so how will the Tigers bounce back from that.
There is experience on this team, but there are also some youngsters who are getting their first taste of adversity.
How will they respond?
It's certainly not like the Tigers' schedule leading up to this game is a cupcake.
Try Florida, South Carolina and Texas A&M—those are the three games leading up to that Nov. 3 showdown with Alabama.
How this team does and responds after those games will tell if this team is ready to beat Nick Saban's Alabama team.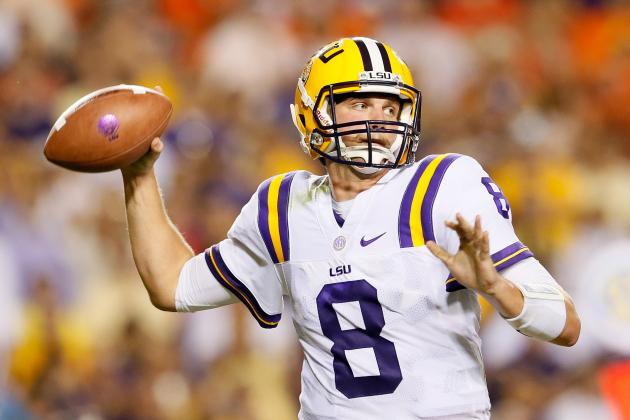 Kevin C. Cox/Getty Images

Zach Mettenberger is as talented as they get, but he is not ready to take on the No. 1 team in the country at this point in his college career.
Mettenberger has four turnovers in four games, and two of those games have been against absolute pancake teams.
He looked sloppy at times in the game against Auburn, which was his first road game as LSU's starting quarterback and his first SEC start in the LSU purple and gold.
Mettenberger needs to be better by the time this game rolls around.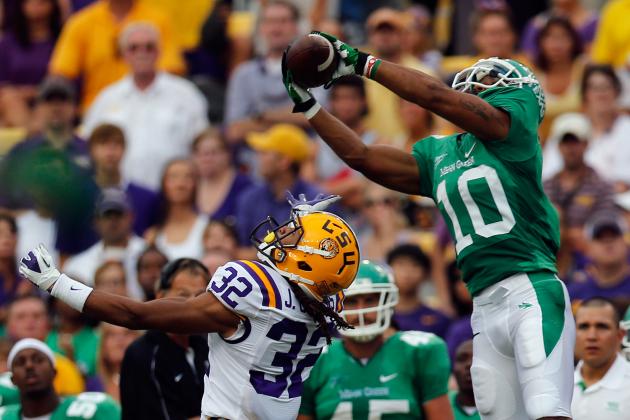 Chris Graythen/Getty Images

Confidence.
This LSU secondary had plenty of it last season.
This year's LSU team has plenty of skill, but that confidence is going to have to come with time.
Eric Reid is the only returning starter in this LSU secondary. Tharold Simon is a guy who has experience, but Jalen Mills and Craig Loston are both new to this defense and are still gaining confidence and experience in being everyday starters for one of the top college football programs in the country.
This LSU team has four more games before that Nov. 3 showdown against Alabama.
By that time, this secondary better for ready for the big stage.
They could make the difference between a win and a loss.
This secondary is talented, but this game will show exactly what type of confidence this LSU secondary has as a group.