Top 10 in the Official World Golf Ranking and Their Celebrity Look-a-Likes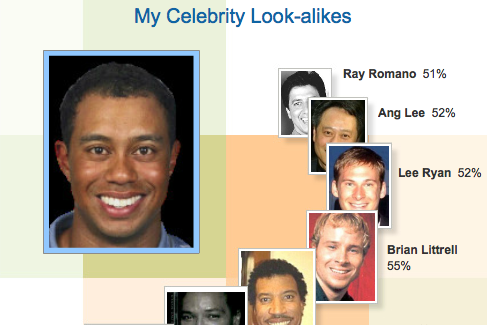 The top 10 players in the Official World Golf Ranking, minus Adam Scott, participated in the Ryder Cup.
There is already enough blabbering on the interwebz about the historic European comeback. As such, I turn my attention to a more serious question: Who are their celebrity look-alikes?
Using the quasi-scientific super-secret algorithms of the "advanced face recognition technology" of the Celebrity Collage tool at MyHeritage.com, I was able to (quasi-) scientifically determine the best celebrity look-alike for each of the top 10 players in the world.
The results were…interesting.
Begin Slideshow

»
The recipient of the Payne Stewart Award is by all reports a first-rate gentleman. I've always thought him admirable…and a dead ringer for Ralph Fiennes. The Celebrity Look-ALike tool feels he looks more like Frank Sinatra or English actor Hugo Weaving.
A few weeks ago, I was walking by the putting green at the Deutsche Bank at TPC Boston. The last few groups were finishing up play, and the range and practice areas were a ghost town, except for Stricker. The Wisconsin native was deliberately stroking five footers and refining his grip. With this in mind, Sinatra, a fellow hard-worker and classy gent, is a fitting look-alike.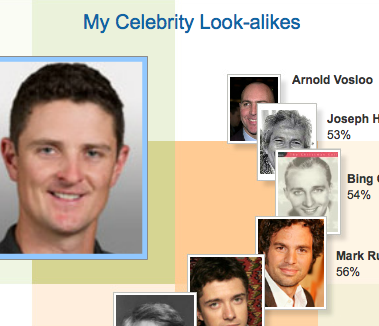 Of all Justin Rose's look-alikes, Bing Crosby may look the most like the uniquely English-looking Rose. Rose has looked oddly pale and (fittingly) rosy since we first saw him at the Open Championship in 1998. With proper rouging and avoidance of the sun, a young Crosby could have looked much like Mr. Rose.
Topher Grace from That 70's Show looks quite a bit like Rose, but is probably a bit too good-looking to really be a fitting substitute. Rose seems like he should be dressed in a sloppy oxford and tweed blazer, rather than Adidas golfwear; he seems like he'd rather be sipping tea after a nap than Gatorade after a workout.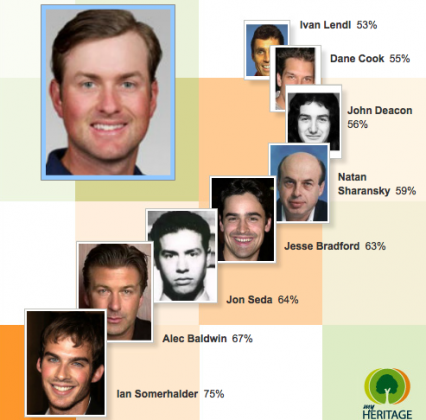 The U.S. Open winner looks like he could be a 17-year-old or a 47-year-old…man or woman. The androgynous hairdo doesn't make the fact that Simpson is a 27-year-old man abundantly clear either.
Simpson's first place match, Ian Somerhalder, is a little too masculine looking. True, the actor does have similar hair and a similar complexion, but he's not likely to be mistaken for a middle-aged woman; Webb easily could be.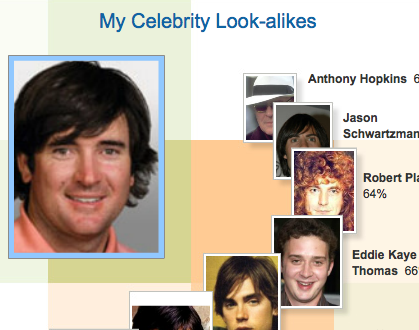 There are four pretty decent candidates for the Bubba Watson look-alike contest, according to the tool. Bringing up the rear and looking 61 percent like Bubba is Anthony Hopkins. Put a Hannibal Lecter mask on Watson and he looks 61 percent like Hopkins….or not.
Watson has gone from one extreme to another with his hair since joining the Tour. He's abandoned the buzz cut in favor of lengthy locks kept only moderately under control by his Ping visor. Shane Filan or Tobey Maguire both look reasonably similar to the left-handed bomber.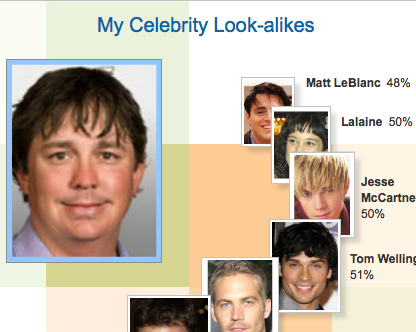 Dufner, a two-time winner on the PGA Tour this year, has a pretty unfortunate PGATour.com Player Profile picture. In the most positive terms, Dufner is an interesting-looking man.
Conventional wisdom dictates that there is a particular hairstyle suited to every face. Unfortunately for Dufner, he may be beyond hope and he seems to know it. The golfer sports a "three-months-since-my-last-haircut" or "what-do-I care" feathered mop.
I'd wager that the chances of the Auburn grad being mistaken for boy band sensation Brian Littrell are far lower than the 68 percent that the tool determines it to be. There's a significant gap (in an abundance of ways) between LIttrell and the next look-alike: Tsuyoshi Kusanagi at 52 percent, proving that the utility doesn't have anyone with the unique facial characteristics of the Duf.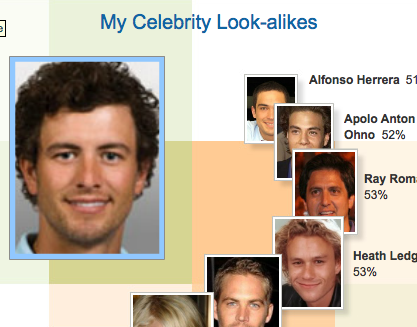 The Australian's inevitable destination has always been surfer dude. It's just a wonder that it took him until his second decade to get there. He often appears as blasé about grinding out victories as he does about haircuts.
Given this, Marc Ruffalo, a 62 percent match for Mr. Scott, is a better match than Oded Fehr, whom you may have seen in The Mummy or…well, not much else. Ruffalo varies the length of his hair and beard in the same manner as Scott and has the acting chops to perform Tragedy at Royal Lytham, the story of Adam Scott's butchery of the back nine on Sunday at this year's Open Championship.
Of course, if an Adam Scott biopic is in order and Ruffalo isn't available, Scott's third best match is Ashley Olsen.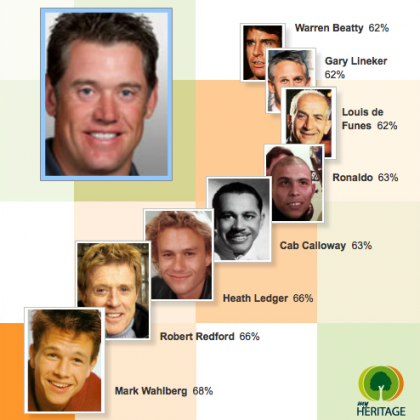 Westwood is reminiscent of a younger Elton John with trademark English abhorrence of corrective dentistry. Something about him suggests he'd be more comfortable in a pub or on the rugby pitch than strolling the fairways.
For as much as Lee looks like Cab Calloway (not at all), Mark Wahlberg is a good match for Lee. Plus, Westwood is something of a comeback story, perfect for the star of The Fighter.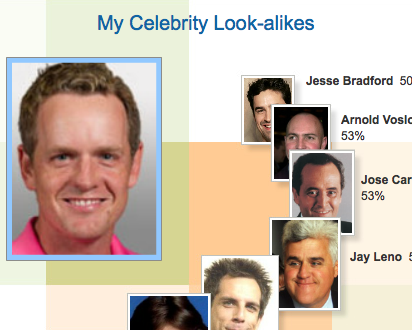 The number one match for Luke Donald is Aaron Ciechanover, an Israeli biologist who won the Nobel Prize. More startling than the fact that he is Donald's best match is that he is considered a celebrity by the utility in the first place.
Luke has always reminded me of a bat and Ciechanover looks more like a bat than Donald; to this extent then, the utility is on to something. The Celebrity Collage selects Gilbert Sullivan and Mikhail Baryshnikov as the next two best matches for Mr. Donald.
The young Baryshnikov looks a bit like Donald in the face. Imagining the dancer in his younger days in RLX rather than leotards and with frosted blond hair makes for a pretty satisfying Donald.
Certainly, Baryshnikov has a better chance of pulling off the trademark Donald cool and pure swing than a biologist.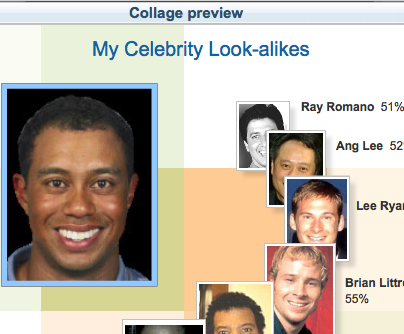 Fortunately, Tiger Woods' number one look-alike is...himself. Apparently, though, he only looks 67 percent like himself, which is only a percentage point more than he looks like Jada Pinkett-Smith.
The entire spectrum of Tiger's cablasian makeup is represented, at least, from Brian Littrell of the Backstreet Boys to Taiwanese director Ang Lee. Looking 51 percent like Tiger Woods, Ray Romano is the everyman of the Celebrity Collage tool. I'd wager that if you plug every member of your immediate family into the utility, Mr. Romano would make multiple appearances.
Tiger's (near) billion-dollar smile is the most recognizable element of his face. Given this, of the candidates mentioned, the toothy singer of the brilliant "Dancing On The Ceiling" is the best candidate.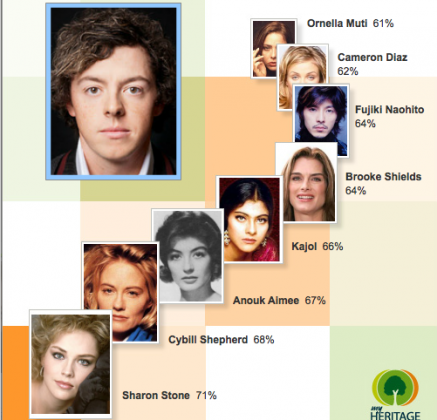 To me, Rory looks like the Grinch as played by Jim Carrey. Something in his nose and the lines of the face automatically call the green Christmas-hater to mind. He also has a neck that could support a cinder block.
According to the tool, however, Mr. McIlroy looks like, well…Sharon Stone, apparently. Unfortunately, Rory's next four look-alikes are all women as well, including the Indian actress Kajol.
Rory has always looked more Grinch-ish/doglike to me than overly feminine. As Tiger Woods said the other day, though, "It's got to be the hair" that has McIlroy returning female look-alikes. In fact, Rory's only male look-alike is Fujiki Naohito, the Japanese singer. At least the Celebrity Collage selected someone of the same gender as Rory, albeit a different ethnicity.