WWE: What You Missed on Superstars, NXT & SM Slam Last Week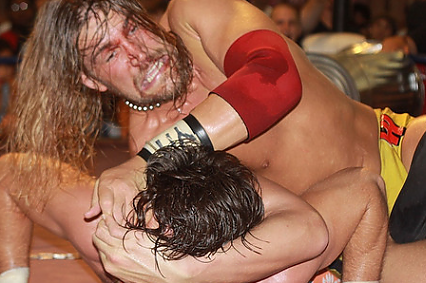 Credit: WrestlingForum.com
If you're interested in WWE's C, D and E programs, but barely feel like you have enough time to watch Raw and SmackDown every week, this article may be just what you're looking for.
If you don't have time to watch shows like NXT, Superstars and Saturday Morning Slam, then you probably don't have time to read lengthy reviews of each show, complete with commentary, predictions and cynical sidetracks. My Notes version of all three shows is below.
If it piques your interest enough to read on, the slideshow breaks down the shows individually, segment by segment, complete with my questions and predictions.
BONUS: There's a quick trivia challenge regarding the vainest of superstars from WWE's past and present and a pop quiz about Iron Man matches on the Saturday Morning Slam slide. If you're a true wrestling fan, it should be cake.
Notes:
On NXT, Mike McGillicutty continues to climb the NXT ranks with a victory over fellow third-generation superstar Bo Dallas. Vader's son Jake Carter gets a clean win over Leo Kruger.
Ryback made a special appearance to destroy a pair of local wrestlers whose names weren't even announced. This was followed by the main event, Kassius Ohno vs. Richie Steamboat.
Steamboat got a clean win after Ohno dominated most of the match, but Ohno destroyed Steamboat post-match, so the feud is far from over.
On Superstars, Heath Slater was accompanied to the ring by Jinder Mahal and Drew McIntyre before getting a clean win over Yoshi Tatsu. Post-match, Tatsu suffered the finishers of Mahal and McIntyre. Heel stable established.
Ted DiBiase got a clean win over Mike McGillicutty, and Layla defeated Eve in a nontitle Divas match that left plenty to be desired.
The main event was a rematch from Raw that saw Dolph Ziggler get another clean win over Kofi Kingston in a match that was solid, but definitely not as good as their match on Raw.
On Saturday Morning Slam, the only match saw Santino Marella get a victory over Heath Slater. They also did some segments reviewing the most vain superstars, superstars with athletic gimmicks and bits with Cody Rhodes and John Cena.
Now, if you care to read more about any of these happenings, please enjoy the slideshow.
Begin Slideshow

»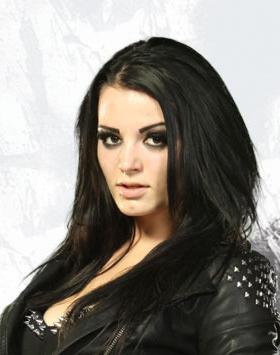 Credit: NikeTalk.com
NXT opens with a recap of the feud between Kassius Ohno and Richie Steamboat. When Byron Scott and William Regal chime in, we find out that the culmination of this feud will be tonight's main event.
Mike McGillicutty is introduced for the opening bout. Tonight, the son of Mr. Perfect faces off against Bo Dallas. Regal points out that their grandfathers used to compete against each other, meaning Larry "The Axe" Hennig and Blackjack Mulligan, respectively. More relevant to most viewers would be the fact that their fathers were "Mr. Perfect" Curt Hennig and Irwin R. Schyster, respectively.
The match is given enough time to tell a story of its own, and Bo Dallas plays the heart-of-gold underdog, the way JR always talks about Rey Mysterio. It is not enough to overcome McGillicutty, who is on a bit of a roll in NXT. The commentators tease a future NXT Championship match for McGillicutty.
They show a brief promo package for Paige. I think she will do really well as a WWE Diva, as long as WWE creative doesn't screw it up.
After the commercial break (I'm watching on Hulu Plus), we get a Raw Rebound as we see all of the drama CM Punk got himself into on Monday.
Jake Carter, the son of Vader, makes his way to the ring. You couldn't tell by looking at him that he's the son of Vader. He's very trim and has a pretty-boy look. Leo Kruger is his opponent; imagine Adam Bomb doing a modern-day Skinner-gimmick.
Kruger dominates the beginning of the match, and Carter is clearly the underdog. Carter gets in a little offense before he is finished with the Kruger Edge. Before we go to commercial break, it is announced that Ryback will be in action next.
So Ryback is at every level of WWE programming. NXT is the D show. Monday Night Raw ended with a shot of Ryback, standing over Mick Foley and staring down the WWE Champion.
Now he's on NXT. Maybe NXT anticipated their Hulu Plus debut, introducing this show to a large audience that has never seen the show before, and they figure Ryback is something familiar to them.
No NXT regulars get the privilege of jobbing to Ryback, as he is facing two local talents whose names don't even matter on NXT. Mildly impressive match, but nothing we haven't seen multiple times already.
After a commercial break and a reminder about breast cancer, we are ready for the main event: Kassius Ohno vs. Richie Steamboat. As Kassius makes his way to the ring to a big ovation from the NXT audience, there is just over fifteen minutes of programming left, not including a final commercial break.
As always, Good Ol' JR joins Scott and Regal at the announce booth for the main event. Kassius seems to be in control for a lot of the match, especially the beginning. His style is brutal, lots and lots of strikes with some painful-looking submission and wear-down moves. Although it doesn't look like CM Punk or Daniel Bryan, you can tell he has a lot of experience like both of those guys.
Throughout the match, they make a point of saying that Richie doesn't like to be compared to his father. That's too bad. His style obviously borrows significantly from his father, although he's nowhere near his father's ability yet. Don't get me wrong: Richie is solid. But when your dad is The Dragon, you have some big expectations to live up to.
Although Ohno dominated a lot of the match, he missed his finisher, and Richie rolled him up for a small package and the win. Kassius attacked Steamboat after the match, refusing to stop punishing his opponent until multiple referees had to pull him away. The show ends as Ohno makes his way to the back, talking trash with the audience along the way. Apparently, this is not the end of their feud.
Prediction: Richie Steamboat will debut in WWE with tons of emphasis put on who his father is. Eventually, he'll have a faux-shoot promo where he talks about how sick he is of it, and after that push fails, he'll move on to TNA.
Question: Since they don't have pay-per-views to build up to, what's the most effective way for them to build a feud with a single match for the payoff?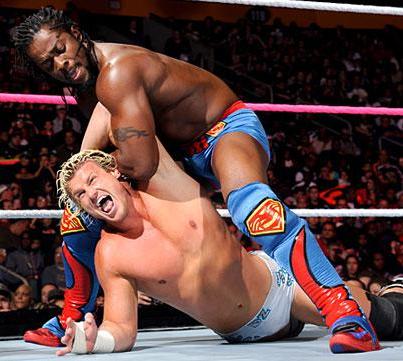 Credit: WWE.com
The show opens with Heath Slater, Jinder Mahal and Drew McIntyre making their way to the ring to the One Man Rock Band's entrance music.
This is not a six-man tag.
It's a singles match, featuring Heath Slater. Mahal and McIntyre aren't competing. I guess we can assume this is an undercard heel stable? I hear their name is The Encore. Apparently, Drew getting any sort of face-push was a fluke from last week's episode.
Josh Matthews and Scott Stanford are at the announce booth. Yoshi Tatsu is announced as Slater's opponent. Looks like Slater is getting a little bit of a push.
The match was alright, with a few really solid spots, but these two could have done much better. Mahal and McIntyre never actually interfered, although they did serve as timely distractions on more than one occasion. Slater hits his reverse DDT and gets the win.
Post-match, all three beat on Tatsu, with McIntyre hitting the Future Shock and Mahal locking in the Camel Clutch.
After we return from commercial break, Ted DiBiase is making his way to the ring, and the announcers remind us that he has just recently returned from his injury. He hasn't lost since his return, but he's only been back for about a week.
Mike McGillicutty is announced as his opponent. He's getting a solid push on NXT; we'll see if that transfers to Superstars.
DiBiase dominates the first few minutes of the match, and the announcers bring up the DiBiase Posse BBQ parties that have made their return. If they are giving DiBiase one more chance to prove himself, he better be on his game. If he doesn't feud for a singles title soon, he'll just be another Yoshi Tatsu.
Control of the match went back and forth a few times in a match that lasted longer than either of these guys would get on SmackDown or Raw. The match actually felt a little slower than it should have, until DiBiase hit the Dream Street out of nowhere to get the pin.
Before we go to commercial break, we're told that the main event will be Kofi Kingston vs. Dolph Ziggler. They promise it will be an exciting match, but don't mention that we just saw this matchup on Raw. We'll see how the second round matches up against the first.
Layla makes her way to the ring as the announcers remind us of the latest drama surrounding the Divas Championship and the mysterious blonde that attacked the former No. 1 contender Kaitlyn. Eve makes her way to the ring, and we're having a nontitle Divas match.
This is the kind of match that really justifies labeling the division "Divas" rather than the "Women's Wrestling." Layla capitalizes on one of Eve's mistakes to get the win, and the obvious implication is that she's due a shot at the title again.
As you'd expect, we sit through a Raw Rebound immediately following the commercial break: a commercial following a commercial. They remind us of all of the drama surrounding CM Punk, Cena, Fole, and Ryback.
Kofi Kingston makes his way to the ring. According to Hulu, there's about fifteen minutes of programming left after the commercial break.
Ziggler makes his way to the ring with Vicki, and the match starts off at a quick pace. Matthews does acknowledge the fact that these two just competed on Raw, but also mentions that it was an incredible match, so we get a rematch right away. As we head to another commercial break, the pace of the match is still quick, but it isn't quite at the level of their match from Raw.
When we return from break, we are told that Kingston's left knee seems to be bothering him. As the match was obviously nearing the end, Kingston managed to surprise Ziggler with the Trouble in Paradise, but it sent Ziggler rolling out of the ring. By the time Kingston got him back in the ring, Ziggler was able to kick out.
Soon after, Ziggler hits the Zig-Zag and gets the win. A solid match, the best of the show, but still nowhere near their Raw performance.
Prediction: Kofi Kingston is about to enter another period of his career that could most easily be summed up as irrelevant. Assuming his partnership with R-Truth ends shortly after the current tournament, I don't have faith in WWE creative to give Kofi a gimmick or angle that will work.
Question: Will the formation of The Encore provide a significant push for any of all of the men involved?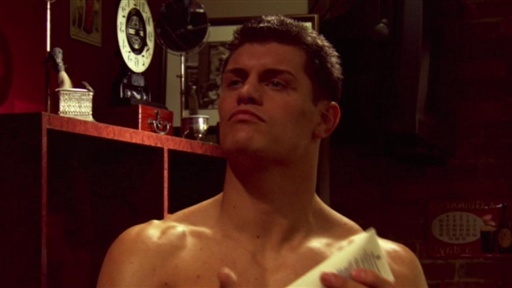 Credit: Break.com
Santino Marella is making his way to the ring as the show opens. Josh Matthews and The Miz are on commentary. Heath Slater is announced as his opponent. It will be interesting to see who goes over in this match, as Slater has been given a minor push lately, but Santino is only around for the demographic that this show is targeting.
They really cater the match to the Saturday morning crowd. Santino starts going for the Cobra almost right away and Slater runs away. This happens several times before they have an air guitar (and other various air instruments) "air-off."
Yes, seeing who can perform air guitar the best.
As we go to commercial break, they reveal a new "Don't Try This" announcement, starring the Miz, which is slightly more interesting than the prior versions. Slater is in control as we return from commercial break.
On commentary, The Miz suggests that Matthews adopt the nickname "Top Talent." I kind of wish that would stick. Santino eventually turns things around, hits Slater in the thigh with the Cobra and wins the match with a simple roll-up.
Before the commercial break, we find out that John Cena will be giving some "Helpful Hints" and that Cody Rhodes will be with us immediately following the break.
They seem to be turning the clock back a little bit for this episode. The video package they showed of Rhodes was all clips from his "Dashing" era. Then he introduces a "Fave Five" featuring the top five "vanity superstars."
For anyone who claims to know the WWE/WWF of past and present, see if you can name the top five based on my clues. The answers are in italics at the bottom.
5) He made his WWF debut as "The Narcissist" and was introduced by Bobby Heenan.
4) Long before he took on his incredibly vain persona, he was tag-team partners with Tito Santana.
3) Another guy under the guidance of Bobby Heenan, this man once had a pose-down with the Ultimate Warrior.
2) This man began his WWF career as part of a tag team that is arguably one of the greatest tag teams to never be officially recognized as the Tag Team Champions. His arrogant heel-turn was the beginning of one of the greatest singles careers of all time.
1) This current superstar, who has yet to win a world title, clearly does not deserve a spot on the Top Five list, much less the top spot. They chose to put this second-generation superstar on the list just for the sake of this episode.
Once that segment was finished, they transitioned into the recurring "3rd Degree" bit. They will be asking WWE superstars what their favorite sport was growing up. Dolph Ziggler was the only one to say wrestling. Daniel Bryan did mention it, but only as he was listing every sport he could think of.
Beth Phoenix hosts this week's Pop Quiz. If you're reading this, you should know it. Answer is at the bottom in italics.
Question: Who won the first ever WWE Iron Man Match?
a) Steve Austin
b) Shawn Michaels
c) Bret Hart
After a commercial break, we go to the Video Vault to take a look at some of the WWE's past athlete-related gimmicks. Those shown include Simon Dean, The Goon, Abe "Knuckleball" Schwartz and Mr. Perfect.
With just under 90 seconds of programming left, the kids are finally treated to the much-advertised "Helpful Hints" from John Cena. He's giving simple health tips, like eating a balanced breakfast, being active and getting a good night's rest.
If there were any kids watching this waiting to get a message from the leader of the Cenation, I have to assume they're a little disappointed. Before the show ends, we find out Santino Marella will be the featured superstar next week.
Prediction: With the introduction of a show like this to WWE's lineup, Santino will continue to become more and more of a character for elementary school children.
Question: Did anyone working for WWF actually believe that Abe "Knuckleball" Schwartz or The Goon would work out?
You can follow Dustin on Twitter, check out his blog or listen to his podcast.
ANSWERS: Lex Luger, Rick Martel, Rick Rude, Shawn Michaels, Cody Rhodes; Shawn Michaels