Atlanta Braves: Where Do September Call-Ups Fit in 2013 Plans?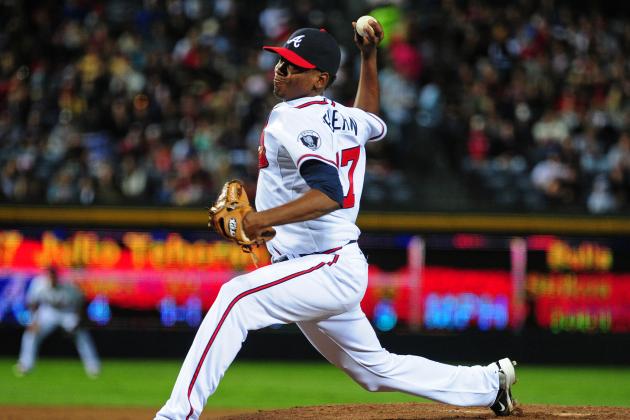 Scott Cunningham/Getty Images

Due to late-season roster expansion, the Atlanta Braves called up six players to assist them in their push to the playoffs.
Some were called up before rosters expanded, some were called up because of it, and some were called up in spite of it, but regardless of the circumstance, roster expansion enabled the call-ups to occur.
September call-ups are always exciting; they enable fans to get a glimpse of the young guns with the best shot of breaking camp with the team next year. This year, Dylan Bundy of the Baltimore Orioles is probably the most intriguing September call-up; he epitomizes the spirit of the traditional call-up as an elite young talent.
Atlanta may not have a Dylan Bundy to write home about, but at least a third of their six call-ups have serious long-term potential with the Braves. Not only that, but there is a strong possibility that at least half of the call-ups will make the Braves postseason roster.
The purpose of this slideshow though, is to discuss the 2013 plans for the September call-ups: the most likely scenarios these call-ups see next year. So without further adieu...
Begin Slideshow

»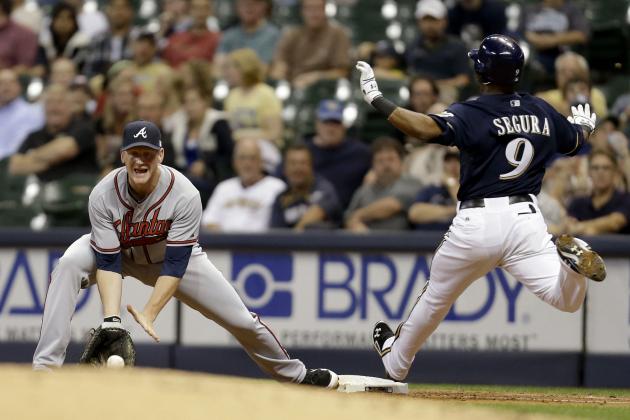 Mike McGinnis/Getty Images

Lyle Overbay's prospects for 2012 and beyond present a very perplexing case.
A left handed stick with diminished power, Overbay still provides a professional bat off the bench with the acute ability to get on base.
His lifetime OBP is .353 (through 125 plate appearances in 2012 Overbay sports a .331 OBP), which has pretty much become his only asset at the big league level, but because he is a very cheap veteran bench player, Atlanta could have use for Overbay in 2013.
Overbay will be competing for a spot on the Braves postseason roster (I believe he will prevail), and if he performs well, I could definitely see him taking Eric Hinske's roster spot on the Braves in 2013.
Casey Kotchman, Ty Wigginton, Xavier Nady, and James Loney are all potential backup first basemen and bench bats for the Braves, but they are neither cheaper than nor performing better than Overbay.
Odds of a Braves roster spot in 2013: 50 percent
I envision: veteran minimum deal, backup first baseman and pinch hitter.
Marc Serota/Getty Images

If Overbay presented a perplexing situation, Jose Constanza presents quite the quandary.
He possesses blinding speed along with a propensity to put the ball in play (his strikeout rate in the minors has consistently hovered around 11 percent). Because of his speed, he covers a lot of ground in center field, although he isn't necessarily an elite fielder.
However, his strikeout rate through 68 plate appearances (okay, I realize it is just 68 plate appearances) has been alarmingly high (26.5%), and he doesn't project to anything more than a fourth or fifth outfielder.
Herein lies the rub. With Michael Bourn's imminent departure, Atlanta will have an opening in center field in 2013, and there are no definite candidates for the spot. If Atlanta breaks down and picks up the options of Brian McCann and Tim Hudson, the amount of money they have to play with will be minimal.
At the same time, prospect Todd Cunningham has a serious shot at major playing time in 2013, and Reed Johnson could probably handle a heavier playing time load, so the Braves probably won't have much use for Constanza next year.
Odds of a Braves Roster Spot in 2013: 10 percent
I envision: Constanza moving between Triple-A and Atlanta sporadically throughout the 2013 season, but not getting anything near substantial playing time.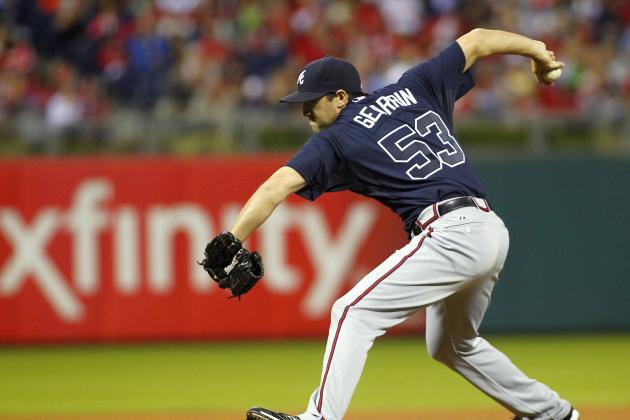 Rich Schultz/Getty Images

Finally, clarity.
Cory Gearrin is the first legitimate Braves prospect on this list, a middle-relieving, side-arming strikeout artist who has dominated at each and every level of the minors.
The peculiar thing about Gearrin is that while he has an outstanding strikeout rate (11.31 over his professional career), he does not have the prototypical power fastball. In fact, his fastball hovers at around 90 miles an hour; he relies on his outstanding breaking pitches to induce his swing-and-misses.
In 16.2 innings with Atlanta in 2012, Gearrin has proved to be extremely valuable, posting a 1.62 ERA and a 2.69 FIP while walking just four and striking out 19; it's almost a certainty he'll find himself in the bullpen come October.
After camping out in Triple-A the past three seasons, Gearrin's time in the majors will definitely come next year; he should find himself in the Atlanta bullpen for most of the 2013 season.
Odds of a 2013 Braves Roster Spot: 70 percent
I envision: Gearrin finally sticking it in the big leagues in 2013 as situational reliever.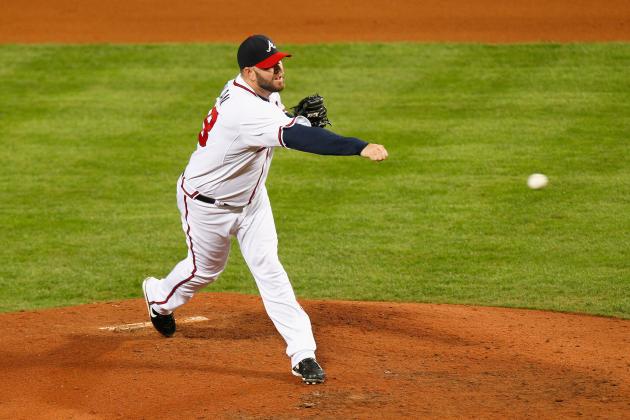 Kevin C. Cox/Getty Images

Peter Moylan is not your typical September call-up.
He's been rehabbing most of the 2012 season, only pitching 26.2 innings over the course of the season. But when he's been healthy throughout his career, the side-arming Aussie has been simply filthy, producing a 2.60 ERA via a 63.9 percent ground ball rate.
His inclusion on the 2012 postseason roster will be in the air, almost entirely decided by reputation and his final innings of the regular season, but I would advocate it. His inclusion on the 2013 roster though, should be fairly cut and dry; he's a veteran with a proven track record that would be a welcome addition to any club.
Odds of a 2013 Braves Roster Spot: 80 percent
I envision: two side-armers in the 2013 bullpen; Moylan's track record is just too good.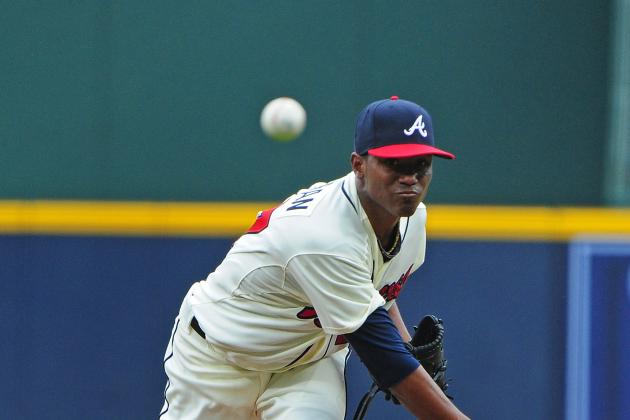 Scott Cunningham/Getty Images

Julio Teheran's 2012 season has been extremely disappointing; there's no getting around it.
After baffling the minor leagues from 2008 to 2011, Teheran looked to be the second coming of Pedro Martinez. It was even thought that he would grab a rotation spot for the Braves in 2012 and run with it, possibly even contending for the Rookie of the Year.
2012 though, has been another story: 5.08 ERA, 6.66 K/9. Granted, he has been working on making his curveball a major league quality pitch, but these stats are still not very encouraging.
He ended his minor league season with a bang: 14.1 innings, three earned runs, 15 strikeouts, so there is reason for optimism heading into the 2013 season.
I do not foresee a postseason roster spot in the cards for Teheran, but with a solid start to next year, it's possible that Teheran could have a rotation spot after the All-Star Break in 2013.
Odds on a 2013 Braves Roster Spot: 10 percent
I envision: Teheran going back to Triple-A for more seasoning in 2013, this time with improved numbers that restore hope in this future rotation anchor. My bet is that he gets called up after the All-Star Break in 2013 and holds onto a rotation spot.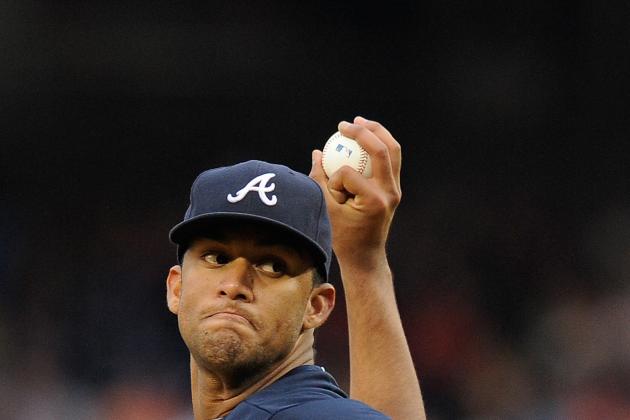 Patrick McDermott/Getty Images

Finally, we have our most intriguing September call-up: Braves starter Randall Delgado.
His earlier stint with the senior circuit was characterized by bouts of brilliance and spurts of inconsistency. The inconsistency stems from periods of time where he cannot locate the strike zone; his career walk rate sits around four.
However, when he's on, he's really on. His final two starts in the minor leagues this year saw him go 11 innings and give up one earned run while striking out twelve.
With Ben Sheets healthy, he probably won't make the postseason roster either, and I would even suggest another month of seasoning at Triple-A to ensure that he irons out his difficulties with command, but he might force his way through the door considering the state of the Braves rotation.
Mike Minor and Kris Medlen are sure things in the 2013 rotation. So too is Paul Maholm. But after that, there are serious question marks: Tim Hudson has an option that needs to be picked up and Tommy Hanson has been really ineffective (probably due to injury). If Medlen or Maholm come back down to earth next season, that becomes four rotation spots up for grabs.
Delgado might snatch one of them.
Odds on a 2013 Braves Roster Spot: 60 percent
I envision: Delgado proving himself ready early in the season, getting a shot at a rotation spot, and holding onto it for the rest of the season.