Boise State Football: 5 Keys to the Game vs. New Mexico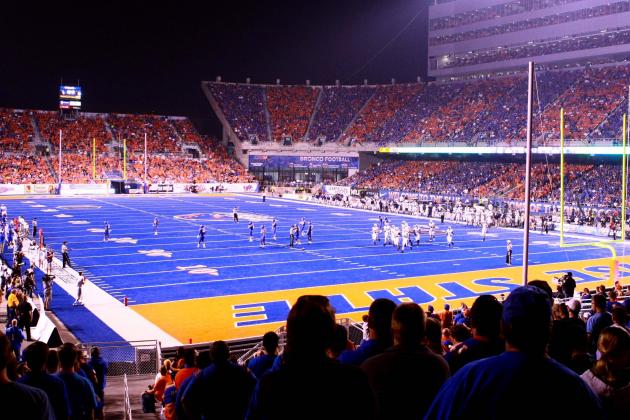 Brian Losness-US PRESSWIRE

Boise State needs to get its offense in gear after the 7-6 win over BYU in which the only Bronco score was a pick-six. That could happen Saturday when the Broncos travel to New Mexico for a late afternoon battle against the Lobos.
New Mexico (2-2 on the season) opened the season with a 66-21 win over Southern, was blanked by Texas 45-0, lost to Texas Tech 49-14 and then rebounded to beat in-state rival, New Mexico State, 27-14.
The Broncos, 2-1, wore down in the fourth quarter in their first game, losing to Michigan State, 17-13, then toppled Miami (Ohio), 39-12, before nipping BYU in a Thursday night battle. Boise State's offense was largely ineffective against BYU, totaling 261 yards. Senior running back D.J. Harper carried the Bronco offense with 112 yards rushing and 20 yards in catches.
Twice in three games the Bronco offense has failed to score a touchdown. Twice, the Bronco defense has turned in a pick-six that either kept Boise State in the game or won it—as in the case of the BYU game when nose tackle Mike Atkinson picked off the pass and found pay dirt.
According to ESPN,, Boise State's offense sits at No. 116 in the nation in total offense out of 124 teams. New Mexico is ranked No. 104. Jump over to the NCAA and the Bronco defense is ranked No. 18 in the nation while the Lobos' defense is tied at No. 95 in the nation.
So what are the keys to a Bronco win Saturday at New Mexico? What should Boise State look to accomplish to help its struggling offense down the road? Here are some ideas…
Begin Slideshow

»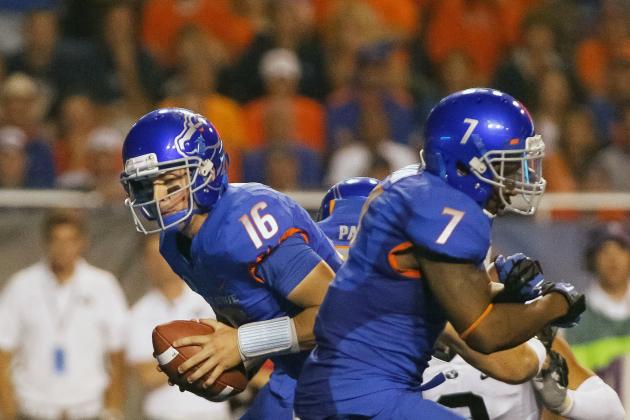 Otto Kitsinger III/Getty Images

Whether it means simplifying the offense, or identifying and then playing to the strengths of the players, the offense needs to have a big game.
Junior quarterback Joe Southwick is currently ranked No. 60 in the nation in passing, according to the NCAA website. (In a wry twist, Bronco Nation may find it ironic that Southwick is tied with TCU's Casey Paschall in that category.) Those stats are a bit numbing: Southwick is only averaging 7.10 yards per passing attempt, but 11.2 yards per completion. His completion percentage sits at 62.07.
On the bright side, after being shut down by Michigan State, senior running back D.J. Harper is still ranked at No. 33 in all-purpose running. That number includes rushing, pass receptions, as well as punt and kickoff returns. Boise State has relied heavily on Harper He accounted for half the offensive output against BYU.
Boise State sophomore receiver Matt Miller is ranked No. 78 in the nation in receiving yards per game at 66.67. No other Bronco receivers cracked the top 100.
Boise State needs to spread the ball around and not appear so two-dimensional (Harper and Miller). It needs to get more receivers involved to take pressure off Miller. Through three games, Miller is the only Bronco receiver to have a total of more than 100 receiving yards. He has 200 for the season on 16 grabs. Mitch Burroughs is second with nine catches for 91 yards.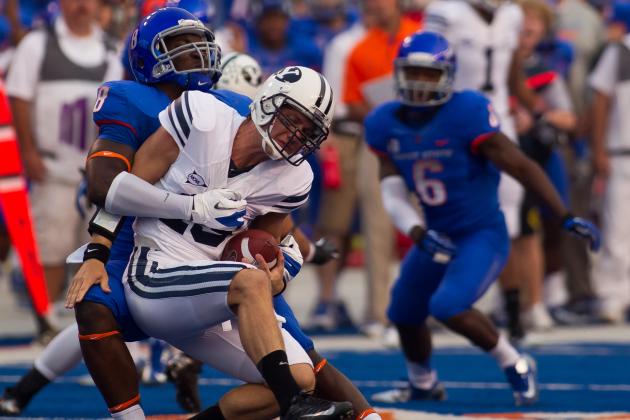 Otto Kitsinger III/Getty Images

Boise State's defense has been very good so far this season. Against a foe such as New Mexico, it might be a trap to relax too much. The Lobos are a run-oriented offense, averaging 234.75 yards per game. Boise State's defense has allowed an average of 133.7 yards per game.
The Broncos are only giving up 296 yards of total offense per game and have generated nine total turnovers—three fumble recoveries and six interceptions.
New Mexico's quarterback, senior B.R. Holbrook (6'3", 196 lbs) has been sacked four times and his backup, freshman Cole Gautsche (6'4", 227 lbs), has been one of the leading rushers for the Lobos in two games.
The Broncos will have to pressure Holbrook and keep Gautsche contained.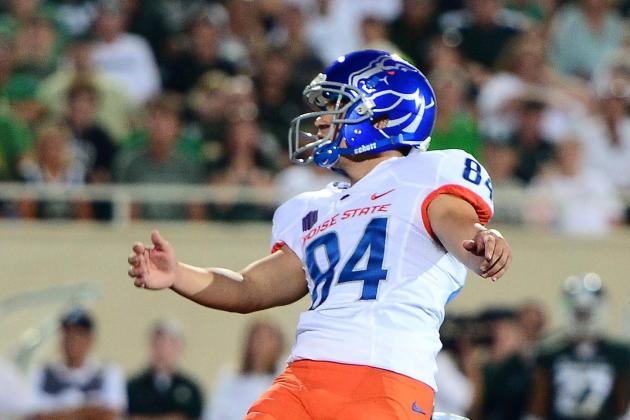 Andrew Weber-US PRESSWIRE

The Broncos have tried to go for it on fourth down six times this season and are 0-for-6. On 1st-and-goal from the BYU one-foot line, Boise State ran four plays, failed to score and turned over the ball on downs. Certainly the Bronco kicking game has struggled.
Michael Frisina is 3-of-5 and has missed outside of 30 yards. Trevor Harman is averaging 42.9 yards per punt, but he has benefited from a few long punts that have skewed that number. Overall, his punting needs to improve and get clear of the low line-drive, returnable variety that he has been prone to kicking.
In potentially tight games down the road (Southern Miss, Nevada—to name a couple), the kicking game may play a big role. In a game that should be won, the Broncos should use the opportunity to get some reps in for the kickers. What happens in Saturday's game could pay dividends down the road.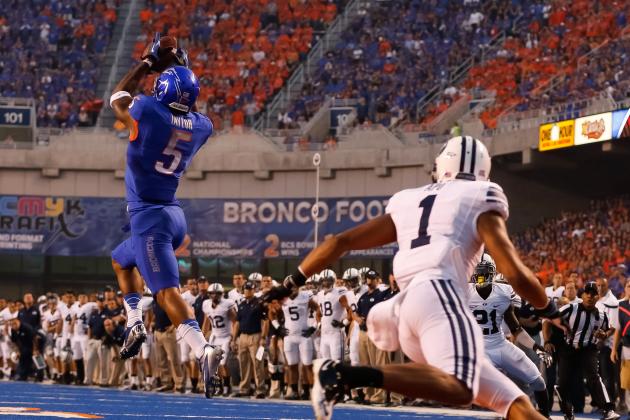 Otto Kitsinger III/Getty Images

Boise State has nine turnovers on the season—six interceptions and three fumble recoveries. Boise State is tied at No. 13 in the nation in interceptions, No. 10 in the nation in scoring defense and No. 20 in the nation in turnovers gained.
Jamar Taylor has two picks for the season and Jeremy Ioane also has two—one going for a touchdown.
Those numbers should make Boise State's defense hungry.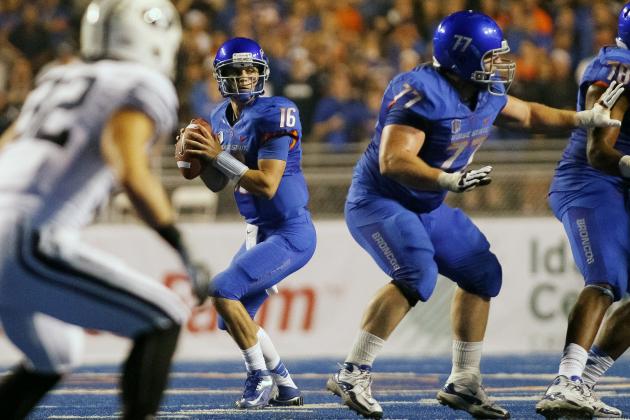 Otto Kitsinger III/Getty Images

Late in the game against BYU, Joe Southwick didn't make very good decisions. Watch the replay. As Boise State is trying to run out the clock, Southwick lets the play clock tick down and then calls a timeout. The frustration on the face of head coach Chris Petersen was evident.
For the season, Boise State is losing the time of possession battle. The Bronco offense has held the ball for an average of 28 minutes and 57 seconds while opponents have an average of 31:03. Boise State's third-down efficiency is 42 percent, which ranks No. 56 in the FBS.
According to OddsShark, Boise State is favored to beat New Mexico by more than four touchdowns. The Broncos have the defensive tools to keep that viable, but the burden will fall on the offense to produce.
The game has the appearance of being more than just a lopsided Bronco win. It is the chance for Boise State's offense to get its act together, to find out what works and to set itself up for the rest of the season. The Jekyll-and-Hyde offensive act has to end.