Manchester City's Leaking Defense: 5 Ways for Roberto Mancini to Fix It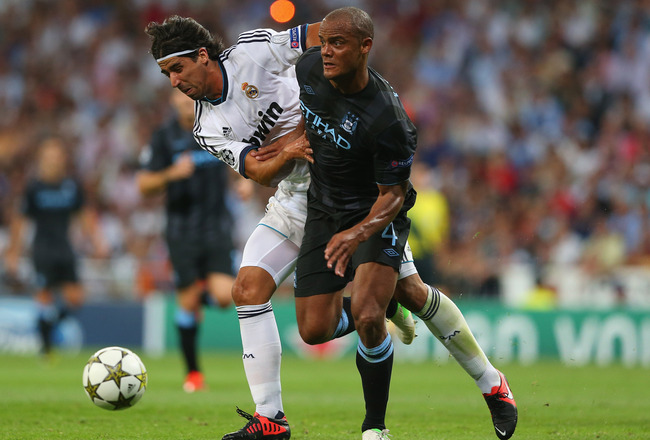 Kompany is a special player, but he cannot do it alone.
Alex Livesey/Getty Images
If defense does in truth win championships, Manchester City might be looking at an empty silver chest come May.
Reports of Manchester City 2-4 Aston Villa have been heavily downplayed. As they should be. City withheld most of their strongest players. Joe Hart and Vincent Kompany were not even on the team sheet for the fixture. Neither was Sergio Aguero. And the back line of Joleon Lescott, Kolo Toure, Aleksandar Kolarov and Mattija Nastasic was playing together for the first time (likely ever.)
Moreover, getting run out of the Capital One Cup in the third round, even at home, is actually pretty good news for City. The club has more than enough on its plate with Champions League and Premier League play. In private moments, Roberto Mancini would probably concede that the Capital One Cup—and even the FA Cup—are needless competitions for his side. City has bigger dreams.
You know there is a "but" coming.
But...television shots of City keepers retrieving balls from the back of their own net are as ubiquitous this season as Seinfeld reruns in syndication. In all competitions (excluding the Community Shield exhibition with Chelsea), City have conceded 14 goals.
City has not kept a clean sheet in Premier League play since May 6 at Newcastle United.
What can be done? Let us see.
The Best Four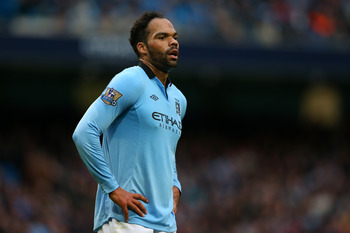 Some ups, some downs, but one of the four best they have? Yes.
Alex Livesey/Getty Images
I do not know who City's best defensive back line are. Neither do you.
These days, you could safely say Mancini is not so sure himself.
There is only one way to find out. Mancini needs to take his best four defenders, whoever he deems them to be, and play them. A lot.
City is desperate for a clean sheet. More than that, though, City craves a win where the outcome seems in hand long before the final whistle.
Getting there means finding the best four -- I nominate Kompany, Lescott, Gael Clichy and Pablo Zabaleta -- and running them out there until they are sound enough to mix the others (Maicon, Nastasic, Kolo Toure et al) in.
Set Pieces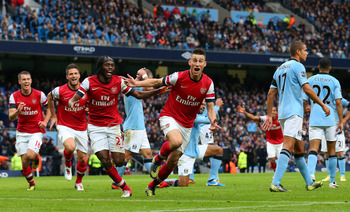 Another happy goal scorer off a corner against City.
Alex Livesey/Getty Images
Opposing teams are not ordinarily camped out in City's end. They have their share of possession (as long as they are not playing at Real Madrid), and as a result, City does not see an inordinate amount of corners and threatening free kicks.
That is probably a good thing. City has seen Luis Suarez score off a free kick at Anfield that put Liverpool ahead. Then, at home versus Arsenal, a 1-0 lead was lost to a Laurent Koscielny header off a corner kick.
Giving up corners and free kicks near the area rarely works out. If City cannot defend them better, the smart move would be to concede fewer of them.
But if they are going to keep putting themselves in harm's way, the least City could do would be to deploy an effective strategy to defend these danger plays.
Whatever they are doing right now just is not working.
Midfield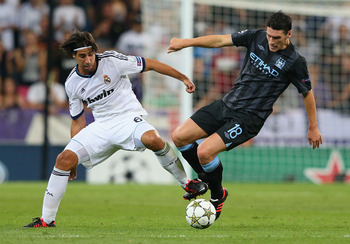 Barry is among the defensive-minded midfielders Mancini must rely on.
Alex Livesey/Getty Images
Just as Mancini must settle on four defenders he trusts, so must he make decisive changes in the midfield.
Samir Nasri (who left injured in the Real Madrid match) and David Silva are a pleasure to watch when they are distributing the ball and creating chances. When they are not, though, they are egregious defensive liabilities.
"But you have to give service to the strikers," you say. Fair enough, but at what cost?
Again, the solution here is to settle on four midfielders, two or perhaps even three of them "holding," who can rein in the middle of the field. Frankly, as long as Yaya Toure is fit, surrounding him with defense-minded partners is the way to go—Toure creates chances for others and goals for himself if allowed to roll forward at all.
So: Yaya Toure, Jack Rodwell, Barry and Javi Garcia?
Whichever four he selects, Mancini should roll with them until the zero starts showing up under City's opponent's name on the scoreboard at the end of the game, and not just the beginning.
Goals and More Goals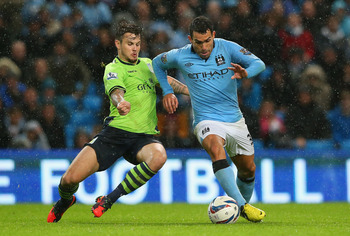 Tevez is doing his part.
Alex Livesey/Getty Images
We can save the "which cliche is hackier: 'defense wins championships' or 'the best defense is a good offense'" debate for another time.
The surest way to take some heat off City's defense, though, would be to find more scoring from City's absurdly gifted corps of strikers.
Few teams in the Premiership have more than one player who could be mentioned in the same breath with Aguero, Carlos Tevez, Edin Dzeko and Mario Balotelli. City, of course, struggles to find playing time for them all.
Instead of griping for more time on the pitch, City's strikers need to take the decision out of Mancini's hands. Know how you do that?
When you do play, score goals.
Hang in for the Backswing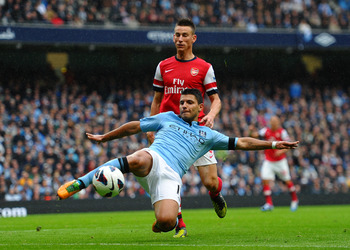 Soon enough, the penalties that City are not getting will come.
Laurence Griffiths/Getty Images
The pendulum of fortune has not really swung much in City's favor since, well, since Manchester City 3-2 Queens Park Rangers. If you had to pick a moment for luck to leave you, the moment after Aguero's title-winner would be under consideration.
The aforementioned Suarez strike came off a free kick awarded after Jack Rodwell was whistled for handball on a play where reasonable minds could easily differ as to whether or not Rodwell had done any such thing.
Sergio Aguero was tripped in the penalty area at the Etihad on Sunday before Koscielny equalized. Aguero did not get the call. Had Aguero been given the penalty and converted it...well, 2-0 and 1-0 are pretty different scores.
Sooner or later, City will start to see some bounces. And if they do, and if they convert them into goals, suddenly the concerns about the defense will be forgotten.
Keep Reading

Manchester City: Like this team?