25 of the Most Shocking and Embarrassing Misses in Soccer History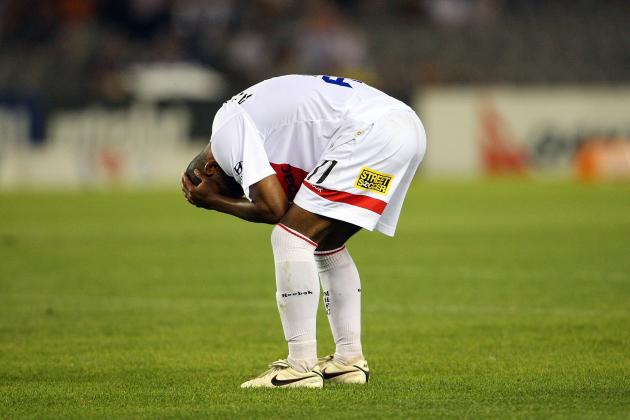 Graham Denholm/Getty Images

Every footballer has had a day he would prefer to forget, perhaps when an open net was missed or he wasn't able to get his feet sorted out quickly enough when a ball was laid invitingly across the face of the goal. Or perhaps it was a moment from the penalty spot in which his nerves got the best of him.

That being said, here are 25 of the worst and most embarrassing misses in the the history of world football.
Begin Slideshow

»
Robbie Findley, formerly of Nottingham Forest and the USMNT, misses this shocker doing everything he can to avoid using his left foot.
In the 2010 World Cup, Nigerian striker Yakubu missed this shot, costing his team a berth in the Round of 16.
In 2009, Croatian forward Ilija Sivonjic missed this sitter while playing for Dinamo Zagreb.
In the preseason of Manchester City's 2011-12 campaign, Mario Balotelli decided to treat this preseason game against the Los Angeles Galaxy like it was a pickup game in the park with this ridiculously attempted backheel. He was immediately withdrawn by Roberto Mancini.
This miss from Cristiano Ronaldo occurred this Monday in Real Madrid's 2-0 win over Rayo. In the grand scheme of things, it isn't an important miss, but it has to be a top early candidate for miss of the season.
In the category of "I refuse to use my right foot," we have this 2010 Asian Games gem by Qatari forward Fahad Khalfan. Qatar ended up losing the match 1-0.
Not much to say on this one—just painfully bad.
This is perhaps the worst penalty miss of all time, and it happened just last month in a match between Red Bull Salzburg and Rapid Vienna.
Although it's in a language I can't understand, the best part of the video is at the end when the announcer makes some crack about the penalty being taken like a field goal in "American football."
A fantastic effort by Ryan Giggs to get behind the Arsenal defense, beat the keeper, beat the last defender—and then miss the open goal.
This classic comes care of Israeli striker Ronny Rosenthal from a 1992 game between Aston Villa and Liverpool.
Another Ronaldo entry. After being set up perfectly on the back post with no defensive pressure, Cristiano manages to sky this one over the crossbar.
This is the type of miss that makes you want to crawl into a hole. It comes courtesy of Lancaster City winger Peter Devine.
This one is a great example of why you should always be humble and take your goals where you can find them. Trying to blast the ball into an open net just to be dramatic is bad karma.
According to the description on YouTube, this is from a local league match in Brazil.
Chris Wondolowski has developed a reputation as one of Major League Soccer's premier goal-scorers over the past three seasons. His club performances have led many of his fans to vocally argue for him to be given more time with the United States Men's National Team.
However, when given the chance during this 2011 Gold Cup appearance, Wondolowski missed this sitter, and he has rarely seen the field for the U.S. since.
Rade Prica of Sweden missed this open-netter inside the six in an international game against Costa Rica in 2008.
In 2004, in the knockout rounds of the European Championship, David Beckham missed this penalty badly over the goal to help Portugal advance.
Former Flamengo striker Deivid missed this sitter in February of 2012 after being set up beautifully by his teammate.
Cristiano Ronaldo struggled mightily in the first two games of Euro 2012, missing a number of gilt-edge chances before turning his tournament around. This miss against Denmark was one of the worst.
It's always a wonder on a shot like this how the player was able to hit the crossbar from that close in. Alas, that's what happened to Brazilian and Flamengo striker Vagner Love this past weekend.
It's another early candidate for miss of the season.
And here we have a double miss from Spain's David Villa against Colombia in 2011.
After Fernando Torres' £50 million move away from Liverpool in January of 2011, he got off to a horrid start with Chelsea, scoring only once in the entire second half of the season.
The next year, hoping to rekindle his old scoring touch, Torres missed this shocker in September against archrival Manchester United.
After a slow start to his 1994 World Cup campaign, Italian legend Roberto Baggio caught fire in the knockout rounds, scoring five goals in three games to lead Italy to the finals.
However, in the shootout with the World Cup on the line, Baggio lined up as Italy's fifth penalty-taker and put his attempt into the 20th row of the Rose Bowl, sealing the game for Brazil.
In 2008, with a chance to win the Champions League, John Terry stepped up to the spot. On his ensuing run-up, his plant foot slipped, and his shot went wide. Chelsea went on to lose the shootout 6-5.
I have seen this miss at least a dozen times, and it is a classic, but I have no idea where it comes from. After slotting his shot nicely past the keeper, the player wheels away in celebration only to realize moments later that mud in front of the goal line stopped his shot before it crossed the line.
Follow me on Twitter @AmerTouchline