20 Players Who Only Played with the Philadelphia Phillies for the Money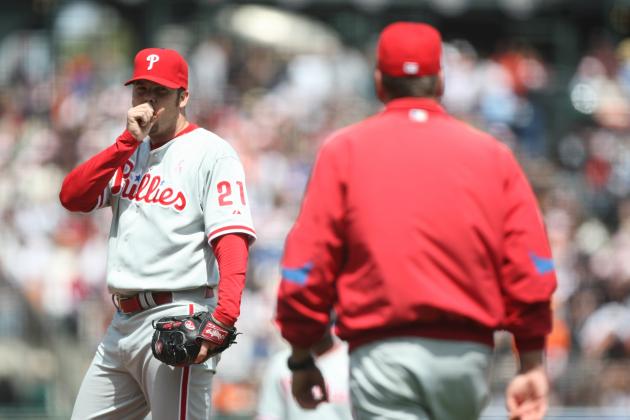 Jed Jacobsohn/Getty Images

It's sadly becoming a way too casual aspect of baseball today—players selling out to the highest bidder.
Of course, something like that is understandable. In today's game, millions of dollars are on the line. Players have an opportunity to set up their children's children for life. You don't leave millions of dollars on the table because you like another team more. Well, not often anyway.
But baseball is a business. That's another old cliche that we hear too frequently nowadays. The owners want to make money, the players want to make money and everyone in between wants their fair share of the pie.
When you throw a baseball town like Philadelphia into the mix, you can pick the players that signed for the money out like a sore thumb.
The Philadelphia Phillies implore a certain brand of baseball noted for its trademark hustle, blue collar attitude and caution to the wind style.
When guys struggle to embrace to the top, the float to the top like drops of oil in water. Here are 20 of the most notable cases.
Begin Slideshow

»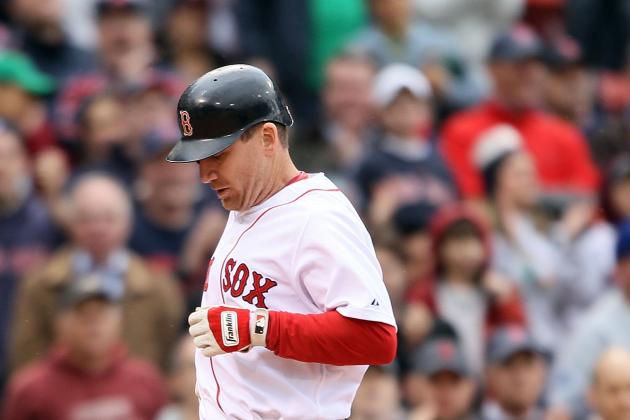 Elsa/Getty Images

I wanted to include JD Drew on this list, but of course, the outfielder never actually played for the Phillies.
In a weird kind of way, he does still fall under the umbrella of this article. Drew's agent when the Phillies drafted him back in 1997 was the infamous Scott Boras, and he always has dollar signs in his eyes.
Boras and the Phillies haggled over Drew's value for an entire summer before both sides eventually gave up and the player never signed. A year later, the Phillies would move on from Drew and select Pat Burrell.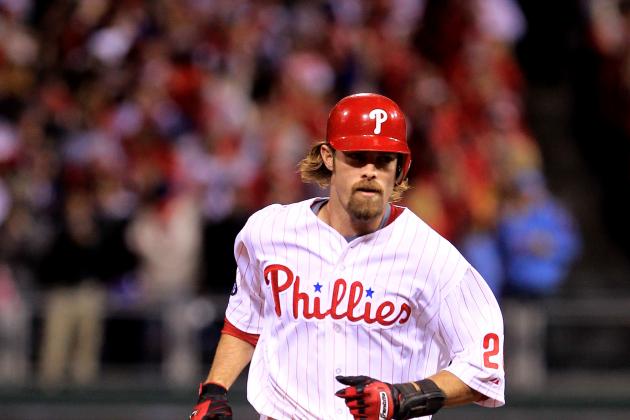 Chris McGrath/Getty Images

When I write lists like this, there are always quite a few guys that I'm hesitant about putting on. In the long run, I don't know what their thought process was.
I mean sure, Jayson Werth will always look like the bad guy for turning down a pretty nice deal from the Phillies for a mammoth raise from the Washington Nationals. When you burn loyal fans, that's what happens.
But I was really torn about whether or not Werth belongs on this list. He was a fan-favorite and seemed to play the game "the right way," at least as far as the fans in Philly are concerned.
However, Werth is in a unique situation. So I'll throw him at the end of this list and toss the question out to the audience: Was Werth in it for the money?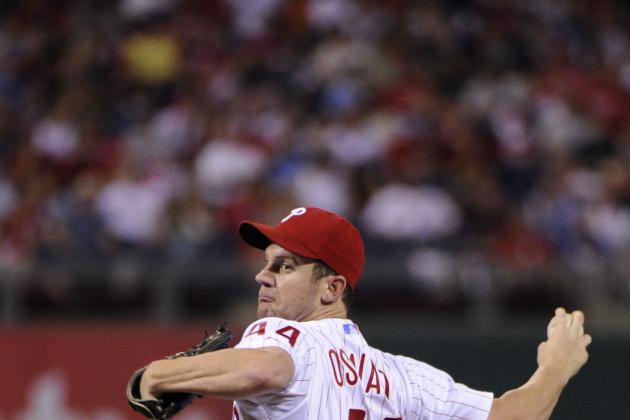 Howard Smith-US PRESSWIRE

I sat on this one a while before giving it the green light.
While I'm not sure that Roy Oswalt was overly concerned about the money, per se, it did seem like he wanted to be with a different club on more than one occasion.
Some fans were able to tune out the comments thanks to the allure of a rotation chocked full of aces, but the common school of thought when Oswalt was still a member of the Houston Astros was that he really wanted to play for the St. Louis Cardinals.
Obviously, that never happened. But fast forward a little more than a year and we have the same situation. Oswalt is a free agent and the team that he had just finished playing for—the Phillies—seemed to be an afterthought.
Did he want to pitch for the Cardinals or the Texas Rangers? Those seemed to be the options. So while I wouldn't necessarily say that money was on his mind in his debate over joining the Phillies, there were times where it seemed like Oswalt wanted to be elsewhere.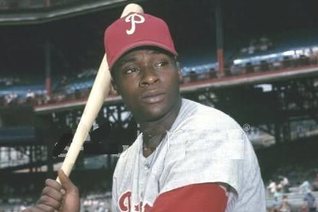 http://www.reclinergm.com/phillies-top-20-individual-seasons9-dick-allen-1966/
Dick Allen would redeem himself late in his baseball career and definitely after he retired, but through the early portions of his time in the MLB, he was an easy guy to target for this list.
Allen had all the talent in the world. He would put on such a show in batting practice that crowds would gather just to watch him hit, and while he was just an average defender, his bat was going to take him places.
That's what the Phillies thought. Sure, there were questions about his character, but they weren't an organization that could be choosy. They needed help. Allen was a low-risk option.
But he never really gave it his all early on. He was involved in numerous scuffles and controversies and probably played his best years in other uniforms, though the bulk of his career (and numbers) was built in Philadelphia.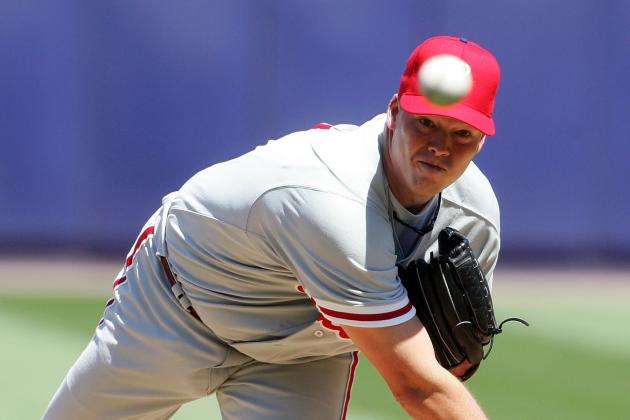 Jim McIsaac/Getty Images

The progress of the Phillies is comical in some ways.
And that's not a bad thing. With Roy Halladay, Cliff Lee and Cole Hamels all wearing red pinstripes, fans of today's club know what an "ace" is capable of atop the starting rotation.
Before those guys came around, the pitchers that this fan base would consider their "ace" is a bit more of a grey area.
One of those guys was Jon Lieber, who won 17 games in 2005. Now, if you're a fan of useless statistics, that sounds nice, but Lieber also posted an ERA north of four that season and didn't pitch like much of a stopper.
Over the final two years of his tenure, he posted an ERA approaching five and was a member of the Chicago Cubs before fans even realized what happened.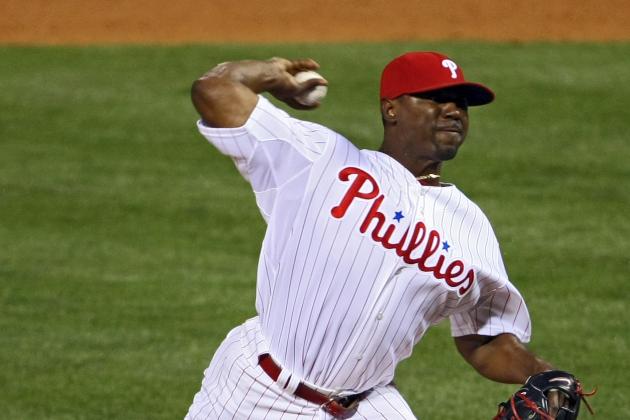 Drew Hallowell/Getty Images

For a long time, it seemed like the role of closer for the Phillies was cursed.
You could count the number of closers that had success in Philadelphia following Tug McGraw on one hand. Al Holland was solid. Steve Bedrosian won a Cy Young. Mitch Williams had one great year. Billy Wagner was historically good.
And that's it.
So when Wagner booked it for the New York Mets following the 2005 season, the Phillies found themselves in a pretty dismal situation. They didn't have an option for the closer in-house and the free agent market was pretty dry.
They wound up committing to Tom Gordon for way longer than they should have, but when he was healthy, "Flash" was solid. He even made the All-Star team in his first year with the Phils.
But things got progressively worse for Gordon. He seemed to frequent the disabled list with an unnerving consistency and his numbers just kept plummeting throughout his career.
I'm not saying that he didn't care, but Phillies fans definitely knew that they didn't get their money's worth out of "Flash" Gordon.
When his contract expired, he signed with the Arizona Diamondbacks.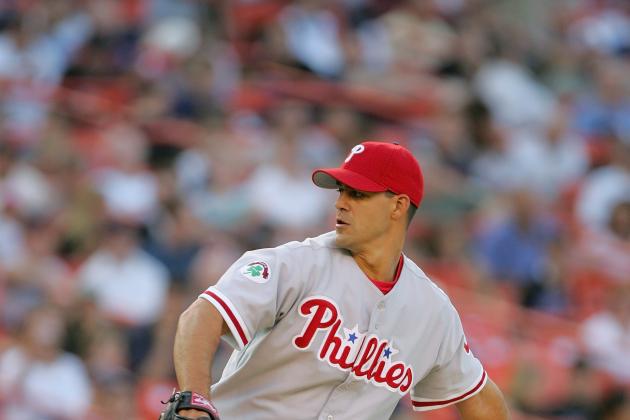 Ezra Shaw/Getty Images

There was a time that the Phillies were so desperate for starting pitching that they'd do just about anything—and look just about anywhere—to get some.
So when the Minnesota Twins made their "ace" available, the Phillies jumped on the offer.
Now, don't get me wrong. Eric Milton was a pretty good pitcher and an upgrade to the Phillies' rotation, but an ace? I'm not so sure about that. But this was how the Phillies tried to sell him to the fans.
Milton, who had just one year left on his contract, lived up to his end of the bargain. He won 14 games—in spite of a 4.75 ERA—in 2004.
That also helped make him a valuable free agent, but the Phillies wouldn't commit to him for multiple seasons. He wound of accepting a three-year offer from the Cincinnati Reds, and while it turned out to be a good thing for the Phillies, it made Milton look like he couldn't wait to get out of Dodge.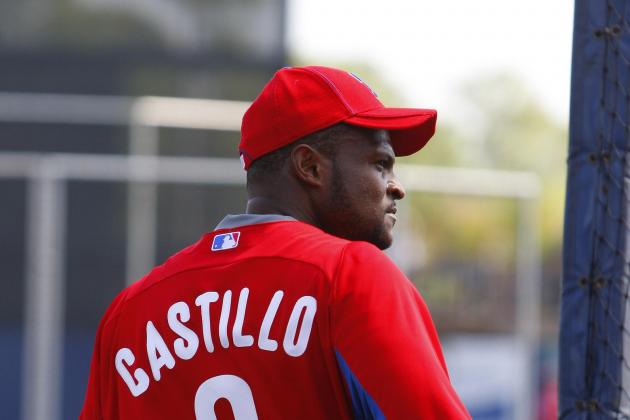 Kim Klement-US PRESSWIRE

There weren't many people buying stock in the Luis Castillo Experiment a couple springs ago.
That wasn't much of a surprise. Castillo wasn't exactly known for playing the Phillies' style of baseball. He had a reputation as being kind of nonchalant in the field and at the time, the Phillies were still adjusting to their new, powerless offense.
Castillo was kind of the ugly duck.
The thought was that he could add some speed to the top of the order and fill in for Chase Utley, who was injured. The result was that Castillo didn't even survive spring training. Ouch.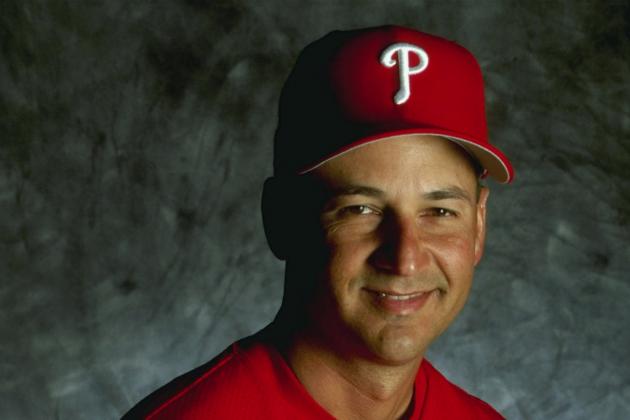 Scott Halleran/Getty Images

So Terry Francona never technically played for the Phillies, but he did serve as their manager from 1997-2000, and that's something that I'd like to ran about, if you'll indulge me.
Francona was never the most well-liked man in the city of Philadelphia. He was never the most hated either, but he certainly wasn't going to win any awards for his character.
For full disclosure, the Phillies were bad team during his tenure. If he found a way to win with the group of guys given to him, he'd probably be called one of the greatest managers of all-time, if he's not anyway.
So the Phillies were bad. But it certainly didn't help his reputation that Francona would later openly admit as a member of the Boston Red Sox that he used the Phillies as kind of an experiment—to find out what works and what doesn't as a manager.
That won't get you any brownie points in Philly. They'd rather you take your lumps and lose than sell out.
Chris Trotman/Getty Images

The players that the Phillies would attempt to replace Scott Rolen with at third base is amusing.
The first in line was David Bell, who signed a four-year deal to man the hot corner for the Phillies and quickly snowballed into a disaster.
Many pundits believed that the Phillies had overpaid for Bell by quite a bit and it didn't take long for him to prove them right. He dealt with an injury for most of 2003 and had his only above average season (if that) in 2004.
The following seasons were marked by injuries and inconsistency and fans were actually happy that he was traded to the Milwaukee Brewers in 2006.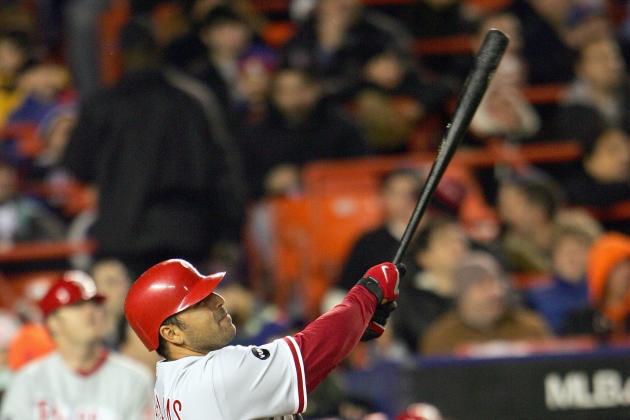 Chris McGrath/Getty Images

Being a catcher for the Phillies has to be a tough job, because you're going to get beat up in one of two ways, especially when it comes to a play at the plate.
Your first option is to stand there and take the hit. Erik Kratz did it and got destroyed by Chipper Jones earlier this season, but the fans loved him for it. It's going to hurt, but at least your reputation will remain intact.
Of course, you could always avoid a hit and the fans will absolutely eat you alive for it. So it comes down to what you value more—your body or your reputation.
Rod Barajas valued his body. In a play against the then-Florida Marlins, his absent minded plate blocking would eventually lead to a Brett Myers injury.
Had he been a bit more invested in the club, that may have wound up being a different kind of play.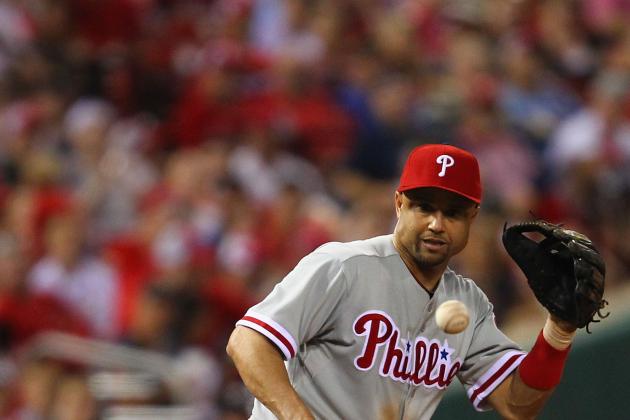 Dilip Vishwanat/Getty Images

I may be making a mountain out of a molehill here, but I can't be the only one that found it curious that the Phillies were willing to make a three-year commitment to Placido Polanco before the 2010 season.
The market for third basemen was small that winter. Adrian Beltre was the top target, but he would turn down a couple of three-year deals to sign a one-year deal with the Boston Red Sox.
Mark DeRosa was closer to a bench player than a starting third baseman on the "how valuable" scale.
The Phillies went outside of the box and made an offer to Polanco, who just finished up a pretty solid tenure with the Detroit Tigers as their second baseman, to be their new third baseman.
It was an intriguing development. Polanco had never played third base since 2003—in his first tour of duty with the Phillies. He was a Gold Glove second baseman, so the thought was that he could make a smooth transition, and he did.
However, I never got the feeling that—at least from the fans—he gelled with the rest of the club.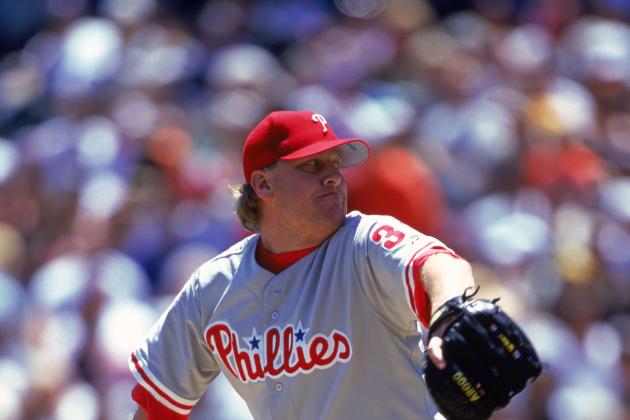 Tom Hauck/Getty Images

I don't think that it's inaccurate to say that the city of Philadelphia finally got to Curt Schilling.
In the early portion of his career, he flew the Phillies' flag well. They were the only team that hadn't given up on him to date and rewarded them with a stunning trip to the World Series in 1993.
But it was all downhill from there. The Phillies went into a downward spiral and Schilling became one of the club's only bright spots for more seasons than was acceptable.
He finally requested a trade in 2000 and the Phillies couldn't help but oblige. I'm putting him at the back end of this list because his last few seasons in Philadelphia just didn't go over well.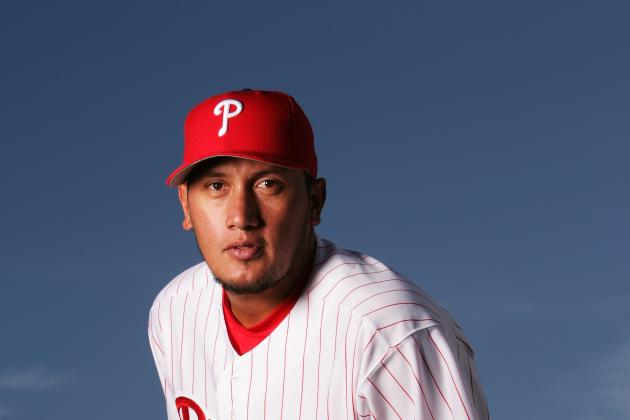 Al Bello/Getty Images

Remember when Freddy Garcia was a member of the Phillies' starting rotation? I wouldn't hold it against you if you didn't. It's not like it lasted all that long.
The Phillies desperately needed some pitching prior to the 2007 season. They had a good offense that would help them contend, but not many arms that could bare the brunt of a full season and the postseason.
So they made a move that offseason to acquire Garcia from the Chicago White Sox. It was easy to like the move at the time. Garcia had been a front of the rotation starter for both the White Sox and the Seattle Mariners.
At the time, no one cared that they traded Gio Gonzalez and Gavin Floyd. Now they do.
But that's a different story. Back to Garcia. He made just 11 starts for the Phillies in 2007 and missed most of the year with an injury.
After the season, he bolted to join the Detroit Tigers.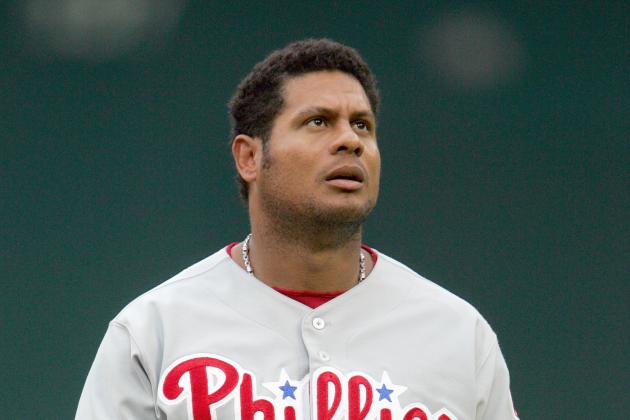 Jamie Squire/Getty Images

And then there is the enigma that is Bobby Abreu.
The Phillies made one of the greatest trades in the history of their organization when they pried the five-tool outfielder away from the Tampa Bay Devil Rays for Kevin Stocker and he would develop into of the greatest hitters they've ever seen.
So what happened at the end of his tenure in Philadelphia?
It wasn't pretty. Abreu somehow gained a reputation for being afraid to run into outfield walls (because preserving your health is such a terrible idea) and as a "clubhouse cancer" that was preventing the Phillies from winning.
So he wanted out. He wanted out in the worst way and Pat Gillick was backed into dumping his contract on the New York Yankees for nothing.
In the end, whether or not Abreu actually was a cancer doesn't matter. He set himself up to be a future villain (if he's not already) in this city.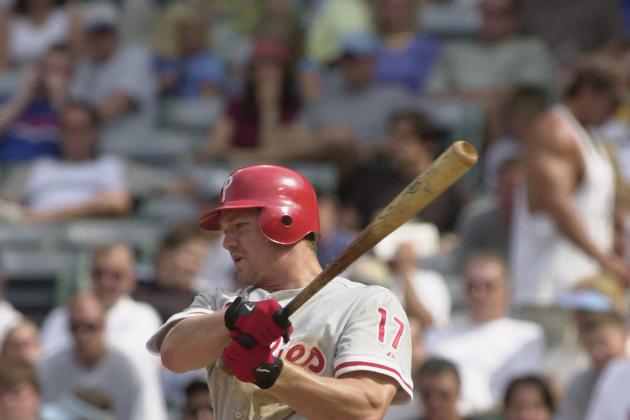 Jonathan Daniel/Getty Images

Why do people still boo Scott Rolen?
I mean, I can understand the initial angst. Rolen was the personification of everything that Phillies fans felt about their ball club. They were frustrated that the ownership group couldn't (or wouldn't) put a winning product on the field and thus, they struggled to keep their stars.
But losing Rolen hurt. He was the best third baseman the club had seen since Mike Schmidt and represented the hope of the franchise's future.
So when Rolen did everything in his power to make sure that he was traded, the fans hated him for it. He wasn't exactly shaken up when he left either, which probably made things even worse.
But now, with five straight National League East titles and a World Series championship to boast about, why do people still boo Rolen?
He obviously belongs on this list, but that's just a thought.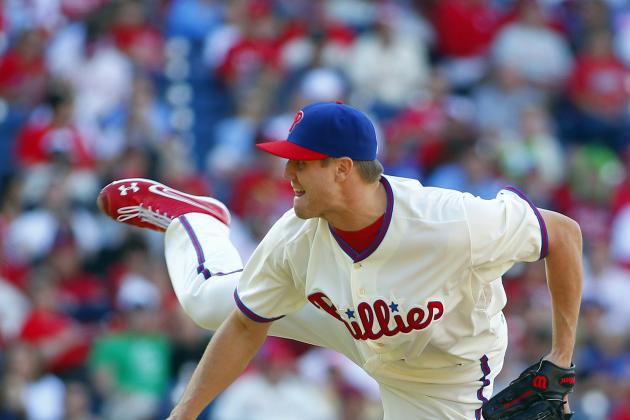 Rich Schultz/Getty Images

I put a question mark in the title of this one because I'm not sure how I really feel about it just yet, but people are always going to question why Jonathan Papelbon made such a quick decision to sign with the Phillies.
Sure, he made his "loyalty" comments during his press conference seem heartfelt, and maybe they were.
But any time a team makes you—as a reliever who probably won't throw more than 70 innings in any one season—a $50 million offer, it has to be hard to turn down.
And Papelbon left quite a bit of history behind in Boston to switch teams and leagues, to join the Phillies. Now, he seems to genuinely mesh well with the Phillies' clubhouse, but the question has to be asked.
When he first signed, was Papelbon interested in anything more than the Phillies' money? Who knows. But this is where I'd put him if I was absolutely convinced.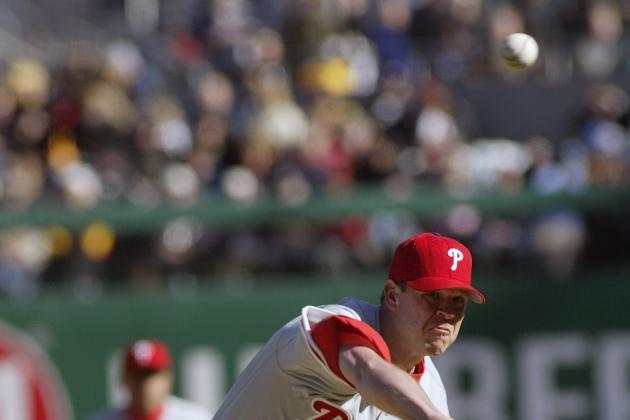 Rick Stewart/Getty Images

Kevin Milwood is an interesting story.
When he was with the Phillies, Milwood was a solid pitcher. They had acquired him from the Atlanta Braves hoping to beef up their starting rotation and he was certainly a step in the right direction.
The real problem was that Milwood was only under contract for one season and represented by super agent Scott Boras—and don't think for a minute that fans had forgotten the whole JD Drew debacle as early as 2003.
The following offseason, fans knew that Milwood was as good as gone. Boras positioned his client to be very valuable to a contender and the chances of him not signing with one were slim.
But even "slim" is a small chance. The Phillies had offered Milwood arbitration, assuming that they'd only get compensation draft picks in return, but the market for Milwood didn't develop the way Boras had expected and he had his client accept the Phillies' offer of arbitration.
The Phillies wound up paying him $11 million for one more season and he couldn't wait to get out.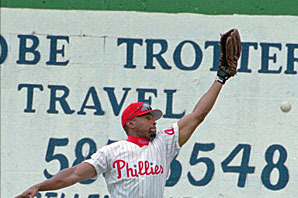 http://www.loladelphia.com/post/13689918297/top-ten-free-agent-trade-acquisitions-in-recent
That picture accurately describes Danny Tartabull's tenure with the Phillies.
For whatever reason, the Phillies were interested in making a splash prior to the 1997 season. I know, it's crazy. What's even crazier is the fact that they believed they could beef up their offense by signing Tartabull, a free agent, to a $3 million contract (a good chunk of change in '97—he was considered "pricey").
Tartabull would go on to fail miserably. He looked lost in spring training before suffering a foot injury that would effectively end his career.
He played all of three regular season games for the Phillies. Now that's not money well spent.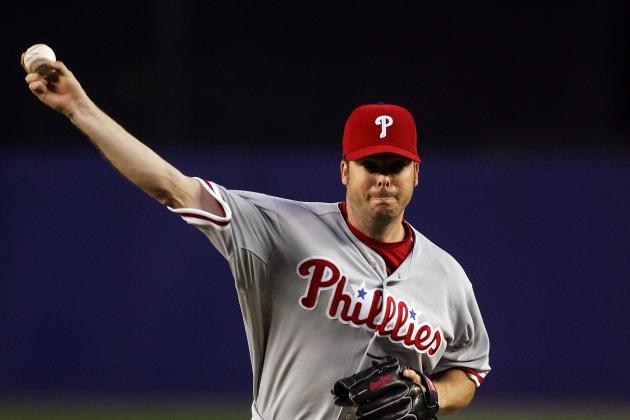 Jim McIsaac/Getty Images

Where do I even begin?
The Phillies' strange love affair with Adam Eaton begins in 1996 when the club made him their first selection in the amateur draft.
They would later trade him to the San Diego Padres before he reached the MLB, and a rational person would have assumed that they had come to their sense. But you know what they say about "assuming."
Eaton would go on to have a mediocre MLB career, but apparently, that's a valuable thing to the Phillies. They jumped on a weak pitching market to offer him a three-year deal worth $24 million that he obviously did not hesitate to sign.
The rest is history, but to make a long story short, the man was booed as he received his World Series ring. That should be pretty telling.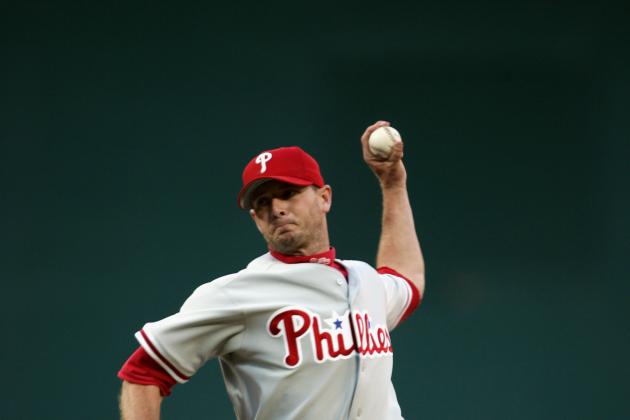 Doug Pensinger/Getty Images

I'm not sure what was on Billy Wagner's mind when he first learned that he was being acquired by the Phillies, but the world knew just how he felt about "The City of Brotherly Love" when he was granted free agency.
Wagner, who dazzled fans with a blazing fastball that touched 100 mph on the radar gun often, claimed that Phillies fans didn't appreciate him. He also, while still a member of the club, often spoke to the media as though the Phillies were not a postseason contender.
That didn't sit well with his teammates.
To make matters worse, when Wagner was finally granted free agency following the 2005 season, he signed on as the closer of the New York Mets, only intensifying that rivalry.