Los Angeles Dodgers: Breaking Down the Dodgers' Bullpen Heading Toward Playoffs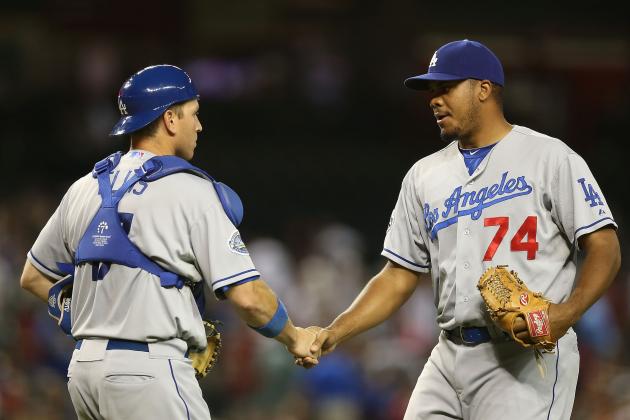 Christian Petersen/Getty Images
Kenley Jansen's temporary shutdown led to a reshuffling of the bullpen that will help the Dodgers if they can make to the postseason.
The Los Angeles Dodgers have had a number of issues preventing them from closing in on the final National League Wild Card spot, but the bullpen hasn't been one of them. They now have a corps of relievers that can shutdown opposing lineups, should Los Angeles manage to reach the postseason.
The St. Louis Cardinals have rolled through a soft portion of their schedule, winning seven of eight games against the Houston Astros and Chicago Cubs over the past week and a half. Meanwhile, Los Angeles has gone just 3-4 over during that time.
The Dodgers have had a significantly tougher schedule of late. L.A. still has two more games before completing a brutal nine-game road trip that's forced them to face the NL co-leading Washington Nationals and Cincinnati Reds, as well as the resurgent San Diego Padres.
After building the best record in the major leagues through mid-June, the Dodgers' season has come undone thanks to anemic bats and an injury-plagued roster. At least one of those injuries, however, has turned into a blessing for Los Angeles.
A reoccurring heart condition suffered by closer Kenley Jansen forced manager Don Mattingly to reshuffle his bullpen. With midseason acquisition Brandon League thriving in the closer's role, Jansen has returned to being the lights-out setup man that he was in 2011.
Now the Dodgers, whose starting rotation has been hit the hardest by the injuries, have a bullpen that can stifle opposing lineups in the playoffs when the team reach the seventh inning with a lead.
Here's a look at how their bullpen sets up leading into the 2012 MLB playoffs.
Begin Slideshow

»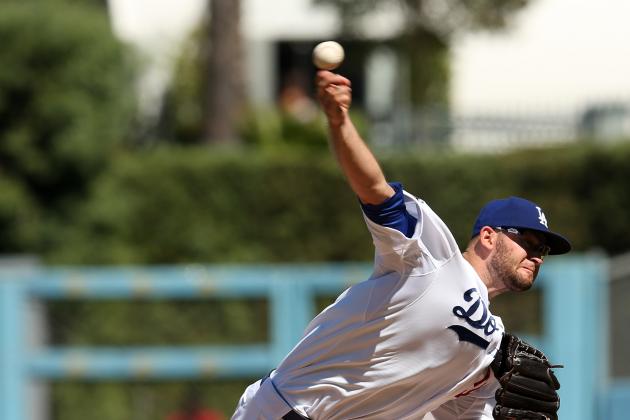 Stephen Dunn/Getty Images
Dodgers rookie Stephen Fife would be a top candidate for long relief in the playoffs.
Should any of the Dodgers starters falter early in the postseason, Stephen Fife will be the first candidate to serve as a long reliever. The rookie has been a valuable contributor as a spot starter this year, but he won't be a candidate for the starting rotation in the playoffs.
Injuries to starters Ted Lilly, Chad Billingsley and Clayton Kershaw forced Fife into action throughout the year. He responded by going 0-2 with a 2.70 ERA and 1.39 WHIP in five starts for Los Angeles this year.
Of course, the Dodgers hope that his services as a long reliever aren't needed, but Fife will be up to the challenge if called upon.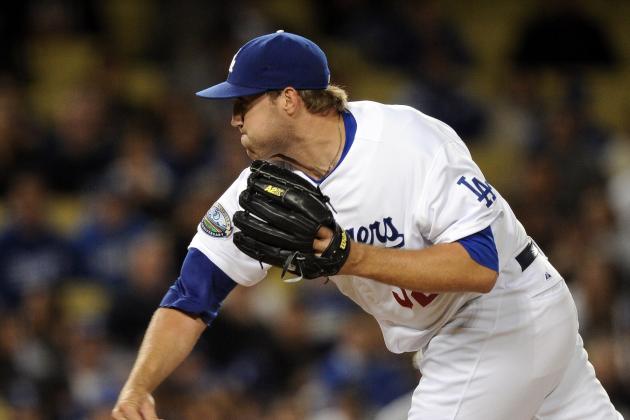 Harry How/Getty Images
Matt Guerrier has worked off the rust following a long stint on the disabled list earlier in the season.
If the Dodgers have a weak link in their bullpen, middle relief is clearly it. Los Angeles has a collection of veterans that usually get the job done, but are far from reliable, nor do any of them have great stuff.
Matt Guerrier, Shawn Tolleson and Jamey Wright form a trio of right-handed relief pitchers that get most of their work in the sixth and seventh innings on nights that the starters struggle to go deep into games. Unfortunately for the Dodgers, they've been given a heavy workload recently.
Los Angeles has gotten fewer quality starts out of their rotation lately, thanks to injuries to innings-eaters like Billingsley and Kershaw.
Chris Capuano has been considerably less effective since the All-Star break, and Josh Beckett has failed to make it through the seventh inning in four of his five starts since coming over the from the Boston Red Sox.
Guerrier struggled in his first few appearances after missing most of the season with an elbow injury. He's looked better over his last four appearances, though, surrendering just one earned run in 3.2 innings.
Lefty specialist Randy Choate has been very effective for the Dodgers as well. Although his ERA over the past two months is over 5.0, that number is inflated because of a couple of bad outings. However, he's given up an earned run in just two of his last 28 appearances dating back to August 6.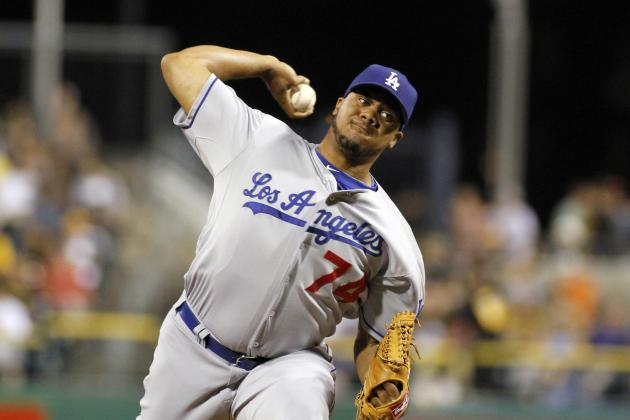 Justin K. Aller/Getty Images
The Dodgers hope that Kenley Jansen will once again thrive in a setup role.
The Dodgers are being careful with Kenley Jansen, as they ease him back into the bullpen. Putting him back into a setup role, as opposed to the more stressful position of a closer, should help achieve that purpose.
Jansen shined as the setup man for Dodgers closer Javy Guerra in 2011. There's zero reason to believe that he won't have success in that role again, as he's yet to give up a hit in four appearances since returning to the bullpen on September 20.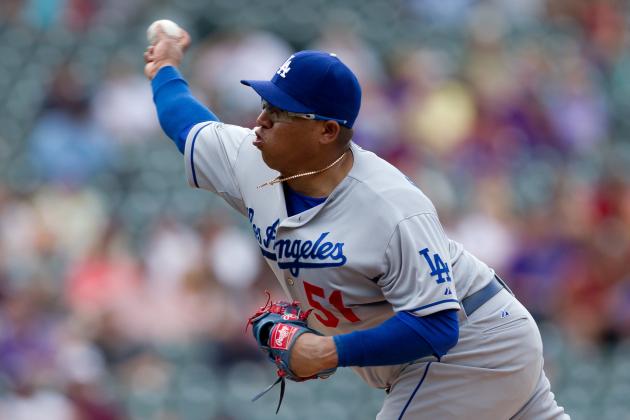 Justin Edmonds/Getty Images
Ronald Belisario has been terrific in the setup role that Kenley Jansen made famous for the Dodgers in 2011.
Ronald Belisario may not have the pure-power arm that Kenley Jansen has, but that hasn't stopped him from being just as effective as the primary setup man to closer Brandon League.
Belisario's K/9 rate is far lower than Jansen's, but he's a more effective pitcher as evidenced by his 2.27 ERA and 1.04 WHIP.
Mattingly originally announced that Belisario would share closing duties with League when Jansen first went out in late August. He hasn't received a save opportunity since that announcement, and the current arrangement seems to be working out well.
As the saying goes, if it ain't broke, don't fix it.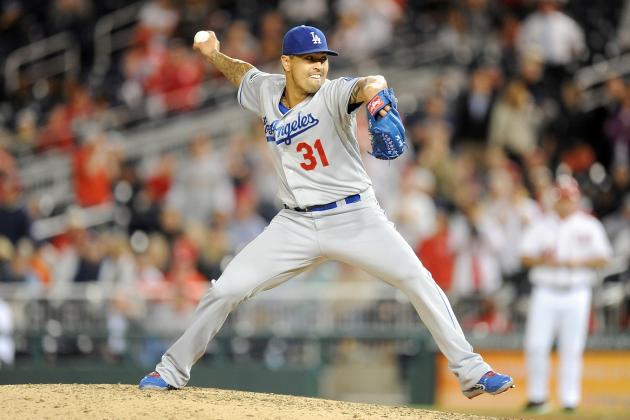 Greg Fiume/Getty Images
Brandon League has gotten his groove back since returning to the closer role that he held for Seattle in 2011.
Brandon League had trouble adjusting to the National League after being traded to the Dodgers from the Seattle Mariners in July. But over the past month he's been fantastic while taking over as L.A.'s full-time closer.
League thrived as Seattle's closer in 2011, notching 37 saves with a 2.79 ERA and 1.08 WHIP. He quickly lost the job earlier this year after struggling in April and May, opening the door for his departure at the July 31 non-waiver trade deadline.
In 11 September appearances for the Dodgers, League has notched five saves while posting a microscopic 0.73 ERA and .105 batting average against him. It's clear that he is more comfortable as the stopper in Los Angeles, so there's no reason to go away from what's working right now.
With so many other things going wrong during the Dodgers' push towards the postseason, it's reassuring to know that Los Angeles has some certainty about their roster if they manage to get there.