Green Bay Packers: Will 'The Inaccurate Reception' Be a Positive Moving Forward?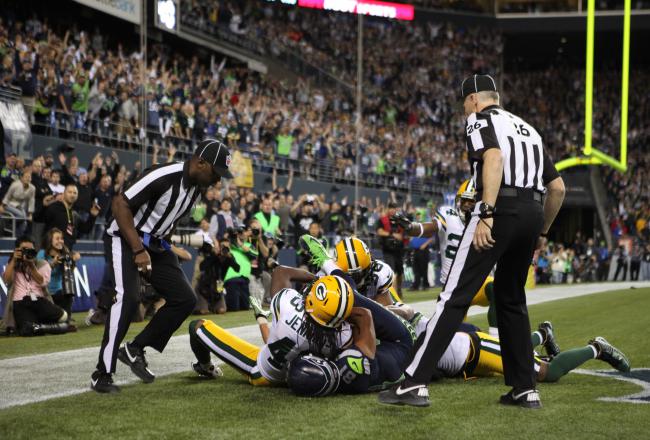 Otto Greule Jr/Getty Images
Thomas Paine famously wrote, "These are the times that try men's souls."
While comparing a fight for national freedom and a football game seems incredibly inane, the quote perfectly summarizes the current state of the Green Bay Packers football team.
The Pack was robbed of a victory Monday night in Seattle, and any sensible sports fan knows it.
Green Bay was victim to not one, not two, but three atrocious calls by the inexperienced substitutes on the final two Seattle drives.
The roughing-the-passer on Erik Walden, the pass interference on Sam Shields and the now infamous Inaccurate Reception were all clearly bogus calls that either incredibly lowered the Packers' chances of winning or completely diminished them.
Heartbreaking losses in the final moments of any game are devastating enough. Players pour their hearts and souls into winning a football game, and to have it snatched away at the last second on a play with a nearly zero percent success rate is just gut-wrenching.
But to have it happen on prime-time national television in a fashion everybody knows was not close to fair? Forget about it.
As a Packers fan, I could barely handle it. I can't even imagine what it was like for Aaron Rodgers, one of the most competitive athletes in the sport who played masterfully in the second half to will his team to victory.
The road lying ahead for this team has two possible paths on which to travel.
The first goes downhill. Will this robbery eat at the Packers as a distraction for the rest of the year? Will this huge blow simply be too much to overcome?
The second propels Green Bay forward. Will this serve as a rallying point? Is it going to be something the team can take and say, "Screw you NFL. You're out to get us? Well we're going to show you what we're made of."
As we are seeing with the New Orleans Saints, that first road is a very real possibility. The NFL made an example out of New Orleans with all the suspensions of players and coaches because of the Bountygate scandal.
With all the distractions created, the Saints are now 0-3 and coincidentally must come to Lambeau Field to face the Packers next week.
But I see the second road as a much more realistic expectation, because of three main reasons: Aaron Rodgers, Charles Woodson and Mike McCarthy.
Rodgers and Woodson are the heart and soul of the offense and defense, respectively. They are both extremely competitive players, and their veteran wisdom will allow them to tunnel their frustrations in a productive manner the way leaders should.
And McCarthy, he's a special leader. While other coaches around the league are being fined for grabbing and publicly criticizing the replacement refs for far less egregious calls, the first thing the Green Bay head coach said in last night's press conference was that he didn't want to talk about the officiating.
Rather than throw a temper tantrum like most other coaches would have done, McCarthy didn't want any distractions. He knows if his team had played better in the first half, the replacements refs wouldn't have been in a position to decide the game.
McCarthy understands the frustrations of his players, but he will surely have his team ready to face the New Orleans Saints come Sunday.
There aren't many things you can be sure of in the NFL anymore, but that is one of them.
This article is
What is the duplicate article?
Why is this article offensive?
Where is this article plagiarized from?
Why is this article poorly edited?

Green Bay Packers: Like this team?