Oklahoma State Football: Grading the Positional Units After the First 3 Weeks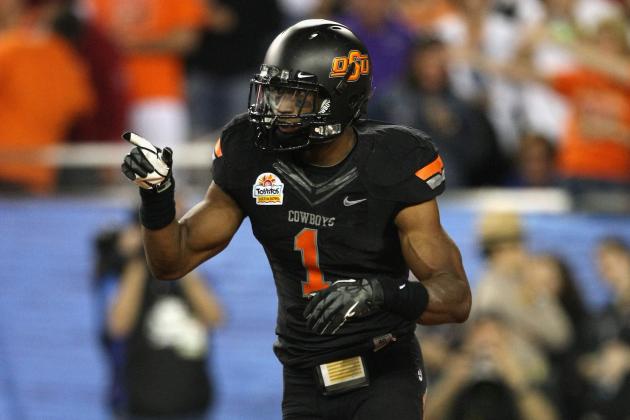 Donald Miralle/Getty Images

The Oklahoma State Cowboys find themselves with a slightly disappointing taste in their mouth after the first three games of the season.
Sure, they have a winning record, but you have to figure that this team was planning on being undefeated going into Conference play.
Mike Gundy's squad has played solid football and should look to get better as key components get more experience. They're not quite that A+ team fans hoped for, but they're getting closer.
Begin Slideshow

»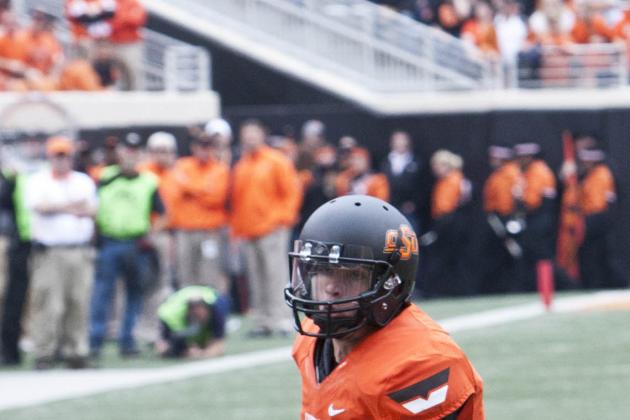 Richard Rowe-US PRESSWIRE

2012 Rating: B
Let's get it out of the way. Wes Lunt lost the Cowboys their game against Arizona by turning the ball over four times. It's that simple; they lost the turnover battle and lost the game.
However, that doesn't mean Lunt hasn't had a good season, or even that he had that terrible of a game. He passed for 436 yards and four TDs, which is a good day at the office for anyone.
Lunt was injured last week and the Pokes didn't even miss a beat. Backup QB J.W. Walsh came in and torched Louisiana-Lafayette for over 400 total yards and five TDs.
It's safe to say that the team has talent at the signal-caller position; it just needs to get experience under its belt to take that next step.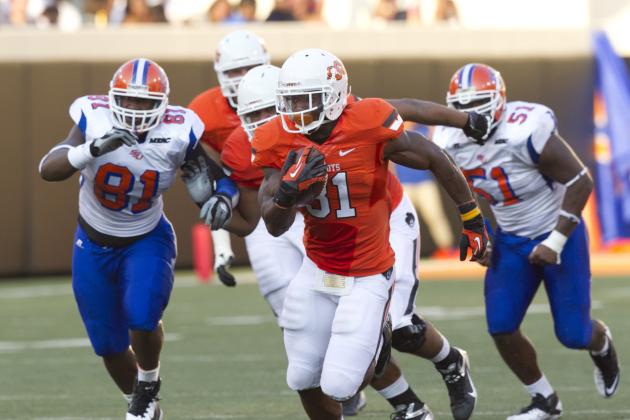 Richard Rowe-US PRESSWIRE

2012 Rating: A+
If you had asked me last year which OK State player I thought was the most talented, I would've said Joseph Randle without missing a beat. That sentiment hasn't changed in 2012.
He's one of the best backs in the nation and could carry this team to a winning record on his own.
Fortunately for Cowboy fans, he doesn't have to. Mike Gundy is lucky enough to have not one, not two, but three stud running backs in his rotation.
It all starts with the dynamic Randle, but then Jeremy Smith comes in to pop you in the mouth and cry for your momma while Desmond Roland comes in to clean up whatever is left.
Don't even get me started on how big of a running threat J.W. Walsh is (hint: very big). These boys can beat you every single way you can imagine and are the reason the Cowboys will be a major player in the Big 12 title race.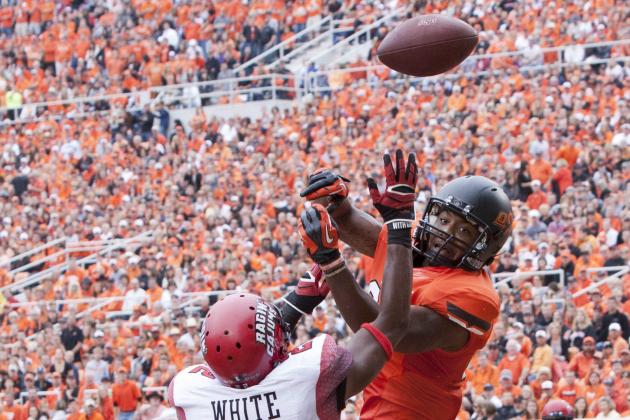 Richard Rowe-US PRESSWIRE

2012 Rating: A
The receiver position is a little harder to judge than it has been in past years. A different guy has looked like the No. 1 WR every week, and seven different players have scored touchdowns.
That's good and bad news in my opinion. The good news is that this means the Cowboys have so many good WRs that opposing teams don't really know who to key on.
The bad news is that this means OK State doesn't have a go-to playmaker when the game is on the line.
Personally, I hope Tracy Moore finally takes that step into becoming the every down threat the Cowboys need. He has the tools to be the next great OSU wide receiver, but he has to be more consistent in his overall play.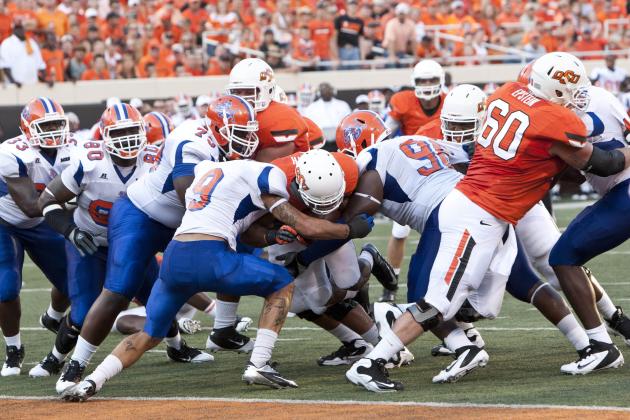 Richard Rowe-US PRESSWIRE

2012 Rating: A
Oklahoma State's offensive line has been the definition of solid so far this season.
They've yet to give up a sack and have been opening up huge running holes for the team's potent ground attack. There really isn't any higher praise for an offensive line.
That said, I was tempted to give them a bit lower score because we haven't really seen them go up against a top-notch defensive line. However, they'll be doing just that later in the week against the Texas Longhorns.
For now, this rating stands, but their first real test against UT will go a long way in telling how far this OK State team can go.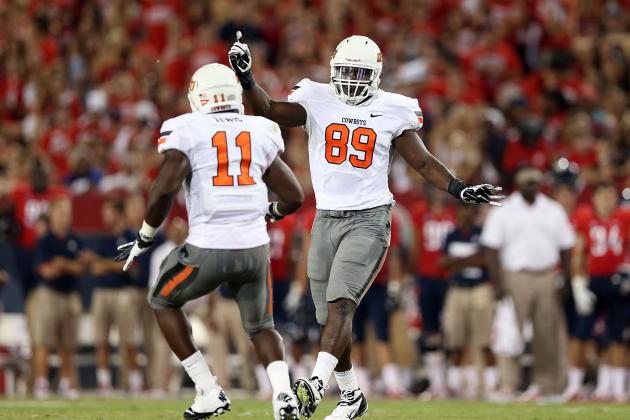 Christian Petersen/Getty Images

2012 Rating: B
The defensive line has been playing good football across the board. They've racked up 26 tackles for loss and planted the quarterback six times through three games.
They've been fairly stout in the running game so far too, giving up just three yards per carry on the season.
However, they also gave up four rushing touchdowns in the loss to the Arizona Wildcats, along with 156 yards to Ka'Deem Carey.
That is a little concerning for Cowboy fans because of the great runners that play in the Big 12. If they're giving up that many yards to Carey, how will they fare against guys like Collin Klein, Malcolm Brown and Damien Williams?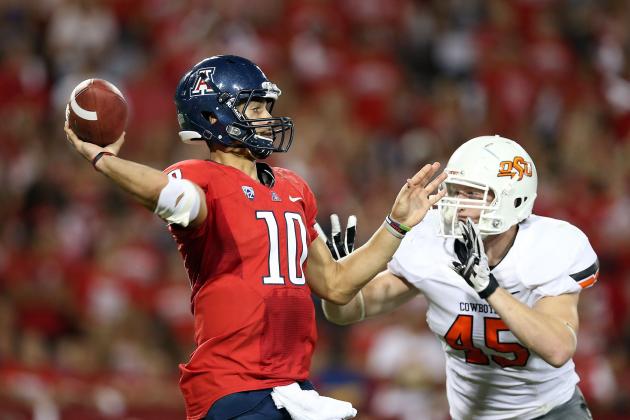 Christian Petersen/Getty Images

2012 Rating: B
It's hard to find fault with the linebackers outside of the previously mentioned yardage and scores given up to Arizona's Ke'Deem Carey.
They've been stout against the run and have come up to make big plays in the backfield. Shaun Lewis looks like the same stud he's always been, and Alex Elkins and Caleb Lavey have been making tackles all over the field.
The one spot I'd like to see them improve is in their ability to generate turnovers. We'll get more into this in the next slide, but it's important to remember that last year these three accounted for eight turnovers as opposed to a big, fat zero so far this year.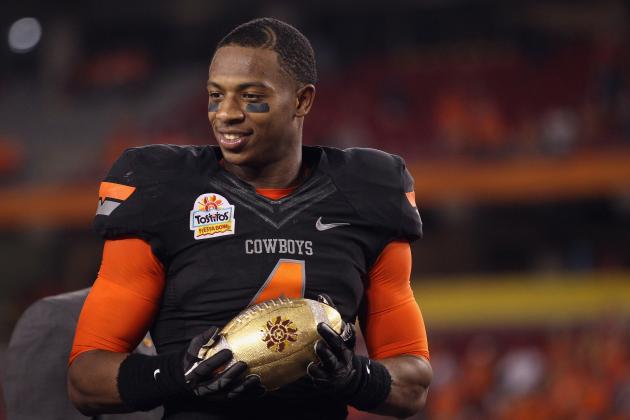 Christian Petersen/Getty Images

2012 Rating: C+
Ah, the defensive backs, widely regarded as one of the strongest units on the team because of their abilities to make big plays and force turnovers.
The same defense that forced nine turnovers through three games last year only has three so far in that same timespan. True, they've lost Markelle Martin, but I'd argue that a more experienced Broderick Brown and Justin Gilbert should more than make up for that.
Now, I could eat my crow really soon as interceptions can come and go in a blink of an eye. We could look up next week and see Brown and Gilbert each pick off David Ash twice, but for now, this is the weakest position on the OK State team because of how far its play has fallen off from last year.
I do want to make a quick note that I've been very impressed with Daytawion Lowe's play this season. He's really stepped into the role of the secondary's big-hitter well and looks like Martin's heir apparent.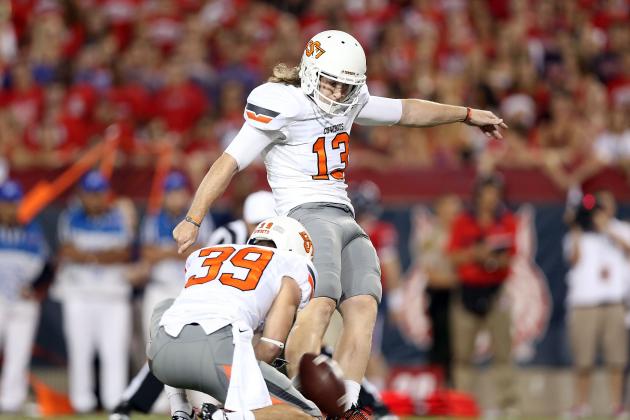 Christian Petersen/Getty Images

2012 Rating: A
For my money, there simple isn't a more valuable special teams player in the nation than Quinn Sharp.
The man is one of the best kickers and probably the best punter in the nation. He's absolutely dominant at both positions and gives the Cowboys a chance to win close games while winning the start of possession battle at the same time.
Not only that, but he doesn't even give team's a chance to return his many kickoffs. Of his 24 on the season, 21 have been touchbacks; that's just another weapon in Mike Gundy's deep arsenal.
The return team has been its usual self. The Cowboys have so many speedy players on the field that a different player could return kicks every single week and it wouldn't matter. True, they've only broken one big return, but more will come with time.