NCAA Football: The Most Intriguing Top 25 Matchups and Predictions: Week 5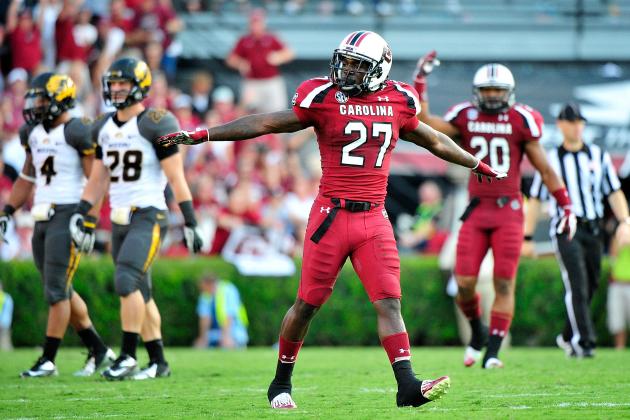 Grant Halverson/Getty Images

Last week, I underestimated the quarterback play from South Carolina, Florida State and Kansas State en route to going 15-4 in predicting Top 25 games. Connor Shaw and E.J. Manuel were fantastic, and both helped cement their teams' top 10 rankings.
On tap for this week, we've got a bevy of good Top 25 matchups that, while not as scintillating as last week's, should provide for an interesting weekend. Without further ado, here is the second installment of my predictions for the top 25 games of the week. Let the debate begin again!
Begin Slideshow

»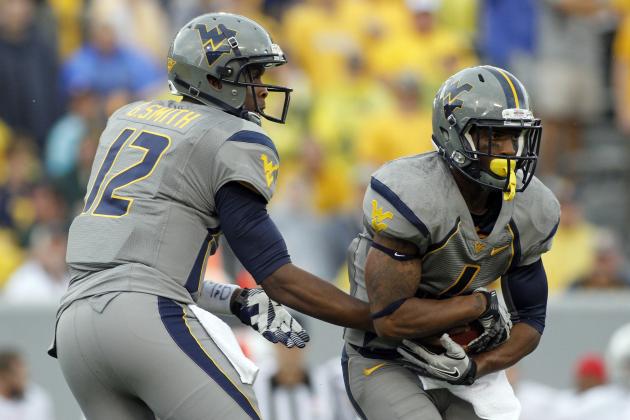 Justin K. Aller/Getty Images

Baylor has scored a lot of points in its first three games, and QB Nick Florence has done an admirable job replacing Robert Griffin III. It's looked good in all games, with the closest coming last week at Louisiana-Monroe, what would have been a warning sign were the Warhawks not as upset-minded as they've been this year.
Even though the Bears have lit up the scoreboard, the Mountaineers aren't lacking for firepower, and they've looked solid behind Heisman leader Geno Smith, who is doing his very best impersonation of RG3 this season. Smith's got the offense in Dana Holgorsen's blitzkrieg of a scheme, and he's got the playmakers in Tavon Austin and Stedman Bailey to absolutely slaughter defenses, a la Clemson in last year's bowl game.
The only real hope for Baylor is the fact that Maryland hung tight with the Mountaineers last week, eventually surrendering 31-21. WVU allowed a freshman quarterback to hang 309 yards on them with three TD's. The defense is vulnerable, but they also made plays, returning a fumble for a TD and intercepting the Terps.
Maryland has a top 10 defense at the moment, while neither WVU nor Baylor is in the top 50 in total defense, though, so the Bears may have a bit more trouble with the Mountaineers.
You don't just go into a hostile arena and knock a team with a Heisman-caliber quarterback around. If Baylor wants to win this, it'll have to continue to score a lot of points, and its defense will have to improve. I don't see a Baylor victory, barring a Geno Smith injury, but it should be an entertaining game.
West Virginia 31 Baylor 24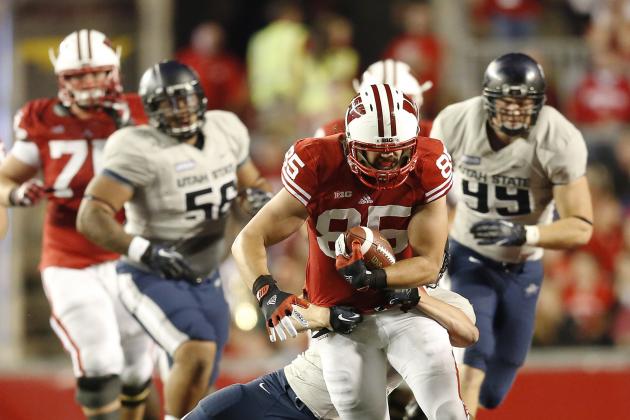 Tom Lynn/Getty Images

This game is a huge one for Wisconsin. After disappointing performances in the first four games of the season, this is the crossroads in their early season. Beating Nebraska will go a long way to restoring the Big Ten title hopes of the Badger faithful. The good news is that Nebraska is fallible. The bad news is that Wisconsin has looked dreadful.
The Badgers can't get Montee Ball going, and their Rent-a-quarterback program isn't having nearly the success it enjoyed last year with Russell Wilson at the helm. While they've sported a defense that's ranked 31 in total defense, they've racked that ranking up against inferior opponents, Oregon State being the lone competitive team that they've played.
Nebraska hasn't looked much better on defense, sporting a total defensive ranking of 51, but they've at least got their offensive act together, hammering teams they were supposed to and putting up a good fight against UCLA.
This may be Montee Ball's game, though, as Nebraska's run defense is nothing to write home about thus far this season. Of course, it helps if newly minted starter Joel Stave can take advantage of the secondary while the Huskers load up the box to stop Ball. If Wisconsin can present a balanced attack and use its excellent run defense (13th nationally, allowing 80 yards per game) to keep Taylor Martinez throwing, then they've got a chance.
I see an offense that is run through a running back who is behind one of the shoddiest lines Wisconsin has had in a while with a quarterback who hasn't exactly inspired fear in opposing secondaries (Danny O'Brien averages a shade under 170 yards per game, good for 110th out of 120 teams in the nation, and his replacement Stave has ZERO experience at the position) facing off against a hungry Nebraska team with a dynamic yet inconsistent quarterback and a top-five rushing attack.
I think Martinez makes enough plays to keep the Huskers rolling.
Nebraska 20 Wisconsin 14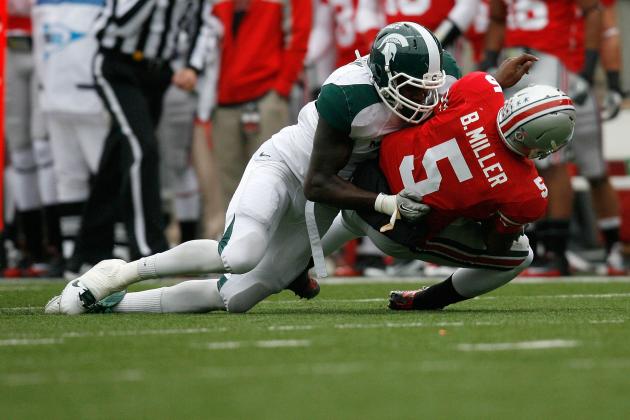 Kirk Irwin/Getty Images

College Gameday's location for this week is East Lansing, and with good reason. This is going to be a great game. Ohio State is an extremely talented team that has really struggled to blast teams the way it is expected to, while Michigan State is a team that is a good quarterback away from the top 10.
Braxton Miller is a great talent, and he is the guy that will have to get it done if Ohio State is to win this game. Expect defensive coordinator Pat Narduzzi to employ a defense geared to make Miller a passer rather than a runner, something he's had success with against Denard Robinson, and the MSU defense to carry the day.
Urban Meyer is still a year away from having his quarterback at the level required to run his offense flawlessly, and the defense is going to have to keep Le'Veon Bell on a leash, a tough task managed thus far only by Notre Dame and Central Michigan, though that may be generous, as Bell finished both games with 70 yards, adding a pair of TD's against the Chippewas. Ohio State's defense may be up to it, but this season, it has been suspect against the likes of UAB and Cal.
The key to this game will be Andrew Maxwell. He doesn't need to be spectacular, but he needs to manage this game and avoid costly mistakes to keep the Buckeye defense from swarming Le'Veon Bell. If he can do that, and I expect he can, Michigan State will walk away with a victory.
Any way you slice it, this will be a defensive battle. I'm going with the home team and the upset in this one.
Michigan State 13 Ohio State 7
Christian Petersen/Getty Images

After being throttled last week by Oregon, Arizona gets a chance at redemption against surprising Oregon State. After a poor season last year that included a loss to Sacramento State, the Beavers look like they may not be a top-25 team, but they'll definitely be competitive in the Pac-12.
These teams sport the top two quarterbacks, statistically in the Pac-12 this season, though both are coming off of minor injuries. Matt Scott injured his hip, and Rich Rodriguez wasn't able to use Scott in the rushing game the way he had in the past. Sean Mannion suffered a minor shoulder injury, but looks ready to play at Arizona.
The Beavers are sporting the No. 2 rushing defense in all of college football, which could pose some problems for Rodriguez's Wildcats, as his brand of the spread offense tends to be pretty dependent on a good run game. This game is essentially going to establish a Pac-12 contender and a Pac-12 pretender, and I'm willing to bet that the pretender is Arizona.
Kudos to Rich Rod for putting together the season thus far, but the defense will be too much for his Wildcats this weekend in Tucson.
Oregon State 20 Arizona 6
Jonathan Daniel/Getty Images

Upset alert! Texas is a team I believe to be over-ranked. It has a solid defense, but I am simply not sold on David Ash as a quarterback (show me a quality opponent he's played, and don't you dare say Mississippi). Sure, Oklahoma State lost to Arizona, who just got obliterated by Oregon, but Texas hasn't played anybody special, and they did just give up 31 points to Ole Miss.
Oklahoma State has the benefit of playing at home in Stillwater to go along with solid metrics across the board. It's got the sixth-best rushing offense in the nation and the second-best passing offense. It's got the 40th-ranked defense, and it is hungry and extremely motivated after its loss to Arizona.
On the other side of the coin, Texas weighs in at 34 on total defense, 13 on rushing offense and 44 on passing offense. Texas fans may be excited, but this team isn't as good as its ranking suggests, and it's too much to ask for it to walk into Stillwater and burn Oklahoma State.
Oklahoma State 27 Texas 21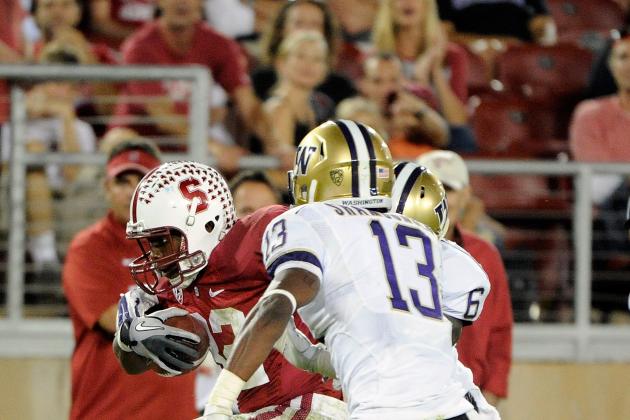 Thearon W. Henderson/Getty Images

This is an interesting game, and possibly the Pac-12 game of the week. Stanford has the No. 1 defense in the nation against the run, which would normally give it a big advantage, except that the Steve Sarkisian-led Huskies don't seem to be all that intent on running the football.
Keith Price showed last year that he is a big talent at quarterback, and though he has had a rough go of it this year, he could explode at any moment. Meanwhile, Josh Nunes has been steady and poised in his first three games, but all were at home. It remains to be seen whether he will be as cool and collected in what promises to be a thundering environment.
Look for Stanford to slow the game down and jam Stephan Taylor down the throat of the Washington defense, while Washington looks to score and score quickly. Stanford's trouble at the start of the season against San Jose State has been largely forgotten in the wake of the USC victory, but a Washington team playing confidently and at home could very well pull the upset.
Having said all of that, I believe that Taylor will be too much for the Huskies, and while Stanford may not be the eighth-best team in the country this season, it'll beat Washington.
Stanford 31 Washington 21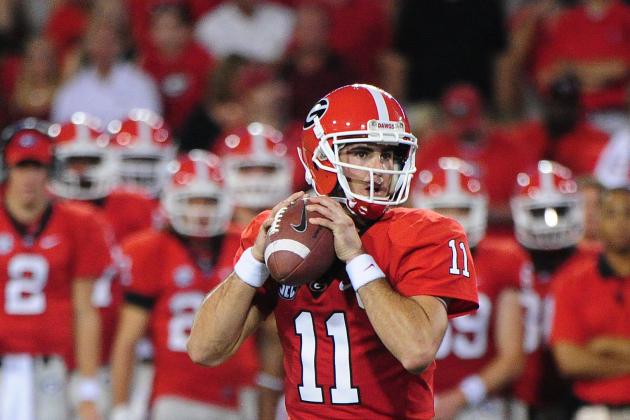 Scott Cunningham/Getty Images

This one is in Sanford Stadium and Georgia is playing very well this season, so Tennessee has its work cut out for it.
What I see in Tennessee is a big-time quarterback in Tyler Bray with a couple of weapons in Cordarelle Patterson and Justin Hunter. What I don't see is the big-time defense. It's been pretty porous against fairly mediocre competition and gave up a lot of points to a Florida offense that, while improving, was unimpressive against poor competition early on.
The Volunteers did hang 20 points on Florida's defense, which I believe to be one of the better units in the SEC, though, so that is a positive.
What I see in Georgia is the most talented quarterback in the SEC, Aaron Murray, and a ferocious defense filled to the brim with playmakers. This team is built to contend, and the game against South Carolina next week will be fantastic.
However, it needs to get past Tennessee first. If Georgia overlooks the Vols, there's a whole lot of shine that comes off of that matchup.
Don't be surprised if Tennessee pulls the upset, but I'd look for Georgia to remain in the top five.
Tennessee will stay competitive but Georgia won't go down this week.
Georgia 24 Tennessee 21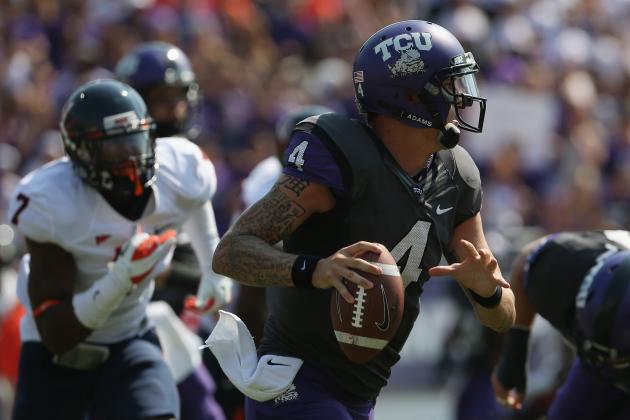 Ronald Martinez/Getty Images

No. 1 Alabama 42 Mississippi 6: Alabama is too good to lose this one, or even make it close.
No. 2 Oregon 52 Washington State 10: Mike Leach is going to get a taste of his own medicine as Oregon rolls up a point total that'll make gas prices feel low.
No. 3 LSU 38 Towson 0: I don't know where Towson is, and after this shellacking, I'm not sure they'll know either.
No. 4 Florida State 42 South Florida 14: The Seminoles look like the real deal. The Bulls do not.
No. 6 South Carolina 27 Kentucky 3: Kentucky fans just waiting for basketball season.
No. 15 TCU 23 SMU 13: Mustangs keep it interesting, but Frogs hop on to victory.
No. 17 Clemson 41 Boston College 21: Clemson's got no problem putting points up, it's keeping them off that's the difficult part.
No. 19 Louisville 31 Southern Mississippi 7: Cardinals romp as Golden Eagles never really get going.
No. 24 Boise State 27 New Mexico 13: Boise continues to roll against unworthy opponents.