Notre Dame Football: Grades for the Positional Units at the 1st-Quarter Mark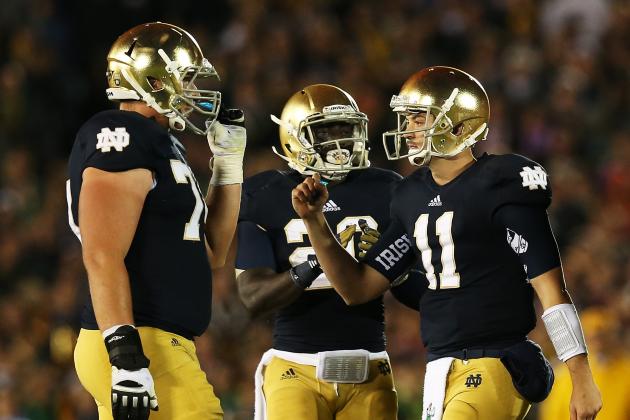 Jonathan Daniel/Getty Images

Time has zoomed by like a bullet train, as the Fighting Irish of Notre Dame have completed the first quarter of the 2012 season.
Brian Kelly's 4-0 group is a markedly improved squad over last season's bunch thanks in large part to an impenetrable defense that hasn't been seen in South Bend in well over a decade.
The Irish's offense and special teams remain works in progress, but have done just enough to stay afloat.
It's time for the report card, ladies and gentlemen.
Begin Slideshow

»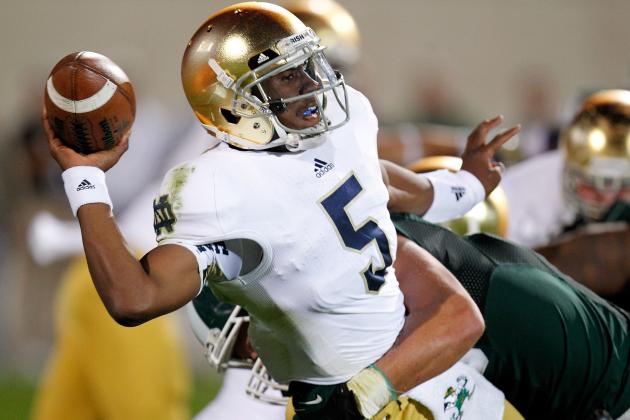 Gregory Shamus/Getty Images

No matter how Brian Kelly attempts to spin it to the media, the Fighting Irish find themselves in the midst of another quarterback controversy.
Notre Dame fans had their wishes granted when Kelly named Everett Golson as his starting quarterback during the week leading up to the season-opening contest versus Navy, but those warm and fuzzy feelings wouldn't last long.
Against Purdue, Golson was relieved by Tommy Rees on the game's final drive, prompting Kelly to deem Rees as Notre Dame's "closer." This is football, not baseball, right?
Then, on Saturday, Rees played both the role of long reliever and closer during the Irish's 13-6 victory over the visiting Michigan Wolverines, only adding more fuel to the fire of discussion of this controversy.
Either way you frame it, neither quarterback has played exceptional football thus far. Rees and Golson have combined to give the Irish average quarterback play, which simply won't be enough for Notre Dame to transform its BCS dream into a reality.
The combined statistics from both quarterbacks are as follows:
61-for-106, 791 yards, 4 TD's, 4 turnovers
That's all I need to see to dole out a grade here.
Grade: B-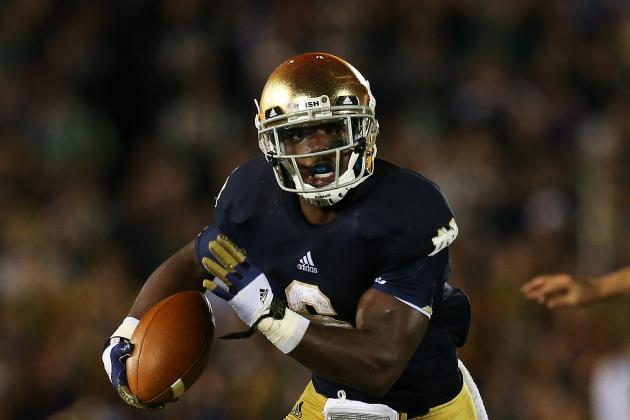 Jonathan Daniel/Getty Images

Notre Dame's running backs have had a rough go of it through four games, particularly because of defensive play-calling and spotty play from the offensive line, which I'll discuss later.
Theo Riddick began the season as the starter at running back, dazzling in Week 1 against Navy as he cut and slashed his way to 107 yards and two scores. It has been tough sledding ever since for Riddick and his fellow running backs.
Since that opening victory in which the Irish accumulated 293 net rushing yards, Brian Kelly's squad has slugged its way to 268 rushing yards in the following three games.
The good news here is that the running backs have done an excellent job of protecting the football, as no turnovers have originated from the group.
There is bad news, though.
George Atkinson, one of the Irish's most explosive playmakers, has been a relative non-factor in the past three weeks, garnering a measly 10 carries for 47 yards, 32 of which came on one carry against Michigan State.
Cierre Wood has also been quiet during his first two games back from suspension. An odd sequence occurred on Saturday evening against Michigan, as Wood was benched for all but five seconds of the second quarter and didn't receive another carry until the eight-minute mark of the third quarter.
No matter what may be transpiring behind closed doors, Brian Kelly must find a way to get Atkinson and Wood more touches down the stretch. Theo Riddick simply can't be a one-man show.
Grade: C+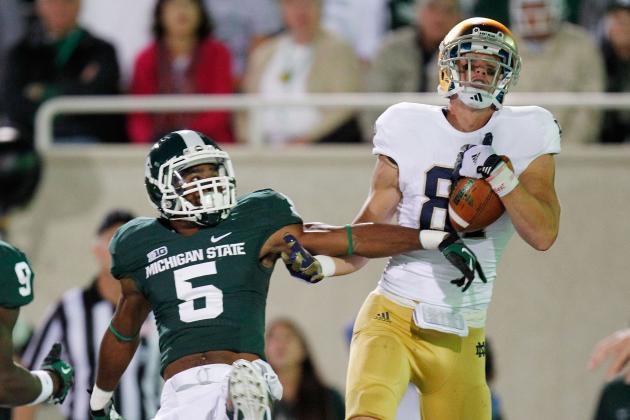 Gregory Shamus/Getty Images

A bulk of the discussion during the offseason centered around life without Michael Floyd for the Irish offense.
Sure, Floyd will always be missed, but his absence hasn't been a death sentence for the offense, as some proposed that it may be.
The most pleasant surprise of the post-Floyd era has been red-shirt freshman DaVaris Daniels, who leads all Irish receivers with 159 reception yards through four games.
Daniels has been joined by TJ Jones and Robby Toma as the lead trio of receivers for the Irish offense. Their numbers aren't impressive by any means, but remember that offensive coordinator Chuck Martin has barely cracked open his enormous playbook.
If Everett Golson remains as Notre Dame's starting quarterback, expect to see him boost the receivers' numbers as he gains confidence operating the offense.
Grade: B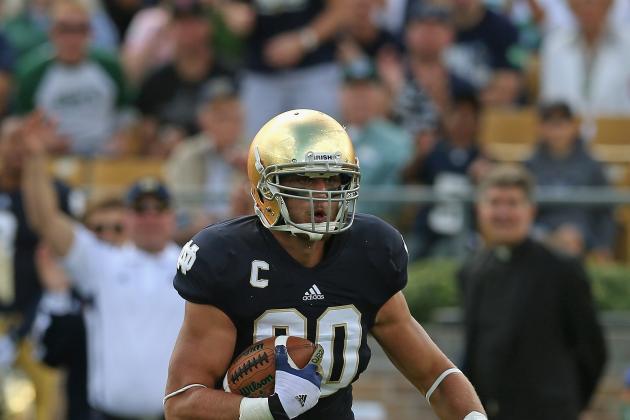 Jonathan Daniel/Getty Images

Entering a season in which the Irish placed the offense in the hands of a first-year starter, having the nation's best receiving tight end on the roster is a significant help.
Tyler Eifert turned down a lucrative NFL contract to return to school for his senior season, giving Notre Dame one of the most unique, dynamic pass-catchers in college football.
Because he creates extreme matchup problems in single coverage, opposing defenses have been keen to double cover the 6'6", 260-pound tight end. Both Michigan State and Michigan did an excellent job of taking away Eifert as a threat, as he recorded just one reception for 38 yards against the Spartans and Wolverines.
Part of Eifert's near silence has been his tremendous ability as a run-blocker, leaving Troy Niklas and Ben Koyack as the only two available pass-catching tight ends.
Head coach Brian Kelly has been reluctant to split Eifert out wide because of Koyack's poor blocking skills, which the third-year head coach openly admitted need work.
Grade: B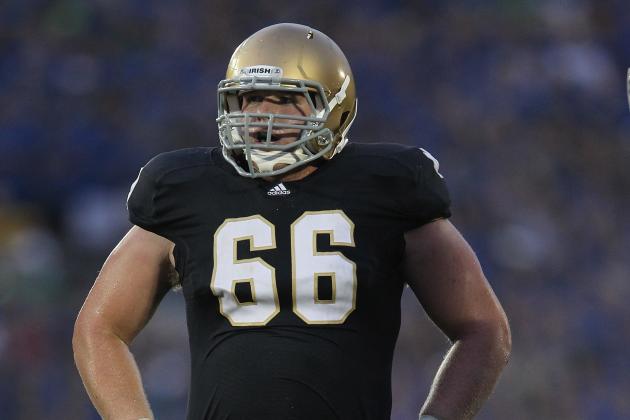 Jonathan Daniel/Getty Images

Perhaps Notre Dame's most embattled unit through four games, the offensive line has seemingly regressed from a dominant 2011 season.
It has been rather unfortunate news for the Fighting Irish, who were expected to have one of the nation's elite offensive lines during the current season, especially with three of five starters returning.
The line was exposed against Purdue, giving up five sacks, the same amount the group allowed in the first nine games of last season. Credit is owed to that Purdue defense for formulating and executing a masterful game plan.
Danny Hope's Boilermaker squad made the decision to stack the box with eight to nine defenders at a given time, making life increasingly difficult on the Irish offensive line.
Despite the line being outnumbered, certain players, particularly Mike Golic, Jr., were physically and mentally outdueled by a highly underrated Purdue defensive line. Golic and Co. have the bye week and a not-so-challenging game against Miami to prepare for a Stanford defense that will be its toughest test of the season.
Grade: C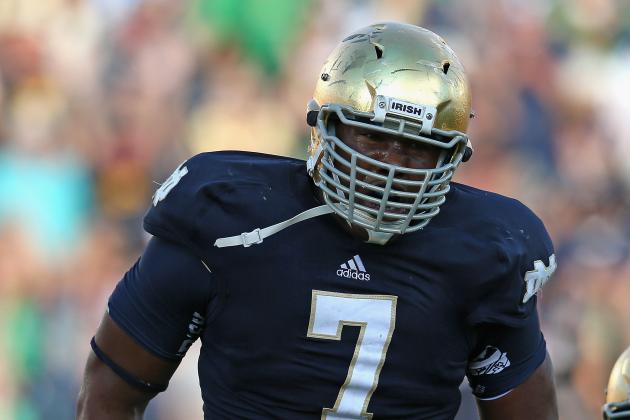 Jonathan Daniel/Getty Images

If you're searching for concrete reasons behind Notre Dame's impressive 4-0 start to the season, look no further than the play of the Irish defensive line.
Stephon Tuitt has spearheaded the defensive renaissance, having recorded five of the Irish's 14 sacks through four games. His unlikely counterpart along the defensive line has been true freshman defensive end Sheldon Day, who has contributed two sacks thus far.
Tuitt and Day also owe nose guard Louis Nix credit for their success, as the mammoth junior commands double-teams from opposing offensive lines because of his ability to break through even the most stout fronts.
Those three have combined to form a fearsome trio, leaving fifth-year senior Kapron Lewis-Moore out of the equation because of a mild calf strain. The injury bug has also bitten backup defensive end Chase Hounshell, who has been battling a shoulder injury. Once those two return to form, great depth will exist at both defensive end spots.
Grade: A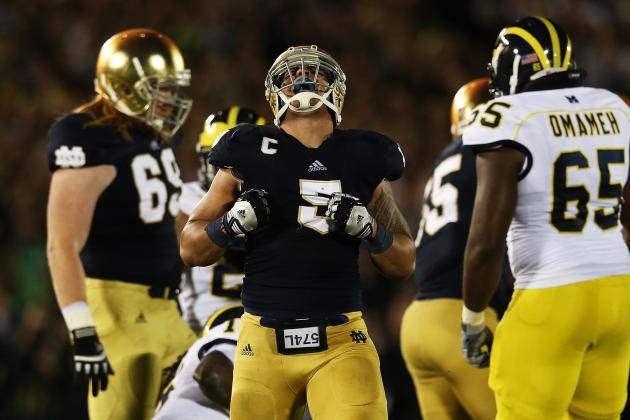 Jonathan Daniel/Getty Images

Led by senior Manti Te'o, Notre Dame's linebackers have been a vastly improved group from a season ago.
It has been an evolution of sorts for the group, as Te'o, Prince Shembo, Dan Fox and Danny Spond have each become remarkably better players over the course of a year. Te'o's name has even begun to circulate in the Heisman Trophy conversation, as the Hawaiian native leads the team in tackles with 36. He has also intercepted three passes and recovered one fumble.
Te'o's astounding and inspired play has been complemented well by Prince Shembo, who has become an increasingly feared pass-rusher, being tied with defensive end Stephon Tuitt for most sacks with five.
Fox, who entered the season as an excellent run-stopper, has showed improvement in pass coverage during the first quarter of the season. It was an area in which Fox received more than his fair amount of criticism in 2011.
Grade: A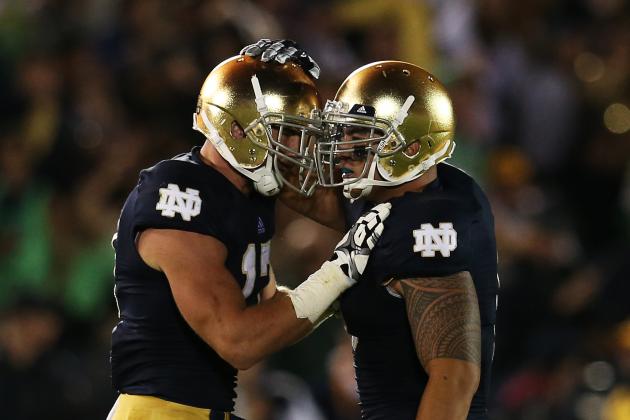 Jonathan Daniel/Getty Images

The Irish secondary was supposed to be picked apart and exposed by the likes of Purdue, Michigan State and Michigan, no?
It was a raw, inexperienced unit that had no business playing well during the first quarter of the season. Well, it proved the doubters and critics wrong by allowing an average 178.75 passing yards in the Irish's four consecutive wins to open the season.
Some may say that number is skewed because of Notre Dame's first four opponents not necessarily known for throwing the ball all over the yard. However, those naysayers must remember that the Irish are starting two cornerbacks who had no experience entering the season.
Add in the fact that fifth-year safety Jamoris Slaughter—a player the Irish simply couldn't afford to lose—was lost for the season to a torn Achilles tendon early in the Michigan State game, and you have in front of you one of the youngest secondaries in the country.
The unit has, far and beyond, exceeded expectations.
Grade: B+