MMA: 10 Awesome Submission Wins to Show the New Fight Fan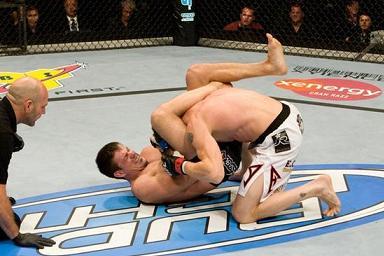 Courtesy of urdirt.com
Are your friends still uncertain if they want to watch mixed martial arts? If so, it's possible that they can't get past the imagery of two dudes rolling around on the mat and "grinding" their way to victory.
While ground work can occasionally be a chess match in which fighters wait for their opponents to make a mistake, some grappling affairs can be both thrilling and dangerous.
Just like dipping your toe into the pool to check the temperature, new fans need to be introduced to the sport slowly, and with the right supervision. To help them appreciate the amazing art of submission, we have put together a short list of fights that they should watch.
Here is a look at 10 awesome submission wins to show the new fight fan.
Begin Slideshow

»
Courtesy of cagepotato.com
At UFC 117, Anderson Silva faced Chael Sonnen in one of the most one-sided fight in MMA history. For nearly 23 minutes, Sonnen used his wrestling to control position and hammer away on Silva, who struggled to put together any offense in the fight.
That is, until the incredible triangle choke that ended it all.
This submission is important to show new fans because it allows them to see that, even in the modern age of MMA, where fighters are familiar with multiple styles of combat, that a well-placed submission can bring you back from the brink of defeat, no matter how grim things might appear to be.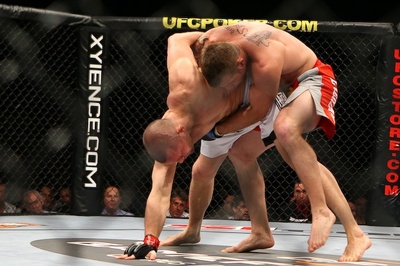 Courtesy of theballetofviolence.com
Submissions can come from anywhere. Unfortunately for Brian Foster, he found that out the hard way when Chris Lytle was able to transition into a kneebar from a standing position, with Foster in control of his back.
An article from MMAmania gives us an excellent breakdown of how Lytle was able to catch his opponent off guard, and earn a $50,000 bonus for submission of the night. Within that same article, you can view a .gif image of the fight-ending maneuver.
Courtesy of MMAfightopinion
Be prepared for anything. It's an important motto that fighters often live by. Your opponent can surprise you with an unpredictable game plan or maybe even a rarely seen submission.
The latter was the case when fans saw the rematch between The Korean Zombie and Leonard Garcia in March 2011.
Late in the second round, Jung was able to secure a twister: a difficult-to-execute hold that had never been seen in the UFC, and has not been performed since.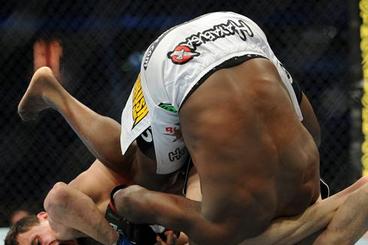 Courtesy of cagepotato.com
Any submission that includes the word "flying" should immediately grab your attention. It ensures that whatever comes next will be flashy, and breathtaking if properly executed.
You could tell me that Georges St-Pierre is going to unleash the flying pancake salad in his next fight, and I would get pretty excited to see it go down.
The lighter weight classes don't get enough credit for finishing fights. If featherweight Pablo Garza has his way, that mentality will be debunked as quickly as possible.
The Ultimate Submissions guys at MMAmania also covered the incredible flying triangle from Garza at UFC 129, and a .gif image of the finish can be seen at the link.
Speaking of flying submissions, there is no way that we can discuss them without including the last legitimate loss in Anderson Silva's career.
Ryo Chonan is a sneaky man who was able to catch The Spider off guard, and he nearly left the arachnid with only seven legs.
If you've never seen the video before, you likely won't catch the subtle techniques that Chonan applies, but it's something you'll love watching again and again.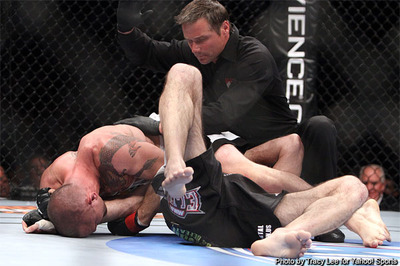 Courtesy of Tracy Lee for Yahoo Sports!
Securing a submission against a high level fighter such as Matt Brown is a feat to be proud of. The fact that Chris Lytle was able to simultaneously perform two holds against Brown is absolutely incredible.
In a UFC 116 fight that could have won both Fight of the Night and Submission of the Night, Chris Lytle and Matt Brown went to war.
Ultimately, Lytle's grappling would be superior, as an inverted triangle was established from side control, and a straight armbar was then added into the equation for good measure.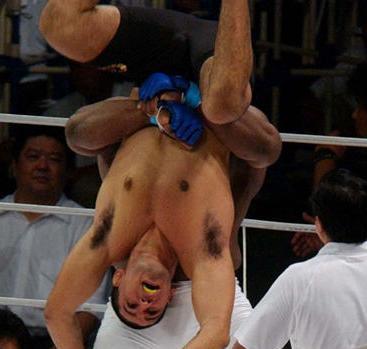 Courtesy of club.ntu.edu.tw
At one point in time, Bob Sapp wasn't considered to be a walking punchline. In 2002, Sapp was the undefeated muscleman who seemingly murdered PRIDE heavyweight champion Antonio Nogueira with an epic piledriver-style maneuver.
Nogueira would overcome the turmoil and rally in the second round to secure an armbar against his much-larger opponent. This submission helped to solidify the unbreakable image of of the champion, and it reminds us that technique triumphs over size.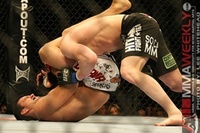 Courtesy of MMAweekly.com
Chael Sonnen may be one of the best takedown artists in mixed martial arts, but it was the Oregonian who found himself thrown to the mat in a 2009 bout with Demian Maia.
Using an under/over grip from the clinch, Maia hit a lateral drop on Sonnen and immediately used flawless jiu-jitsu to transition into mount. Only seconds later, Maia had secured position and rolled into a triangle choke.
Once again, we return to the guys at Ultimate Submissions to break down this incredible display of jiu-jitsu prowess. Their breakdown discusses the technical aspects of what happened and includes a .gif image of the action.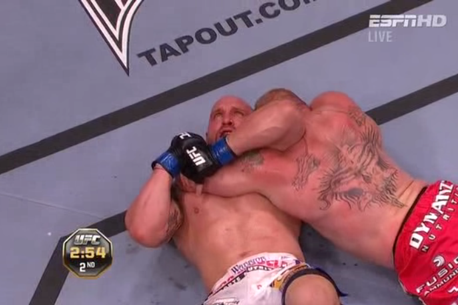 Courtesy of Sherdog.com
You guys didn't think I'd let the jiu-jitsu guys have all the fun, did you? While BJJ artists are known for their submission game, there are some wrestling-based holds that deserve representation.
At UFC 116, Brock Lesnar showed us a sub that many wrestlers are incorporating into their arsenal, and for good reason.
By trapping the head and arm of Carwin and rotating his body towards the head of his opponent, Lesnar tightens this choke until "The Engineer" is left with this look on his face, and no choice but to tap out.
While Bellator isn't the most known entity in the MMA world, they are known for spectacular bouts and highlight-reel finishes. We look to an early battle between Toby Imada and Jorge Masdival for the final submission on this list, as it could very well be the greatest submission of all time.
The video above features highlights from the fight, and the epic submission hold, as Imada has the mental presence to lock in a no-arm submission while elevated in the air.
Masvidal doesn't appear to be aware of the danger he is in, as the blood choke causes him to pass out while standing with his opponent clutching his back.