Big Ten Basketball: Cody Zeller and the Conference's Top 70 Fantasy Players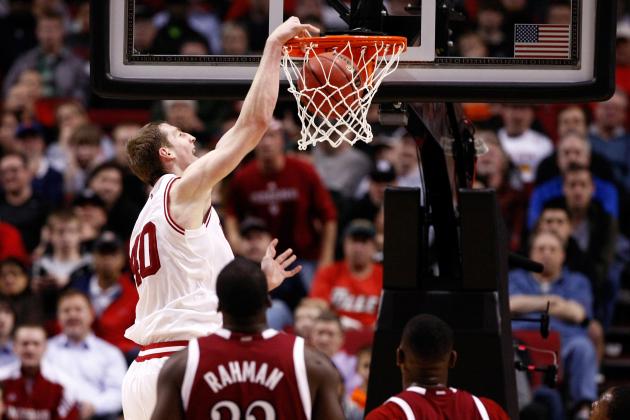 Jonathan Ferrey/Getty Images

Expectations are incredibly high for the upcoming season in regards to Big Ten basketball teams. Indiana should be the top-ranked team to start the year, while Michigan, Michigan State and Ohio State all could find spots in the Top 10. On top of that, Wisconsin and Minnesota could be Top 25 squads.
Northwestern, Purdue and Iowa all believe they can reach the Field of 68 as well, while Illinois, Penn State and Nebraska are in rebuilding stages with newer coaches. Although it lost some talented seniors, it's tough to see any other conference as deep and strong as the Big Ten.
The rankings of these 70 players are based on a Big Ten Conference mock draft that I participated in this past Sunday evening, along with 10 others. The draft went six rounds and your roster contains two guards, two forwards, a center and a utility, one of which must be a freshman.
Previously, I wrote about a Big East mock draft that I oversaw. But as a huge Big Ten fan who also primarily writes articles on the conference, I found the Big Ten draft to be more exciting.
There are three fantasy statistics that players are based on: points, rebounds/blocks combined and assists/steals combined. So, while a player's fantasy value may not be the same as their overall value as a player and to their team, this should offer a unique look at the players the Big Ten has to offer in 2012-13.
Begin Slideshow

»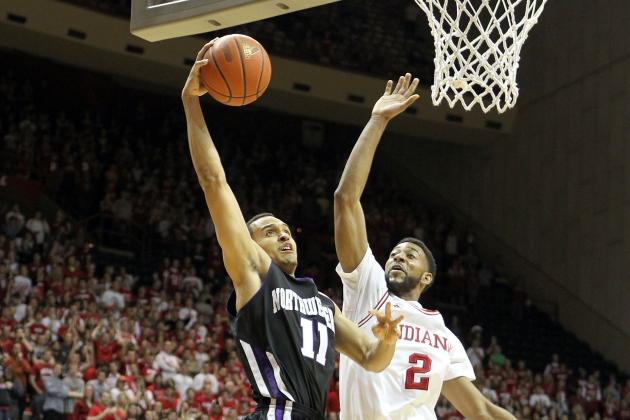 Andy Lyons/Getty Images

70. Nikola Cerina, F (Northwestern)
69. Tracy Abrams, G (Illinois)
68. Andre Almeida, C (Nebraska)
67. Reggie Hearn, G (Northwestern)
66. Ben Brust, G (Wisconsin)
65. Josh Oglesby, G (Iowa)
64. Evan Ravenel, F (Ohio State)
Of these seven, it's hard to say any were drafted too early considering they were the last seven selections of the draft.
Cerina and Almeida are the biggest question marks after not playing last season. Ravenel likely will come off the Buckeye bench again this year.
Oglesby and Brust are pure shooters, but won't light up the rest of the columns with big numbers. Abrams will be the Illini's starting point guard, but he is more of a defensive-minded player. Hearn could be a nice pickup now that JerShon Cobb will miss this season.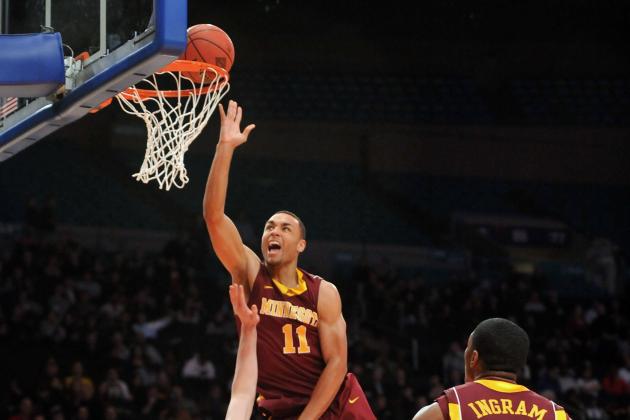 Jason Szenes/Getty Images

63. LaQuinton Ross, F (Ohio State)
62. Anthony Johnson, G (Purdue)
61. Sam McLaurin, F (Illinois)
60. Mike Gesell, G (Iowa)
59. Julian Welch, G (Minnesota)
58. George Marshall, G (Wisconsin)
57. Joe Coleman, G (Minnesota)
Coleman and Welch are both talented players who are capable of putting the ball in the basket, but they may take away from each other's playing time this season.
Marshall and Gesell could both find themselves starting at point guard for their respective teams as freshmen.
Ross has been getting high praise this offseason, even without receiving much playing time in Columbus a year ago. McLaurin comes to Illinois from Coastal Carolina and could be the team's best interior player, while Johnson finds himself in a crowded Boilermaker backcourt.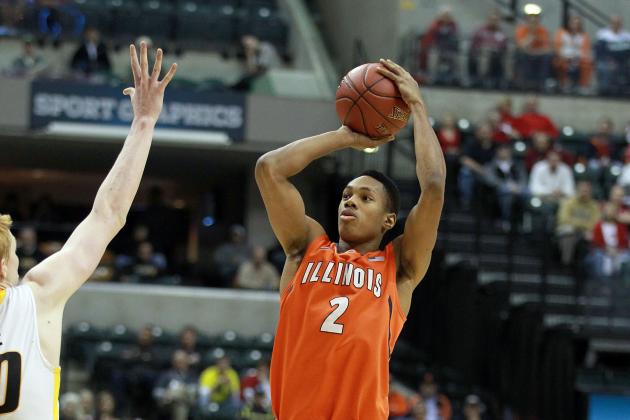 Andy Lyons/Getty Images

56. Tyler Griffey, F (Illinois)
55. Elliott Eliason, C (Minnesota)
54. Joseph Bertrand, G (Illinois)
53. Jared Swopshire, F (Northwestern)
52. Austin Hollins, G (Minnesota)
51. Dylan Talley, G (Nebraska)
50. D.J. Newbill, F (Penn State)
Griffey is the most overvalued player of these seven. After starting at the beginning of his junior year, the now-senior may have trouble finding minutes under John Groce.
Eliason's playing time could be determined by Trevor Mbakwe's health, while Swopshire was a great transfer pickup for Northwestern.
Bertrand shined at the end of last season and could be a nice steal here. Newbill also is a transfer (from Southern Mississippi) and could be Penn State's second or third option offensively.
Hollins and Talley both have the ability to score from the outside as well as slashing to the hoop.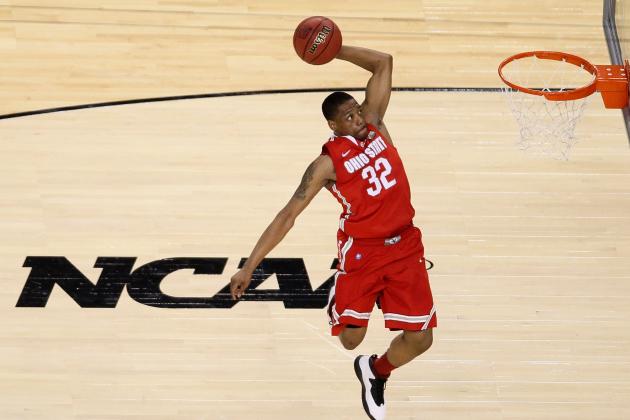 Ronald Martinez/Getty Images

49. Ross Travis, F (Penn State)
48. Frank Kaminsky, C (Wisconsin)
47. Will Sheehey, G/F (Indiana)
46. Jeremy Hollowell, F (Indiana)
45. Ronnie Johnson, G (Purdue)
44. Nick Stauskas, F (Michigan)
43. Lenzelle Smith, Jr., G (Ohio State)
Travis and Kaminsky both have talent, but their playing time is still up in the air. For that matter, Sheehey's time is also up in the air, as he is part of a deep and talented IU roster with Hollowell. Stauskas will likely be Michigan's sixth man and has the ability to play multiple positions.
Smith Jr. broke out in the NCAA tournament a year ago and is poised to have a monster junior season alongside Aaron Craft and Deshaun Thomas. Johnson, the younger brother of Terone Johnson, is the heir apparent to Lewis Jackson for the Purdue starting point guard role.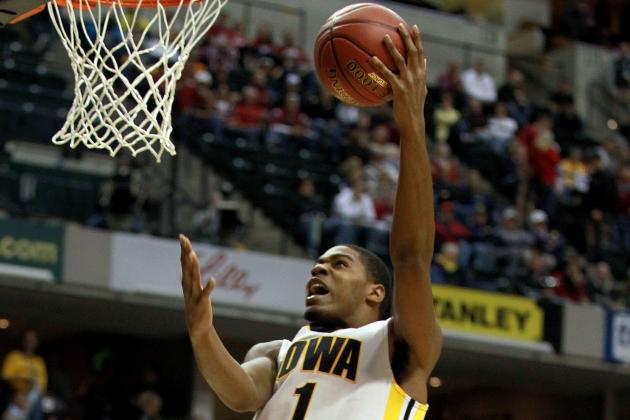 Andy Lyons/Getty Images

42. Terone Johnson, G (Purdue)
41. Melsahn Basabe, F (Iowa)
40. Josh Gasser, G (Wisconsin)
39. Alex Olah, C (Northwestern)
38. D.J. Byrd, G/F (Purdue)
37. Jordan Morgan, F (Michigan)
36. Mike Bruesewitz, F (Wisconsin)
Terone, the older brother of Ronnie Johnson, could be the first or second option for the Boilermakers this year with D.J. Byrd. Olah was a surprise pick, as Northwestern hasn't had a big man like him in quite some time. Basabe was an enigma last year and needs to be more consistent as a junior.
Gasser does all the little things for the Badgers, even if they don't show up in the box score at the conclusion of the game. Morgan's primary role for Michigan will be to defend and rebound, as will Bruesewitz's for Bo Ryan and the Badgers.
Harry How/Getty Images

35. Amir Williams, C (Ohio State)
34. Jermaine Marshall, G (Penn State)
33. Brandon Ubel, F (Nebraska)
32. Yogi Ferrell, G (Indiana)
31. A.J. Hammons, C (Purdue)
30. Glenn Robinson III, F (Michigan)
29. Branden Dawson, F (Michigan State)
Although he played behind Jared Sullinger last year, Williams showed some raw talent in the NCAA tournament when Sullinger had to sit because of foul trouble. Hammons could start at center for Purdue, a position it desperately lacks at this point.
Robinson and Ferrell are both talented freshmen who should make an instant splash in the Big Ten.
Marshall has the ability to score and rebound, and could be a part of a very underrated trio of players with D.J. Newbill and Tim Frazier. Ubel is Nebraska's top returning player, while Dawson needs a full recovery from his ACL injury to lead the Spartans after losing Draymond Green to graduation.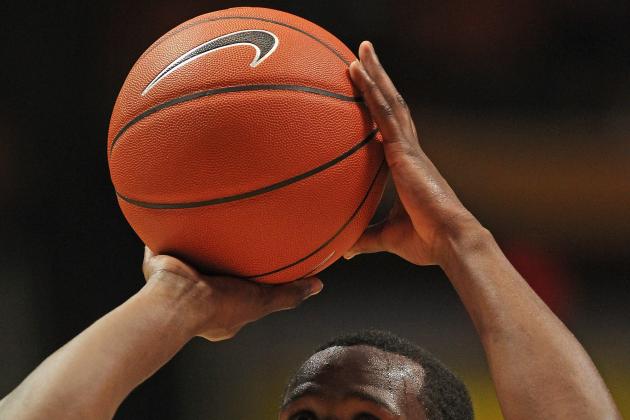 Jonathan Daniel/Getty Images

28. Sam Dekker, F (Wisconsin)
27. David Sobolewski, G (Northwestern)
26. Andre Hollins, G (Minnesota)
25. Adam Woodbury, C (Iowa)
24. D.J. Richardson, G (Illinois)
23. Zach McCabe, F (Iowa)
22. Derrick Nix, C (Michigan State)
Dekker is the best recruit Bo Ryan has secured in quite some time, leaving expectations high in Madison. Sobolewski is terrific at keeping care of the ball, but won't have John Shurna to pass to this season. Nix needs to stay away from off-the-court issues to have a successful senior season.
Hollins could be one of the Big Ten's more underrated players after an outstanding NIT last March. Woodbury and McCabe head a suddenly deep Iowa frontcourt, and for Illinois, Richardson needs to become the player he was his freshman season—shooting from the three-point line and driving to the tin.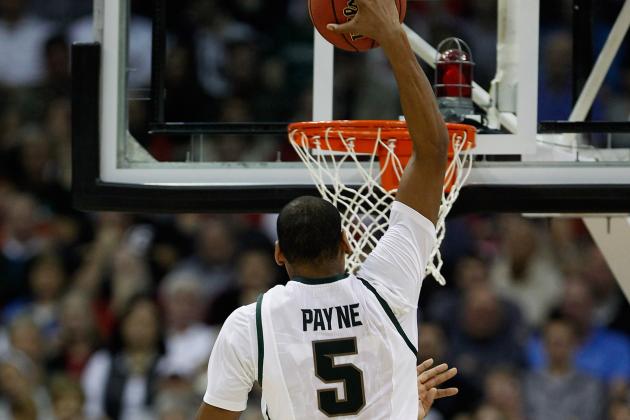 Rob Carr/Getty Images

21. Aaron White, F (Iowa)
20. Victor Oladipo, G (Indiana)
19. Gary Harris, G (Michigan State)
18. Adreian Payne, F/C (Michigan State)
17. Keith Appling, G (Michigan State)
16. Jared Berggren, F/C (Wisconsin)
15. Jordan Hulls, G (Indiana)
White also is a part of that same Iowa frontcourt, although he could play more small forward as a sophomore. Oladipo is one of the top athletes in the league, while his teammate, Hulls, is one of the top shooters. Berggren looks to build on a strong junior season for a Wisconsin team that is now without Jordan Taylor.
Harris, Payne and Appling make up a trio of Spartan selections from Nos. 17 through 19. Harris, a highly touted freshman, makes this MSU team more athletic than last year's squad. Payne's game now offers a mid-range jump shot, while the offense will now run through Appling in the post-Draymond Green era.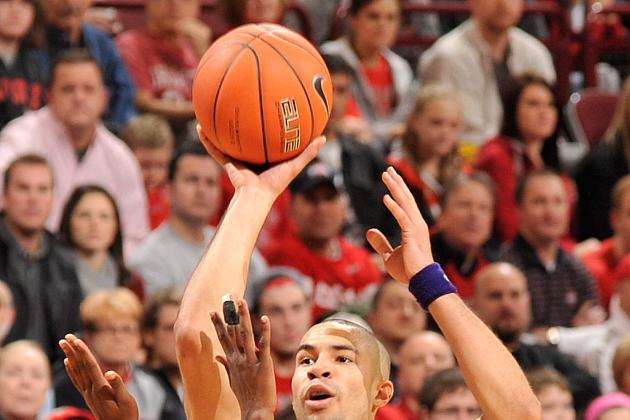 Jamie Sabau/Getty Images

14. Roy Marble, G (Iowa)
13. Rodney Williams, F (Minnesota)
12. Aaron Craft, G (Ohio State)
11. Tim Hardaway, Jr., G (Michigan)
10. Christian Watford, F (Indiana)
9. Ryan Evans, G/F (Wisconsin)
8. Drew Crawford, G/F (Northwestern)
Marble is Iowa's Mr. Everything and could become a stat-sheet stuffer. Williams is the league's best high-flyer, while Craft is the best on-ball defender.
Hardaway Jr. needs to establish his role early on a young and talented Michigan squad.
Watford is the most experienced player on a Hoosier squad that is seeking a Final Four this year. Evans, though undersized for his position, is an extremely efficient rebounder and can score as well. Crawford also could load the box score with stats, and he hopes to get NU to their first-ever NCAA tournament.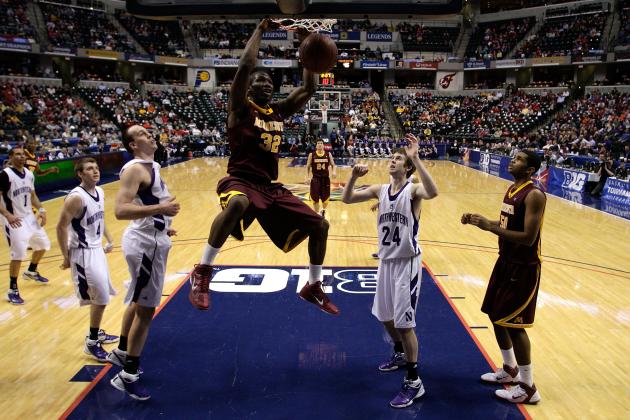 Andy Lyons/Getty Images

7. Deshaun Thomas, F (Ohio State)
6. Brandon Paul, G (Illinois)
5. Mitch McGary, F (Michigan)
4. Trey Burke, G (Michigan)
3. Tim Frazier, G (Penn State)
2. Trevor Mbakwe, F/C (Minnesota)
1. Cody Zeller, F/C (Indiana)
Thomas is as pure of a scorer as there is in this conference. Paul has the skill set to do great things as a senior in Champaign, but he needs to limit his erratic play.
McGary was a stretch at the No. 5 pick, although he now provides John Beilein with a legitimate scoring threat on the inside. Burke will be the player distributing to McGary while also looking for his own shot.
Frazier is the conference's best triple-double threat, and everything runs through him for the Nittany Lions. Mbakwe is a walking double-double, assuming he can stay healthy this year.
Zeller is a solid choice at No. 1, although improving his rebounding numbers slightly would be a help to IU.