The Minnesota Twins may be well below .500 and far removed from the playoff picture, but make no mistake:
Any time the New York Yankees come to town it's a big series.
It's a battle of two philosophies:
The Yankees are a business—historically putting forth the funds necessary to put the best product on the field.
The Twins are a family—historically putting faith in their prospects and trying to keep the best players in the minor league system together long enough to win in the playoffs.
And, historically, the business has always trumped the family. The '09 and '10 flags left on the Jumbotron in Target Field are a constant reminder of that.
***
The Bombers drew first blood on Monday, with Derek Jeter scoring on a Robinson Cano RBI.
Jeter scores on Cano's ground out. And the scoring begins

—

LaVelle

E. Neal III (@LaVelleNeal) September 25, 2012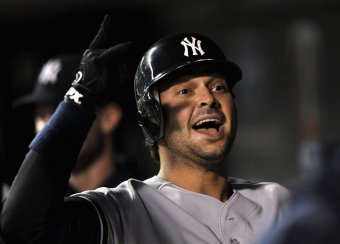 Hannah Foslien/Getty Images
The next batter, Nick Swisher, scored Ichiro Suzuki on a two-run bomb off of pitcher Liam Hendriks that hit the panel screen in right field.
#twins need to get nyy off their schedule. never seems to work out for them.

— Jon

Heyman

(@JonHeymanCBS) September 25, 2012
Minnesota responded right away.
In the bottom frame, leadoff hitter Denard Span drove Andy Pettitte's second pitch into left field, and the speedy Ben Revere reached first on an infield single to put two men on early.
After Joe Mauer lined out to left, Josh Willingham drew a walk to load the bases for Justin Morneau, who struck out looking.
I don't know if the 2-1 or the 2-2 to Morneau was a ball, but I think one of them had to be.

— Joe

Sheehan

(@joe_sheehan) September 25, 2012
Hannah Foslien/Getty Images
Ryan Doumit grounded into a fielder's choice to end the inning.
A potential shootout was stymied early.
Things chugged along steadily until the bottom of the third, when Mauer singled to right with Span on to put men on the corners for Willingham…
Who grounded into a double play.
Again Pettitte kept the Twins offense at bay.
"You don't see that he's in trouble at any time," Twins manager Ron Gardenhire said of Pettitte.
"He just keeps going about his business and making pitches."
In the fourth, Curtis Granderson knocked a solo shot into the upper deck in right field, as if to punish Minnesota for giving New York a scare in the third.
"I thought it was away enough," said Hendriks, "it just wasn't and he just hit that ball a ton."
The homer was his 40th, making him only one of five Yankees to hit 40 dingers in back-to-back seasons.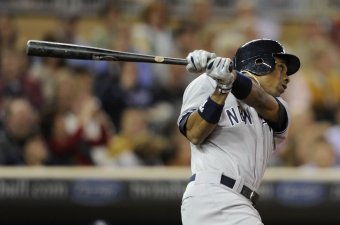 Hannah Foslien/Getty Images
His company: Babe Ruth, Lou Gehrig, Mickey Mantle and Jason Giambi.
But the Twins struck again in the bottom of the fourth. Doumit doubled to right-center with one man out and Jamey Carroll appeared to score him on a single, but he was called out at home.
Doumit argued the call incessantly before Gardenhire stepped in and sent him to the dugout—and then gave home plate umpire Paul Nauert a piece of his mind.
In the seventh, Ibanez practically put the nail in the coffin, hitting a home run that flew past the right-field seats. And Eric Chavez couldn't help but to join in the fun, placing another solo shot into the flowerbed in left field.
"Too many balls over the plate," said Gardenhire. "I don't know how many they hit, but I know it was too many."
That ended the night for Hendriks.
The four home runs he gave up were the most a Twins pitcher has given up in a game this year.
Pettitte had a good night, leaving the game after six innings of shutout baseball.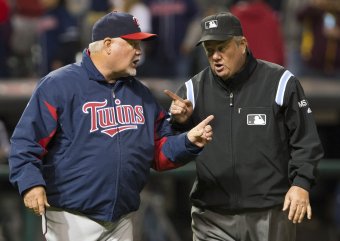 Jason Miller/Getty Images
RT @yankeeswfan: 88 pitches for 6 scoreless innings. Handshakes all around for Andy Pettitte.

— Jordan

Garretson

(@jordangarretson) September 25, 2012
Pedro Florimon provided the only Twins offense of the night, hitting a solo shot off of Yankee reliever Cory "I'm not Dwyane" Wade over the scoreboard in right field in the eighth.
It was his first career home run.
And then in the ninth, Chris Parmelee, a new father, hit a triple as a pinch-hitter to score two runners.
The most successful Yankees that night were established players: Jeter, Pettitte and Granderson.
The most successful Twins that night are still getting their feet wet: Florimon and Parmelee.
The final score: New York 6, Minnesota 3.
The Yankees took care of business on Monday.
All quotes were obtained firsthand.
Tom Schreier writes a weekly column for TheFanManifesto.com.