Texas A&M Football: The Good, the Bad & the Ugly from the Aggies First 3 Games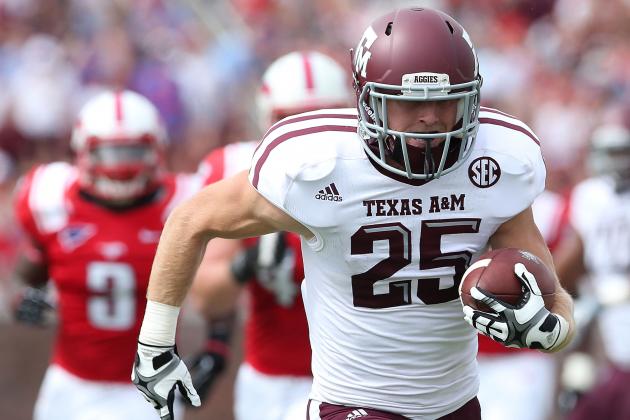 Ronald Martinez/Getty Images

The Texas A&M football team has completed the first quarter of the season with a 2-1 record. The Aggies lost their season opener to the University of Florida, but won their next two contests against SMU and South Carolina State.
The Aggies need five more wins in their remaining nine games in order to qualify for a bowl in Kevin Sumlin's first year as the head coach at A&M.
There have been plenty of surprises and a few disappointments in their first three games. Some players have stepped up while stars from previous seasons have disappointed.
This is a look at the good, bad and ugly from the first three games of the Aggies' season.
Begin Slideshow

»
Ronald Martinez/Getty Images

The redshirt freshman quarterback from Kerrville, TX has exceeded all expectations. On the season he has completed 67 percent of his passes for 213 yards per game with seven touchdowns and no interceptions.
Manziel has proven to be the Aggies' best running threat averaging 87 yards per game on almost seven yards per carry. He has scored five touchdowns rushing.
Manziel is still learning the offense and how to go through his progressions, but he is the biggest offensive threat the Aggies have right now. Once he puts it all together on the field, the Aggie offense should be something to behold.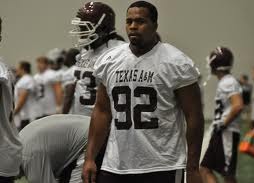 Photo by 247sports.com
Heading into the season, Mathis was expected to start at defensive tackle and be a difference maker on the interior for the Aggies' defensive line. Mathis is not a starter at defensive tackle or nose tackle.
He has played in all three games, but only has three tackles tallied for the season. Mathis was viewed by many as the only "SEC-type" defensive tackle on the roster. Through the first three games, he has had a very limited impact.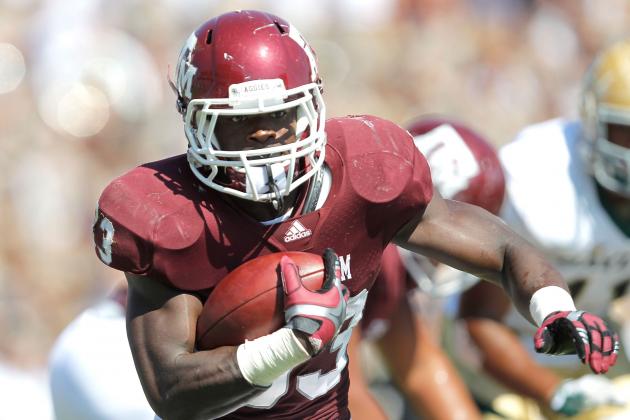 Sarah Glenn/Getty Images

Texas A&M has had to deal with a few suspensions in their first three games. Steven Jenkins and Howard Matthews were suspended for the Louisiana Tech game, but then the game wasn't played and their suspensions were postponed until October.
Senior running back Christine Michael and senior safety Steven Campbell were suspended for the SMU game. It is always disappointing when your team leaders violate team rules.
The bottom line is the players know what they need to do in order to remain in the good graces of the coaches. They just need to take care of business off the field so they can help the Aggies succeed on the field.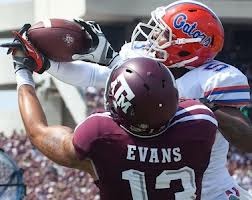 Photo by theeagle.com
Redshirt freshman wide receiver Mike Evans has probably been the biggest surprise of the season so far. He leads the Aggies in receiving with 18 receptions for 224 yards.
Evans did not play football until his senior year of high school. As a 6'5", 200 lb small forward, he was not drawing the interest of major colleges for basketball. He played football at Ball High School in Galveston, TX his senior year and attracted the attention of Mike Sherman.
Evans beats out Nate Askew for a starting spot at wide receiver and has surprised many with how quickly he has adapted to the college game.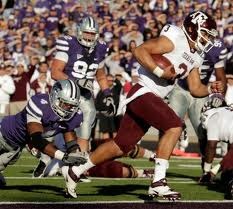 Photo by chron.com
Jameill Showers had a very poor game against SCSU. He completed only two of 10 passes against the Bulldogs and threw the first interception of the season for A&M.
Showers lost a tight battle for the starting quarterback spot to Manziel. The Aggies need to be able to count on him as a backup in case Manziel is injured. He needs to play much better than he did against SCSU.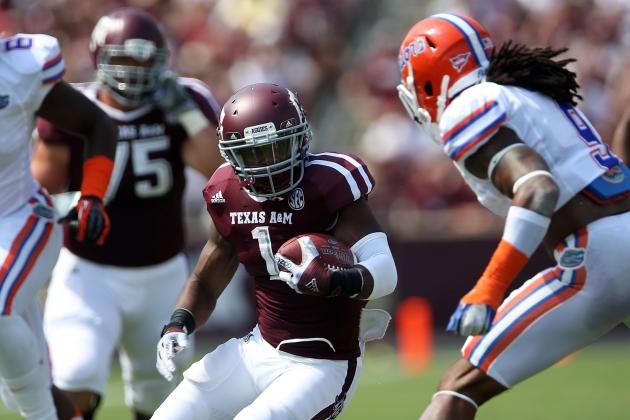 Ronald Martinez/Getty Images

The Aggies' running backs have been a disappointment so far this season. Christine Michael has only rushed for 59 yards on 20 carries with one touchdown through the first three games.
That would qualify as a poor half for him in a normal game. He missed six of the 12 quarters the Aggies have played while serving a suspension, but he has not been very effective when he is on the field.
Ben Malena is averaging 6.6 yards per carry and has scored two touchdowns, but those numbers are inflated by his 50 yard touchdown run against SCSU.
So far the running backs have been the biggest disappointment of the season for the Ags.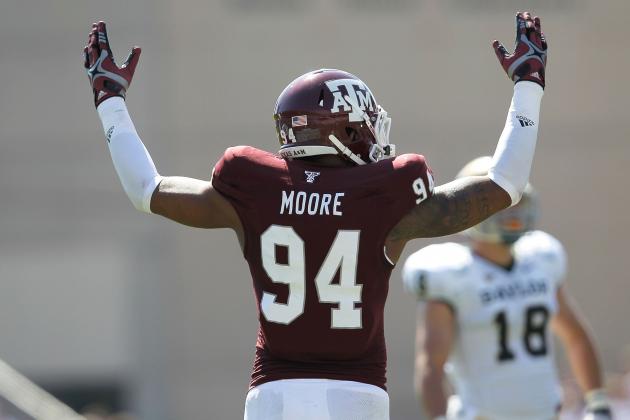 Sarah Glenn/Getty Images

Damontre Moore has made the transition from outside linebacker to defensive end without any ill effects. He has been the Aggies' best defensive player through the first three games.
Moore is second on the Aggies with 22 tackles and leads the team in tackles for loss with eight and sacks with six. He is playing as well as any defensive end in the country right now.
If he plays at this level for an entire season, he'll be an All-American.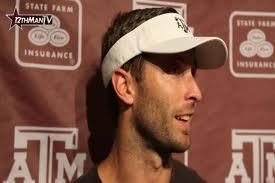 Photo by aggieathletics.com
The Texas A&M offense has not hit its stride yet. They are among the national leaders with 462 yards and 45 points per game, but they still do not really have an identity.
The spread offense is supposed to methodically advance the ball down the field with a controlled passing attack. So far, the Aggies do not march down the field. They score their points through big plays.
Manziel is slowly learning the offense, and as he gets better, so will the offensive efficiency. Right now, the offense relies on Manziel creating and improvising. Against the better defenses, they are going to have to simply execute.
It is anyone's guess as to whether they will be able to.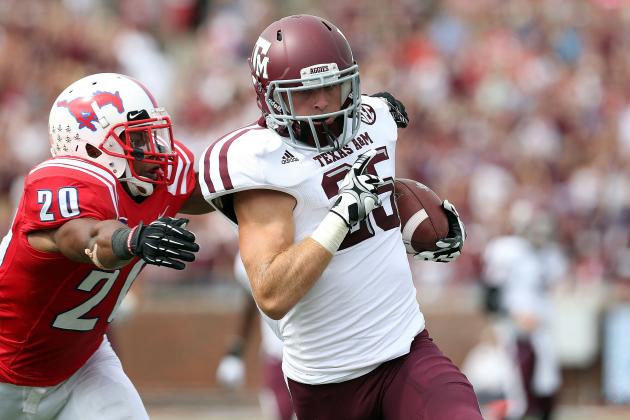 Ronald Martinez/Getty Images

This offense was supposed to be perfect for Ryan Swope. The senior slot receiver was supposed to excel in an offense that features two slot receivers in its base formation.
Instead, Swope has struggled to find his niche in this offense. He has caught 12 balls for only 95 yards and a touchdown. That puts him on a pace to catch 48 passes for 380 yards and four touchdowns for the season.
To put those numbers into perspective, Swope caught 11 passes for 206 yards and four touchdowns last year—against Baylor.
The coaches need to find ways to get the ball to Swope while on the move. He is one of the best receivers in the nation. The coaches need to work on incorporating him into this offense.