After four weeks of action, it looks like college football fans are doomed to endure yet another postseason dominated by the silver spoon-toting powerhouse programs that we have all grown to loathe.
Despite losing eight players to the NFL draft, including five taken in the first 35 picks, Alabama somehow looks like the best team in college football—again. Alabama runs one of the most exciting offensive schemes in the country, keeping the ball on the ground on 65 percent of its plays and throwing off play action the other 35 percent.
Also near the top is another team full of offensive demons, LSU, which exploded for 12 points to beat Auburn over the weekend. Neither team has a single player among the top 100 receivers in the nation.
Southeastern Conference fans, myself included, have convinced themselves that they actually enjoy watching these glorified wrestling matches that have final scores that look more like baseball games, but in reality, we all love the high-flying offenses run by big-armed quarterbacks and offensive-minded coaches who have a bit of a flair for the dramatic.
However, the rest of the fans around the nation have been quick to voice their displeasure in the dominance of the "Superior in Everything Conference." These fans deserve a savior.
Well, who might that savior be?
It could be Chip Kelly and Oregon. The Ducks certainly fit the bill in the coaching and high-flying offense department. They have some pretty fresh uniforms and shiny helmets that look even flashier when DeAnthony Thomas is streaking down the field so fast he just looks like a moving Nike swoosh.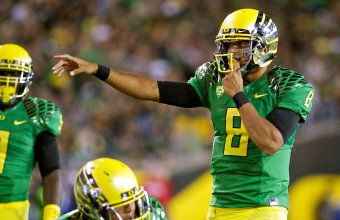 Craig Mitchelldyer/Getty Images
Unfortunately, at least half of the country can't even pronounce the name of Oregon's quarterback Marcus Mariota. Hint: It's "mar-ee-oh-tah," as seen on the fifth page of Oregon's game notes document.
Regardless, Oregon had its chance to break the streak a couple of years back, but the Ducks were Cam Newton'd (yes, that's a verb).
Another possible savior could be Florida State. Quarterback E.J. Manuel may end up challenging for the Heisman Trophy if FSU is in the thick of the national title race at season's end. However, the Seminoles had their time, too—in the 1990s. Only Lee Corso wants to see FSU be the team to take down the SEC.
Enter Manuel's biggest challenger for the Heisman: West Virginia quarterback Geno Smith.
Led by Smith, the Mountaineers are the bona fide triple-threat college football fans have been longing for.
Lots of points? Check. Star quarterback? You got it. Coach with an affinity for Red Bull-charged scoring assaults? Without a doubt.
Smith is all alone at the top of the Heisman watch list with no serious contenders in his wake at this point in these season.
The senior has thrown 12 touchdowns, as many as any other quarterback in the country, while averaging more than 350 yards per game, second to only Marshall quarterback Rakeem Cato.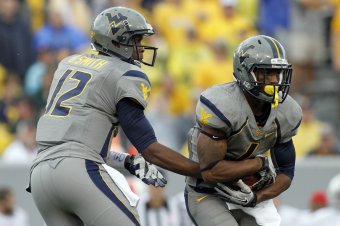 Justin K. Aller/Getty Images
He is also the only quarterback in the nation with a completion percentage greater than 80 percent and he hasn't thrown a single interception in 118 attempts this season.
The Miramar, Fla. native is a charismatic leader under which two undersized receivers have blossomed into full-fledged stars.
Tavon Austin and Stedman Bailey, standing at 5'9" and 5'10", respectively, rank in the top eight in the nation, both averaging more than 100 yards per game.
Through three games, it looks like they sat down at the beginning of the season and decided which of them would do well in which game, like two high school girls who call each other and plan their outfits.
Both of their official biographies from WVUSports.com read "One of the nation's top playmakers," and it's clear Bailey and Austin aren't opposed to taking turns.
In the last two games, they each put on an eerily similar show in which they carved up two opposing defenses.
Bailey was first, going for a school-record 13 receptions, 173 yards and three touchdowns against James Madison. The following week, Austin, a Baltimore native, just had to one-up his teammate against his home-state Maryland Terrapins, registering 13 receptions, three touchdowns and 179 yards.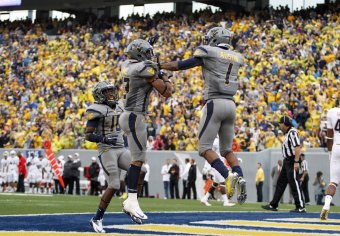 Justin K. Aller/Getty Images
This trio of Smith, Bailey and Austin may be better than any other three offensive teammates in the nation.
Behind the madness is one of college football's most prominent offensive masterminds and one of the best coaching personalities in the nation, Dana Holgorsen.
West Virginia fans love Holgorsen and his high-flying offensive scheme, which right now ranks in the top 10 in the country in scoring offense, No. 14 in total offense and No. 3 in passing offense.
With Holgorsen's up-tempo offense being run with precision by Smith and company, the Mountaineers could challenge even the most talented defenses in the country.
Sure, teams like Alabama, LSU and Georgia have strong defensive fronts and playmaking secondaries, but they also haven't seen a complete offensive package like this one.
West Virginia has already proved that its offense can succeed against one of the nation's best defenses in the country. Last year, LSU went to Morgantown, and WVU notched almost 150 more yards than any other team against the Tigers.
The Mountaineers netted 533, including 463 through the air. Alabama recorded the second-highest total in its second time seeing the LSU defense, but the 384 yards put up by the Tide weren't even close to what WVU did.
The Oregon Ducks? They weren't even close, either, even with an experienced quarterback and a Heisman Trophy-contending running back. UO registered just 335 yards of total offense, nearly 200 less than WVU.
The Mountaineers have proven that they can score on anyone and, now that they're in the Big 12 Conference, they'll garner enough attention and respect to make it to the top of the BCS.
Make no mistake, kids from West Virginia are out to shake up the SEC-dominated status quo in college football—and they have the talent to make it happen.