B.J. Upton, Nick Swisher Head Class of Free Agents Who Make Sense for Phillies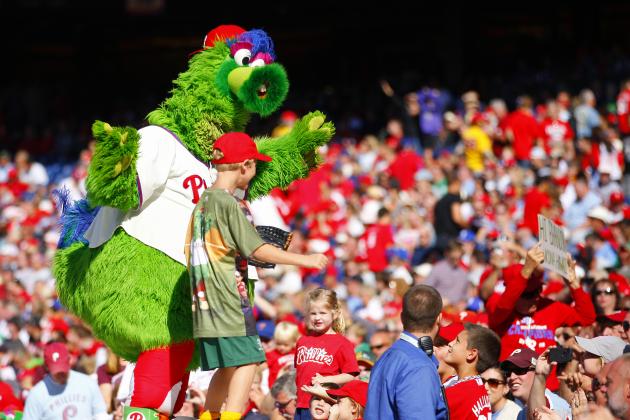 Rich Schultz/Getty Images
See all those people in the seats? They didn't come to watch Kevin Frandsen and Erik Kratz.
Ruben Amaro Jr. had best already be thinking about how to improve the Phillies through free agency.
Despite what was an entertaining September flurry of wins, the Phillies are about to miss the playoffs for the first time since 2006. The trades of Shane Victorino (soon to be a free agent) and Hunter Pence (arbitration eligible this offseason) brought the Phillies modest returns in terms of prospects and bench depth at the major league level.
What those trades really did, though, was save the Phillies from committing another eight figures to Pence and from a possible fan push to re-sign Victorino for too many years and too much money.
Make no mistake: the Phillies cannot dive head-first into the free agent pool this offseason. Ryan Howard, Cliff Lee, Cole Hamels and Roy Halladay are on the books for nearly $100 million in 2013. Chase Utley, Jimmy Rollins and Jonathan Papelbon will get just shy of $38 million more among them.
The Phillies will pay more to those seven players than all but four clubs this season (New York Yankees, Phillies, Boston Red Sox, Los Angeles Angels of Anaheim) paid to their entire teams.
Still, the Phillies' payroll was $174 million entering 2012. There should be room for at least one marquee signing.
Looking at the team, they may need to dig even deeper than that. Here are five players the Phillies should consider signing this winter.
Begin Slideshow

»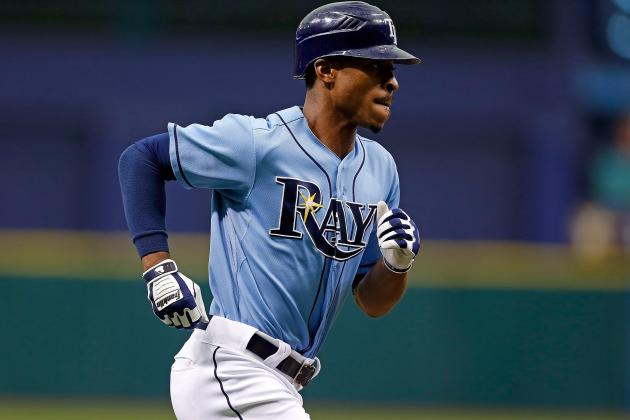 J. Meric/Getty Images
Even with his flaws, Upton would likely flourish with the Phillies.
Upton is one of those players who carries his potential around his neck like an anchor. Fans see the strikeouts (1,008 of them in 3,531 at-bats) and the iffy batting average (.256 career) and lament "what he could be."
Ask Phillies fans about Jimmy Rollins and you might get a very similar reaction.
Teams will be better served this offseason focusing on what Upton is: a legitimate power/speed threat at a premium position. At 28, Upton is coming into his prime right now, and his 26 home runs and 30 steals so far this season prove that point.
Upton is going to cost some team a lot—a lot—of money. But he figures to cost less than Josh Hamilton or Michael Bourn and the Phillies cannot survive any longer with John Mayberry Jr. faking it in center.
The Phillies should take a serious look at Upton.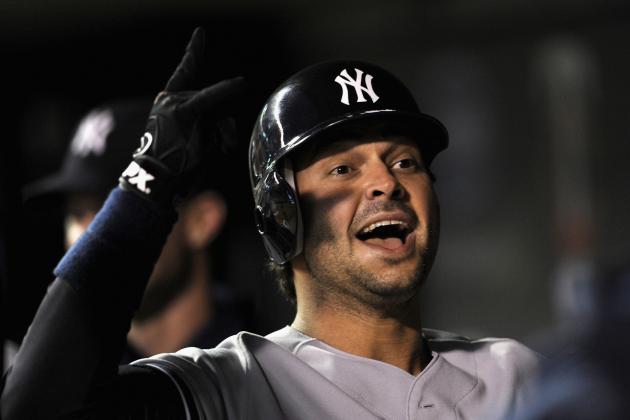 Hannah Foslien/Getty Images
He hits home runs. Sometimes that is enough.
Yes, I have read the stories about Swisher looking for Jayson Werth money this offseason. As far as I am concerned, that is very good news for the Phillies because there's no way that Swisher will see that kind of money in free agency.
The main reason? Werth's deal has been an abject disaster for the Washington Nationals, who are succeeding despite Werth and not at all because of him.
For the past three seasons, Swisher has been a 20+ home run, 85+ runs batted in, .260ish hitter who is hard to get out of the lineup. His production is dependable, if not spectacular.
Swisher would be a wonderful source of protection in the lineup for Howard and he would find the small dimensions of Citizens Bank Park as satisfying as the short, right field porch in the Bronx.
So the Phillies should let Swisher ask for $126 million and seven years. Then, after Swisher hears crickets, they can come in and make him an offer in line with his value.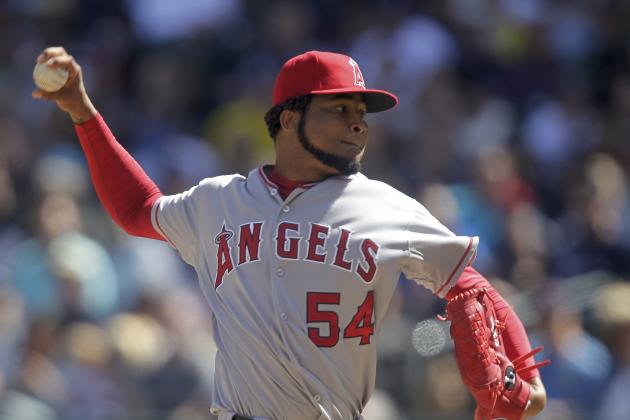 Stephen Brashear/Getty Images
Big Erv would look good in Phillies red, too.
With three $20+ million contracts in place for Halladay, Hamels and Lee, a high-profile free agent signing from the starting pitching ranks is beyond unlikely. So it will not be Zack Greinke.
But the Phillies have to wonder what they will get out of Halladay in 2013 given his remarkably mediocre performance this season. For all the Phillies know, Halladay may be injured. Even if Halladay is healthy, if 2012's healthy output is what the Phillies can expect, Halladay is their third starter. And after that, it gets ugly quickly.

You can buy into Kyle Kendrick's last two months. My response would be that he does this every year—he is either lights out for the Phillies, or he turns their lights out. Every year. And Tyler Cloyd is a soft-tossing right-hander. He is Greg Maddux without the stuff or the location.
Bottom line: the Phillies need another arm in the rotation for 2013. Santana might be had for a reasonable number as he will be coming off two straight subpar years for a good Angels team. A move to the National League might be the best thing for his career.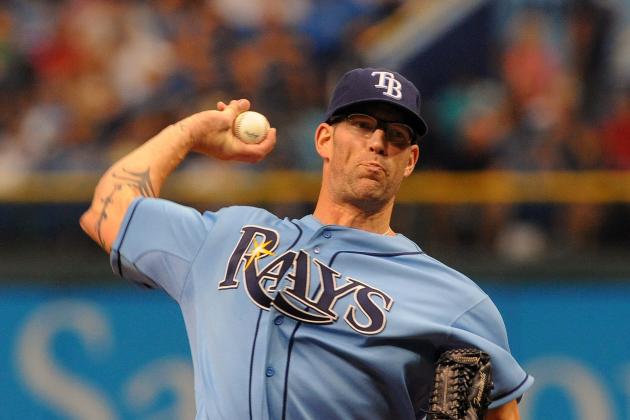 Al Messerschmidt/Getty Images
If he does not insist on closing, he would be very useful in Philadelphia.
In 2011, Farnsworth saved 25 games for the Rays and it looked like he would not be going anywhere anytime soon.
Then he started 2012 with an elbow strain and lost the closing role to the suddenly-and-shockingly dominant Fernando Rodney. Farnsworth is 1-6 and is largely a forgotten man in Tampa.
The Phillies have spent 2012 looking for someone, anyone, to get them through the eighth inning so Jonathan Papelbon can earn his $11 million closing games.
It does not need to be Farnsworth. Grant Balfour or Brandon League might also make sense. Ultimately, the Phillies should find someone with closer experience willing to set up.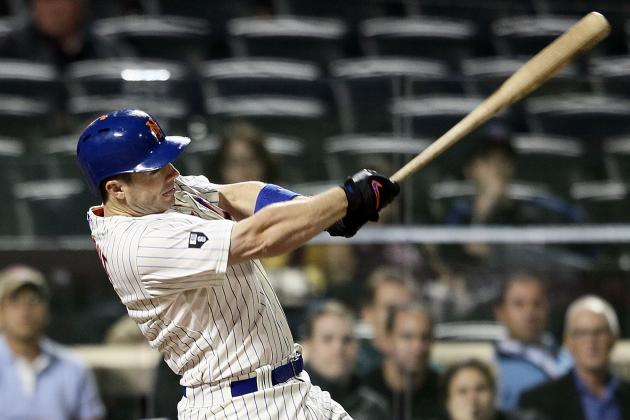 Alex Trautwig/Getty Images
Not as ridiculous an idea as it may seem.
Admittedly, this is a reach.
For one thing, the New York Mets would have to decline Wright's $16 million option for 2013, which recent reports suggest they are unlikely to do. And the Mets certainly would be chagrined to see Wright wander down I-95 to show up in the Phillies' lineup against them almost twenty times a season.
But if the Phillies are willing to part with value for Wright in a trade, or if the Mets feel like there may be better uses for the $16 million Wright will get in 2013 plus whatever amount it will take to sign him to an extension, the idea of Wright in red pinstripes becomes less far-fetched.
The sad truth for the Mets is that by the time the team fully recovers from its financial difficulties and gets competitive again, Wright will be past his prime. If they are going to rebuild, parting with Wright is the best way to get started.
The Phillies need a third baseman and Wright is among the best in baseball.
Again, unlikely. But not impossible.