Notre Dame Football: Power Ranking the Irish Players Through One Month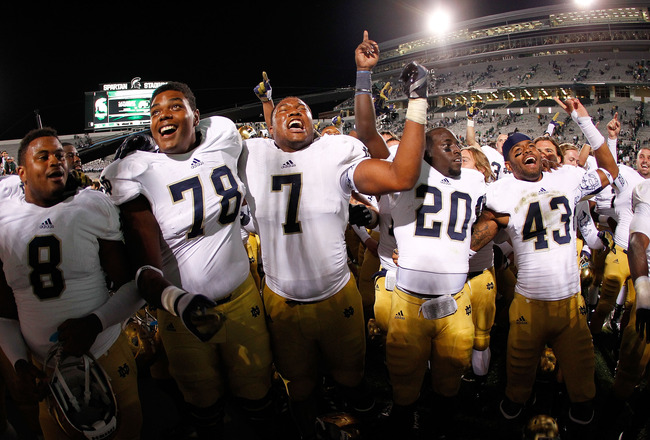 Gregory Shamus/Getty Images
Just like that, Notre Dame's 2012 season is one-third of the way complete. Fortunately for Fighting Irish fans, the number in the team's column is the same as it was when the season began a month ago in Ireland.
Notre Dame is 4-0 for the first time in 10 years, due in large part to one of the best defenses in college football. I've ranked the 10 best Irish performers of the season's first month, highlighted by a linebacker who has been so good that he is being given early consideration for the Heisman Trophy.
10. Kyle Brindza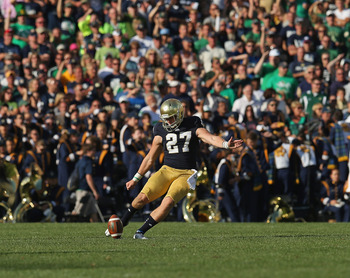 Jonathan Daniel/Getty Images
Brindza replaced the injured Nick Tausch following the team's season-opening win over Navy, but badly missed a 40-yard field goal against Purdue.
Since then, the sophomore has been perfect, including connecting on two key field goals against Michigan that helped the Irish win a tight, low-scoring game over the Wolverines.
His signature kick so far this season, a game-winning 27-yard field goal against Purdue, split the uprights perfectly. Brindza's kickoffs have rarely been returned, giving Notre Dame a valuable weapon on special teams.
9. The Quarterbacks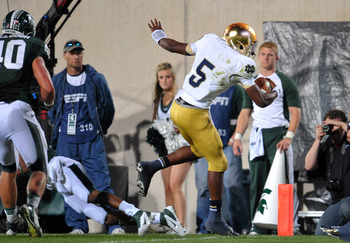 Matt Cashore-US PRESSWIRE
Notre Dame's offense has been average at best to this point, with just 53 points in its past three games. However, the Irish are 10-0, thanks in large parts to committing only four turnovers so far this season.
Everett Golson hasn't been able to finish two of the past three games, but he played a great first half against Michigan State to help lead the Irish to an upset win in East Lansing. Tommy Rees led a game-winning drive on his first snaps of the season, and played turnover-free football after replacing Golson in the second quarter of last week's win over Michigan.
The Irish have some questions to answer under center, but Golson and Rees have proven the team can win with either quarterback.
8. Tyler Eifert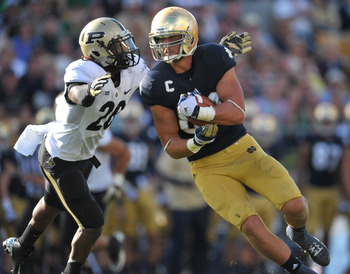 Matt Cashore-US PRESSWIRE
Yes, the statistics aren't exactly those of an All-American, but Eifert has still been one of the team's most productive receivers this season, with nine catches for 158 yards and a touchdown against Navy.
Eifert was nearly shut out of catches in consecutive games, but made his first catch in two weeks late last Saturday night to nail Michigan's coffin shut on a crucial third down with the Irish clinging to a seven-point lead.
If Notre Dame is to reach a BCS game, No. 80 will have a major hand in paving the way over the next two months.
7. Bennett Jackson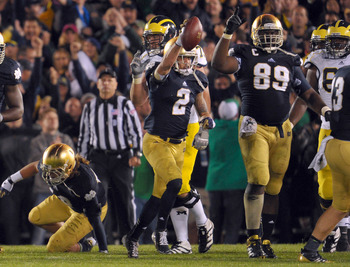 Matt Cashore-US PRESSWIRE
The secondary was thought to be Notre Dame's major weakness this season, especially after Lo Wood and Jamoris Slaughter were lost for the season, but Jackson has steadied the ship at the back end of the defense with three interceptions in the past three weeks.
There were concerns that the junior could not last as the team's No. 1 cornerback, but he's been a pleasant surprise to this point, avoiding big plays, tackling well and forcing turnovers. Jackson knew much of the burden would fall to him once Wood's season ended in August, and he's handled the pressure with the ease of a seasoned veteran.
6. Theo Riddick
Brian Spurlock-US PRESSWIRE
Riddick leads the team in both rushes and receptions through four weeks, displaying the versatility that makes him such a vital part of Brian Kelly's offense. He found the end zone twice against Navy, but has been at his best in the fourth quarter.
He helped set up the game-winning field goal against Purdue with a key 11-yard run, and grinded out a first down last week against Michigan that prevented the Irish from having to punt the ball back to the Wolverines for a final drive.
5. Zeke Motta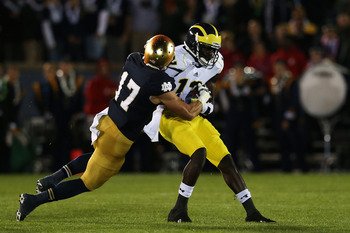 Jonathan Daniel/Getty Images
Motta has saved his best for last, as the senior has shown steady improvement since a breakout performance in last year's Champs Sports Bowl loss to Florida State. His best game to date came last Saturday night against Michigan, as Motta had seven tackles and deflected a pass that led to a Manti Te'o interception.
His role has been altered slightly since Jamoris Slaughter's season-ending injury against Michigan State, forcing him to play closer to the line of scrimmage to help against the run, a role in which Slaughter thrived. Motta has quickly helped Irish fans forget about the loss of first-round NFL Draft pick Harrison Smith.
4. Prince Shembo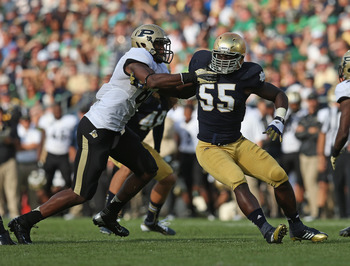 Jonathan Daniel/Getty Images
Shembo could never quite find his ideal home in his first two seasons in South Bend, but moving the junior to Cat linebacker after last season has turned out to be the perfect decision by defensive coordinator Bob Diaco and his staff.
Shembo is tied for second on the team with two sacks and has been a constant presence in the backfield over the past month. He's a vital part of Notre Dame's multiple defensive fronts, being able to quickly adjust from a linebacker to a defensive end and vice versa.
3. Louis Nix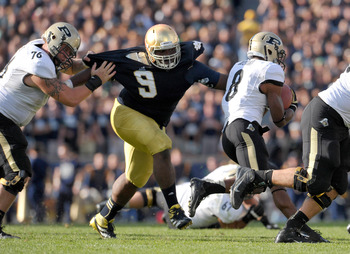 Matt Cashore-US PRESSWIRE
"Irish Chocolate" has been the monster in the middle that the team needs to makes its defense function in the way in which it was designed. Despite primarily being asked to consume two blockers, he's still managed three tackles for loss and 1.5 sacks so far.
The nose tackle is arguably the most important role in a base 3-4 defense, and Nix has continued to grow after a breakout sophomore season in 2011. Nix is a primary reason why the phrase "SEC defense" has been mentioned of late when discussing Notre Dame's front seven.
2. Stephon Tuitt
Gregory Shamus/Getty Images
Aaron who? The "other" elite defensive lineman signed in the 2011 class has gone from budding star to dominant force in his sophomore campaign, currently tied for fourth in the nation with six sacks. Tuitt's freakish athleticism allows him to work both as an edge rusher and straight up the middle.
This isn't simply a big body out there to take up space. Tuitt displayed his speed in the season opener against Navy, returning a fumble 77 yards for a touchdown to put Notre Dame ahead, 27-0. He also forced a fumble against Michigan State with a vicious blindside hit on Spartans quarterback Andrew Maxwell.
1. Manti Te'o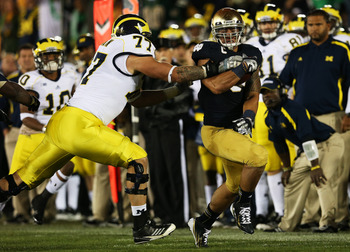 Jonathan Daniel/Getty Images
There aren't enough superlatives to describe the level to which Te'o has played this season, especially given the tragic deaths of his grandmother and girlfriend in the week leading up to the team's game at Michigan State. He's gone from the best player on the defense to the most popular Notre Dame football player since Brady Quinn.
The senior has once again been a tackling machine, leading the team with 38 through four games. He's also intercepted three passes, including two of Denard Robinson's last Saturday night. If the Heisman Trophy finalists were announced today, No. 5 might be on his way to New York City. Te'o has simply been that good.
Follow me on Twitter - @MattSmithCFB
Keep Reading

Notre Dame Football: Like this team?