Predicting the Houston Astros' Rotation for 2013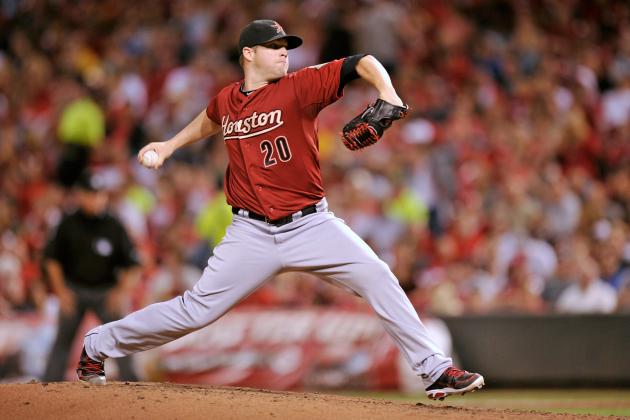 Jamie Sabau/Getty Images

With the move to the American League next season, the Astros are going to need their starting rotation to step up with new division rivals Los Angeles Angels and Texas Rangers, two of the top offenses in the game today. If facing Albert Pujols and Josh Hamilton isn't bad enough, Houston will also have to face a designated hitter every game instead of the opposing pitcher.
It will not be an easy task for this group that currently has a team ERA of 4.65, that ranks 27th in Major League Baseball. This is a young rotation that will need to grow up quick to improve on their numbers from 2012. Starting next season, this is the rotation that I think Astros fans can expect to see.
Begin Slideshow

»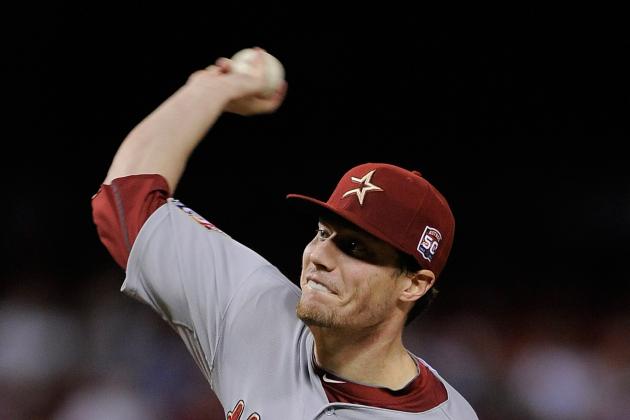 Jeff Curry/Getty Images

Lucas Harrell has been by far the best pitcher the Houston Astros have had this season. He leads the teams in wins, ERA, and has the best WHIP of any of the starters. He showed an ability to work later into games, averaging over 6 innings a start and just over 100 pitches thrown per game.
At 27 years of age, he still has some time to develop his game and get better, however his ceiling is limited to a number two or three starter in my opinion. Unfortunately for him, the Astros will most likely ask him to be the ace of the rotation and it will be interesting to see if he can rise to the challenge.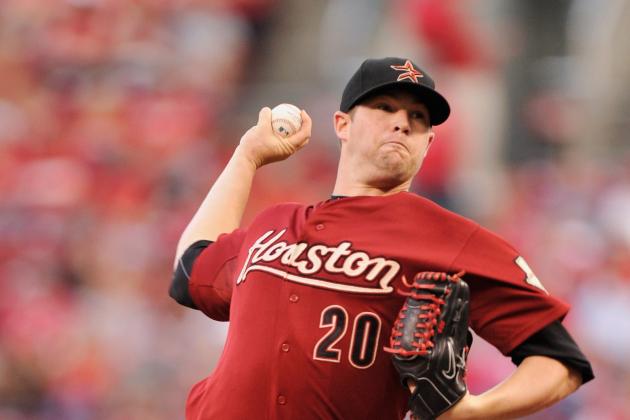 Jamie Sabau/Getty Images

Bud Norris is the most veteran pitcher the Astros have with three years of experience, making his debut back in 2009. Norris is a tricky pitcher to read as he has the talent to be a starting pitcher but could be better suited as a closer.
He is a strong strikeout pitcher with a K/9 of 8.94 and 154 strikeouts, which is good enough to lead the team. He also has 15 quality starts on the season but only has a record of 6-13. The reason Norris may be better suited coming out of the bullpen as he tends to wear down as the season goes on.
Over the past two seasons after the All-Star break he has a record of 2-12, and has seen his strikeouts drop. Before the All-Star break over the past two seasons he has a K/9 ratio of 9.14, but after the All-Star break he sees this number drop to 8.12.
The Astros unfortunately do not have the luxury of moving Norris to the bullpen due to the fact they are very inexperienced in their rotation and already have a fairly good option at closer in Wilton Lopez.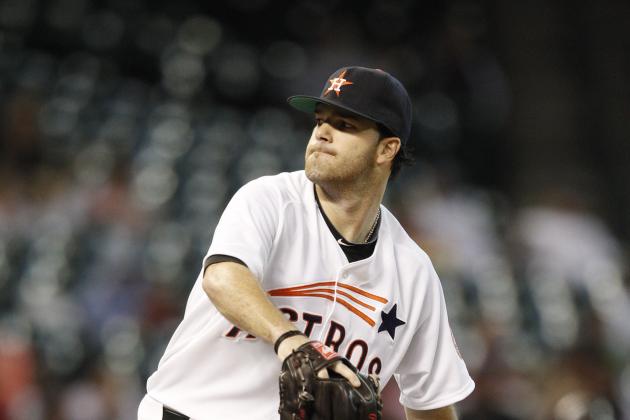 Bob Levey/Getty Images

Dallas Keuchel got his first chance at the Major League level and has played pretty well in 2012. He does have a record of 3-7 and an ERA of 4.66 but those stats don't tell the whole story. He has won his last two starts and over his past seven starts has given up more than two runs only twice.
The best part about these last seven starts is he was facing teams in playoff races and has really shown he can compete at this level against some of the top talent. I think Keuchel, along with Norris and Harrell, have pretty much secured spots in the 2013 pitching rotation.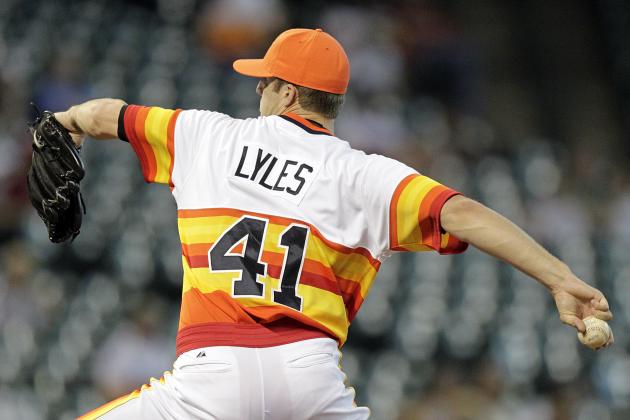 Bob Levey/Getty Images

This may not be popular with some fans, and it probably isn't possible with the Astros current situation, but Jordan Lyles could really benefit from a full year down in the minor leagues as he has looked over-matched against Major League lineups. Due to the fact that the team doesn't have any pitchers in the minors to fill in his spot, Lyles will most likely be in the rotation in 2013.
Over the past two seasons, Lyles has started 39 games and currently holds a career record of 6-20 with an ERA of 5.41. The past two seasons haven't been all bad as he has had good games, like last month when he held the Nationals to two runs over seven innings of work and struck out six.
However, the problem with Lyles is these starts are not the norm and he struggles in stringing quality starts together. He should start the season with Houston but if he struggles, I would not be surprised to see him sent down to the minors to gain some confidence back as a starting pitcher.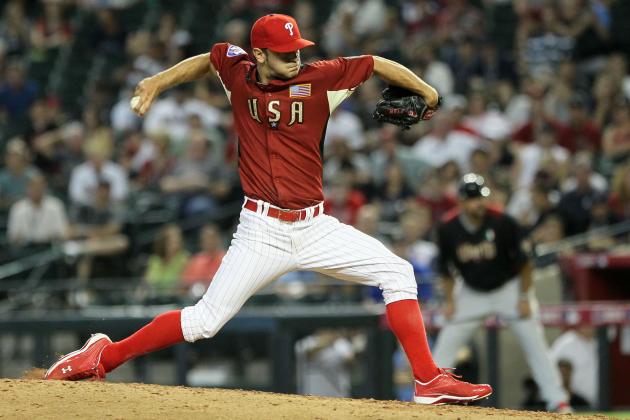 Jeff Gross/Getty Images

The first four spots in the rotation are pretty much locked up, although I believe Lyles should be sent down to the minors. The fifth spot in the rotation will be a battle to watch during Spring Training next season between Edgar Gonzalez, Kyle Weiland, any veteran free agents that are brought in and who I see eventually winning it, Jarred Cosart.
Cosart is probably the pitcher in the Astros organization with the most talent and has been working his way up the farm system with pretty impressive numbers, with 2012 being his best season to date. In 20 starts between Double A and Triple A, he does have a sub par record of 6-7 but a career best ERA of 3.30.
He has been averaging 7.2 strikeouts per nine innings, but the best stat from this season is that he's only given up three home runs. The Astros need a pitcher who knows how to limit mistakes and pitches hitters can turn on, and Cosart has shown that in his career.