The Carolina Panthers are off to a slow start in the 2012 season, but all is not lost. With the talent that GM Marty Hurney has assembled—especially on the offensive side of the ball—the Panthers still have a strong chance to make a serious run at the postseason.
While football is the quintessential team sport, special players still stand out. Fortunately for Ron Rivera, he has quite a few special players on his roster that stand out from the vast majority of NFL players.
It is hard to quantify which player is a team's best due to positional differences.
Although it isn't necessarily important to distinguish which Panther is the best, it is a fun conversation to have.
Which Panthers are in the conversation to be crowned the team's best player?
Cam Newton
When the Panthers drafted Cam Newton with the first pick in the 2011 NFL draft, they hoped that they had landed a bona fide superstar.
After racking up over 4,700 yards and 35 touchdowns as a rookie, it appears as if Newton is the player that will lead the Panthers back to the Super Bowl.
That being said, after evaluating the first three weeks of the season, it is fair to say that Carolina doesn't appear to be a championship-caliber team.
Coming into this season, Cam and the offense were viewed as the team's strength, but that hasn't been the case. It has been a bit surprising to see Newton struggle as the Panthers have stumbled to a 1-2 start.
Through three games, Newton has scored four touchdowns while turning the ball over six times. In order to become the leader that the team will need, Cam needs to find a way to take care of the ball much better than he has thus far this season.
The only defense that Cam excelled against in the season's first month was a New Orleans Saints unit that hasn't come close to slowing anybody down thus far.
Although Newton's sophomore season hasn't been spectacular, his size, athleticism and arm ensure that he won't be held down for long.
Cam's outstanding rookie season has set the bar very high. In fact, it is so high that even if Newton had a good season, he still wouldn't live up to the expectations that he faced coming into his sophomore season.
Newton should be credited for developing into such a competent quarterback in his first season despite the fact that he had to adjust to the NFL game after running a college system at Auburn the year before.
If you had to pick between Newton and Robert Griffin III, who would you take?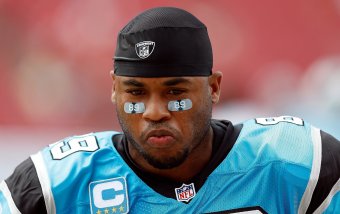 J. Meric/Getty Images
My money would be on Super Cam.
Steve Smith
Steve Smith is one of the most dynamic playmakers that the NFL has seen in the past decade. At 33 years old, Smith is still finding holes in defense and picking up yards in bunches after the catch.
Through three games, Smith is averaging 21.1 yards per completion. While the offense has struggled, Smith has been one of the few consistent bright spots on offense.
If I was putting together a team that had to win a Super Bowl this season, Smith would have a roster spot.
Smith has managed to maintain his high-end speed in his 12th season, which makes him more dangerous now than ever because he has a true veteran's grasp on opposing defenses.
The career Panther is currently fifth in receiving yards among active receivers, and he would be closer to fourth if not for the offense's putrid performance during the 2010 season.
As evidenced by his 713 career receptions, Smith has excellent ball skills and is difficult to cover wherever he lines up.
His toughness and leadership are always underrated, as he always pops up after taking a big hit and keeps his younger teammates in line.
There will be a day that Smith loses a step and will no longer demand the same respect from opposing defense, but don't expect that to happen anytime soon.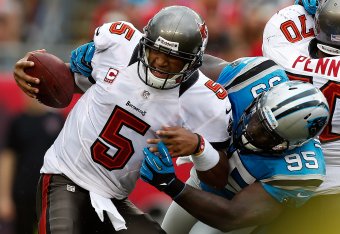 J. Meric/Getty Images
Charles Johnson burst onto the scene as a speed rusher, but he has developed into a more complete player.
After his 11.5-sack season in 2010, Johnson emerged as one of the better defensive ends in the NFC.
Although Johnson is yet to record a sack in 2012, that could easily be attributed to the constant double-teams that he has faced.
Without a proven pass-rusher opposite Johnson, opposing offensive coordinators are able to focus on slowing Johnson down in passing situations.
In the pass-happy NFC South, Johnson's ability to rush the passer is vital to the team's overall success.
If given time, Drew Brees and Matt Ryan will tear apart even the league's best secondaries.
Due to the organization's inability to find another pass-rusher to pair with Johnson over the course of a full season, the expectations on Johnson are through the roof.
If GM Marty Hurney ever finds a way to find another viable defensive end, the NFL would quickly learn that Johnson has the ability to challenge for the league lead in sacks.
Who is the best Panthers player right now?
Who Wears the Crown?
If the question of best player on the Panthers' roster was brought up prior to the season, Cam Newton would have been the obvious selection.
Although Newton hasn't had the best start to the 2012 campaign, he is still the best player who the Panthers run out on the field on Sundays.