The Tennessee Titans still have yet to get it going on the ground.
There have been a few people who have said that the Titans should sever ties with the struggling Johnson. That would be a foolish mistake for the front office to make.
Other than Johnson allegedly dancing around in the backfield, which happened to a certain extent against the Lions (he had three separate occasions of losses totaling seven or more yards, two of them in overtime, all of them plays that he was afterward caught dancing in the backfield), there are other factors playing into Johnson's struggles on the ground.
The Titans have dropped back to pass 117 times, compared to running the ball as a team 45 times.
That mostly has to do with the fact that they've had to play from behind in much of the first two games of the season. But even this Sunday, head coach Mike Munchak and offensive coordinator Chris Palmer seemed to deviate from running the ball when they were playing with the lead.
If you are going to pay someone the money that Johnson is being paid, you need to put a good blocking scheme in and run plays for him that allow him to do his job efficiently.
Palmer has done neither, and the running game and offense as a whole suffer because of it.
Johnson showed sparks and flashes of his 2009 form in Sunday's 44-41 thrilling overtime victory over the Detroit Lions.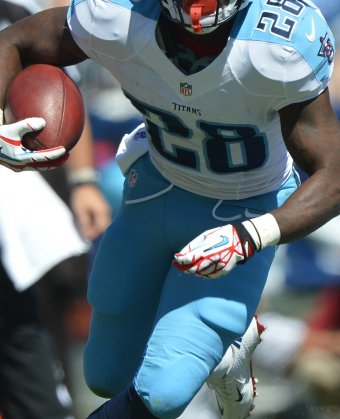 Don McPeak-US PRESSWIRE
He busted off three solid gains on outside running plays: an 11-yard gain off the right tackle on the second drive, another 11-yard gain on a toss to the left and a 13-yard gain outside the left tackle, which all shows me that Johnson is much better running on the outside than inside.
He finished the day rushing for 24 yards on 14 carries, otherwise getting stuffed for most of the game.
Overall, the offensive line just isn't very good. Yesterday, like the contests against the New England Patriots and the San Diego Chargers, too much penetration was allowed for most of the game, except for the big runs by Johnson.
Playing against a great defensive line lead by Ndamukong Suh is not an excuse, especially considering that its now been three straight games so far this season in which holes were not being created.
An offensive line being coached by two Hall of Fame offensive linemen in Munchak and offensive line coach Bruce Matthews should not be this bad.
Unfortunately for Johnson, they are, and he is taking most of the blame for it. It's both unfair and unsurprising, as Johnson is the highest-paid player on the team.
However, the only thing we'll find out if the Titans do trade or release Johnson is that he wasn't the problem.
Jamie Harper, Javon Ringer and Darius Reynaud will not be able to run any better than Johnson behind this offensive line.
If Johnson ends up somewhere with a better line and blocking scheme, he will end up putting up old numbers, then all of the people blaming Johnson will finally be enlightened to the real problem: the offensive line.
Something needs to be done soon, or this could be another long season for the offensive line as a whole.