Mississippi State Football: Kennel Club Grades at the Quarter Mark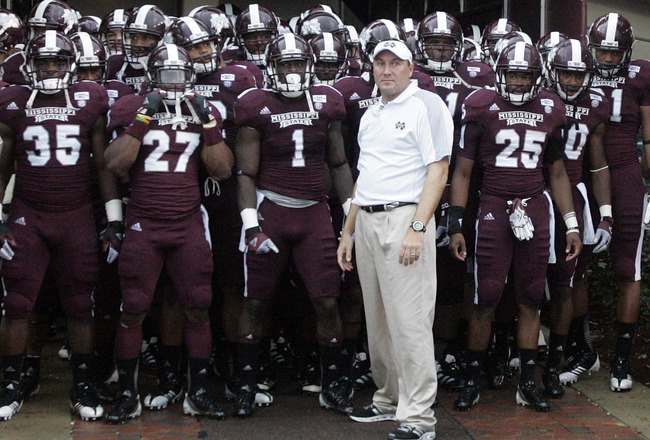 Dan Mullen's Bulldogs are 4-0 for the first time since 1999.
Butch Dill/Getty Images
What do you get when you have a team that is 4-0 for the first time since 1999, sports an average national ranking of 20 and a promising schedule coming off this weeks bye week?
How about a pessimistic group of fans with tons of questions. Questions on margin of victory, play calling and inconsistent play.
Not to mention your rival is, as usual, asking how can this team be ranked when you have beaten nobody! Proclaiming Auburn is a fluke and much more.
So, as the Bulldogs head into their one and only bye week a quarter of the way through the 2012 season, just how bad and/or good is this team?
This week, we take a look at each unit and answer just that as we offer new Kennel Club grades for the Mississippi State Bulldogs.
Grading the Quarterbacks
Marvin Gentry-US PRESSWIRE
Before the start of the season, everyone knew this was Tyler Russell's team. As he went, so did this team. Despite some criticism for his lack luster play as of late, the junior from Meridian has completed 58 percent of his passes for eight touchdowns and only one interception. The one glaring thing I am seeing from Russell is that he holds on to the ball sometimes too long and stares down receivers at certain times. With the bye week, you have to feel those two things can be corrected and chemistry will continue to develop between Russell and his receivers.
Backup QB Dak Prescott has only seen limited action thus far, but has scored two touchdowns on the ground as Mullen has used him on short yardage and around the goal line at times.
One has to be pleased with what the quarterbacks have done through four games. When you start feeling blue just remember the days of Tyson Lee and Michael Henig.
Kennel Club Grade: B
Grading the Running Backs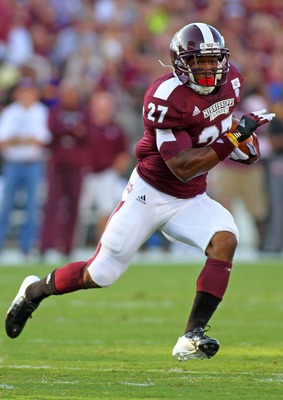 Ladarius Perkins is getting the job done for Mississippi State on the ground.
Spruce Derden-US PRESSWIRE
Coming into the 2012 season, the big question marks at the running back position. Where would anyone replace Vick Ballard, and could LaDarius Perkins be an every down back?
I think the answer thus far to both of those are yes and yes. Ballard, last year as a senior, averaged 91.5 yards per game and the Bulldogs averaged right at 175 yards on the ground per game and you can do the math right here.
So far this year, Perkins is averaging right at 97 yards per game and the Bulldogs rushing unit combined of Perkins, Josh Robinson, Derek Milton and Nick Griffin are punching out close to 184 yards per game.
Yes, the season is still young, and yes, the hardest part of the schedule is yet to come. But, so far, this unit has not disappointed head coach Dan Mullen.
Kennel Club Grade: B+
Grading the Wide Receivers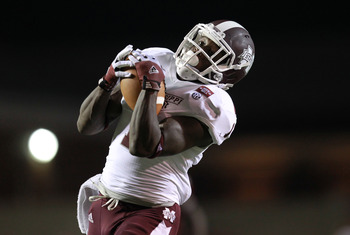 Chad Bumphis is off to a great senior season.
Marvin Gentry-US PRESSWIRE
So far, through four games, this group has been very Jekyll and Hyde. From making all the right plays at Auburn, to dropping as many as five crucial passes against Troy—you just never know what you are going to get with this group. Part of the criticism on Tyler Russell can be laid at the feet of this group.
The one consistency has been senior Chad Bumphis. Bumphis is off to a fast start this year, accounting for 271 yards and five touchdowns.
Again, with the week off, one has to think the mental breakdowns and dropped passes from this group will be corrected. Also, expect in the coming weeks for tight end Malcolm Johnson to return, which should help bolster this group.
Kennel Club Grade: C
Grading the Offensive Line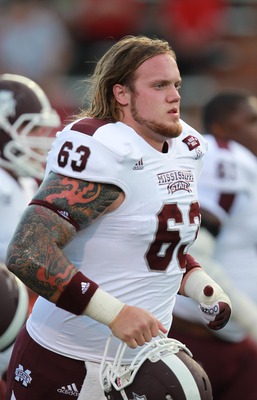 Mississippi State center - Dillon Day
Marvin Gentry-US PRESSWIRE
At face value, the casual observer would tell you the Mississippi State offensive line needs a lot of work. After all—that was quarterback Tyler Russell that just got belted as he released a pass.
When looking deeper into film and statistics, on the quarterback breakdown, Russell tends to hold on to the ball too long on some occasions, but that is something that should be rectified on the week off.
Also, looking more into the statistics, you will find that this unit has only given up four sacks thus far in the 2012 season. Conversely, this unit is also paving the way for the running backs as they are averaging right at 5.0 yards per carry.
Lastly, per Brad Locke, "MSU has scored on 12 of 14 trips into the red zone, with 10 touchdowns and two field goals. That touchdown rate of 71.4 percent ranks fifth in the SEC." Much of this success can be attributed to good offensive line play.
Yes, there is still plenty of work to do on this unit, but, so far, you have to be pleased with what you see from the offensive line at Mississippi State.
Kennel Club Grade: B
Grading the Front Seven: Defensive Line and Linebackers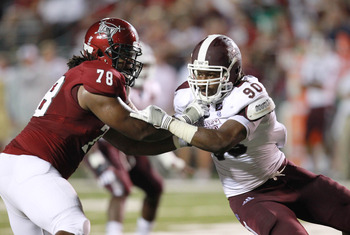 Denico Autry is still feeling his way around Division One Football
Marvin Gentry-US PRESSWIRE
If you could take out one game, sometimes statistics would look much different—but when analyzing a unit entirely, you must look at the whole ball of wax.
Such is the case for the Mississippi State defensive front. Three out of the first four games they held their opponents at bay in the running game. During that other game "Troy," everything was fine at 23-7 in the third quarter, until this unit and the rest of the team fell asleep, giving way to 226 yards rushing and almost letting the Trojans come back to win that game.
On the season, this unit is giving up 4.2 yards per play and only three touchdowns via the running game.
This unit needs to continue to improve against the run, and the linebackers have to defend in the passing game better than they did against Troy and South Alabama.
Finally, more pressure on the quarterback from this unit from a push from the front four or a combination of blitz packages from the line backers has to happen. Only four sacks have been recorded thus far, and that has to improve going forward or more teams will continue to have success throwing the football versus the Bulldogs.
Kennel Club Grade: C
Grading the Defensive Backs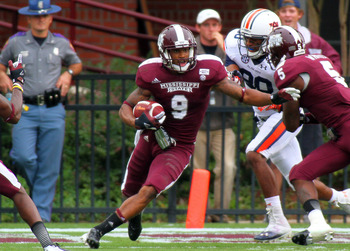 Darius Slay has proven he can compliment Jonathan Banks at corner back.
Spruce Derden-US PRESSWIRE
Many felt coming into the season this unit would be a strength to this team and for the most part, "minus that darn game at Troy in the second half," it has been.
The Bulldogs are giving up right at 213 yards per game through the air and have picked off nine passes thus far which is the most in the country.
Darius Slay and Jonathan Banks are proving to be one of the top corner duo's in the country, leading the way with a combined 7 interceptions for the pair.
Banks, for his career now, has 15 interceptions which is second most in the country by an active player.
This group will continue to get better as the year goes on, and if the Bulldogs can create more pressure on the quarterback, that will only help this group to generate more big plays in the secondary.
Kennel Club Grade: B+
Grading Special Teams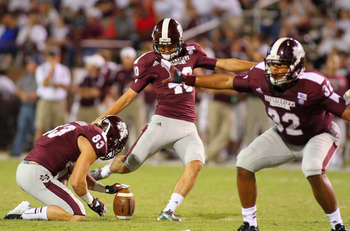 Mississippi States Devon Bell
Spruce Derden-US PRESSWIRE
When you put your trust in a freshman kicker you are going to see ups and downs. Thus is the case with Mississippi State's Devon Bell. After struggling early—missing two field goals versus Auburn—Bell has come on strong, connecting on all three tries this past week versus South Alabama.
Punter Baker Swedenburg is also striking the ball well as he is averaging 42.3 yards per punt on 16 attempts.
Any time you can have success in the punting and kicking game, it is always a good thing. If you are pinning your opponents deep with a punt, or at least getting three points every time you enter an opponents territory, your chance for success and a win increase drastically.
The Bulldogs still need to improve in the return game, where they are averaging 7.55 yards per punt return and 22.56 yards per kickoff return.
Kennel Club Grade: C+
Final Thoughts and Grade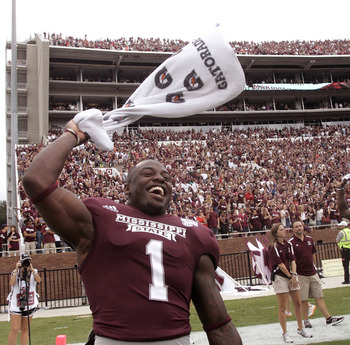 The Bulldogs are currently ranked 21 in the AP and 19 in the Coaches Poll
Butch Dill/Getty Images
The Good: Mississippi State is 4-0 for the first time since 1999 and sure to continue to climb in the polls this week as they are on a bye week. The Bulldogs are only two wins away from being eligible for their third straight bowl in as many years—a feat that has not been accomplished since the 1997-2000 run.
The Bad: Focused and consistent play are needed as Tyler Russel has at times looked great and not so great. The same can be said for the Bulldog defense.
One man's opinion on the reason for the lack of mental focus is playing inferior opponents in Troy and South Alabama in recent weeks, as well as some hang over from the Auburn game. That needs to be placed at the feet of the coaches and the seniors and they should be held accountable for that.
All in all, I think with a week off, you will see the coaches pay extreme attention to detail in the passing game, pass defense and mental preparation. The Bulldogs have Kentucky, Tennessee and Middle Tennessee after the bye week and have a tremendous chance of being 7-0 by the time they travel to Tuscaloosa in November, and as a Bulldog, you should be excited.
After all, State fans haven't had a chance to party like this since 1999, so embrace what is going on in Starkville.
Kennel Club Grade: B
Keep Reading

Mississippi State Football: Like this team?