The 7 Greatest Celebration Moments in MLB Postseason History
Stephen Dunn/Getty Images
The 2012 MLB Postseason is just around the corner, which means it's just the beginning of all the champagne showers and celebrations that make playoff baseball so unique.
After playing 162 regular season games with only one goal in mind—winning the World Series—it's easy to understand why postseason celebrations in baseball are so thrilling. With so much hard work and preparation that go into obtaining that goal, it's hard not to let loose and rejoice once a team takes one step closer to winning a World Series.
Here's a list of the seven best postseason celebration moments in MLB postseason history.
Tell Us How You Really Feel, Tim Lincecum
In this video, Tim Lincecum of the San Francisco Giants let an F-bomb fly on live television after his team beat the San Diego Padres.
Albeit this did come on the last day of the regular season, it did mean that the Giants were headed to the 2010 postseason.
Brian Wilson Champagne Shower
After the San Francisco Giants defeated the Atlanta Braves in the 2010 NLDS, Brian Wilson decided to take his postgame shower with some champagne instead of taking a regular shower.
Matt Holliday Face-Plants
While this technically wasn't the postseason, the Colorado Rockies defeated the San Diego Padres in a tiebreaker game on the last day of the regular season.
This capped off a streak where they won 13 of their last 14 games to finish off the regular season.
And while it was a very entertaining game, Matt Holliday's face-plant into home plate—which can be seen more closely here—was the most memorable part about the celebration.
Angels Show Respect for Nick Adenhart
Kevork Djansezian/Getty Images
After the Los Angeles Angles clinched the AL West in 2009, the team decided to honor the death of Nick Adenhart, who was tragically killed in a car accident by a drunk driver.
The video of the thoughtful gesture can be seen here.
Kirk Gibson's Chainsaw
When Kirk Gibson hit a walk-off home run against Dennis Eckersley in Game 1 of the 1988 World Series, he'll forever be remembered for his celebration while hobbling around the bases.
Joe Carter's Walk-off
Kids dream about hitting a walk-off home run to win the World Series, and that's exactly what Joe Carter did for the Toronto Blue Jays in 1993.
The image of Carter jumping around the bases will live on for a very, very long time.
Red Sox Break the Curse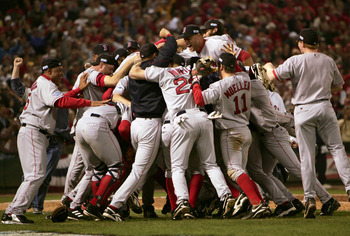 Jed Jacobsohn/Getty Images
When the Boston Red Sox swept the St. Louis Cardinals in the 2004 World Series, it instantly went down as the best celebration in MLB postseason history.
The video of Manny Ramirez running in from the outfield and Jason Varitek jumping into Keith Foulke's arms can be seen here.
Keep Reading