UFC on Fuel TV 5: The 10 Best Fights from Fuel TV 1-4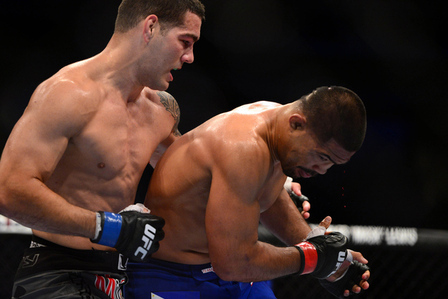 mmamania.com
UFC on Fuel will come to you live this weekend from the UK with some exciting MMA action.
So far, the UFC on Fuel cards have been a success for the UFC, despite the fact that many fans do not get Fuel TV on their TVs. They usually feature an important main event with many mid- and low-card guys filling out the rest of the card.
Here are the 10 best fights from the UFC on Fuel cards thus far.
Begin Slideshow

»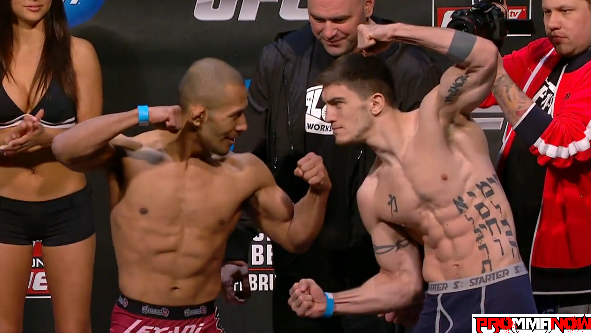 prommanow.com
The preliminary card of the first Fuel TV event saw a great bantamweight bout between Ivan Menjivar and John Albert.
Though the fight only lasted under four minutes, it was an exciting back-and-forth affair. At certain points in the fight, it looked as if either man was going to finish the fight.
In the end, Menjivar outgrappled Albert in what would have been the Fight of the Night, had the next fight not happened. "The Pride of El Salvador" would secure the win with a rear-naked choke.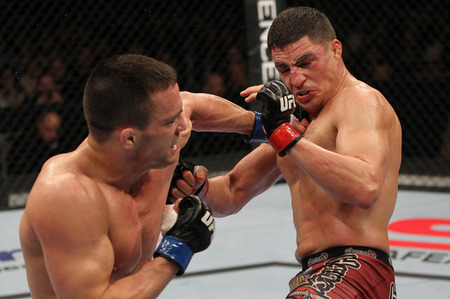 mmamania.com
There aren't many examples of Diego Sanchez being involved in boring fights. The main event of the first Fuel card is definitely proof of that.
In typical Diego Sanchez fashion, he came out swinging and aggressive. He got tagged by Jake Ellenberger on numerous occasions but stuck in there to dazzle the fans.
He almost came back and won the fight at the end, as Ellenberger began to gas and Sanchez hit his stride. Had this been a five-round affair, Sanchez might have pulled it off, but he would fall via unanimous decision.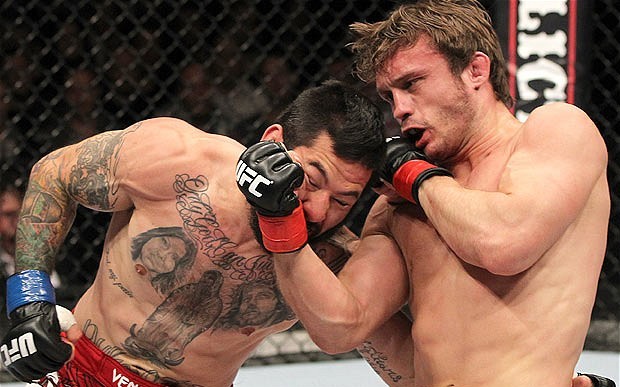 telegraph.co.uk
Sweden played host to the second Fuel card, and it also played host to a Fight of the Night effort between bantamweight sluggers Damacio Page and Brad Pickett.
Both men came out swinging for the fences. Page's fighting style is as crazy as his tattoo montage on his body, so it naturally made him a favorite to win Fight of the Night.
Pickett stuck in there and slugged with him. Eventually, Pickett would go to the ground with Page and tap him out with a rear-naked choke.
It was a great fight that gave the fans what they wanted.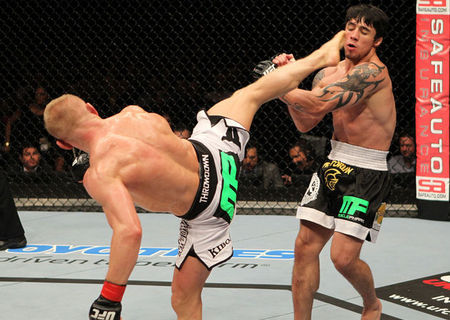 mmamania.com
The minute Dennis Siver was announced to fight Diego Nunes at UFC on Fuel TV 2, there was instant buzz on the potential of a striker's delight.
Both men delivered that through their 15-minute standup fest. Siver and Nunes showed their technical ability and had fans on their feet.
In the end, Siver earned a 29-28 unanimous decision win on all scorecards. It was a great fight.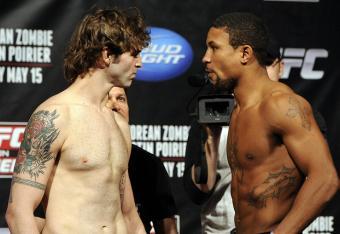 mmamania.com
Say what you will about Cody McKenzie, but the dude has heart and can take a beating. At the third UFC on Fuel event, he did just that and came back in magnificent fashion.
Marcus LeVesseur used his power and wrestling to control McKenzie for the majority of their fight. However, McKenzie stuck in their and stayed focus.
A little more than halfway through the second, McKenzie won with his signature guillotine choke, completing the comeback. It was an exciting win for the now-featherweight.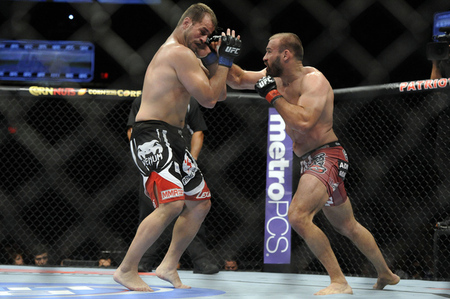 mmamania.com
In an absolute slugfest at the third Fuel event, Fabio Maldonado and Igor Pokrajac impressed the crowd with a striking display.
Anytime you have anybody putting Fabio Maldonado in the clinch, it's a treat. He blocks off knees while throwing vicious body shots.
However, Igor Pokrajac used his kickboxing prowess to counter Maldonado's boxing and score more points. He would take an exciting unanimous decision win over the Brazilian.
fighters.com
The main event of UFC on Fuel TV 3 literally didn't have the potential to be boring. With two top featherweights fighting to get to the top of the division, both men delivered an epic back-and-forth battle.
The striking and grappling were insane. Both men really showed their all-around prowess that got them to that point.
In the fourth round, Chan Sung Jung won in impressive fashion, finishing Dustin Poirier with a D'Arce choke. It was a fantastic finish to a great fight.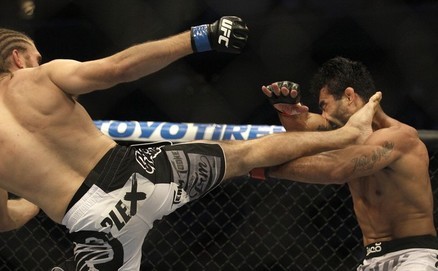 daylife.com
In one of the best comebacks in recent memory, Rafael Natal showed why you don't hot-dog and act like an idiot in the Octagon.
Natal was owning and controlling Andrew Craig for the entire fight, both on the feet and on the ground. That changed in the blink of an eye.
With under 10 seconds left in the second round, Natal dropped his hands and acted cocky to Craig.
A Craig head kick later, and Natal was out cold on the mat wondering if he was in California or Heaven. It was an amazing comeback for Craig and an embarrassing loss for Natal.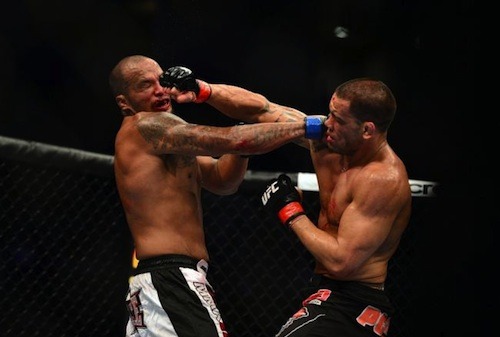 fightcove.com
The only way to describe James Te Huna and Joey Beltran's encounter is epic.
Both men stood in the pocket and threw absolute bombs. Te Huna threw punches that would have concussed a grizzly bear, but unfortunately he was throwing them at the granite-chinned Beltran.
Te Huna dominated the fight, but it didn't stop it from being entertaining. In fact, the sloppy brawl got the fans on their feet screaming their lungs out.
Te Huna may have won the fight, but he lost the war. Beltran's hard head earned Te Huna a broken hand and foot, putting him on the shelf.
It showed how tough both men were.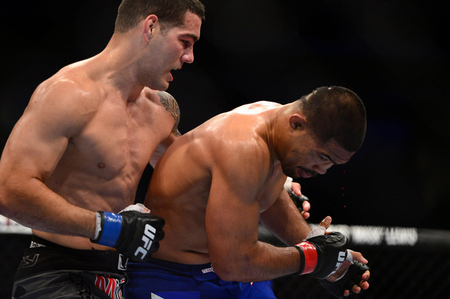 mmamania.com
Okay, so maybe the Chris Weidman-Mark Munoz encounter wasn't the greatest fight ever.
However, the implications from the result and importance of it were massive. It helped catapult Chris Weidman into contention.
What people will remember most is the finish. After dominating, Weidman threw an overhand elbow at Munoz that put him in la-la land.
He would follow that up with punches, but they were extremely unnecessary. It was a spectacular finish for a kid that looks to be a future champion.